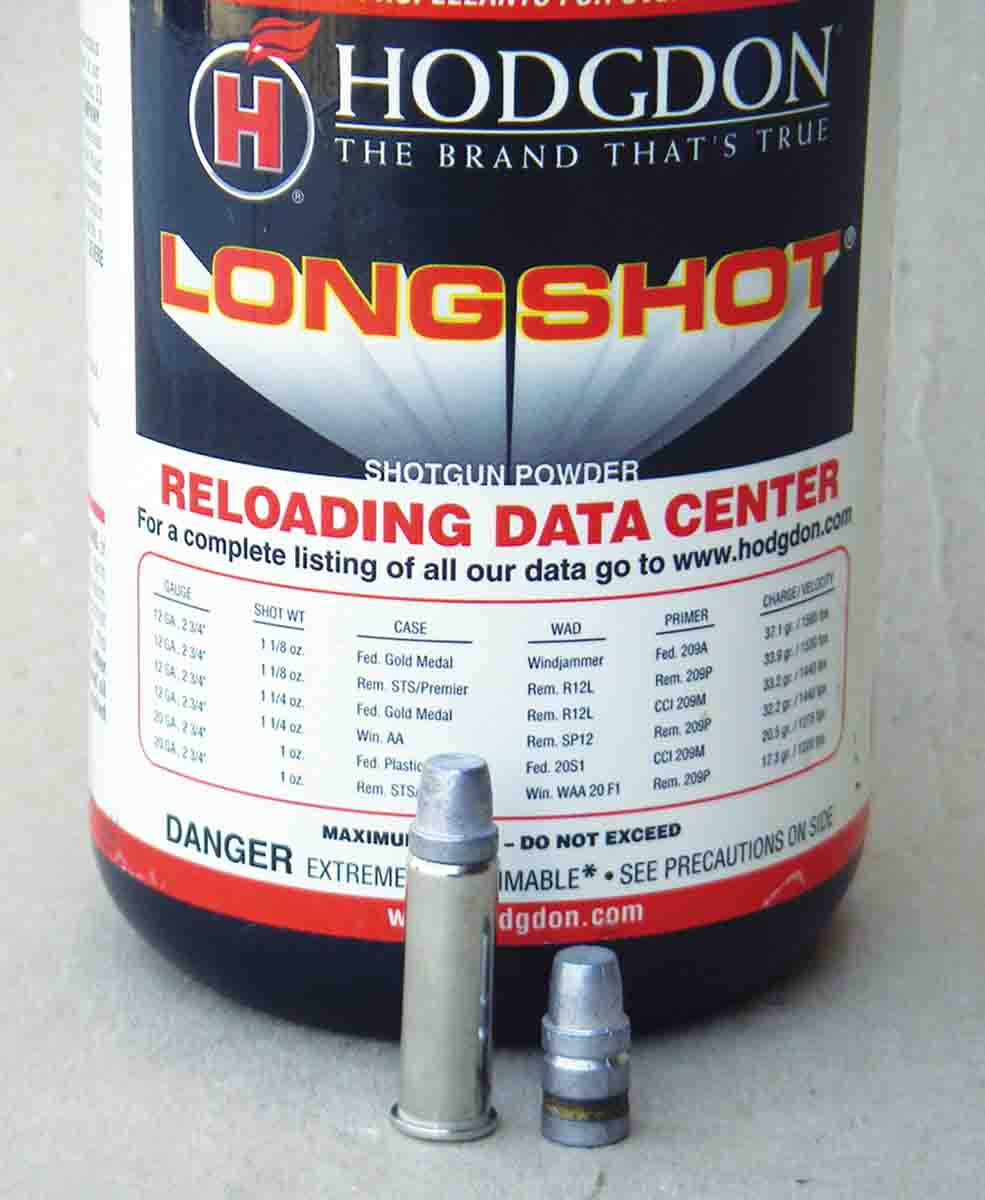 Q:
Many reloading manuals suggest when loading the Lyman Keith-style bullet from mould 358429 in .38 Special (listed at 170 to 173 grains) that bullets should be crimped over the front driving band, or cases need to be shortened. I plan to use this bullet in my USFA .38 Special single action, but would like to crimp it in the crimp groove and use full-length cases.
Can you suggest a good load using Hodgdon Longshot powder with the bullet seated as described above? I would like to reach 1,000 to 1,050 fps. Thanks for your insight.
P.D., via email
A: When the Lyman/Keith bullet 358429 is loaded in full-length .38 Special cases and crimped in its proper crimp groove, the overall cartridge length is usually around 1.532 inches (depending on mould vintage, case length, etc.). For reference, The Sporting Arms and Ammunition Manufacturers' Institute (SAAMI) maximum overall cartridge length for the .38 Special is 1.550 inches. In other words, when the Keith bullet is seated correctly, with the front driving band outside the case, it is within industry overall length specifications. So there is no logical reason to crimp over the front driving band or shorten cases. In fact, Keith designed this bullet prior to the development of the .357 Magnum (1935) and it was designed specifically for the .38 Special.
Using Starline cases capped with CCI 500 primers, 6.2 grains of Hodgdon Longshot reached 1,046 fps from a Smith & Wesson pre-World War II .38-44 Outdoorsman. Please note that this is a +P load and should only be used in guns designed to handle 20,000 psi, which certainly includes your USFA Single Action Army-pattern revolver.
Cast Bullets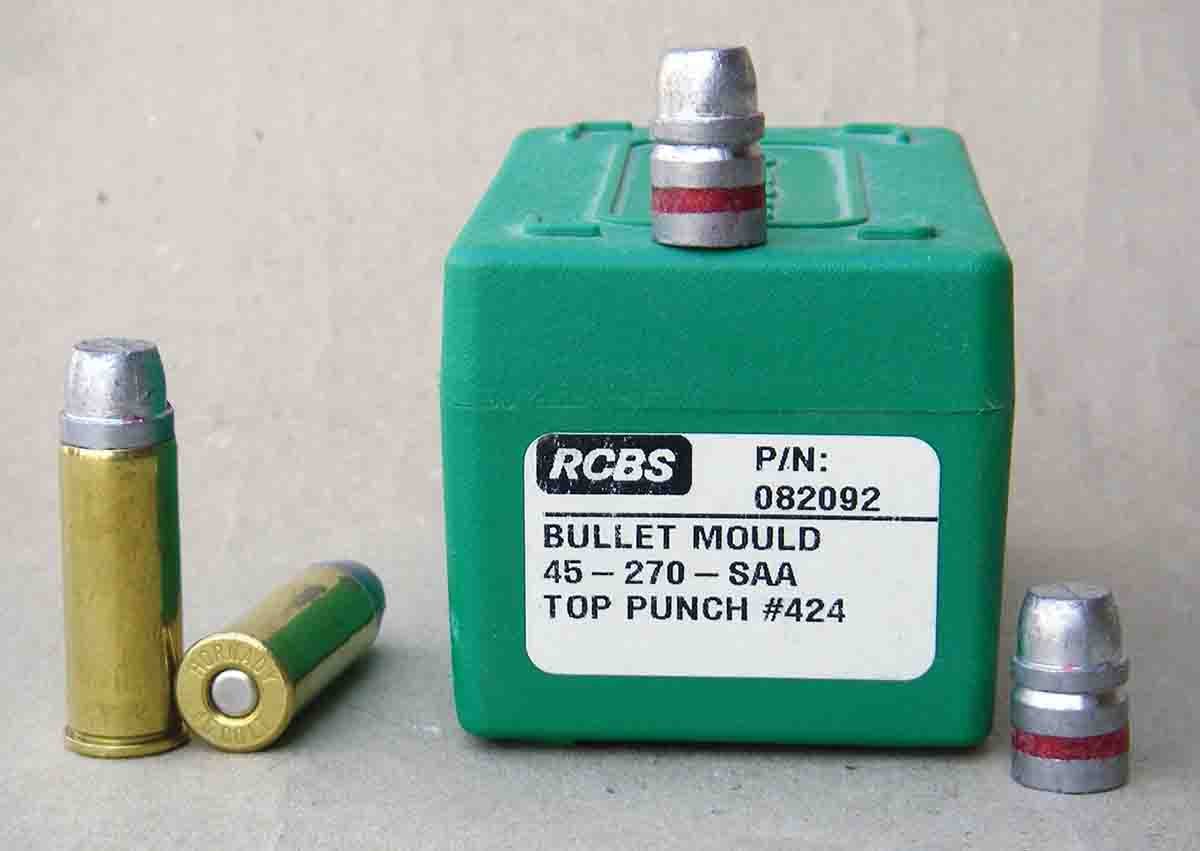 Q:
I have tried to purchase cast bullets from RCBS mould 45-270-SAA, but the ones that I receive from various cast bullet companies are different. Some are marked on their boxes or listed on their website as being "270 grains" or "similar to RCBS 45-270-SAA," but upon receiving them, they are either lighter in weight or the basic bullet shape and details are notably different. Can you suggest a couple of suppliers that can provide me with bullets from the genuine RCBS mould?
D.M., via email
A: Montana Bullet Works (montanabulletworks.com) offers cast bullets from RCBS mould 45-270-SAA that are high quality, hand cast and ladle poured and weigh between 280 and 285 grains (as they should when cast of correct alloy). Western Bullet Company (westernbullet.com) likewise offers bullets from the above RCBS mould, but they are competitively priced. Unfortunately, both companies are in a heavy backorder mode, so be patient after you have placed your order.
.32-Caliber Keith Mould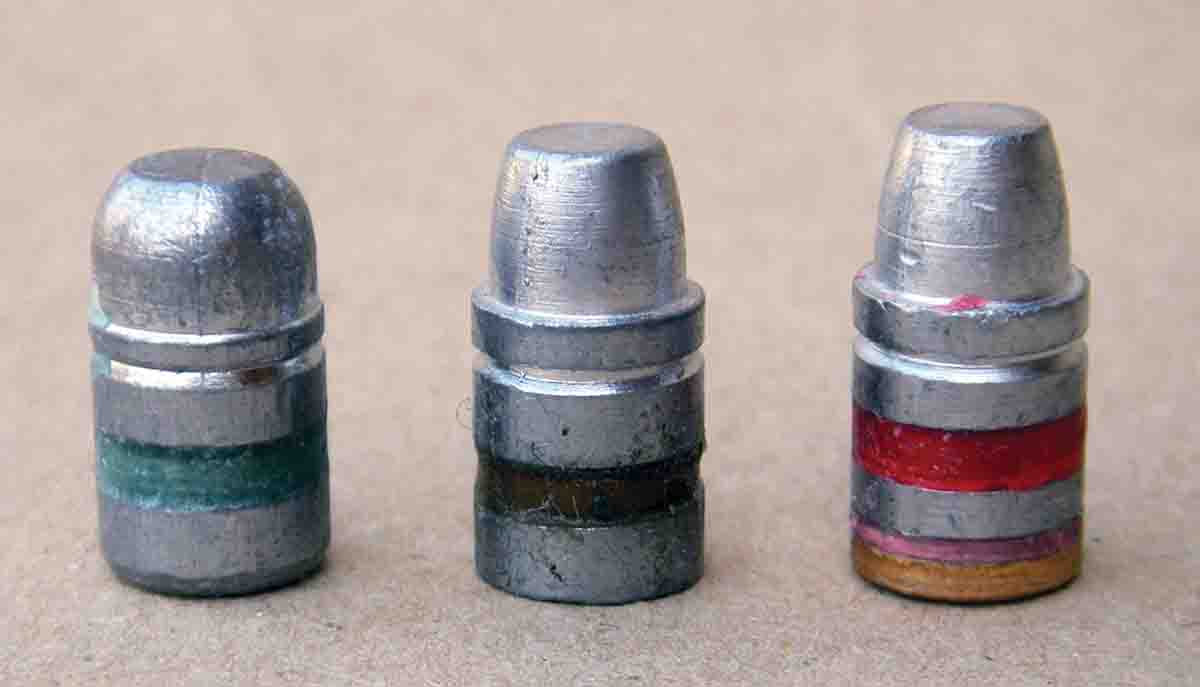 Q:
Can you tell me where to find a .32-caliber Keith-style mould that will cast bullets at around 125 grains? Thank you.
C.C., via email
A: Try Accurate Molds (accuratemolds.com). It offers mould 31-130S which is a plain-base semiwadcutter and is around 130 grains. However, it does feature a shorter nose than traditional Keith designs. You might also consider mould 31-120K, which is lighter at 120 grains, but features a nose design that is closer to the true Keith design. If you are willing to apply gas checks, you also might consider mould 31-120KG, which would be excellent for high-velocity loads (such as full-house .327 Federal Magnum loads).
Power Pro 300-MP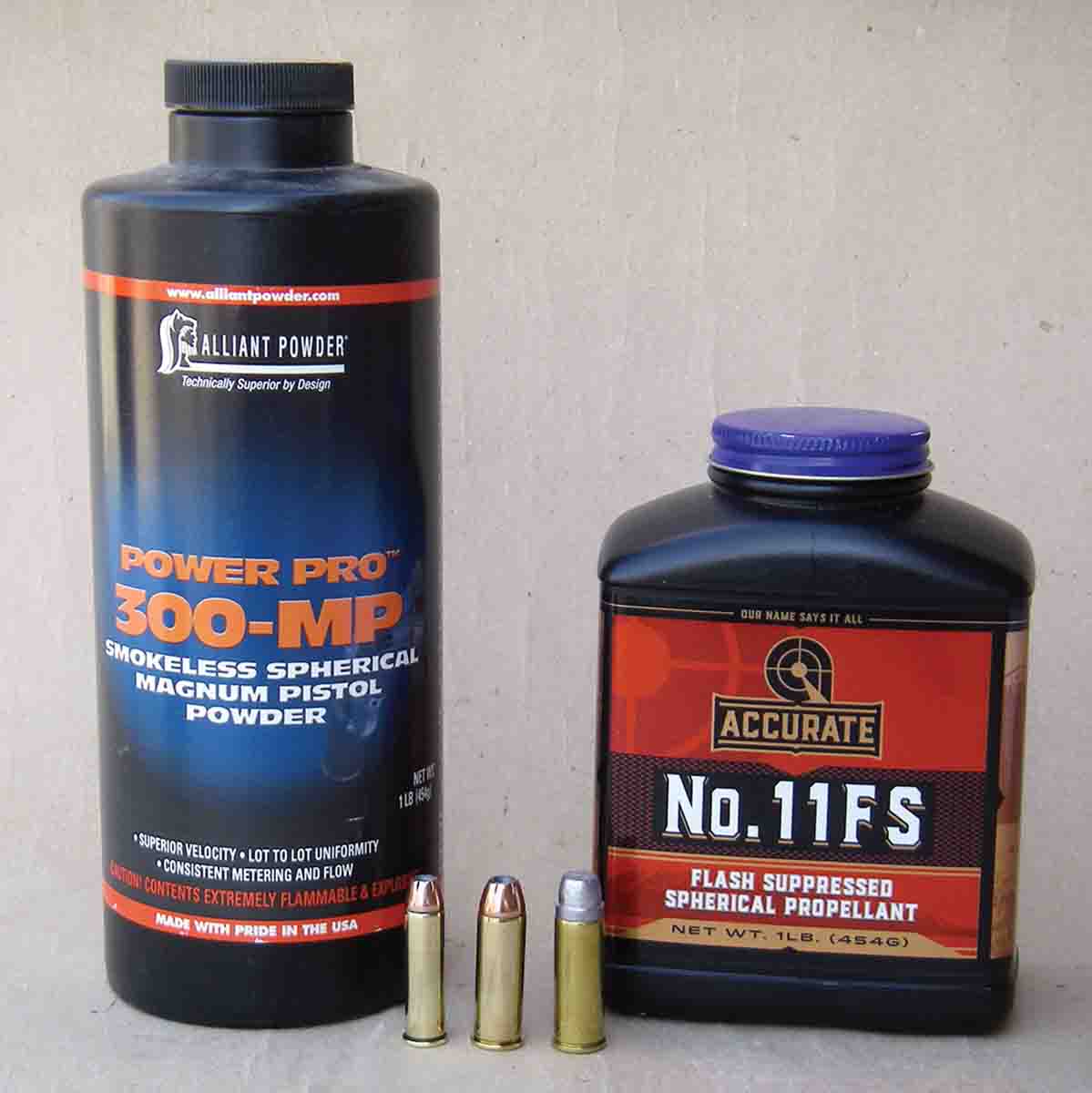 Q:
I purchased several pounds of Alliant Power Pro 300-MP powder in hopes of using it in the .357 Magnum and +P .45 Colt loads. However, I found out from talking with Alliant Powder technicians that using this powder with cast bullets will cause severe barrel leading. Do you agree with the Alliant representatives that Power Pro 300-MP causes barrel leading?
This brings me to plan B. I purchased some 180-grain Hornady XTP bullets for the .357 Magnum, but no one shows any data for them. I have some Western Powders to select from too, but again, I can't find data. Could you please offer some .357 Magnum 180-grain XTP data? My gun is a Ruger GP100 stainless with a 4-inch barrel.
Moving on to the .45 Colt, I have three Ruger Blackhawks (both old and New Model) that are each built on the large .44 Magnum frame and a Ruger Redhawk. I also have a quantity of Hornady 300-grain XTP bullets. Again, I cannot find any suitable load data using Power Pro 300-MP.
And last, what is your opinion of Accurate 11FS powder? Will it work in .357 Magnum, .44 Magnum and .45 Colt cartridges using Oregon Trail Laser Cast SWC and RNFP bullets from 158 grains, 300 grains and 255 grains, respectively?
I know I am asking a lot with all of the above questions, but any help and insight you can offer will be greatly appreciated.
D.M., via email
A: First, I do not agree with the Alliant technician, as Power Pro 300-MP is an excellent powder for magnum revolver cartridges when they are loaded with either jacketed or cast bullets. However, anytime you push cast bullets to magnum velocities with any suitable powder, they must be of correct design to work properly. In other words, don't expect a bevel- base bullet to perform perfectly (regardless of how hard it is cast), or bullets that are not properly alloyed, as heat, fusion and blowby can cause leading.
Plain-base bullets can work very well at magnum velocities, but they need to be of correct design with proper driving bands, sized to fit the gun and will generally need to be cast to at least a 14 to 16 Brinell hardness number (BHN). They should be lubed with a high-quality lube designed to prevent leading at higher revolver velocities.
Using a cast bullet featuring a gas check will generally allow bullets to be pushed to maximum velocities without leading. Again, Power Pro 300-MP is an excellent powder for (correct) cast bullets pushed to magnum revolver velocities.
For your requested .357 Magnum loads containing 180-grain Hornady XTP bullets, try 16.5 grains of Power Pro 300-MP powder. I suggest using a standard (non-magnum) primer such as the CCI 500 or Federal 100.
For your heavy frame Ruger Blackhawks and Redhawk .45 Colt revolvers using the 300-grain Hornady XTP bullets, start with 23.5 grains of Power Pro 300-MP and work up to a maximum of 24.5 grains. You can use the CCI 300 or Winchester Large Pistol primers for standard or magnum loads, or Federal 150 primers. (Note: Readers wishing to use the above .45 Colt data are reminded to use these in conjunction with heavy frame, aka .44 frame Ruger Blackhawk, New Model Blackhawk, Redhawk, Freedom Arms Model 83 and guns designed specifically to handle loads with magnum pressure.)
Regarding Accurate No. 11FS; it is a great powder that shares a similar burn rate as Hodgdon H-110 and Winchester 296 (which are the same powder) but offers "flash suppression" and explains the FS in its name. Yes, it works very well in .357 and .44 Magnum loads and heavy +P-style .45 Colt loads. Most magnum revolver powders, especially spherical powders such as Accurate 11FS, work best when loads are maximum or at least close to maximum. They do not work properly when loaded down for reduced velocity loads, which can even result in dangerous hangfires and squib loads.
The bullets you mention are all bevel-base designs, and as previously indicated, are less than perfect for the velocities and pressures that 11FS needs to work properly. Again, similar to Power Pro 300-MP powder, you will want to use bullets that are designed for magnum velocities. Oregon Trail Bullet Company is now owned by Rim Rock Bullets. Each company offers cast bullets featuring gas checks that are designed specifically for magnum sixgun cartridges and loads. These can be viewed and ordered at oregontrailbullets.com, or check out rimrockbullets.com.
I hope the above comments and information help, and thanks for taking the time to read our magazine and forwarding your questions.