The "U.S. Rifle, Caliber .30, M1," or more commonly known simply as the M1 Garand, was designed by John Garand (pronounced to rhyme with "errand"), with development beginning around 1924. However, it took many years for its design to be fully developed. Finally, on July 21, 1937, the first production version was proof fired, function tested and checked for accuracy, but it wasn't until September of that year that deliveries were made to the U.S. Army.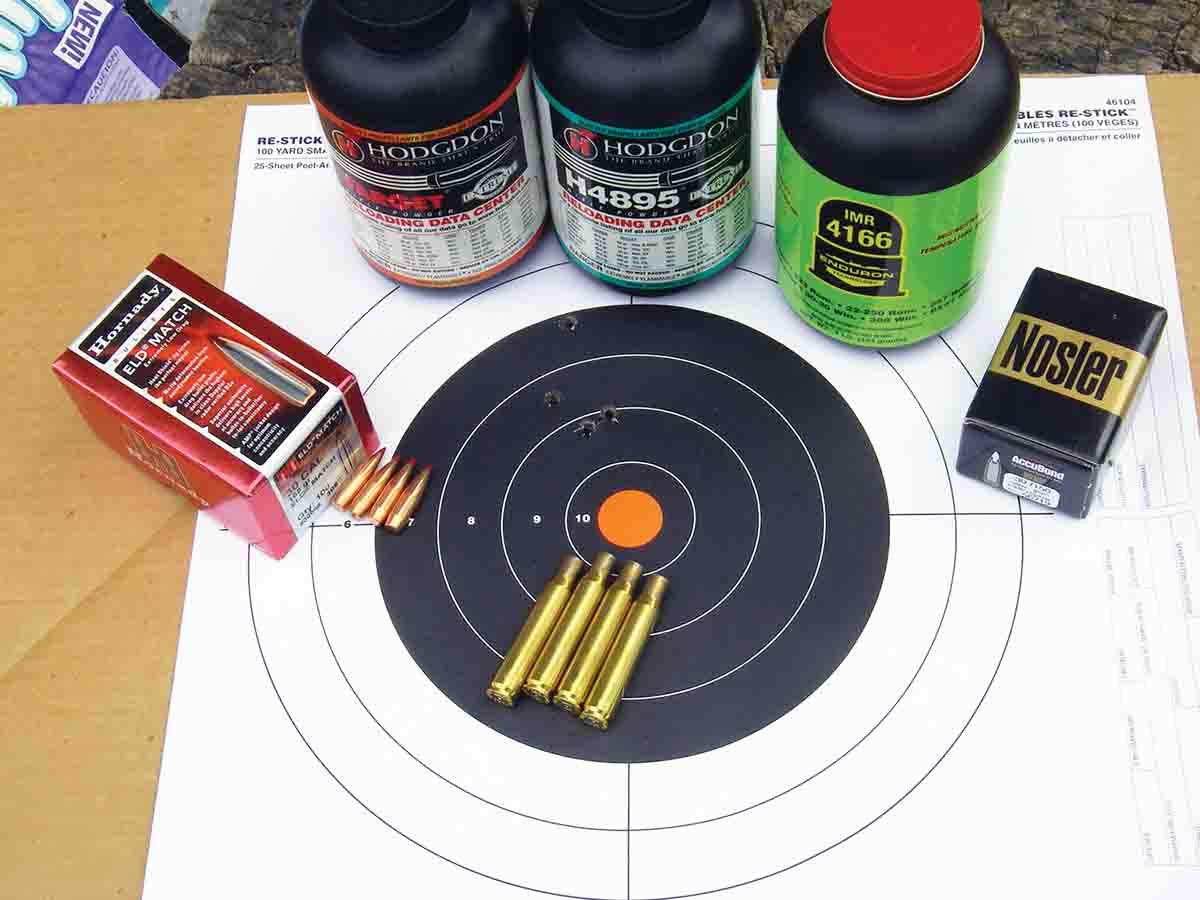 It was the first standard issue semiautomatic military rifle. Naturally, it was chambered for the .30-06 Springfield. While both the 1903 Springfield bolt-action rifle and the M1 Garand were issued to U.S. troops during World War II (and subsequently), the latter proved to be an especially effective battle rifle. General George S. Patton famously referred to it as "the greatest battle implement ever devised." It delivered power and respectable accuracy, but its rate of fire (with the aid of stripper clips) was around 50 rounds per minute by the average soldier, making it a real force to reckon with, especially when compared with period bolt-action service rifles. Apparently, it made enough of an impression that nearly 50 other countries have used it, or are still using it in various applications that include military combat, sniper, police and even ceremonial roles. While the M1 Garand was officially released from duty by the U.S. military in 1958 in favor of the similar M14 (aka M1A), it remained in service during the Vietnam War and was used by the Army Reserve, Army National Guard and the Navy into the 1970s.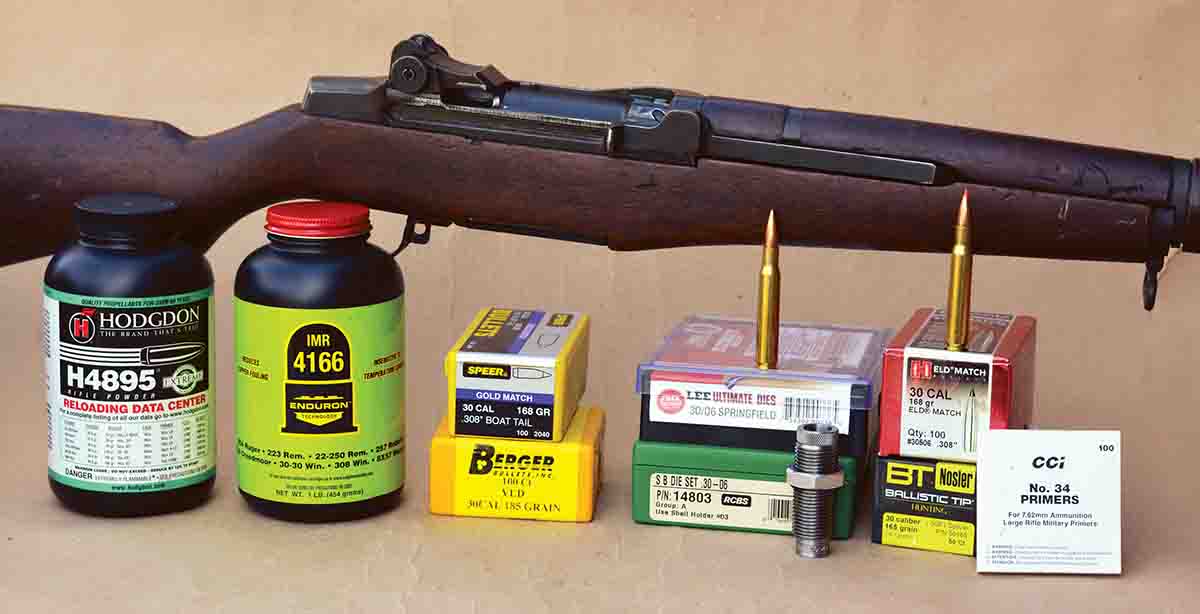 While most M1 Garand's were produced by Springfield Armory, several other companies supplied guns to the U.S. military, including Winchester, Harrington & Richardson and International Harvester, while Beretta and Breda built rifles for branches of the Italian government. Argentina-based F.M.A.P. supplied a variant to its government. The private manufacturer Springfield Armory Inc., is currently producing high quality M1 Garand rifles for the civilian market. There were nearly 5.5 million M1 Garands produced for the U.S. military, many of which are currently in the hands of civilians serving as collectors pieces, but they are also used in target competition, hunting or for just plain shooting fun.
The rifle selected to develop the accompanying data was produced by H&R (Harrington & Richardson) and is a MIL-SPEC rifle without any aftermarket modifications. The bore is in high condition with minimal wear in the bore and at the throat. It is a good shooter that serves as a proper test rifle.
In developing handloads for the M1 Garand, it can be dangerous to use commonly published .30-06 Springfield data for sporting rifles. Likewise, common factory loaded "hunting" .30-06 ammunition is inappropriate and potentially dangerous. In both instances, the gas volume (not to be confused with chamber pressure) produced by these modern cartridges is in excess for the MIL-SPEC M1 Garand gas system, with port pressures becoming excessive. This can result in damage to the rifle, even permanent damage. Of even greater concern, using incorrect ammunition can be dangerous to the shooter.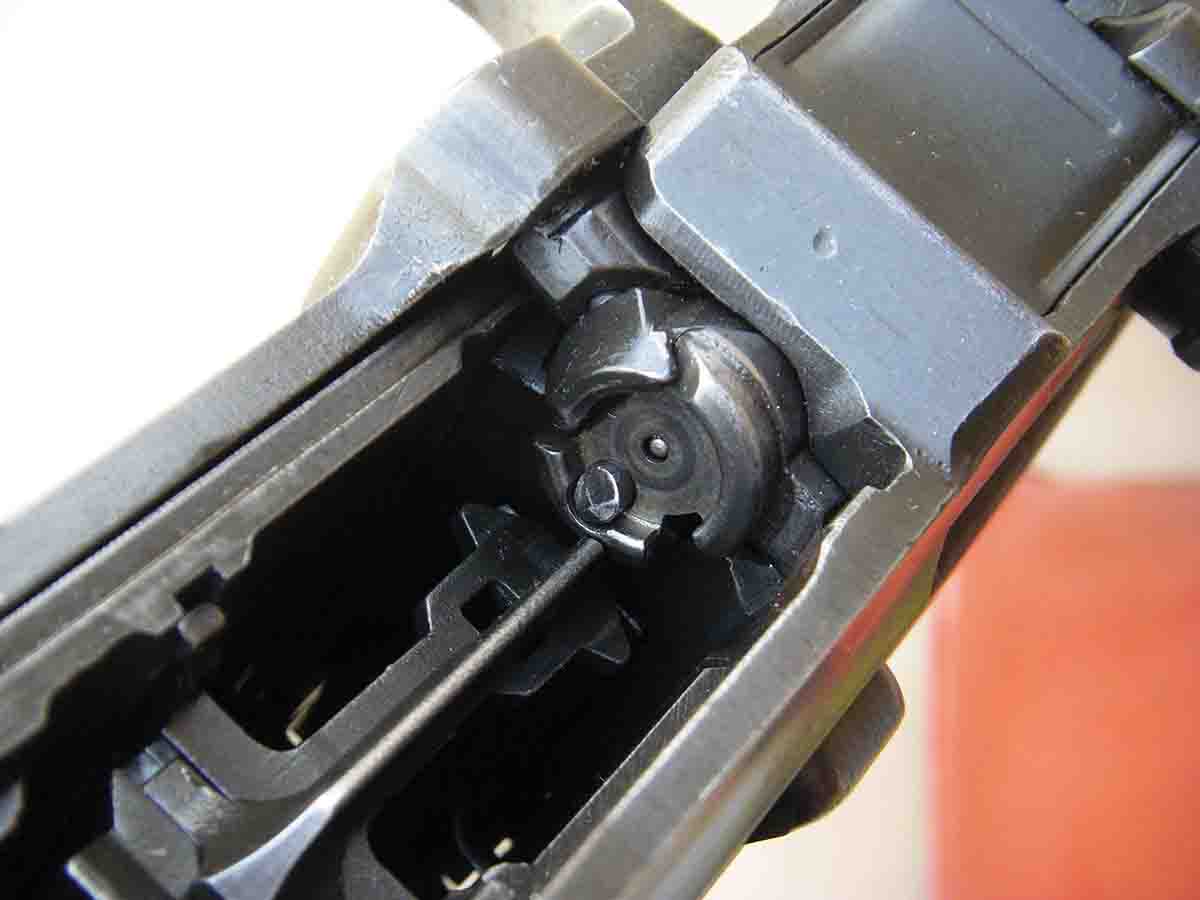 The M1 Garand action features a gas port in the barrel, located just behind the muzzle that activates the operating rod, which unlocks the bolt and pushes it back to cycle. The gas system of the Garand in MIL-SPEC form was designed to operate with a powder gas volume of 46 to 50 grains and to be used in conjunction with 150- to 173-grain bullets. Loads that are outside of this spectrum can damage the operating rod. This eliminates many common powders used to load the .30-06 that often have a burn rate similar to 4350. Powders that have a similar burn rate to 4895 are most suitable, which will be discussed further in a moment. (Note: There are aftermarket gas systems for the M1 Garand that permit it to be used with ammunition containing slower-burning powders and increased gas volume, such as the GarandGear.com Ported Gas Screw. However, in this context it seems most appropriate to stick with the MIL-SPEC gas system.)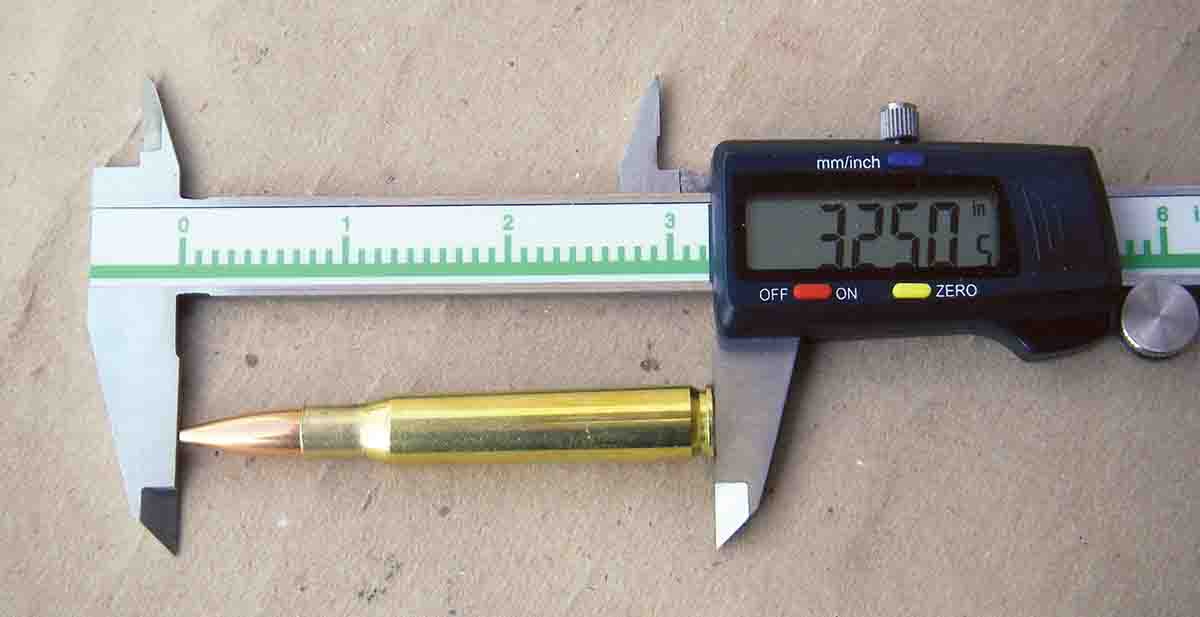 Several companies offer factory loads designed for the M1 Garand, including Federal Cartridge, which lists an American Eagle 150-grain FMJ bullet at 2,740 feet per second (fps), while Hornady offers a Vintage Match load containing the 168-grain ELD Match bullet at 2,710 fps. Other companies, including PPU, offer loads designed specifically for the M1 Garand. Unfortunately, due to the huge surge for ammunition as of late, none of the above loads were available for testing at press time. For further reference, 1938-era military ammunition lists a 152-grain bullet (minimum weight 149 grains and maximum 152 grains) at 2,805 fps, which was, incidentally, propelled with IMR-4895 powder. Select loads offered in the accompanying table more or less duplicate the above factory load performance and period military loads.
Before moving forward, it is important to understand what a slam-fire is and why I am going to place so much emphasis on ammunition specifications to prevent one from occurring. A slam-fire is a situation where the cartridge that is being fed into the chamber fires without the trigger being pulled. This often occurs before the bolt is fully closed, but not always, as it can occur after the bolt locks but before the operating rod has traveled fully forward. Either way, a slam-fire often results in damage to the rifle – sometimes severe damage – but often injures the shooter.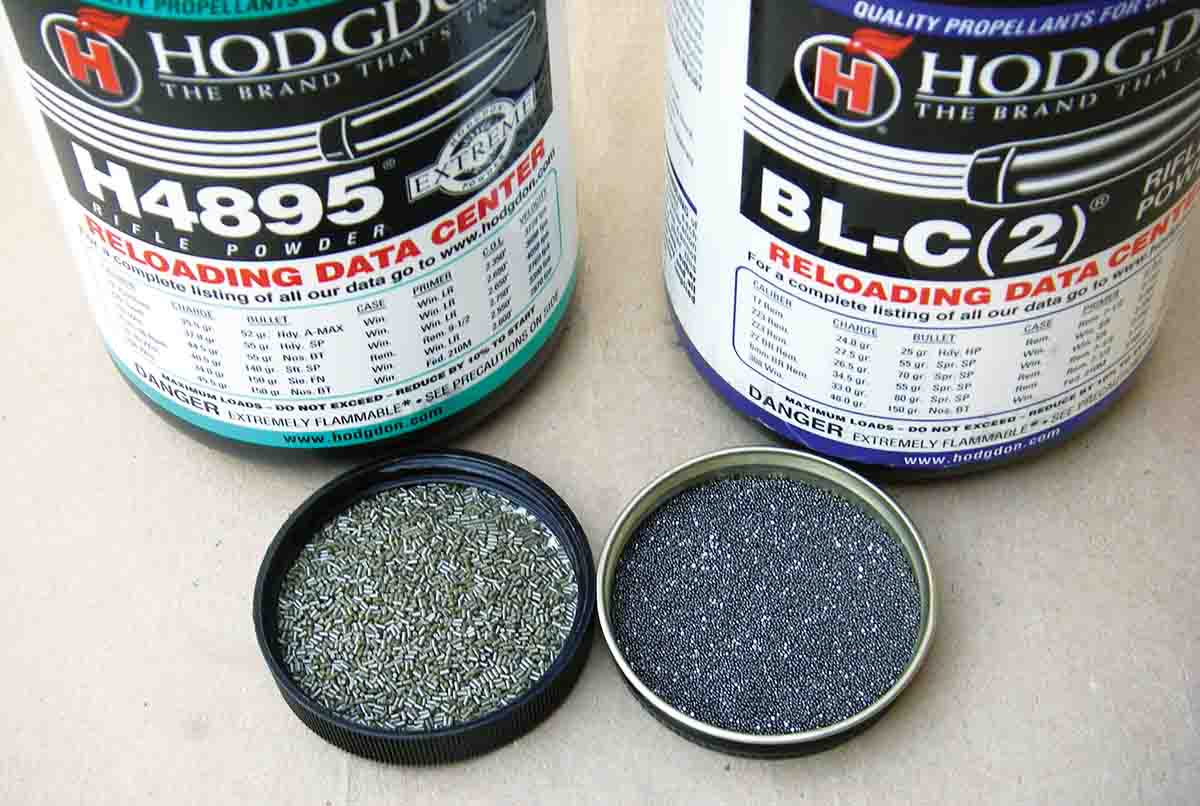 There are multiple causes, or sometimes a combination of causes for slam-fires, but can include a problem with the rifle or a problem with the ammunition. The M1 Garand features a floating firing pin. When a cartridge is fired and the action cycles, the bolt picks up a new round and slams it hard into the chamber. The floating firing pin moves forward with enough inertia that it actually contacts the primer of the recently chambered cartridge and actually leaves a small indent on the primer, but does not ignite . . . or at least is not supposed to! If the firing pin is out of spec, rusted or jammed into the forward position, the rifle can slam-fire even with military ammunition.
Other potential issues with the rifle can include the sear failing, which allows the hammer to follow the bolt as it travels forward and will fire before the action locks up. Excess headspace can also contribute to a slam-fire. The bolt face and action in general should be regularly inspected for brass shavings and debris, and cleaned. Due to chambering resistance, a dirty chamber can actually be responsible for a slam-fire. Finally, it is actually a good idea to have your M1 Garand examined by a professional familiar with its design and specifications before turning it into a shooter.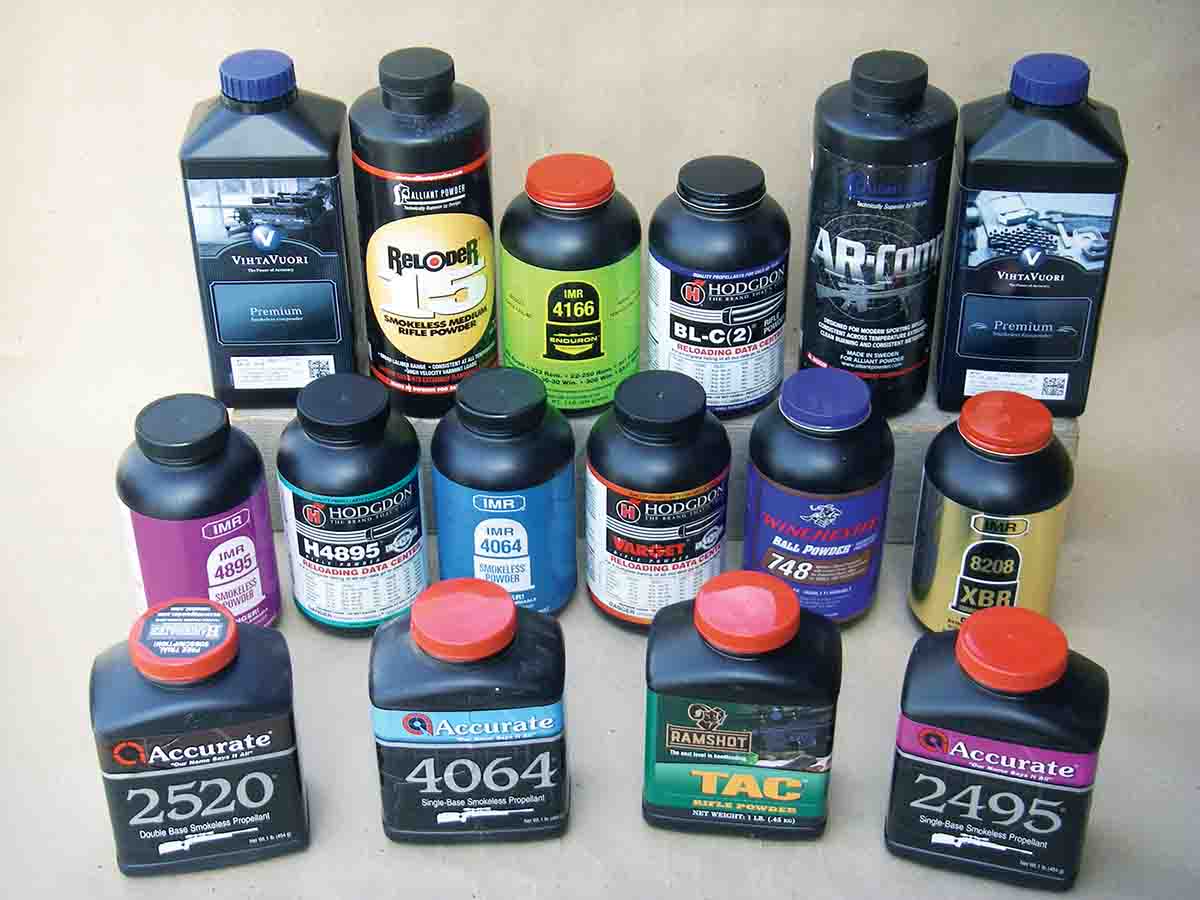 When handloading for the M1 Garand, it is important to pay close attention to the details of components, cartridge specifications, etc., to prevent slam-fires, which will be discussed as I proceed.
Cases for the .30-06 vary significantly in capacity. Naturally, cases with less capacity will produce greater pressure when compared to cases that offer greater capacity. Military cases are generally thicker than any commercial cases commonly available in the U.S., and will require a reduction in powder charge weights. It is noteworthy that most military .30-06 cartridges produced prior to 1952 were corrosive primed and featured compounds that are known to deteriorate brass and compromise its strength and should not be used for handloading.
When using surplus cases manufactured after 1952, the crimped primer pocket will need to be removed before they can be used. For reference, commercial Hornady cases were used to develop all data, which averaged 177.2 grains unprimed.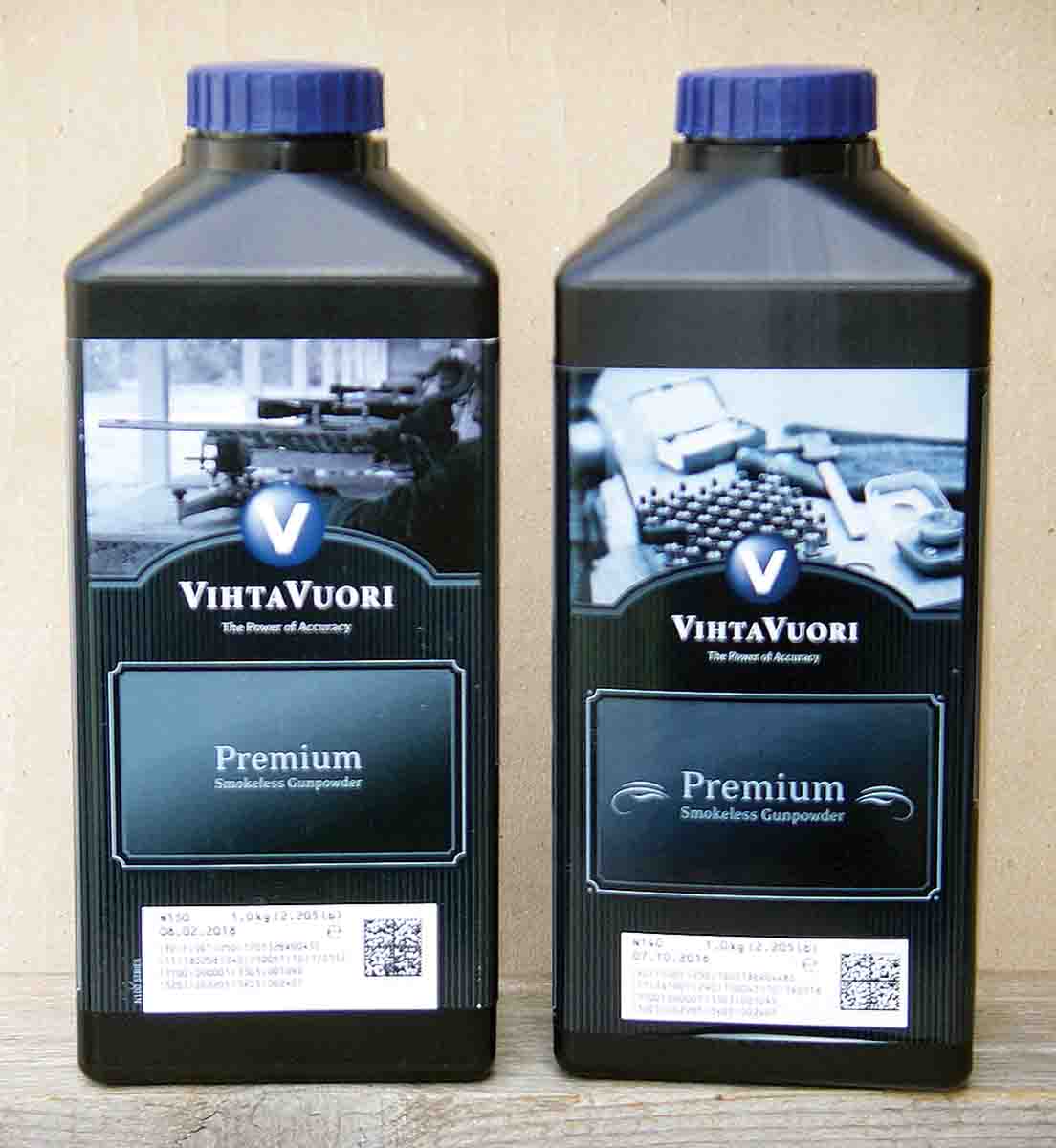 Case preparation is especially important when handloading for the M1 Garand. This will not only serve to assemble accurate and reliable ammunition, but is also a safety factor to prevent slam-fires. Many match shooters use a full-length sizing die without issue; however, to assure reliable chambering cases, they really should be fully sized using a small base sizer die (with the die being adjusted per the manufacturer's instructions to bring the case back to the Sporting Arms and Ammunition Manufacturers' Institute specifications). If a cartridge offers any resistance when being fed, such as being oversized, when it is slammed into the chamber by the bolt, there is a chance of a slam-fire. Again, a small base sizer die will serve to assist in proper chambering. Cases should all be carefully measured to be certain that their overall length is within industry specification of 2.494 inches maximum, as an excessively long case can contribute to a slam-fire. Naturally, case necks should be chamfered.
A common mistake when handloading for the M1 Garand is primer selection. Again, I know match shooters that use Federal 210 Large Rifle primers and CCI BR-2 Bench Rest primers and swear by them for their shot-to-shot consistency and accuracy, and have never experienced a slam-fire. However, these primers, especially the Federal, are sensitive and easy to ignite via the floating firing pin that contacts the primer as the action slams closed, which can potentially cause a slam-fire. For this reason, I strongly recommend the CCI No. 34 primer, which is a MIL-SPEC primer designed specifically for 7.62 NATO, M14 and other automatic/semiautomatic arms. Space will not allow a detailed discussion of the engineering details of this primer; however, it is less sensitive than commercial primers and designed specifically to prevent slam-fires and meets all military specifications. It is in widespread use by the U.S. military and used by many militaries worldwide that use it in a variety of automatic weapons. Incidentally, it is a magnum primer with similar energy and ballistic performance as the CCI 250 Large Rifle Magnum primer.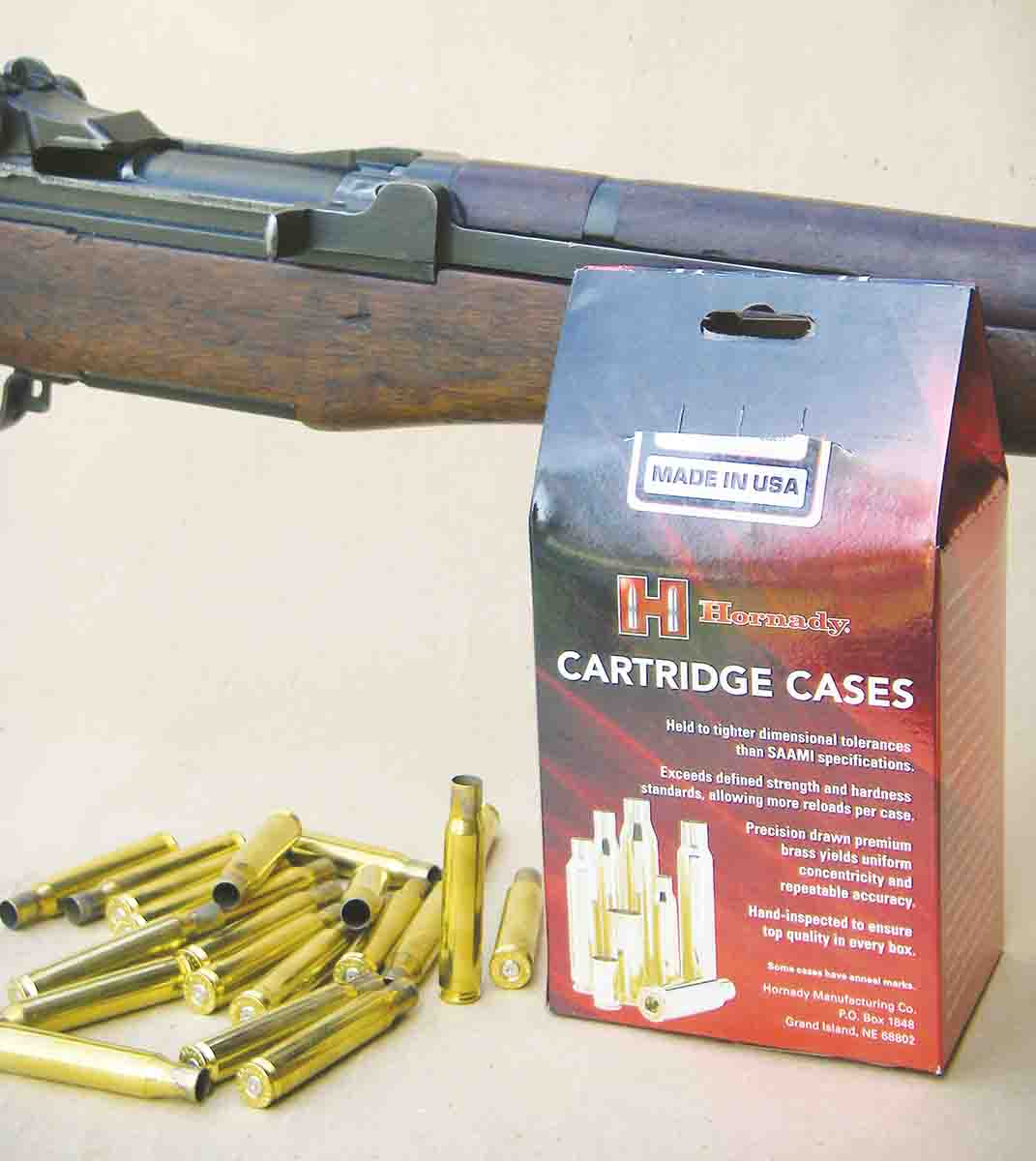 Primers should always be seated at least .003 to .005 inch below flush. This assures the anvil is in contact with the bottom of the primer pocket for reliable ignition, but also prevents the primer from being slammed forward from inertia when the cartridge is chambered, which may cause a slam-fire. Cases that allow primers to be seated without resistance, or with very little resistance, may cause a slam-fire and should be crushed and discarded. This is one reason military ammunition featured primers that were crimped in place. Using a handheld priming tool will help identify primers that seat too easily.
As indicated, the M1 Garand's gas system is designed to function with between 46.0 and 50.0 grains of powder. To achieve targeted velocities, powders with a burn rate similar to 4895 are most suitable. The fastest-burning powder used herein was Hodgdon BL-C(2), while the slowest was Vihtavuori N150. There are many excellent powders that have a burn rate that falls between those two powders. IMR-4895 and Hodgdon H-4895 both performed well and are still the go-to powder for many M1 Garand shooters. However, many newer powders are also good choices, including Hodgdon Varget, IMR-8208 XBR, IMR-4166, IMR-4064, VV-N140, VV-N150, Accurate 2520, A-4064, A-2495, Alliant Reloder 15 and AR-Comp. Each produced good accuracy and reached normal velocities for the M1 Garand.
One issue with all of the above powders is that many of the maximum loads only use around 80 percent of the .30-06's load density (by volume); however, a few loads reached around 90 percent. Regardless, this can result in undesirable extreme spread swings based on the position of the powder when the rifle is fired. It is noteworthy that some powders were less position sensitive than others, with Varget, H-4895, Reloder 15, IMR-4166, IMR-4895, Vihtavuori N140 and N150 offering respectable performance. Nonetheless, average velocities were higher with all loads when the powder was positioned to the rear of the case when the cartridge was fired. For those seeking top accuracy and lowest extreme spreads, it is suggested to lift the muzzle between shots and let the powder settle at the rear of the case. Incidentally, all velocities in the accompanying loads table were obtained with the powders positioned to the rear.
The selection of suitable .30- caliber bullets for the M1 Garand is long; however, I generally focused on 150- through 185-grain weights, and kept powder charges within the rather tight powder volume "window" required for the rifle's gas system. Included were match and hunting bullets, as the M1 Garand is commonly used for both purposes. While only slightly heavier than period military loads, the Nosler 155-grain Custom Competition HPBT bullet gave consistently good accuracy, while the Hornady 168-grain ELD Match likewise gave outstanding accuracy. Both are top choices for match shooters. A variety of proven hunting bullets from Hornady, Nosler and Federal were also included in the accompanying data that allow the M1 Garand to be used to hunt deer, elk and other big game for those that want to take a classic military rifle afield.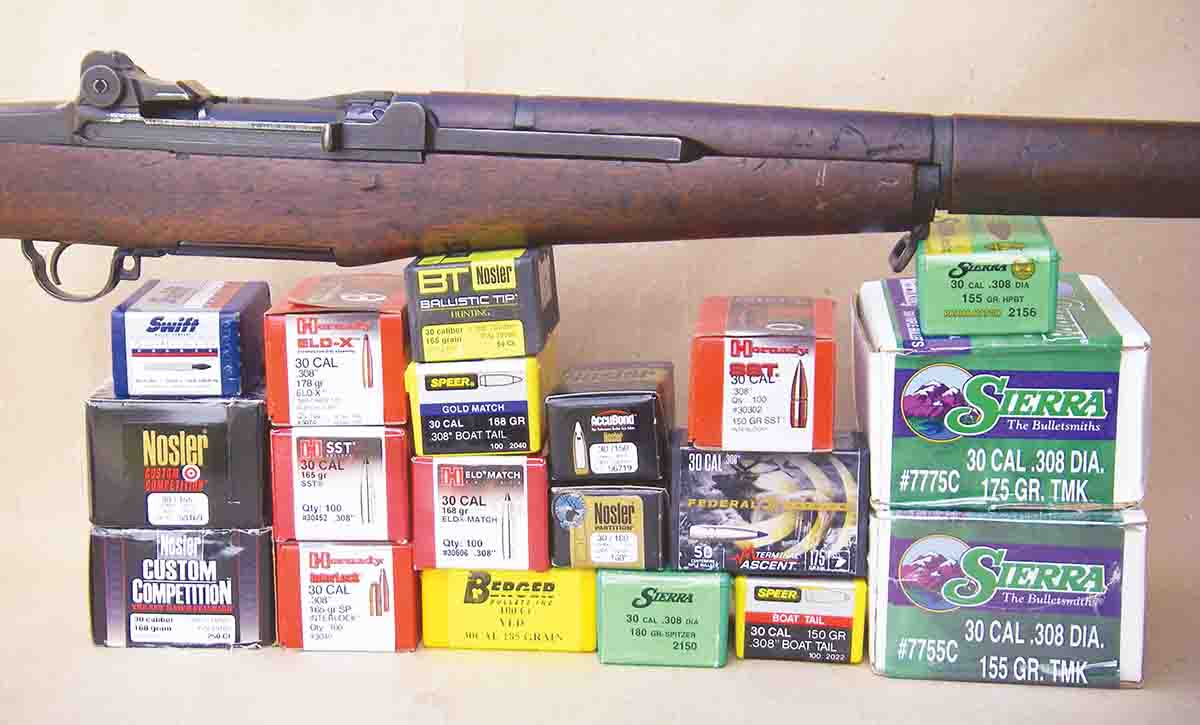 While the maximum overall cartridge length for the .30-06 is 3.340 inches, generally, bullets should be seated well off of the chamber's leade, which serves to prevent chambering problems and helps to minimize the chance of slam-fires. They should generally be at least .040 inch off the leade; however, based on the profile of some bullet's ogive, that figure may need to be increased to prevent chambering interference.
After bullets were seated to the desired overall cartridge length, a Lee Factory Crimp die was applied to help prevent bullets from moving while the cartridge is subjected to its rather turbulent trip into the chamber.
Many "as issued" M1 Garand's that have little or modest bore and throat wear are capable of around MOA accuracy with select match components or high-quality handloads containing hunting bullets. Properly-accurized rifles will produce even better results.
The M1 Garand is a highly historic rifle. Both shooter interest and prices have soared over the past few years. Through proper handloading, General Patton's "greatest battle implement" can provide reliability, accuracy and is especially fun to shoot.