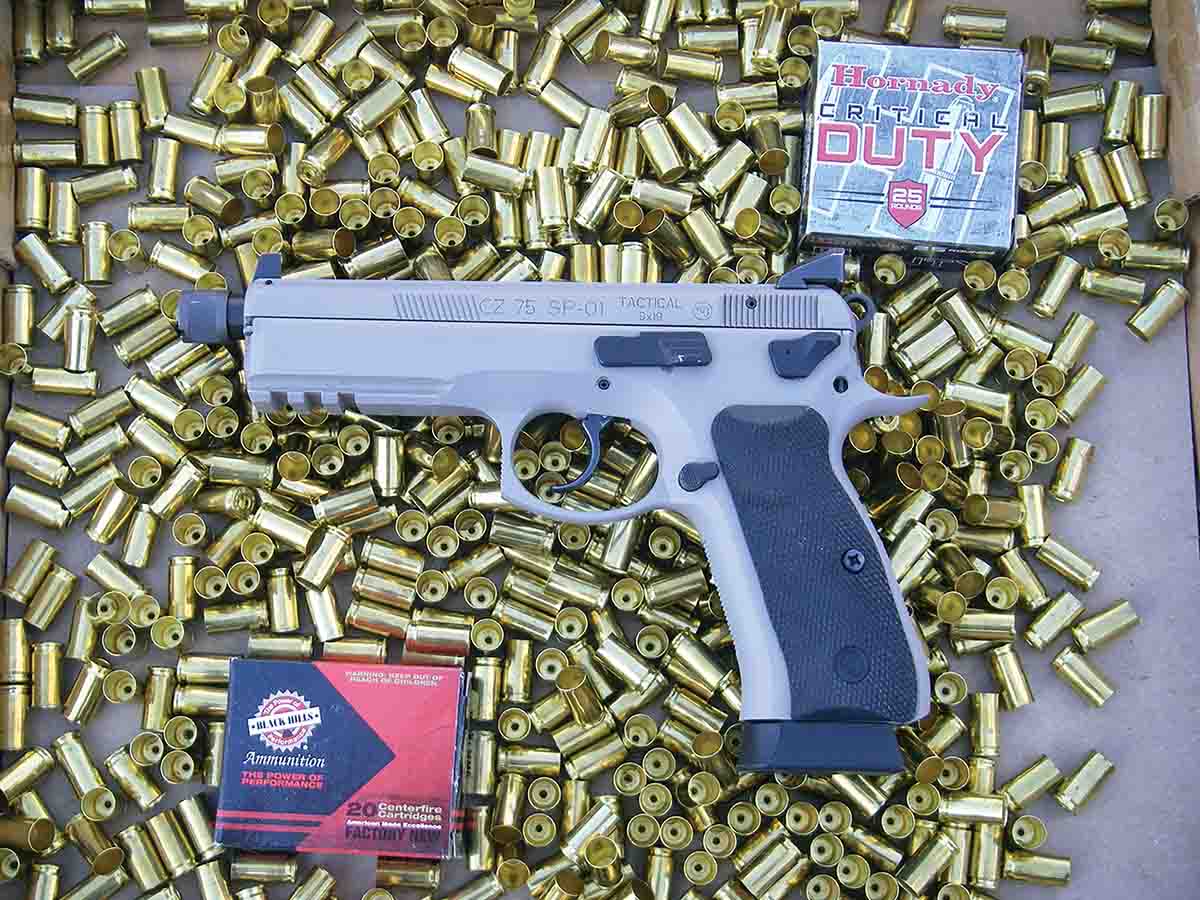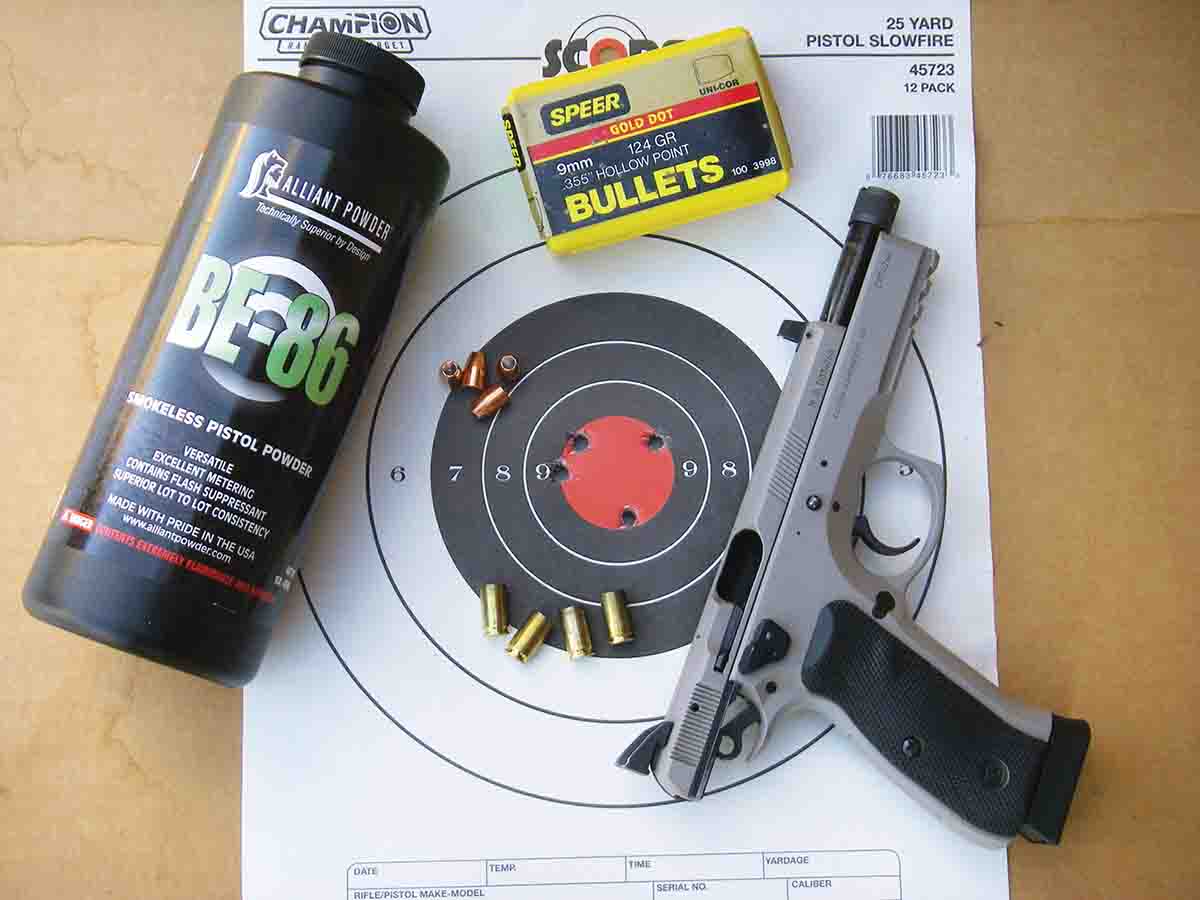 The CZ 75 was first offered in 1975 and quickly earned a reputation for being well-made, accurate, rugged and reliable while offering natural pointing characteristics. In the past 45 years, it has been produced in many variations to better accommodate a variety of applications that include personal defense/concealed carry, military, law enforcement and competition. It is available in all steel versions. It's also offered with an alloy frame, as a semi-compact, compact, competition and even in a polymer frame version. Each have many sub-variant models. The CZ 75 has adapted to changing times and certainly accommodates the modern shooter.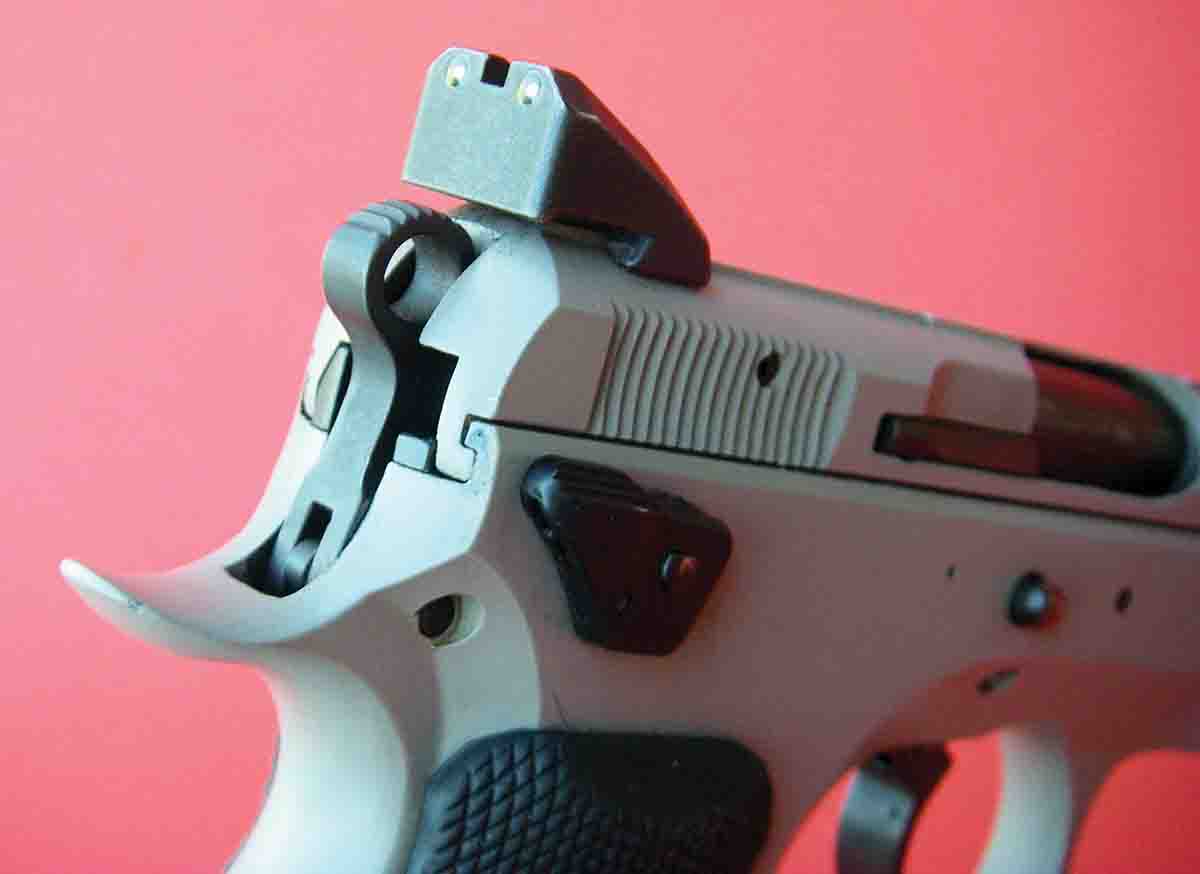 One example includes the CZ 75 SP-01 Tactical 9mm Luger that was designed specifically for military and law enforcement, but has gained considerable popularity among civilians.
Features include the standard double-action/single-action firing system with an ambidextrous de- cocking lever, a safety stop on the hammer and a firing pin block safety. Essentially, by using the de-cocking lever the hammer goes to half-cock, which is a safety position. At this point, by simply pulling the trigger, the gun will fire. Another option is to carry the gun with the hammer fully lowered (my personal choice), which can be fired in the double-action mode for the first round, with subsequent shots being fired in single-action mode. The double-action pull is smooth and easy to make the first shot a hit (which is the most important one). But due to the natural grip shape and hand position in relation to the trigger, after the first shot is fired in double-action mode, the majority of shooters will not need to reposition the hand to continue firing in the single-action mode. (Please note that not all CZ 75 pistols feature the ambidextrous de-cocking lever as described above.)
While the single-action trigger pull of the test pistol was just over 5 pounds, it was crisp and felt much lighter than its actual pull weight. Furthermore, the trigger shape is rounded and smooth and never offered any "bite" to the trigger finger. While trigger reset is difficult to measure, it is reasonably short, especially for a double-action/single-action pistol. Overall, the CZ 75 receives high marks for its ergonomics and natural feel.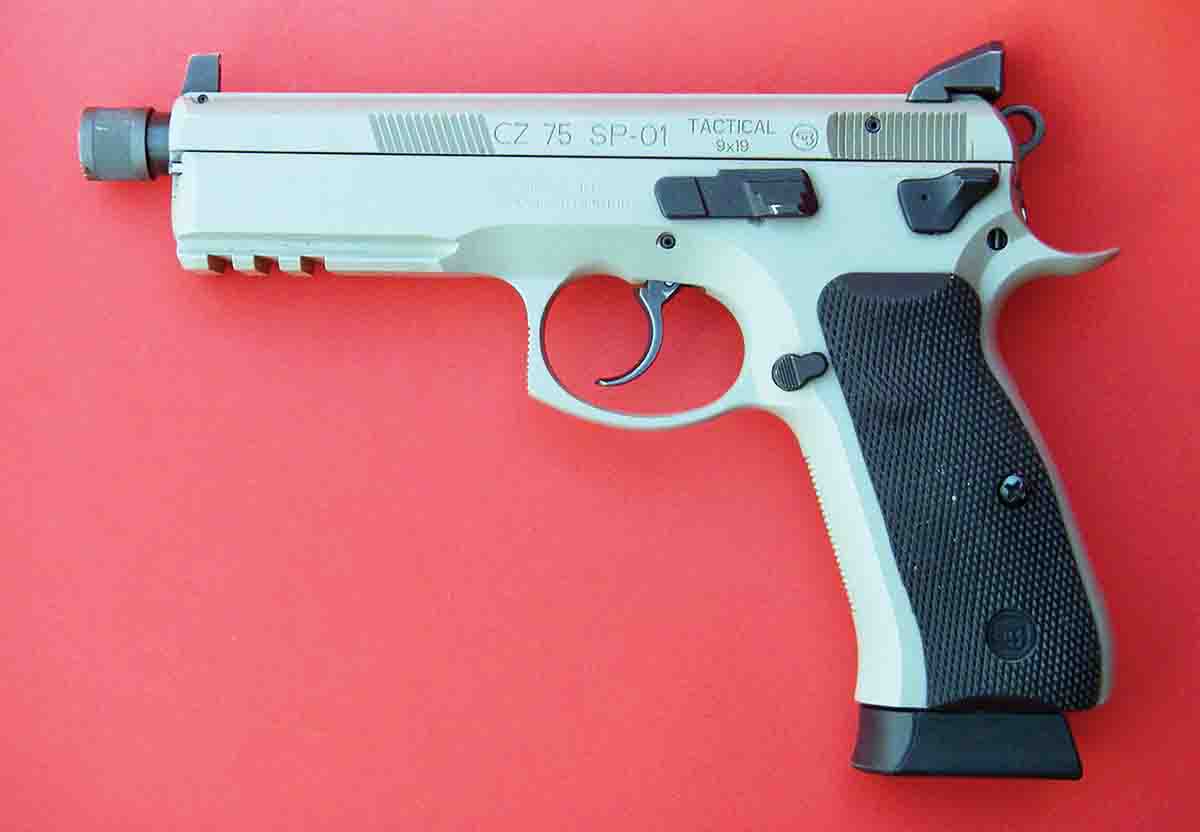 The CZ 75 is a recoil-operated, breech-locking pistol that is based on the linkless cam-locking system used on the groundbreaking Browning Hi-Power pistol. This system locks the barrel and slide together on firing, via locking lugs on the barrel that contact the inside roof of the slide. As the recoil stroke begins, the back of the barrel is cammed downward while the slide travels full cycle (recoil stroke) to eject the fired case and then pickup a new cartridge from the magazine on its return to push it home into the chamber.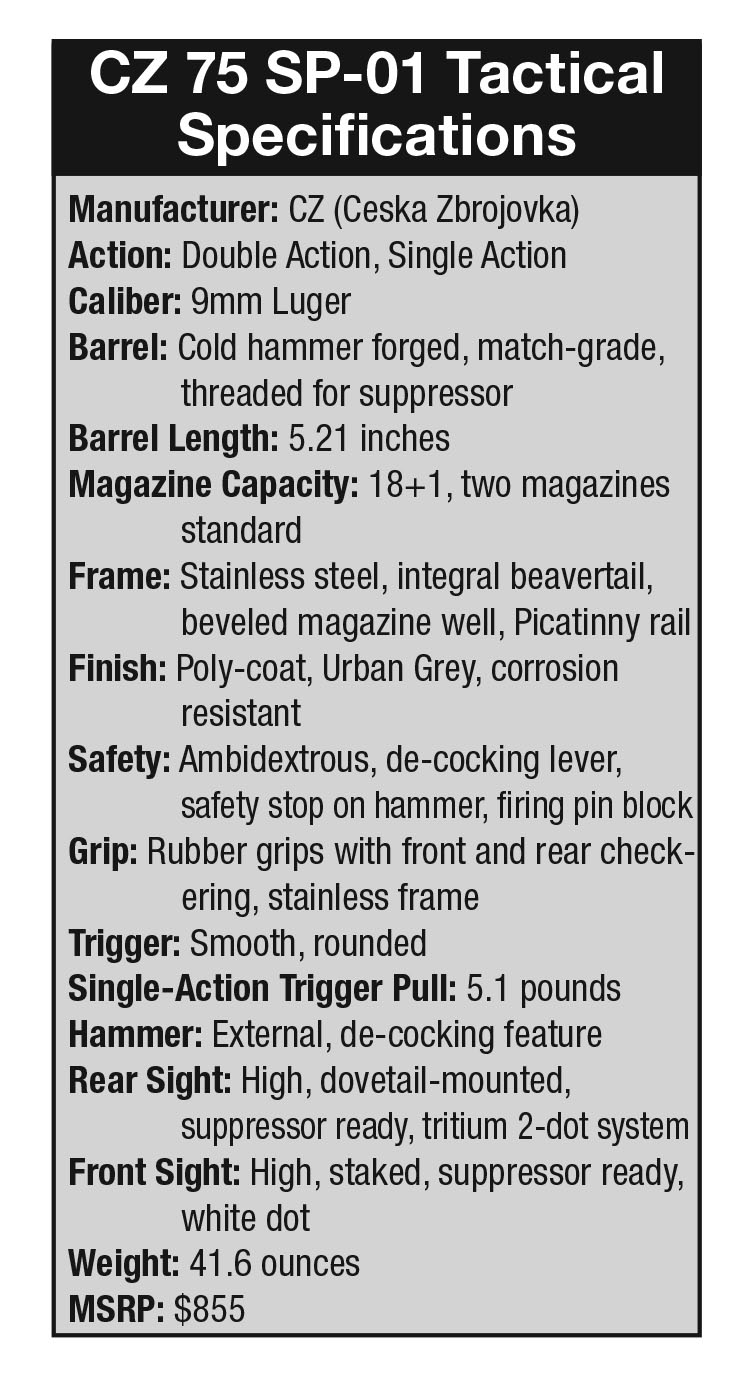 The CZ 75 SP-01 Tactical also offers many additional features that include a threaded barrel (with thread protector) that is suppressor ready, along with extra high front and rear three-dot sights (tritium charged) to accommodate normal use when the suppressor is installed. A Picatinny rail is integral to the frame, along with a beavertail that protects the shooters web of the hand from possible contact with the hammer. It also positions the hand for a high grip, which serves to minimize muzzle lift during recoil and aids with fast follow-up shots.
There is checkering on the front and back of the grip frame and on the front of the modestly squared trigger guard. The magazine well is beveled to accommodate quick reloading with 18-round magazines. The frame and slide feature a rust resistant poly-coated, Urban Grey finish, while the sights, ambidextrous de-cocking levers, hammer, etc., are flat black.
The CZ 75 SP-01 Tactical is all steel (with the exception of the black plastic magazine bump pad and black rubber grip panels). As such, the gun tips the scale at a comparatively hefty 41.6 ounces with a steel magazine installed. However, its robust design and construction permits it to fire high volume quantities of 9mm Luger +P loads without damage or concern.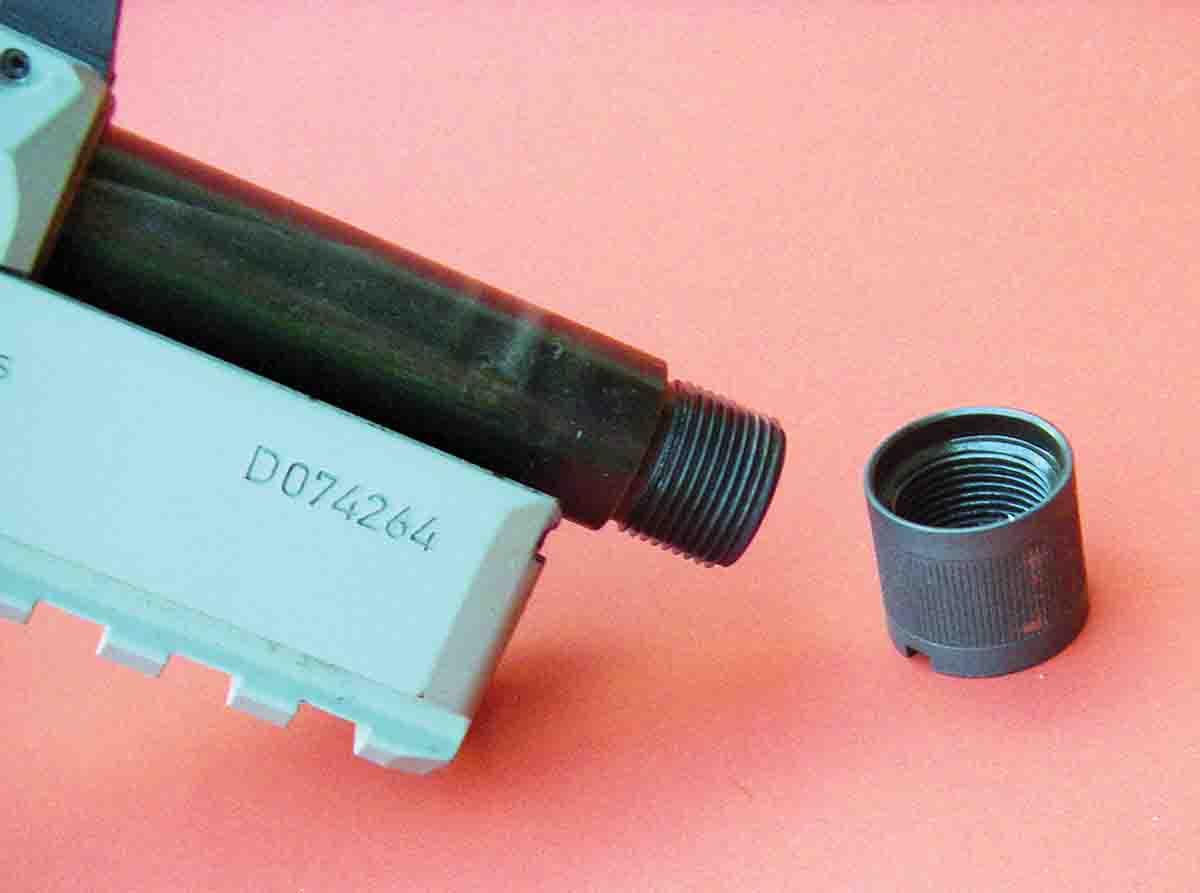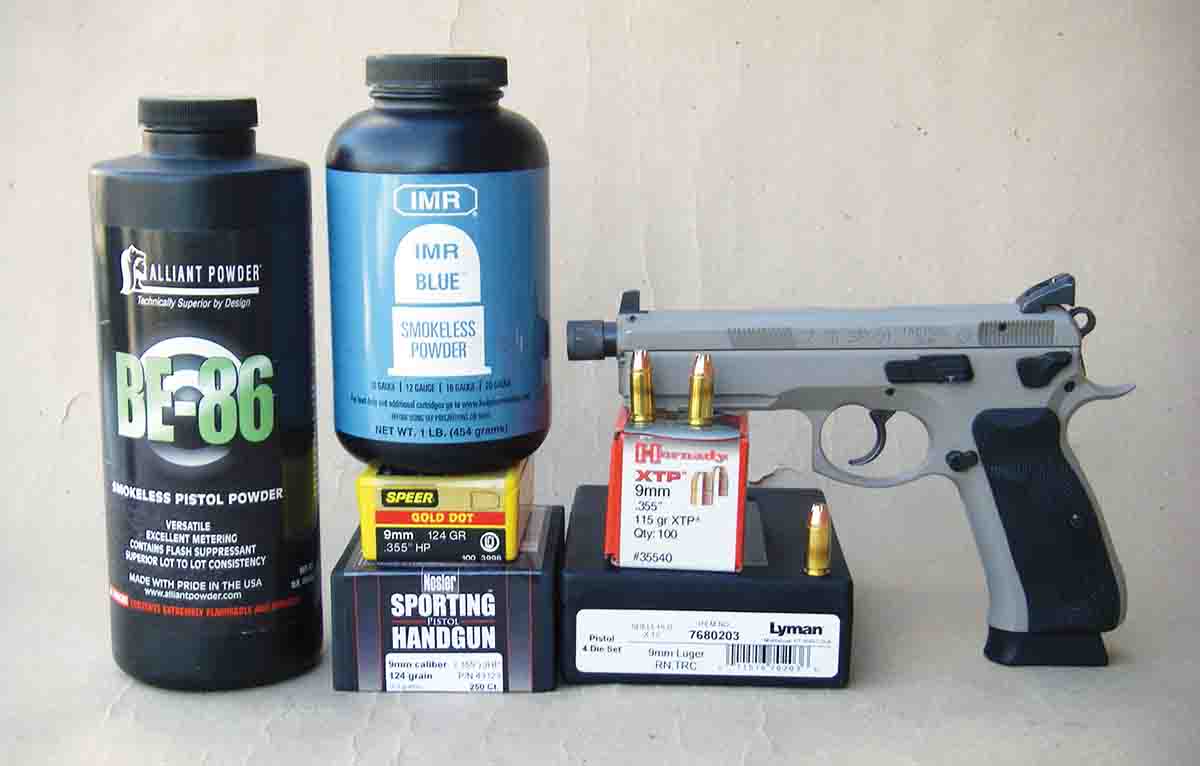 Disassembly for basic cleaning is quick and easy. Internally, the CZ shows quality machine work and reflects how it performed in terms of reliability, accuracy, etc.
As part of the evaluation of the CZ 75 SP-01 pistol, more than 600 rounds of 115-, 124- and 147-grain FMJ roundnose and FMJ flatpoint rounds were fired, which included loads from Federal, CCI Blazer, Winchester and Tul Ammunition. During test firing, the gun was cleaned after the first 300 rounds and lightly oiled for the remainder of the shooting. Function was essentially flawless. There was one failure to feed using the CCI Blazer Brass 115-grain load. However, I am absolutely certain that the ammunition was the problem, as this particular lot number was especially weak in terms of pressure and velocity, and simply could not produce enough pressure to cycle the slide 100 percent reliably.
As can be seen in the accompanying table, accuracy was respectable, with most 25-yard groups typically measuring between 1.50 and 2.25 inches.
Next, the gun was tried with high performance defense-style factory loads from Black Hills Ammunition, Hornady and Speer. While test quantities had to be limited due to the huge ammunition shortage of late, each load fed, fired and functioned flawlessly. Accuracy was good, as all loads stayed under 2.0 inches at 25 yards with the aid of a sandbag rest. The most accurate factory load was Black Hills Ammunition's 124-grain JHP +P, which grouped into 1.60 inches.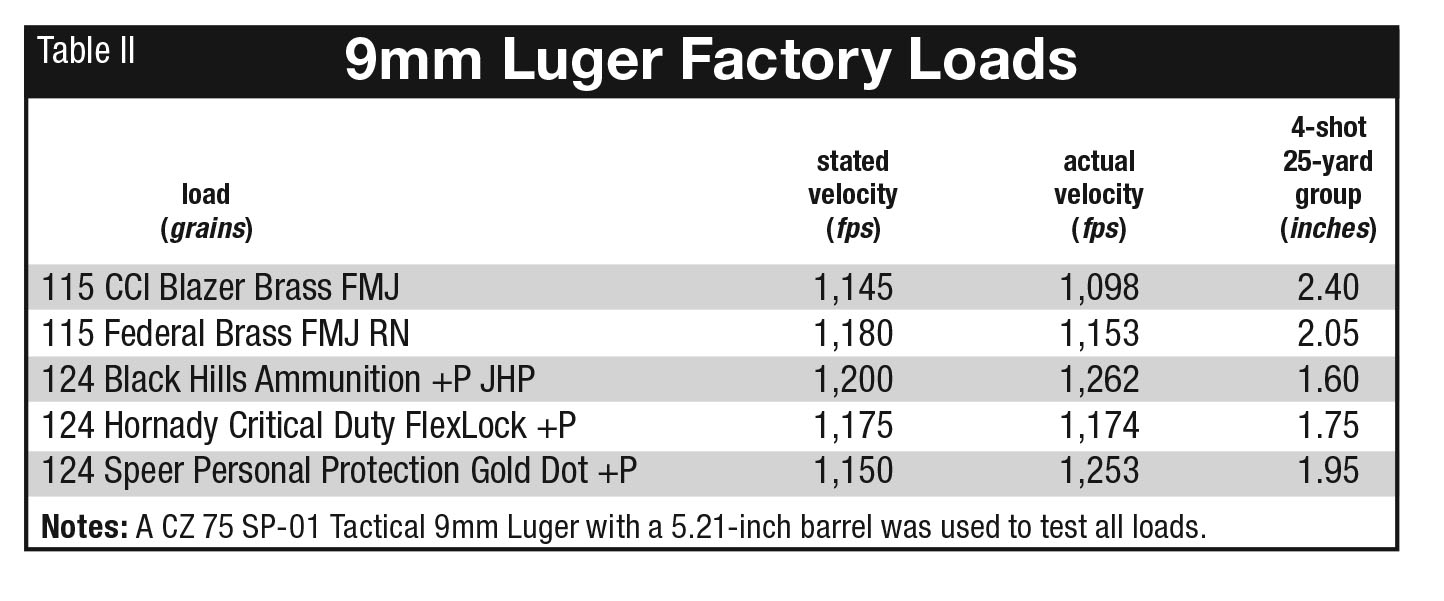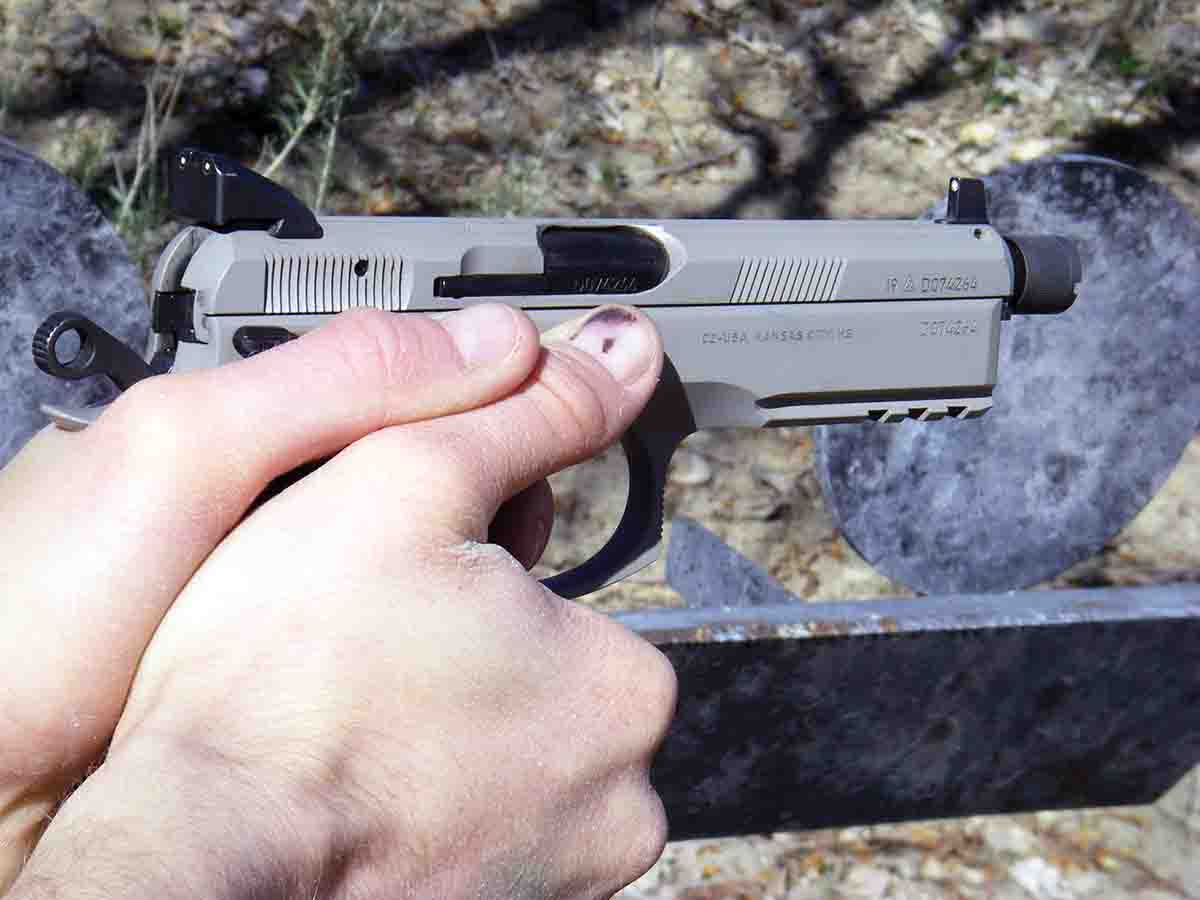 Moving on to handload data, the 9mm Luger can be very sensitive to small changes in components, including primers, cases, lot-to-lot powder variances and bullet seating depth. In other words, small changes and variances can change pressure, sometimes significantly. While the CZ 75 is rated for +P loads, I wanted to develop data that was standard pressure (35,000 psi or less) while offering +P-style velocities along with top accuracy. Several powders offer this type of performance, including Alliant BE-86, IMR Blue, Hodgdon Longshot, CFE Pistol, Accurate No. 7 and others. New Starline cases were full-length sized using Lyman dies, and then capped with a CCI 500 primer. After cases were charged with powder, bullets were seated to specified overall cartridge lengths, then as a separate step, a taper crimp was applied that measured .372 inch at the case mouth.
A few noteworthy loads include the Hornady 115-grain XTP bullet pushed with 6.4 grains of BE-86 powder for nearly 1,400 fps, while 10.0 grains of IMR Blue produced more or less the same velocity. Groups for both loads hovered between 1.50 and 2.10 inches at 25 yards. Moving up to the 124-grain Nosler Sporting JHP bullet, 5.5 grains of CFE Pistol reached 1,231 fps while 7.9 grains of Accurate No. 7 powder reached 1,248 fps. Both loads grouped between 1.50 and 1.75 inches. Switching to the Speer 124-grain Gold Dot bullet, 8.8 grains of IMR Blue powder reached 1,286 fps, while 6.1 grains of BE-86 reached an impressive 1,314 fps. As long as I would do my part, both loads stayed under 2 inches at 25 yards. These two latter loads offer impressive performance for the 9mm, especially considering that they are standard pressure and not +P!
I was pleased with the reliability and accuracy of the CZ 75 SP-01 Tactical 9mm. In addition to being easy to shoot well, it offers out-of-the-box features that many modern shooters desire and has justifiably become popular. In addition to its many features and overall quality, its modest $855 suggested retail price makes it an especially interesting pistol.