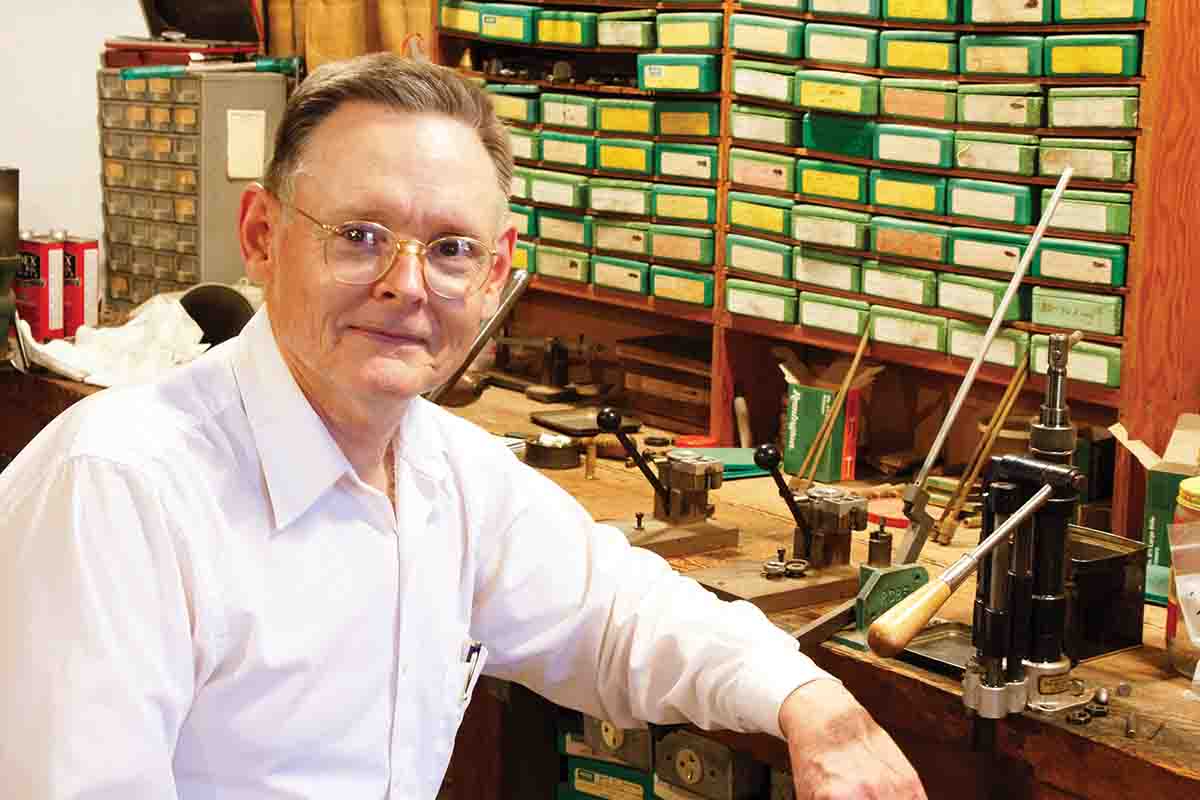 Faithful readers of
Handloader
will be familiar with the name Bob Hayley, a man who was, I believe, unique in the world: He made the wherewithal – bullets, cases and anything else necessary – to keep old guns shooting. Although he had many pursuits in his life, including oil-patch geologist, horseback cattleman and Presbyterian minister, I believe that old guns and ballistics were the subjects dearest to his heart.
Bob died last October of cancer, after four years of treatments with the consequent ups, downs, ins and outs. Some treatments worked for a while; others seemed to do nothing except cause discomfort. Through it all, even when he was unable to work, which was most of his final year, he remained irascible. No matter how bad he felt, I never saw him without a gun in his pocket and one in his boot.
One of Bob's final requests was that he have no funeral, no graveside service, no mourners and no obituary. In line with that, this is not an obituary. Rather, it's a final notice to Bob's many customers. I don't think he would have minded that.
I met Bob Hayley in 2008, referred to him by Fred Huntington who, being unable to supply some arcane cartridge I needed, suggested I call Hayley's Custom Ammunition in Seymour, Texas. Seymour is a fading, dusty town on the edge of the panhandle, 50 miles west of Wichita Falls. People asked where it was close to. The answer: "Nowhere, really."
As I also told several editors who questioned seeing Bob's name in so many articles, there was no one else who did what he did. No one. "Oh, there must be someone out there," they'd say. No. There is no one. A couple of times, they supplied names of guys who loaded obsolete ammunition, but when they were contacted, they confessed that they usually got the basic materials necessary, including brass and bullets, from Bob. Full circle.
As I understand it, he also supplied the Old Western Scrounger, years ago, and worked with both Huntington's and Buffalo Arms.
For the record, Bob was well into his 70s when he died, still living in the house where he'd been raised, on the edge of town next to the Brazos River. His shop occupied two large rooms of a separate concrete building, half of which was a garage that housed his old Cadillac. For everyday use, he tooled around town in a Land Rover dating from the 1960s.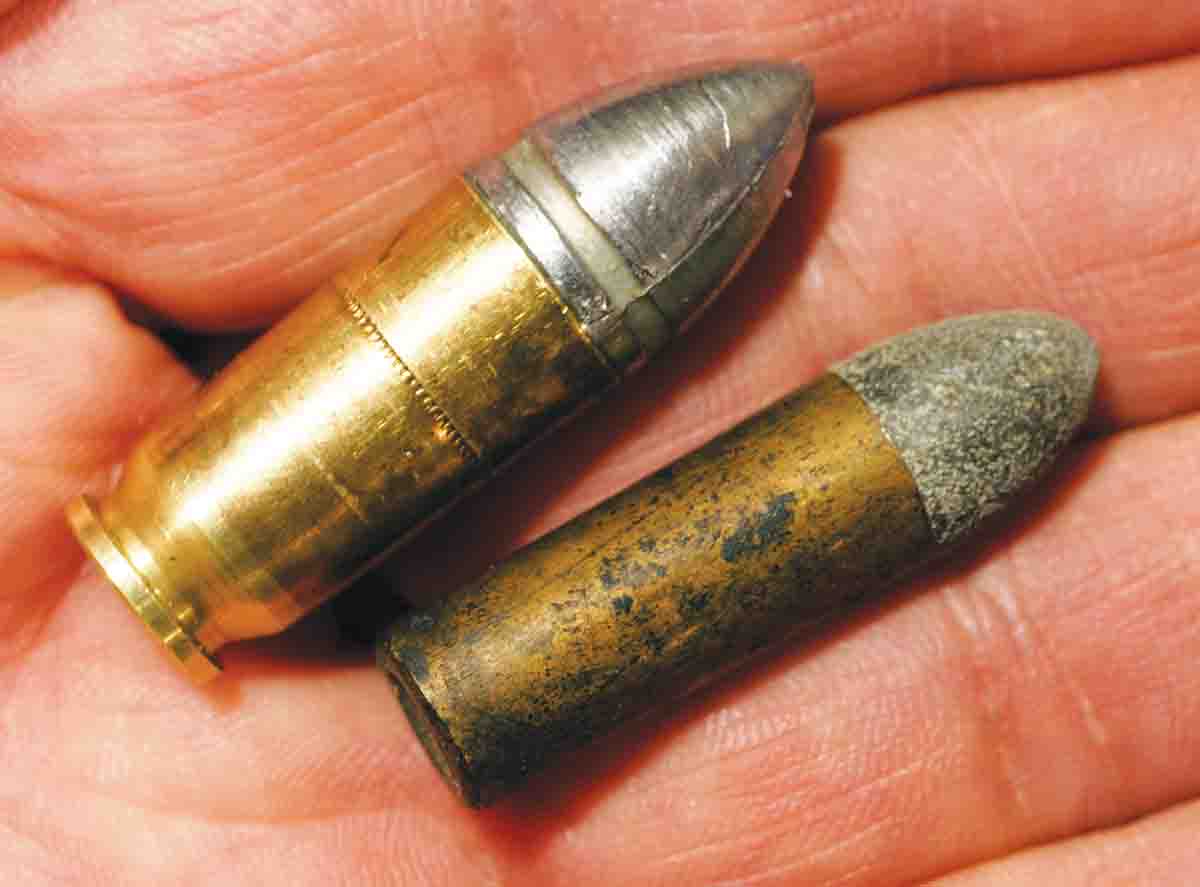 On our first meeting, Bob told me he specialized in "the weird, the wacky, and the wonderful," and that pretty much summed it up. He prided himself on being able to get any gun shooting once again, provided it was in safe condition, no matter what it was, no matter how arcane. For example, if you had a French 9mm pinfire gallery pistol, Bob could make ammunition; if you needed rounds for a .41 Short Rimfire, he could make that, too. He produced the oddball front-insertion cartridges used in Colt's Thuer conversion revolvers of the 1860s, as well as the self-contained paper cartridges demanded by the Civil War-era Starr carbine.
Over the dozen years I knew him, Bob helped me out with probably 30 or 40 projects, not counting the frequent phone calls to ask him about this rifle or that cartridge, or how one powder compared to another. Never once, to the best of my memory, did he ever not have the answer. Sometimes he needed to call me back, and that he always did.
In one room of his house, fortified like a blockhouse, he kept both his extensive library and his gun collection. Among the books in the library were original technical specifications of ammunition loaded by Kynoch more than a century ago, scientific papers on ballistics, every book imaginable on handloading and a few that I'd never heard of.
Bob was an unabashed Anglophile, and subscribed to The Guardian until his very last days. In the 1970s, he spent quite a bit of time in Birmingham, studying the methods of the Birmingham Proof House and compiling technical information on many old British cartridges. He was able to put this to use when, for example, someone called up and needed ammunition for a Gibbs rifle chambered for the .461 No. 1 Gibbs 2 11⁄32 inch.
If Bob's combination library/gun room was a treasure trove, his workshop and storage area were equally fascinating, if not as obviously so to the untutored eye. He was an inveterate collector of old loading equipment, and had loading dies for cartridges I'd never heard of, made by companies long since out of business. As well, his bullet mould collection numbered more than 500. Installed permanently on his bench were two Shoffstall's Universal priming tools and a Star lubricator/sizer, all of which Bob maintained were better than anything you can buy today. They were finely machined from good steel and designed to last forever. The shop and store room were packed from floor to ceiling with boxes of stuff, mostly unidentified. Bob used to buy out any gun shop that was going out of business, mainly looking for moulds and dies.
Years ago, he bought the contents of Ralph Sisk's shop, and I was forever finding boxes of Sisk bullets, Cramer moulds and Belding & Mull equipment made in the 1950s. A cartridge collector would have had a field day in Bob's shop. No doubt his death was a tremendous loss for anyone who loves to shoot old guns, but it goes beyond that. The average person walking into his shop would have looked around and seen piles of unidentified old junk, not precious artifacts from a bygone age.
Exactly what happened to all of this, I have no idea. I do know that when he was diagnosed with cancer, Bob told me he intended to change his will. Having no family whatsoever, his sole beneficiary was the National Rifle Association, but by 2016, he was completely disillusioned with the organization and intended to change the beneficiary. He never did. On days when he felt bad, he wasn't up to it; on days that he felt good, he figured he didn't need to because he had it licked. Even writing a letter to the executor telling him what to do with his English setter, Lady, never got done, and as a result, Lady was simply turned over to the dogcatcher.
It would be dreadful to think that all the contents of his shop were divided into boxes with numbers hung on them, and then auctioned off the back of a pickup truck, but I have an awful feeling that is exactly what happened. With some work and effort, the stuff could have been sold on eBay and netted the estate – this is a guess – a quarter of a million dollars. The bullet moulds alone were worth at least $50,000. But turning the contents of Aladdin's Cave into cash on eBay or GunBroker requires a lot of time- and labor-intensive effort, by someone who can identify all the bits and pieces for what they are. That ain't easy, and it's certainly beyond the capability, or the will, of a bank bureaucrat 50 miles away who's acting as executor.
The lesson out of all this for everyone who has a gun collection, or cartridges, or handloading equipment, or old books, or, well, anything from the old days of gundom, is to make sure it's in the will, right now, today, what you want done with it.
In my experience – and my experience with this is broadening and deepening by the day, as one acquaintance after another goes under – is that no one cares about your precious collection the way you do, and most beneficiaries want one thing only: To turn the bequest into cash by the shortest and easiest route possible.
Over the dozen years I knew him, Bob Hayley taught me a lot, but this last lesson – albeit unintended – may be the most valuable of all.