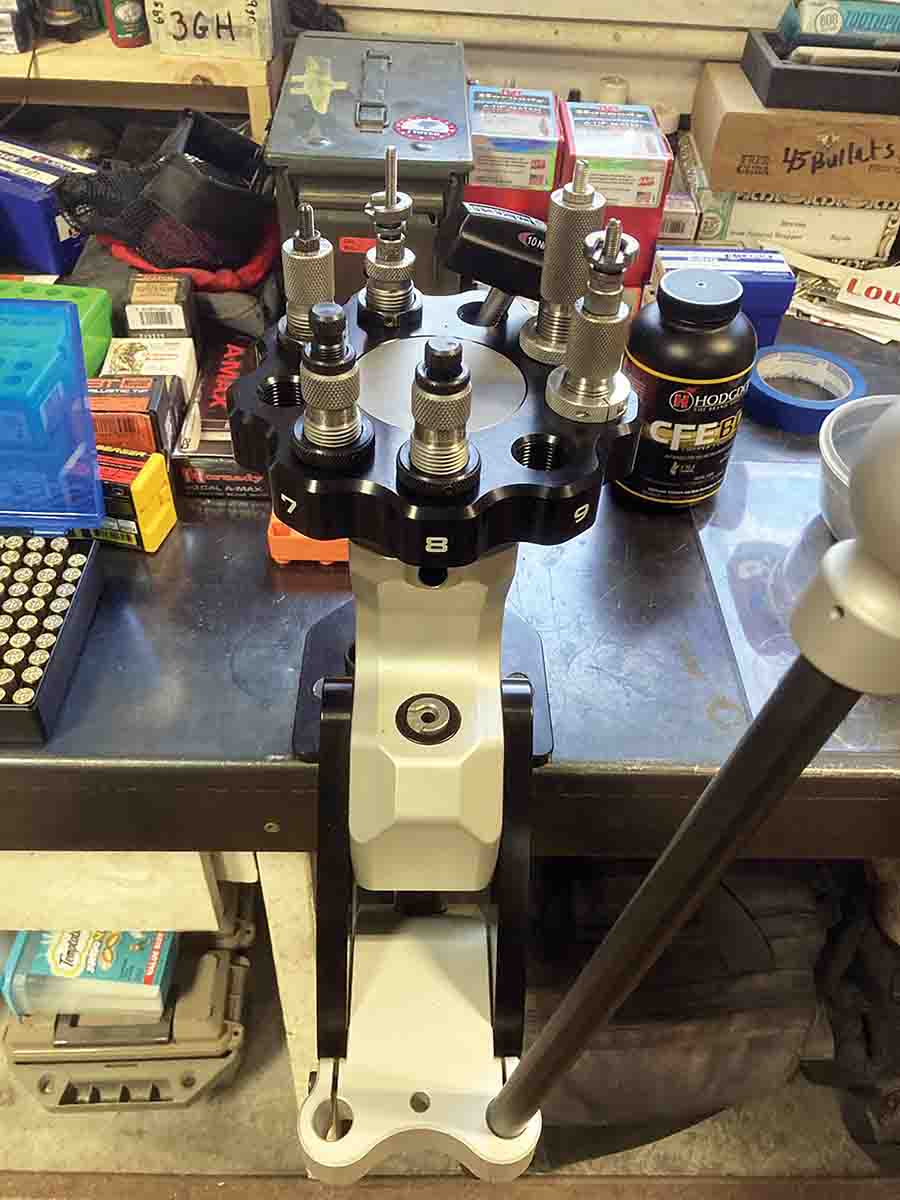 As a teen in the 1970s, I cobbled centerfire ammunition together for varmint shoots and serious big-game hunts alike, using a plastic hammer and classic Lee Loader (still available). I later added a Lee Powder Measure Kit with plastic scoops and a slide rule charge card, which provided vastly more options than the limited loads allowed by the single scoop provided with the Lee Loader kit.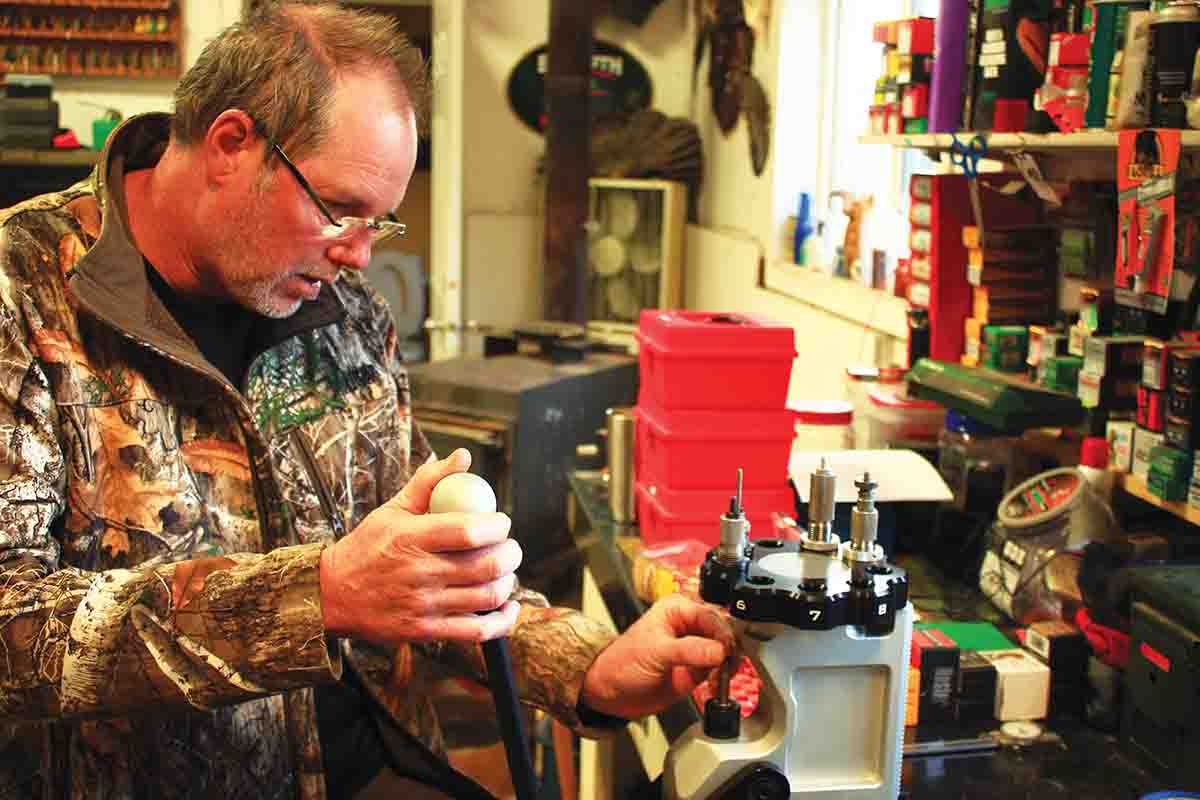 There was no press involved, just that hammer with yellow-plastic striking surfaces. I'd bang away to assemble 100 rounds for the next trip out to the ranch where I worked during a couple of summers, conducting biweekly feeding rounds while inspecting windmills and tank floats to assure cows would not succumb to dehydration beneath the unrelenting southeastern New Mexico sun.
While making rounds, every single one of those cartridges were burned, thinning the seemingly endless black-tailed jackrabbits that thrived during the driest periods. Two hundred rounds of Sierra 60-grain hollowpoint .243 Winchester rounds were shot every week, June through August, two summers in a row.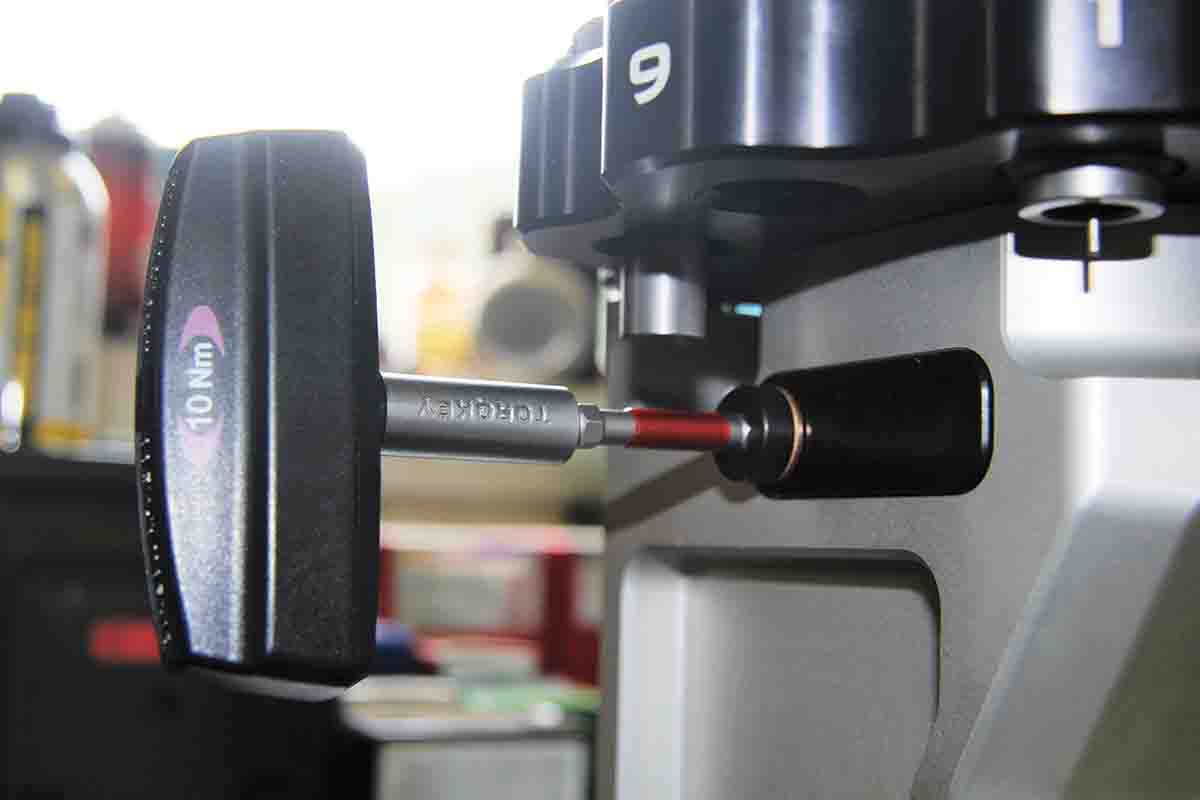 Handloading was conducted while my non-hunting parents were away toiling for wages, as the hammering from my upstairs bedroom drew attention. They were convinced I'd somehow blow the house up. The occasional detonated primer, while tapping a neck-sized case out of the die and onto the spring-loaded primer plate, certainly wouldn't have helped my case.
Loading was streamlined considerably after purchasing a Lee Breech Lock Hand Press – found used and without the extraneous parts that come with today's kit – and various full-length dies. With this simple press I handloaded thousands of rounds, always without complaint.
About 20 years ago, I acquired two garage sale loading presses, a clunky Pacific Tool Company DL-100, perhaps made in the 1950s, and a Lee Precision Single Stage Reloading Press (total cost $20). I used both for years – setting up a resizing die on one and a seating die on the other due to generous bench space – until replacing them with a new RCBS RCII found on clearance. I've been using the single-stage RCBS seemly forever, cranking out plenty of one-hole-group ammunition intended mostly for burrowing rodents. In all honesty, I never gave any of these presses much thought, any more than I would care what brand hammer I used to drive nails.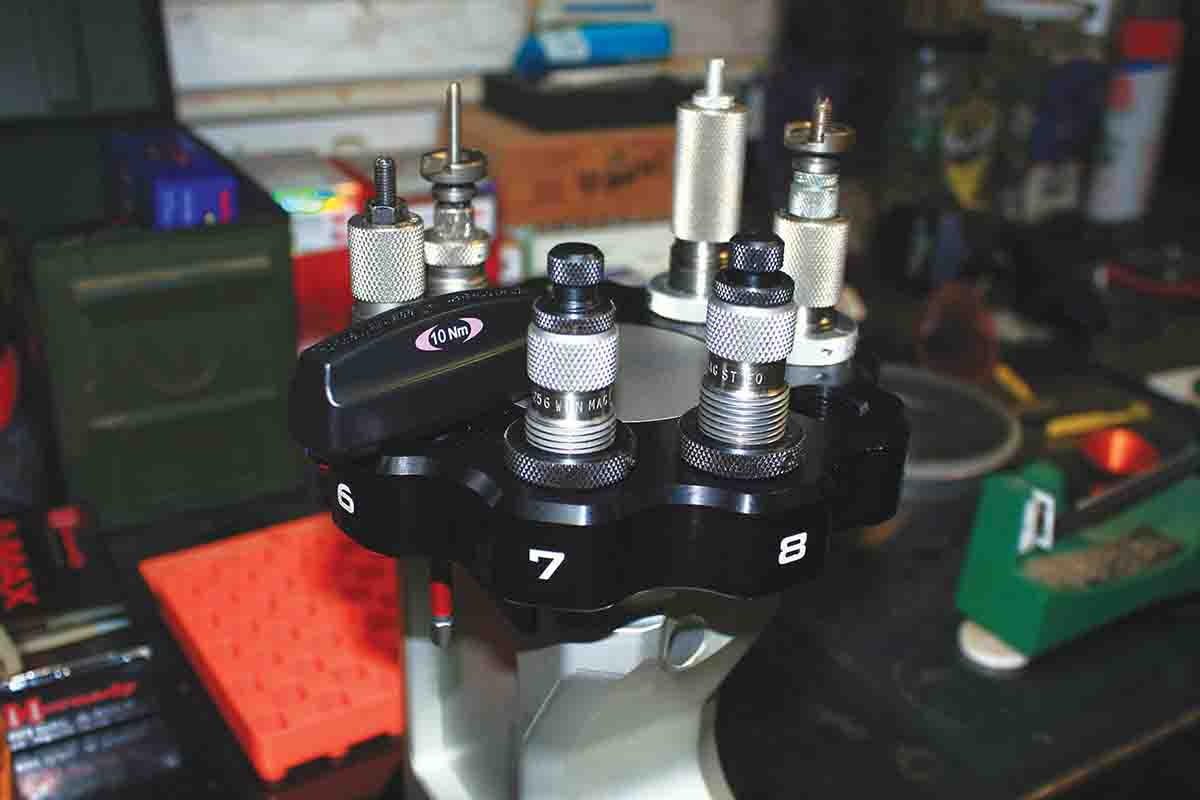 So it was quite an event to unbolt that RCBS from my current loading bench and replace it with a new Area 419 ZERO Reloading Press. It was like replacing the reliable, but rust-spotted college-era Honda Civic, with a shiny, new sports car.
Area 419's ZERO Press speaks of quality at a glance. The press frame – blocky body really – is milled from 6061 aluminum, all linkage and the turret head from 7075 aluminum. The ram is made of nitride-coated stainless steel with a Rockwell hardness of 60. A lot of careful engineering went into the press. It weighs a solid 30 pounds. Show any handloading aficionado a photo of a ZERO, and they'll show appropriate appreciation before even beginning to describe its advanced features.
The ZERO is a turret-head press with nine available die stations. The idea of a multi-position turret press is nothing new, obviously. The primary advantage is the ability to set up dies and leave them in place, eliminating the inconsistencies associated with the imprecise threads of standard 7⁄8-14 dies during removal and replacement between loading sessions. A static die introduces more ammunition consistency from loading session to loading session. The ZERO takes the turret concept further. The turret head is secured to the press body with a 17-4 stainless steel pull stud set in a U-shaped lock collar, much like the fixtures found on vertical milling machines. The system serves as the locking wedge for the anodized 7075 aluminum turret head, pulling the turret down while tightening the locking bolt and creating precise and rock-solid mating.
The turret head and pull stud are secured via a left-side locking bolt manipulated with a 10 Nm torque key that prevents over-tightening. When loosened, the turret includes indexed indents riding on a large, spring-loaded ball bearing. Turret slots are clearly numbered 1 through 9 and heads are replaceable ($195 each), allowing setting up three die sets, with an extra slot remaining for something like a belling or roll crimping die.
One of the ZERO's more ingenious features is its integral ½-inch primer chute. This is a slanted chute milled through the blocky press body and requires no extra parts, such as drop tubing, catch jars or open-topped trays. Pull the ram down to resize/de-cap brass, and spent primers automatically slip through the chute behind the ram and drop directly into a drawer-like bottom tray. During the first month using the ZERO Press, I loaded a couple thousand rounds without emptying the tray. It's neat, streamlined and clean. It also provides debris venting to prevent wear on the ram.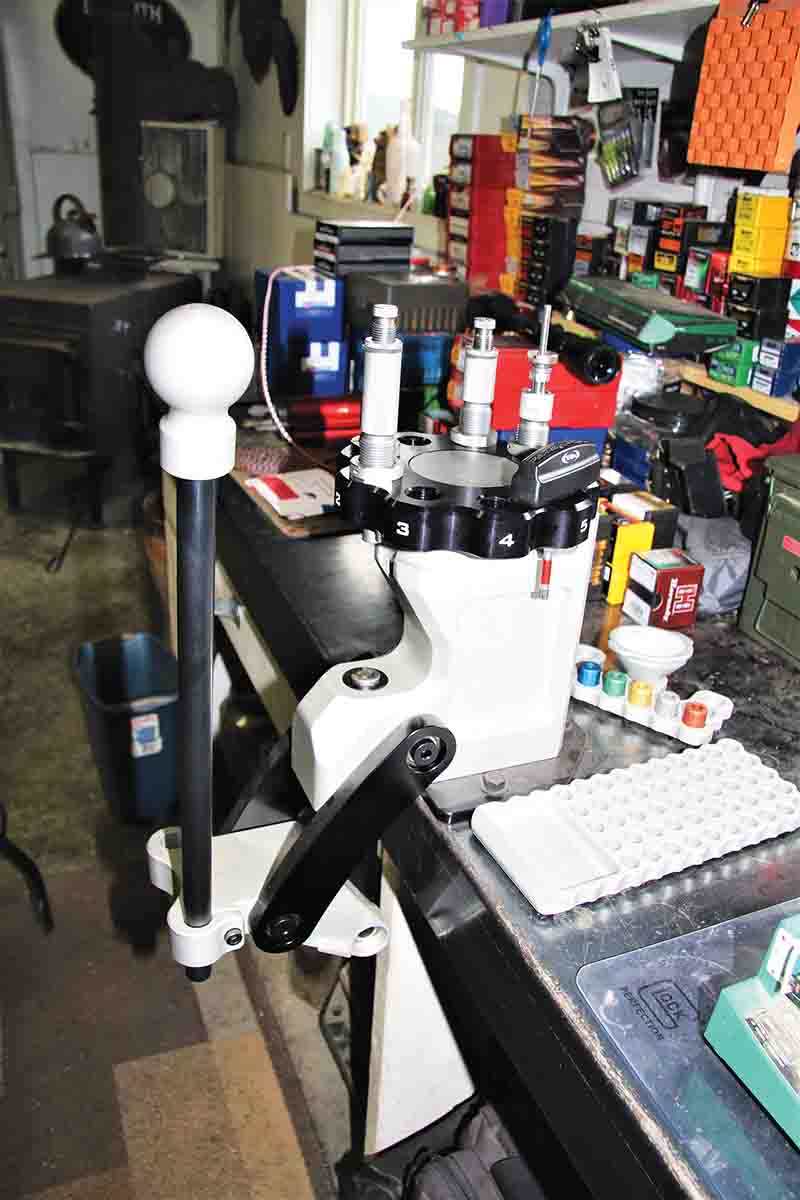 Another novel approach is the ZERO's shellholder adaptor. The adaptor is compatible with all brands of shellholders I have on hand, including Hornady, RCBS, Redding and Lee Precision (more on that momentarily). The adaptor is a .125-inch-thick, C-shaped stainless steel washer that clicks tightly onto the shellholder collar slot. Once installed, the adaptor and shellholder are placed in an O-ring-lined recess at the top of the ram shaft and a threaded 7075-aluminum collar is screwed over the assembly to lock it securely in place. This creates a precise flat-on-flat arrangement that eliminates variations in the contact surface and ultimately how straight the ram pushes brass and/or bullets. The integrated O-ring prevents the shellholder from spinning. My experiences revealed that Hornady and RCBS shellholders required tapping the adaptor on and off with my old plastic hammer (the very same), as fit was snug. The adaptor clicked on and off Redding and Lee shellholders with firm finger pressure.
The zero-friction, zero-gravity ram is a robust 1.25 inches in diameter and nitride coated to reduce wear. Zero friction is achieved through a sophisticated linear core bearing system within the press body, and roller bearings at pivot points within the linkage system. The linear bearings are PTFE lined and the ram is coated with a Teflon-like micro substance, though occasionally wiping the ram clean and lightly applying a quality lubricant is encouraged. Area 419 spokesman Craig Arnzen said the design should be good for 10 million strokes.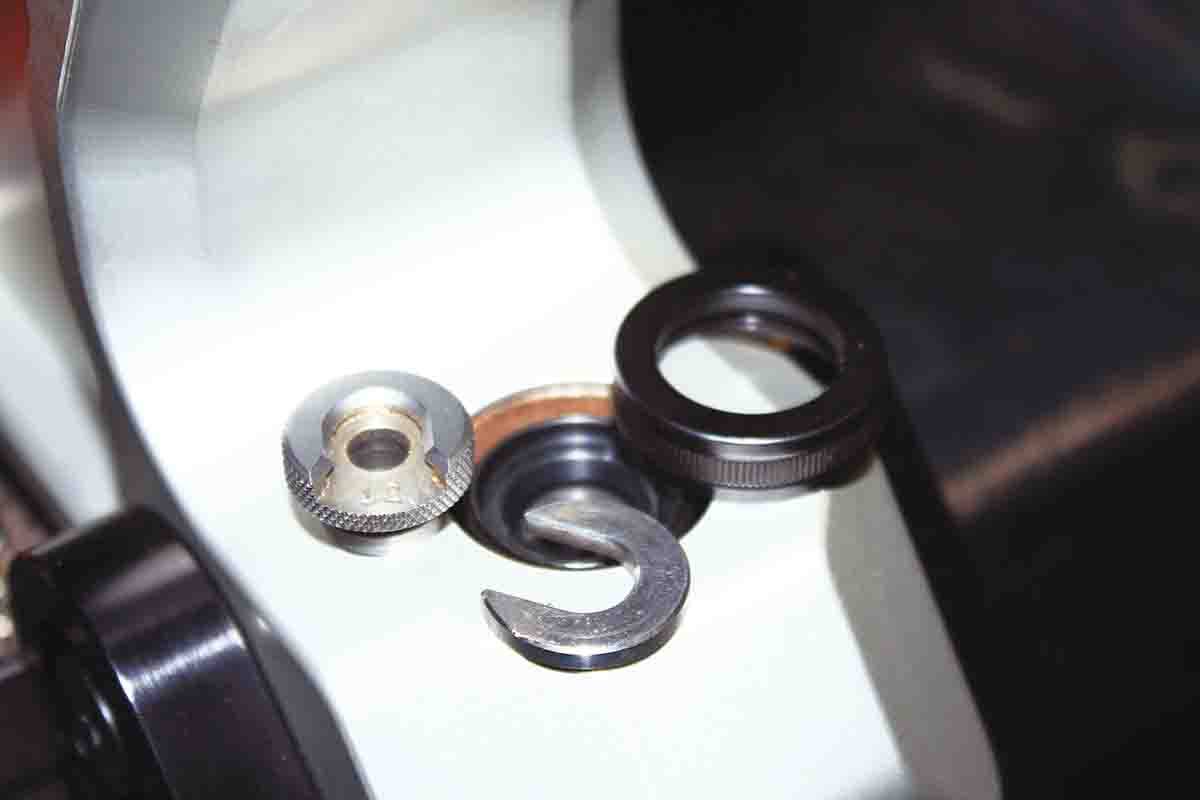 Zero gravity is provided with linkage thrust bearings, meaning that halfway through a lever pull, a handloader can release the handle and it will remain in place, instead of dropping freely. This multi-bearing system, in conjunction with tight tolerances, also assures no side-to-side slop and a silky-smooth 4.4-inch, 90-degree ram cycle with a positive bump stop. This cannot be overemphasized. With many previously-owned loading presses, pulling the ram lever side to side resulted in conspicuous play. This is not so with the ZERO. Everything is tight and precise, while also remaining remarkably smooth. This zero-tolerance system also promises some of the most consistent shoulder bumps in the business, and minimal runout in all areas.
All linkage sections and the ram arm are milled from aircraft-grade 7075 aluminum. The .75-inch-diameter ram lever is adjustable for length and can be switched for right- or left-hand use. The rounded handle knob is also set on bearings, so it smoothly turns in the hand during cycling. Handle length is adjustable via a .25-inch bolt – lengthened to provide additional leverage while resizing larger cartridges, or shortened to provide better feel during bullet seating. I set up my resizing dies to just touch the ram head when the lever was pulled completely down. The pull lever/linkage produces a solid stop at the end of each stroke.
The ZERO comes with a solid baseplate for bench mounting. My workbench is made from 2x6 red fir with an 1⁄8-inch steel covering. As such, the provided mounting bolts, slant head to sit flush in the chamfered baseplate holes, weren't quite long enough to allow a nut to thread over the provided washer. A trip to the hardware store revealed only hex head cap bolts in the proper grade and length. I then found adding the raised bolt head prevented the primer tray from being removed, so one of the original bolts was returned after a half-inch recess was created to accept the washer and fastening nut. I was in business. A slightly elevated Ultra Mount from In-Line Fabrications is also available.
One of my first impressions when working on larger cartridges like the .30-06 and .28 Nosler, was a complete lack of bench torque. The three-point mounting and especially the press' straight-line cycling puts no stress on the edge of the bench. The ZERO's dual-arm linkage is hinged deeply into the press body, so the ram arm does not impart as much torque on the press base and bench it is anchored to. My older press included two-point side mounting with bolt slots situated on the same plane, which created a pivot point. The ram system was also set outside this pivot point. While resizing larger cartridges, in particular, the edge of even my sturdy bench was noticeably torqued.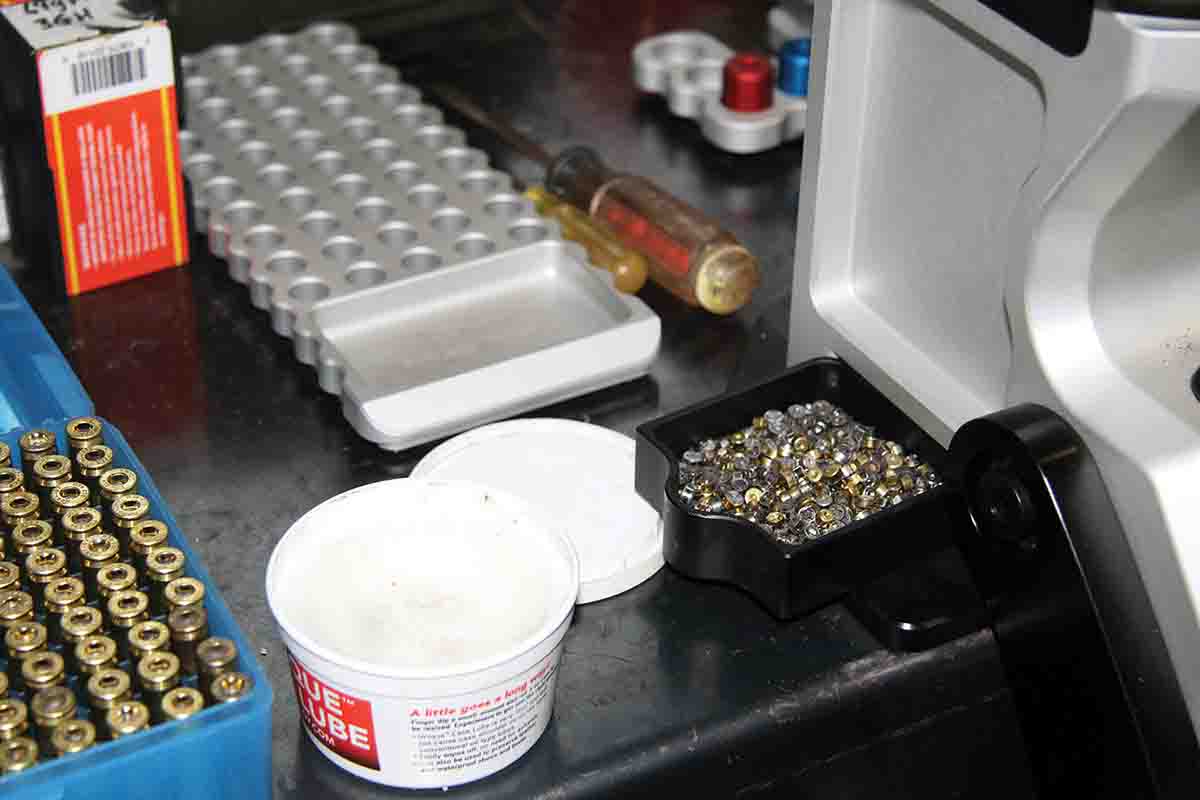 My only complaint – a small one – is I found it is possible to pinch my fingers on the rear of the press body while rotating the loosened turret. There is a cutout located behind the turret that has relatively abrupt edges, but once I figured this out, it was easily avoided. The press body includes an ARCA-Lok Rail on the backside. This is actually used to control the part in the milling fixture during manufacturing, though its left in place to attach accessories, such as storage trays.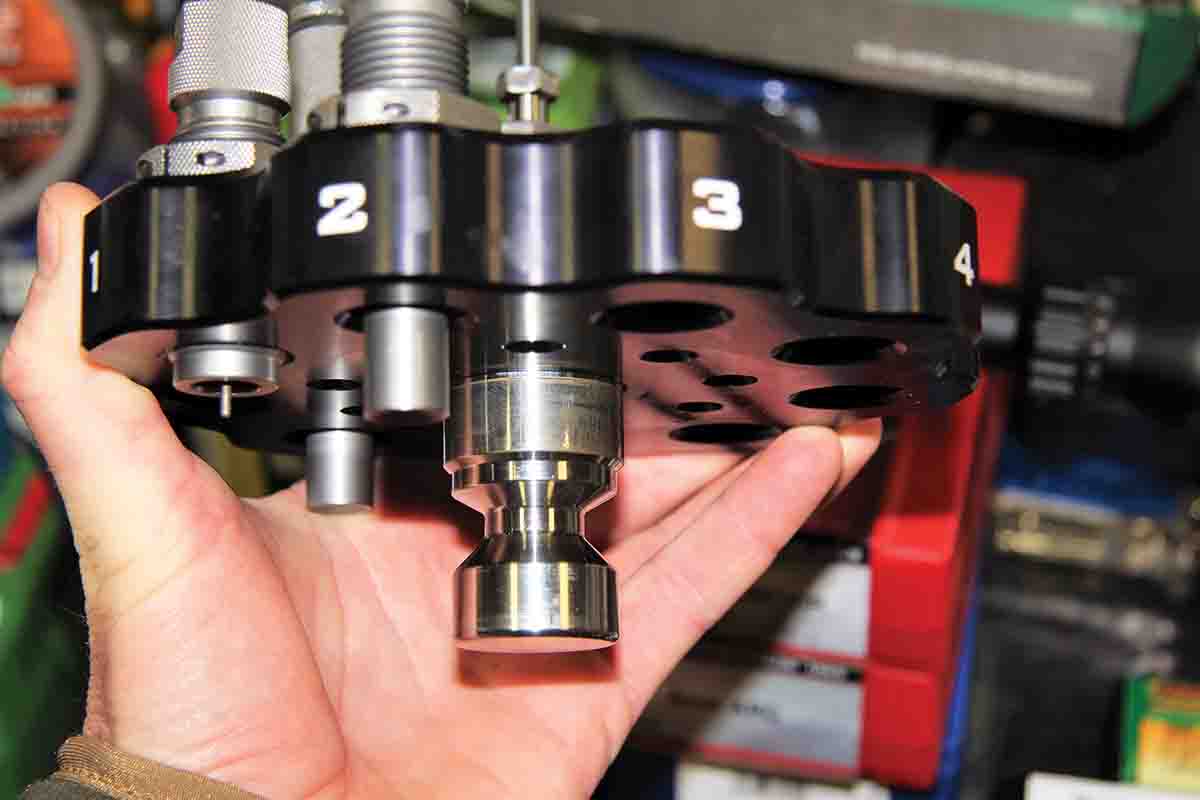 The press body and ram system allow generous access while seating bullets. I conducted some thorough .17 Remington Fireball load development after receiving this press, using tiny 15.5- to 25-grain, .172-caliber bullets notorious for being tricky to handle. Even with my fat fingers, getting bullets positioned and started was easy and pinch-free. I also had the opportunity to load many cartridges with long-for-caliber bullets, like the 6mm Creedmoor and 6.5x55 Swede. Runout proved exceptionally low, despite long overall loaded lengths. For instance, comparing long-range 6mm Creedmoor ammunition assembled last spring, and the replacement loads assembled with the ZERO, it would appear the ZERO cut runout by half. Intrigued, I resized a batch of 6mm Remington brass that had been chambering a touch tight the last time I shot that rifle; obviously overdue for a shoulder bump. Shoulder bump runout proved remarkably consistent, or less than a thousandth of an inch. The ZERO produced measurably improved consistency, that much was obvious.
This kind of consistency has generated a lot of interest from the precision crowd, such as Precision Rifle Series shooters. Area 419 solved the issue of play in the turret system, resulting in a press combining the repeatability of a single-die press with multi-die turret capabilities. Besides the finger-pinching issue (easily avoided), the only real downside to the ZERO Reloading Press is price. The ZERO's $1,200 price is considerably more than the casual shooter might be willing to invest in a world filled with $200 options, but this degree of precision is worth the added cost.
Area 419 is now offering turret heads for big cartridges like the .375 Cheytac, plus a hybrid head accommodating both 7⁄8- and 1¼-inch dies. New custom shellholders will eliminate the need for the adaptor collar, and Area 419 is now also offering an assortment of ARCA-Lok-adaptable accessories (like a storage tray, for instance) and in-house micro-head dies. I've also been using Area 419's Master Funnel Kit with a CNC-machined aluminum funnel and .22, 6mm, 6.5mm, 7mm, .30 and .338 caliber screw-on adaptors (.17 and .20 available separately) and its Billet Loading Block with 50 cartridge ports, its convenient bullet tray and nonslip rubber feet. These are top-quality, time-saving items for sure.
Like shooting a rifle with a crisp trigger, or a precision rifle that effortlessly assembles sub-.5-MOA groups, it would now be difficult to go back to a loading press that was, well, something less. The ZERO not only helps assemble more precise ammunition but it also makes handloading more pleasurable.