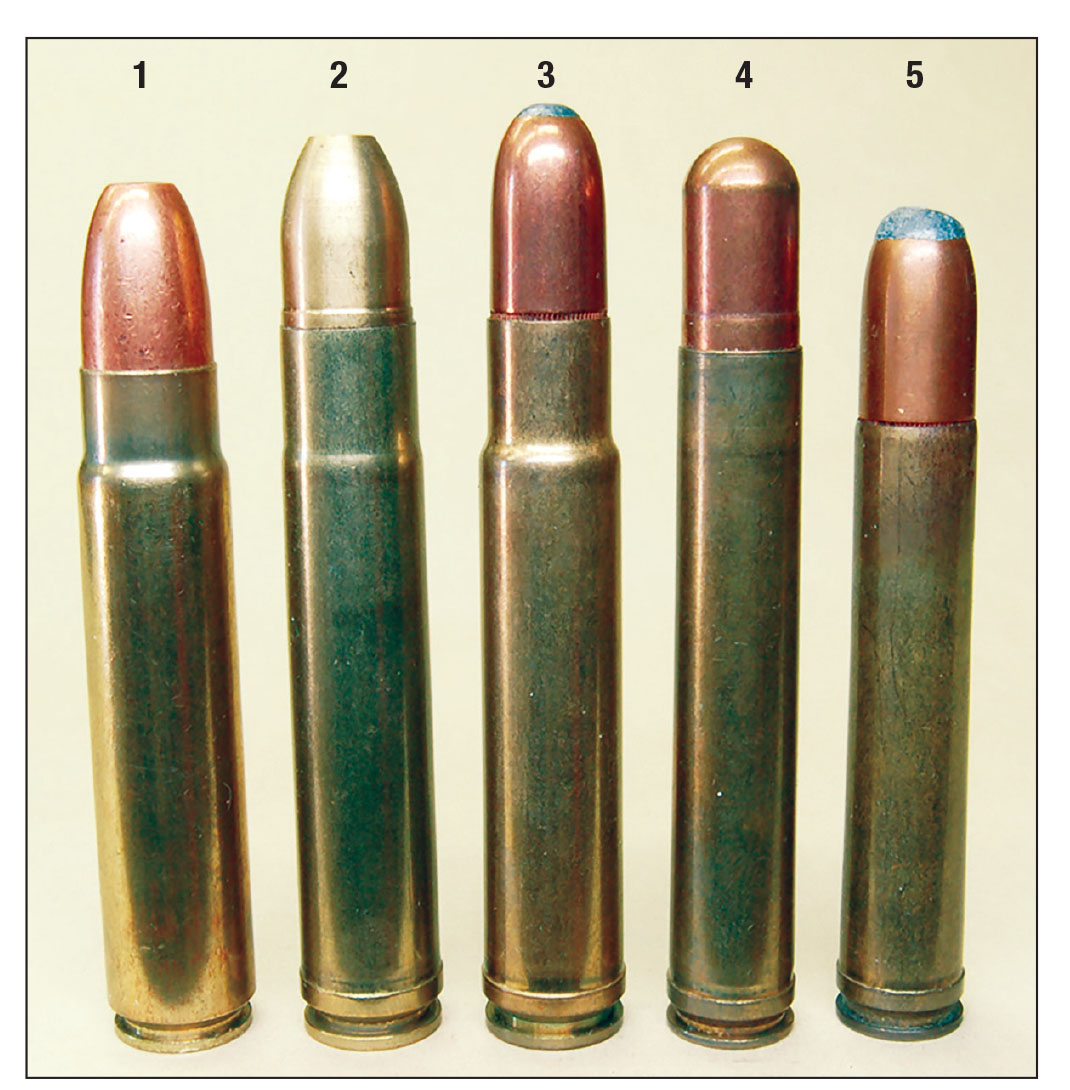 This story begins with one Richard Schuler of the gunmaking firm August Schuler Waffenfabrik in Suhl, Germany. Richard had interest in big-bore cartridges for African game. He developed the 11.2x60mm (1904), 11.2x72mm (1906) and the 12.7x70mm (mid-1920s). All were intended to use an inexpensive standard length Mauser M98 action with a modified magazine box, action rails, and in the case of the 12.7mm, a larger diameter bolt face recess. All used cases have rebated rims (rim smaller in diameter than case body). Schuler even patented the idea.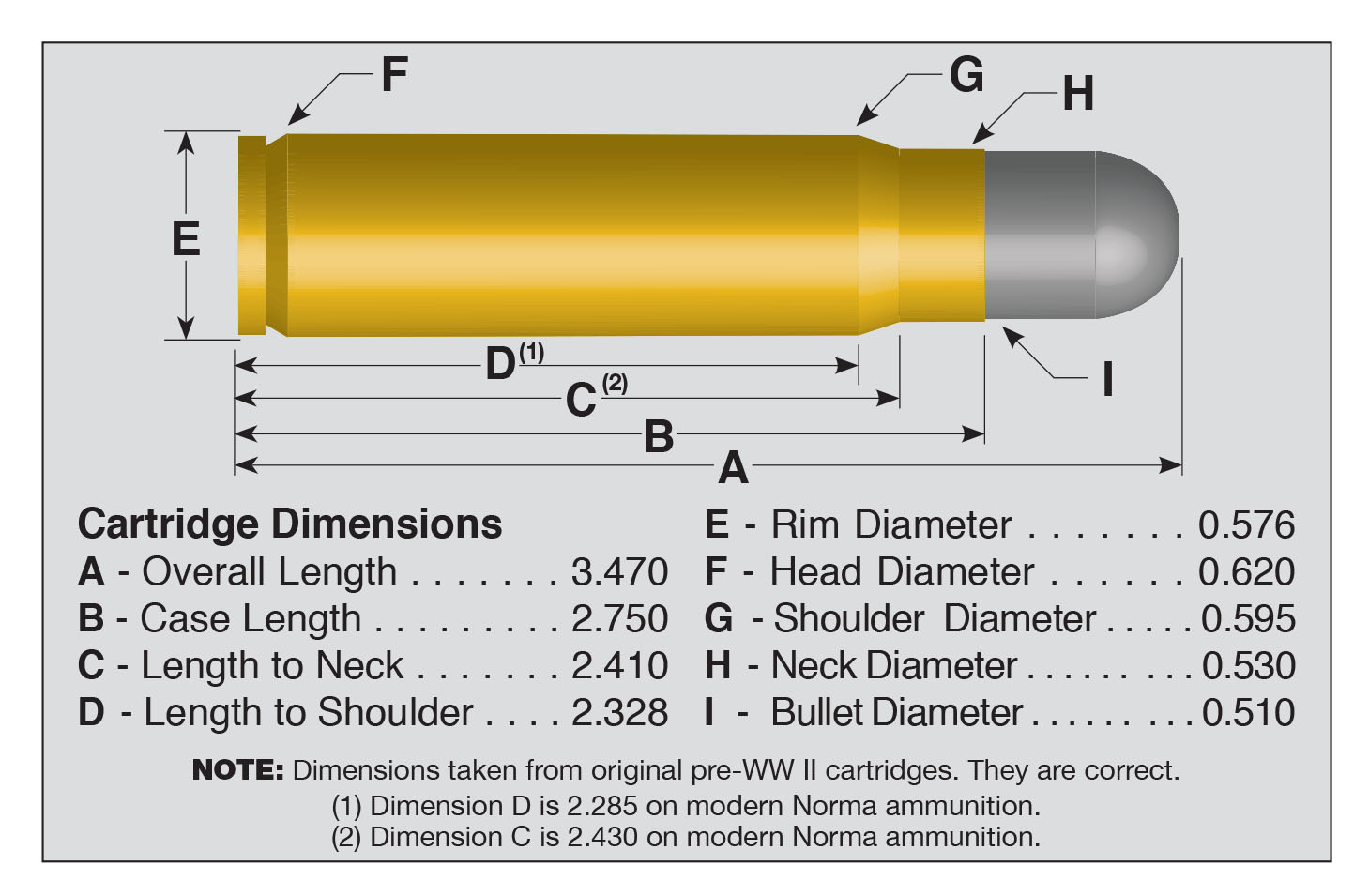 The earliest mention of the 12.7x70mm is in a German shooting magazine of March 1927. It gives load data as (English translation), "…bullet weight 530.86 grains, a powder charge of 115.74 grains, flake powder No. 5. Velocity at 25 meters is 2,460.6 feet per second with a result of 7,131.8 foot pounds energy!" All pre-World War II ammunition appears to have been made by G.C. Dornheim in Suhl, Germany, under its trade name GECADO.
Quite surprisingly, the English firm W.J. Jeffery & Co., Ltd., then announced its 1928 Model .500 Magazine Rifle, which was simply a 12.7x70mm renamed .500 Jeffery and built on a magnum size Mauser action, thus eliminating modifications to a standard action. Jeffery, however, was more an assembler and finisher than builder. Records show actions and barrels for the .500s came from Germany, with H. Leonard of Birmingham making 21 rifles and George Gibbs three more.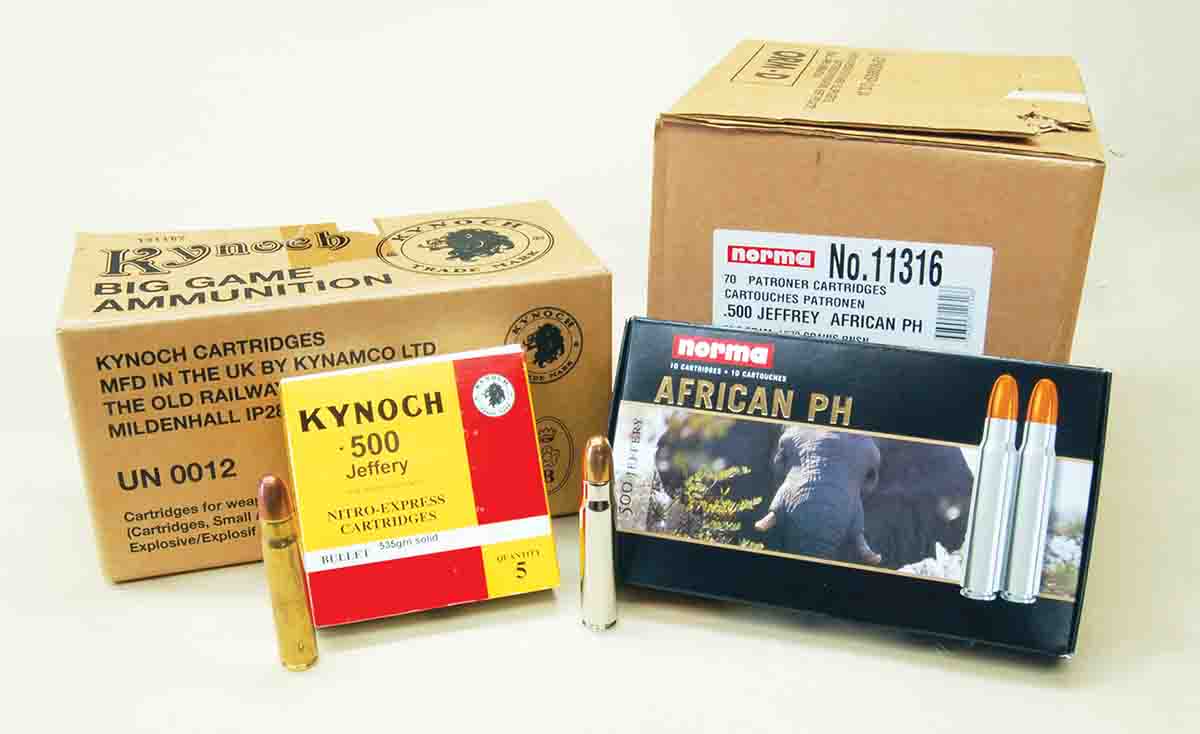 There had to have been some agreement between Schuler and Jeffery because H. Leonard's first rifle was delivered on December, 7, 1927. This was far too quickly, unless it was planned well in advance. Also, a Kynoch drawing, dated 1928, exists showing a .500 Jeffery that is the 12.7x70mm Schuler. Kynoch never made any ammunition, probably because Jeffery had contracted all of his from Germany.
Stranger still is that all Dornheim ammunition was headstamped simply ".500" or "Schuler .500" and not metric or Jeffery. Schuler's company even advertised it as Cal 500 Schuler! Jeffery sold Dornheim cartridges with his rifles. I could find no paper box to see how it was marked.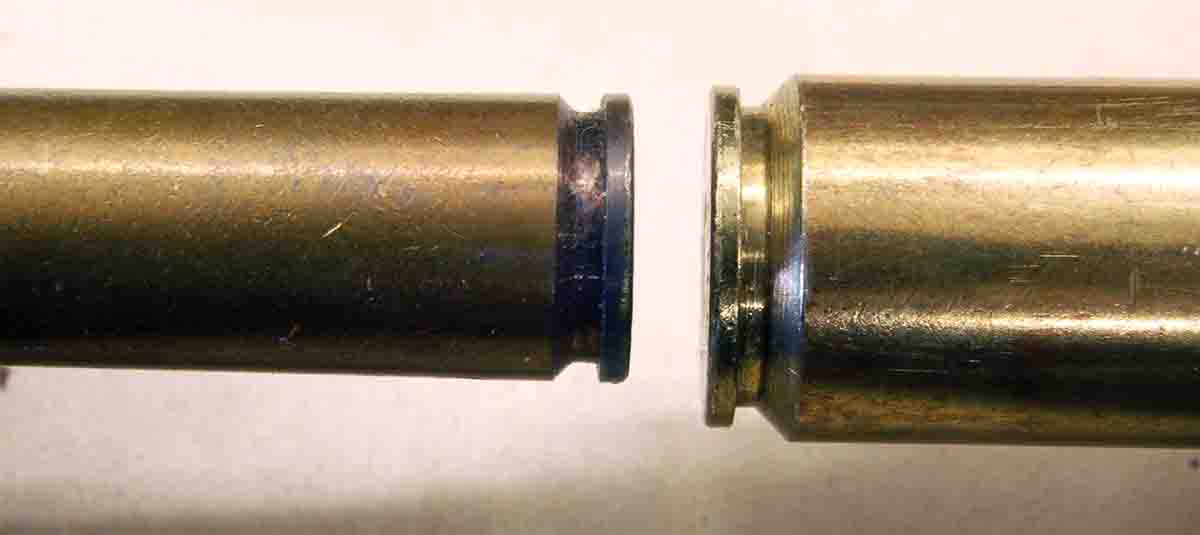 No matter what it was called, the big round quickly gained a favorable reputation because, energy-wise, it replaced all but a couple of the big British doubles with a lighter, handier rifle that held four cartridges. German bullets were sometimes criticized for not holding together, but not in the .500 Jeffery. Well-known African hunters wrote favorably of the cartridge. Even John Taylor, author of
African Rifles and Cartridges
, who disliked anything not of English make, killed several elephants, rhinos and buffalo with a Jeffery rifle. He found it "A glorious weapon and very easy and pleasant to handle and shoot." The fact the ammunition was German wasn't mentioned! Then World War II happened.
The war obliterated the German sporting arms and ammunition industry. Owners of .500 Jeffery rifles had only the pre-war ammunition left on dealers shelves. The rifle and cartridge that could have replaced all the big double rounds and made unnecessary all the .45-caliber magnums of the post-war period faded away as the supply of ammunition ran out.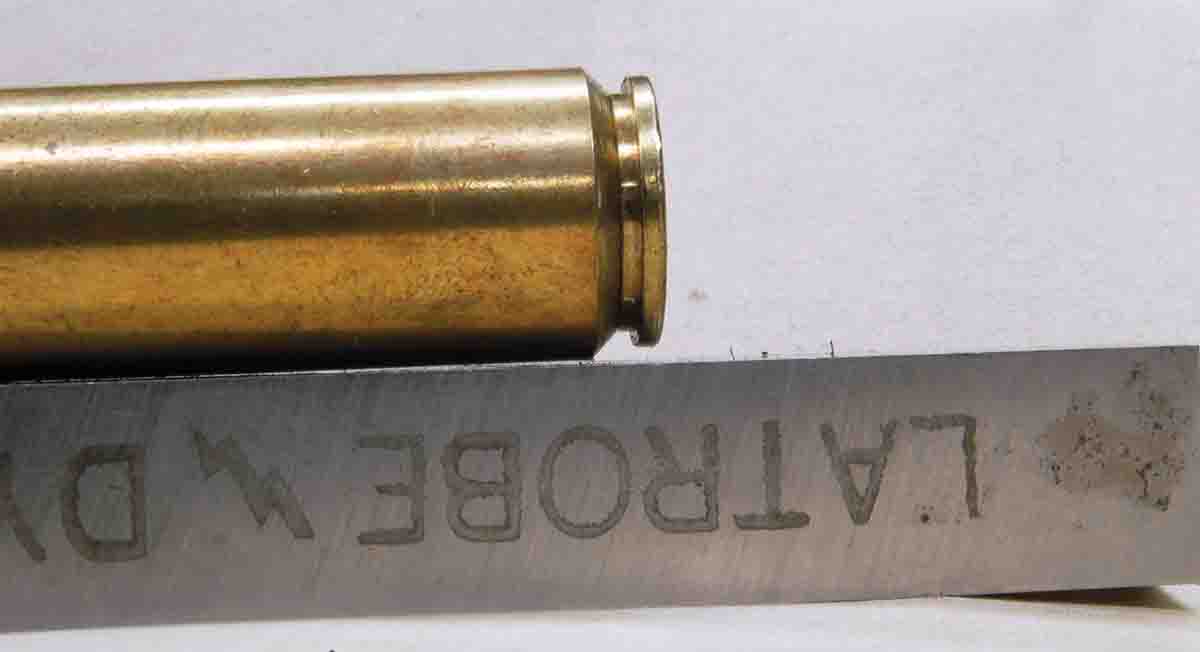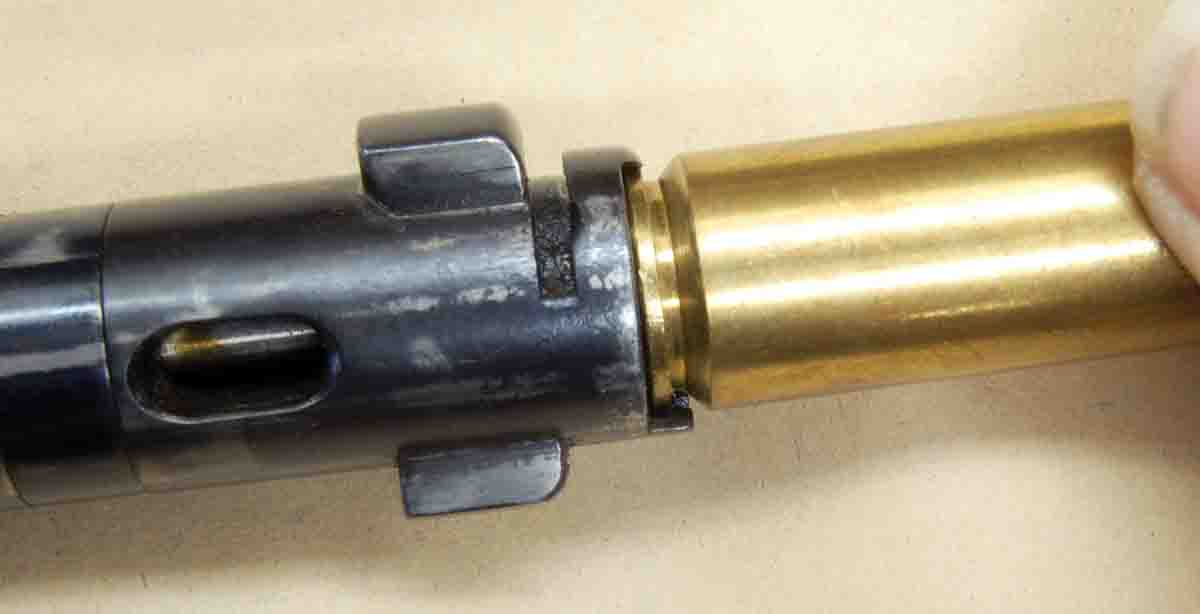 It seems a mystery how a cartridge chambered in only 24 Jeffery rifles and one Westley Richards double generated so much attention. The only answer can be that Schuler and others built a lot more rifles. Unfortunately, records were lost in the destruction of World War II, or the following enslavement of half of Europe by leftist socialists. Educated guesses range from near 100 to perhaps 150 rifles.
It took a while for the safari business to recover after the war. Kynoch never really got back into production when it announced an end to sporting ammunition production in 1963. Now all the classic, big rifles were living on borrowed time.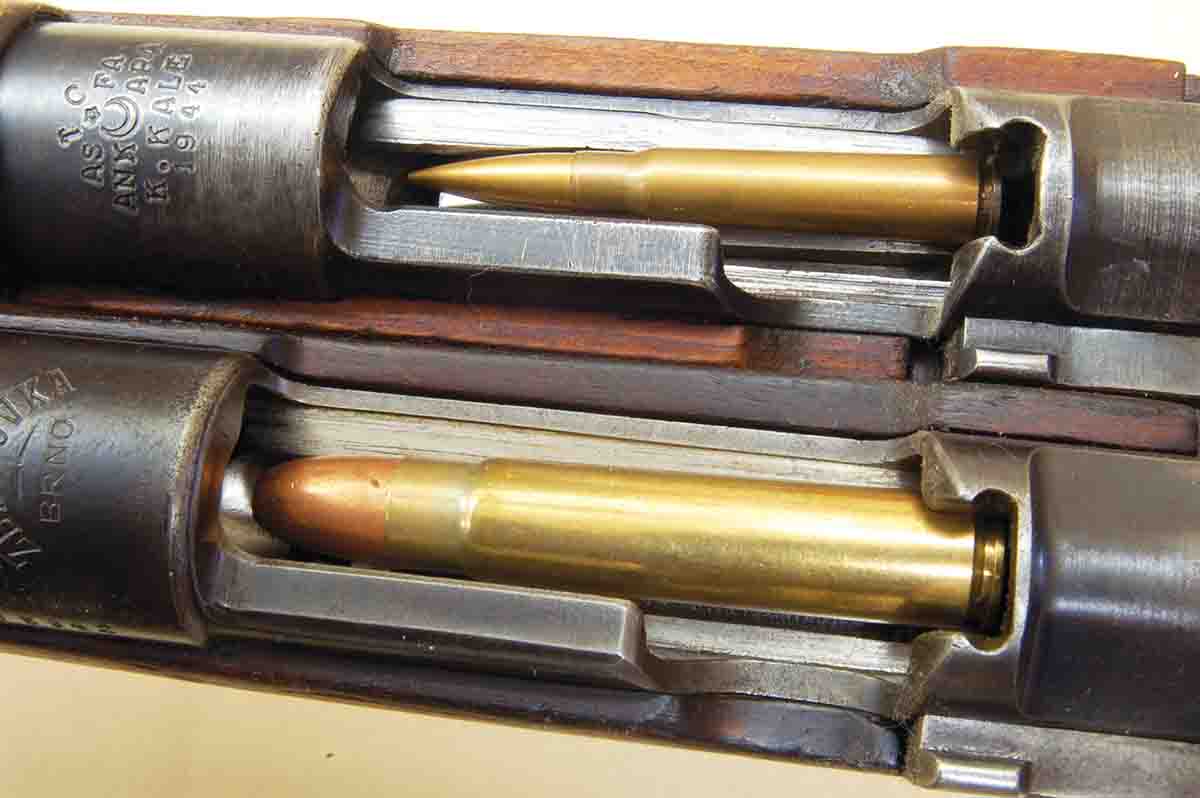 The situation was bleak, but didn't stay that way. Demand developed for the old magnum Mauser action. These were built and altered to fit the .500 Jeffery. Complete rifles were soon available, including brass cases drawn and loaded cartridges that pushed a 535-grain bullet to 2,460 feet per second (fps) from a 24-inch pressure barrel. None of this was inexpensive, but at least it was available.
I must mention that when reproducing .500 Jeffery ammunition, a problem arose regarding shoulder angle. It should have been simple to copy existing original ammunition. Oh well. Cartridges produced today are supposed to fit all original rifles and newly made ones. Some early custom guns, maybe not.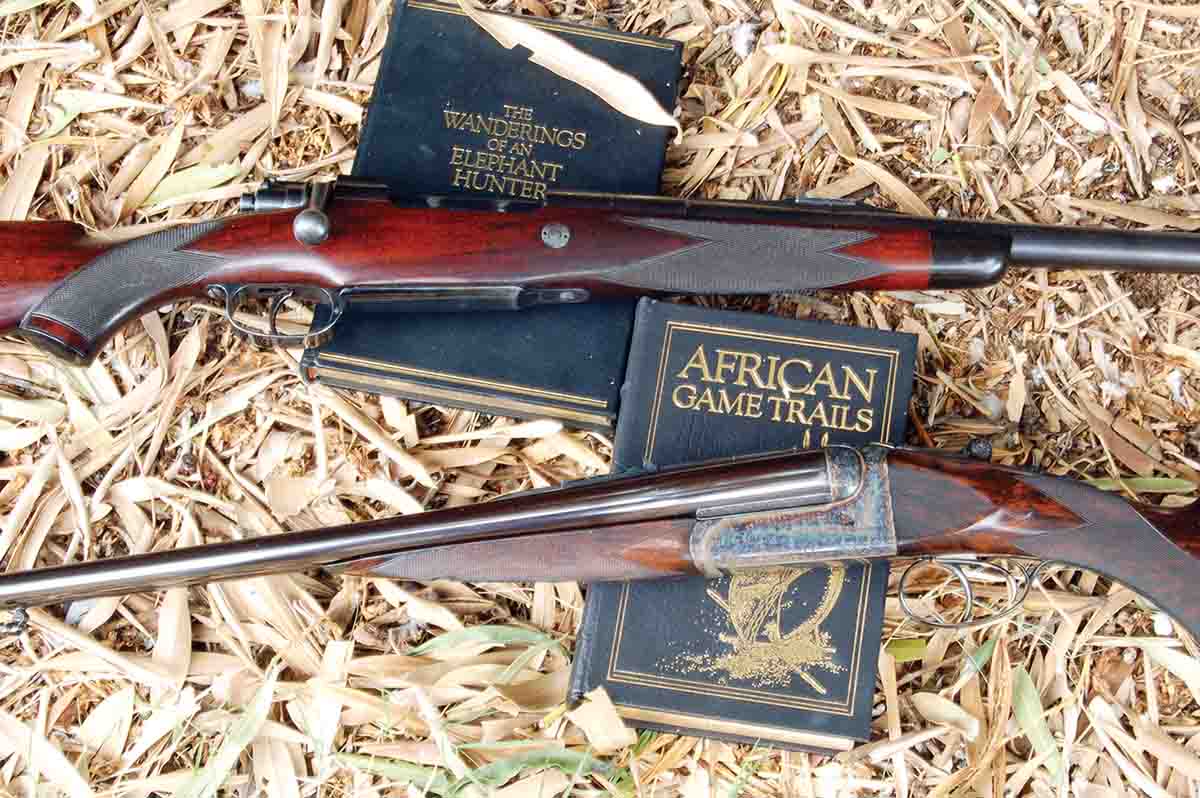 Next, the Kynoch name was purchased by an English concern called Kynamco, Ltd., and the once familiar red and yellow five-round boxes were again seen containing many of the old rounds. One was even marked .500 Jeffery! It was available with either 535-grain solid or softnose bullets. Muzzle velocity was 2,400 fps, and muzzle energy 6,844 foot-pounds. Sighted 1.5 inches high at 100 yards, the big bullet is dead-on at 150 and 3.6 inches low at 200, which is farther than such a rifle would ever be shot.
Popularity of the .500 Jeffery has become such that Norma recently began loading it. Listed is a 540-grain brass solid at 2,400 fps muzzle velocity producing 6,908 foot-pounds of energy. Then there are 570-grain Woodleigh solid and softpoints, both leaving the muzzle at 2,200 fps for 6,127 foot-pounds of impact. Norma also lists empty .500 brass for handloaders. Loading can be difficult because of crimping the bullet so it is not driven into the case by recoil when in the magazine. Pressure-tested loads must be tailored to bullet, crimp, rifle, etc., and it isn't a cartridge for experimenting with reduced loads.
As I often say in this column, it is the rifles that are the main attraction rather than the cartridge. This is definitely true for the cartridge. I must thank friend John Gannaway, one who appreciates the old rifles and uses them for their intended purpose, for allowing photos of two incredible .500 Jeffery rifles.
The double is, according to records, the only double built for the .500 Jeffery. It's a best grade Westley Richards drop-lock. Also pictured is the unique extractor designed for the rebated case rim. A piece of steel fitted into the extractor proper drops down out of the way for loading, then when the action is closed, it slides up into the cartridge extractor groove, where it stays until the case is ejected. At first glance, it seems it can't work – but it does. A truly unique rifle.
The bolt gun is one of the 24 originally sold by Jeffery. It's plain finished, a bit heavy and all business. When picked up, it feels hauntingly familiar to rifle folk who have hunted big animals in truly wild places. Such are the realms where modern man thinks he is in control, but the animals, the wind, the very Earth itself know differently. Call us hopeless romantics if you like.
An acquaintance of mine describes the Jeffery perfectly. He observed, "It looks a whole lot like a three-hunnert' pound wild boar hog. He's dark and scarred, tired and old, but he's seen a lot and knows a powerful lot about livin' which he can't put into words, but would right likely demonstrate to anyone who got too close!" Well said, for both rifle and cartridge.