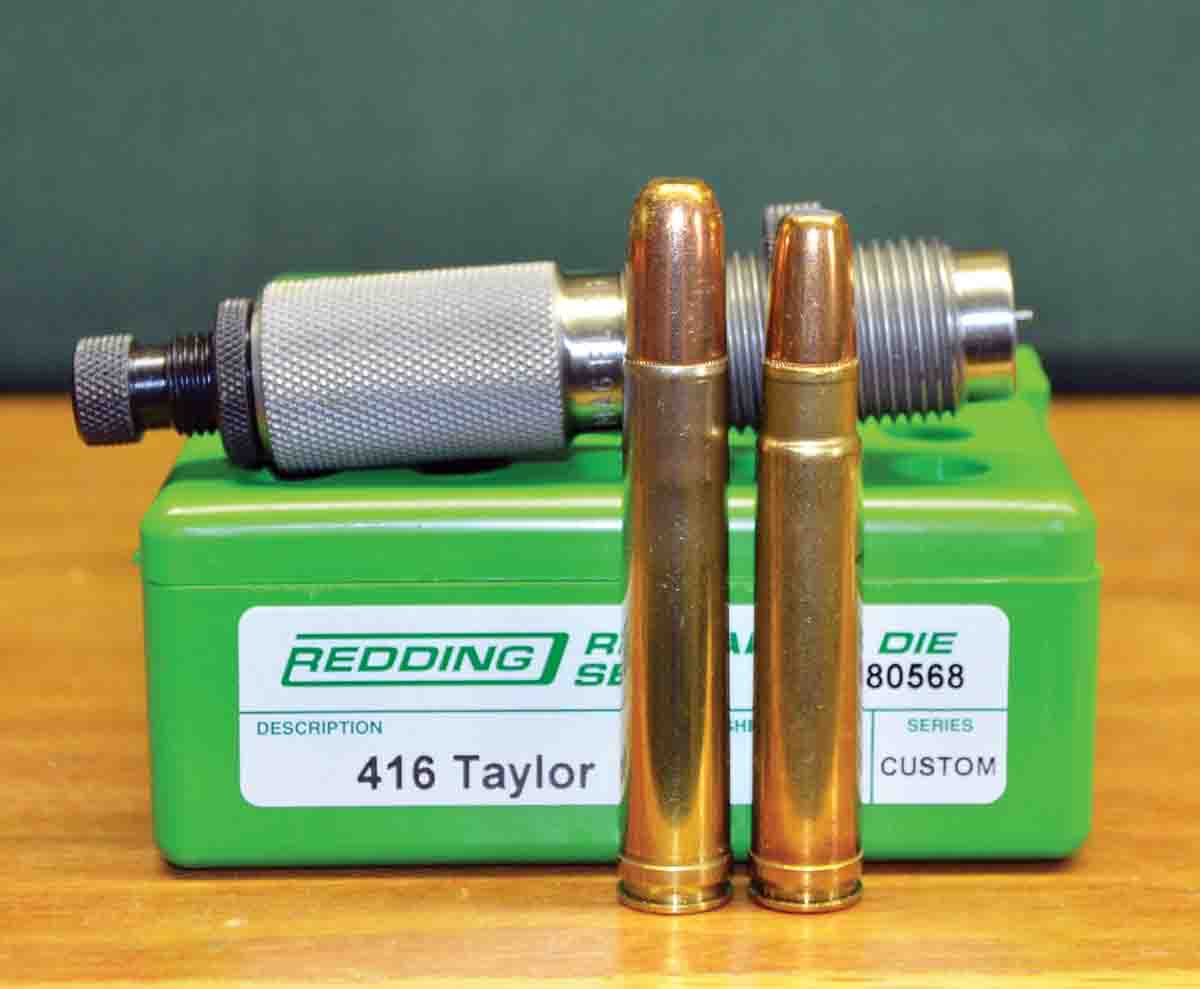 Robert "Bob" Chatfield-Taylor was a test pilot for the Consolidated Vultee Aircraft Corporation during World War II. He later flew for a commercial airline company headquartered in Massachusetts. Bob was also an experienced big-game hunter, and occasionally wrote about his adventures. In 1960, he booked with Ker & Downey Safaris, Ltd., in East Africa, during which both he and his professional hunter, Harry Selby, used rifles in .416 Rigby. He came away from the hunt with visions of a .416-caliber cartridge in a smaller package.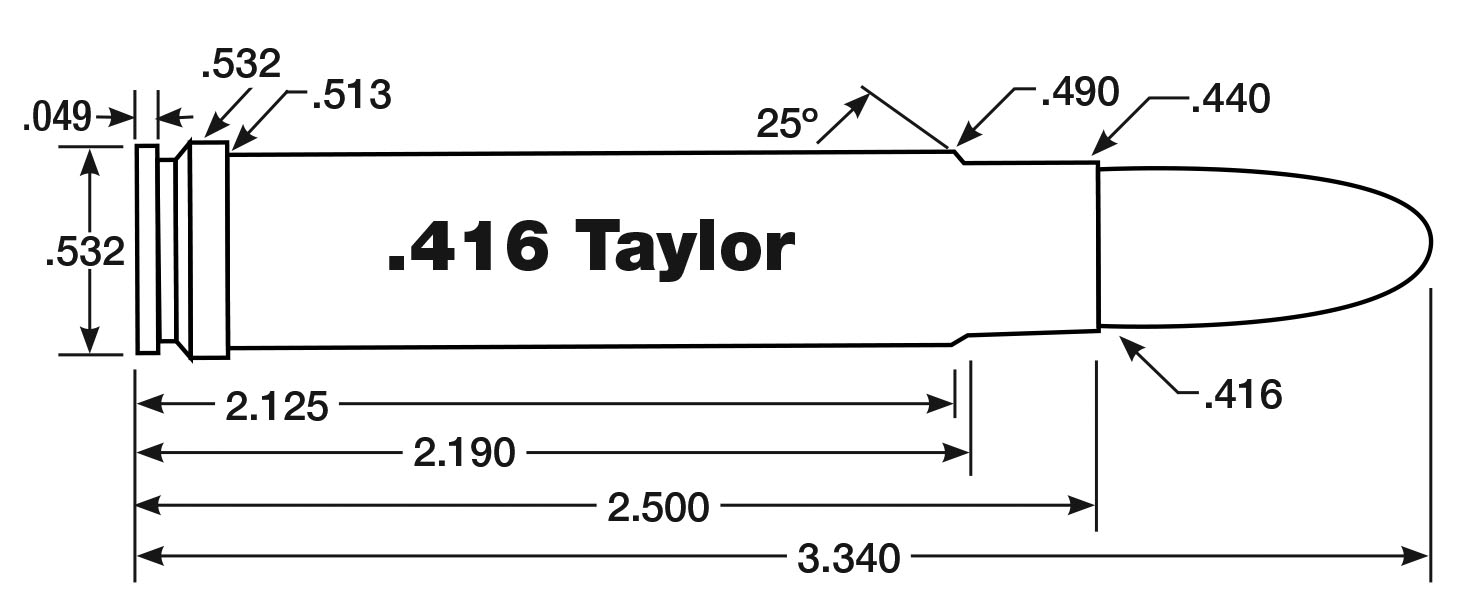 The idea was later a topic of discussion during a luncheon at the famous 21 Club in New York. In attendance were Chatfield-Taylor, Jack O'Connor and Bill Ruger. Also, there was African professional hunter John Kingsley-Heath who, along with business partner, Lionel Palmer, owned Safari South Ltd., in Botswana.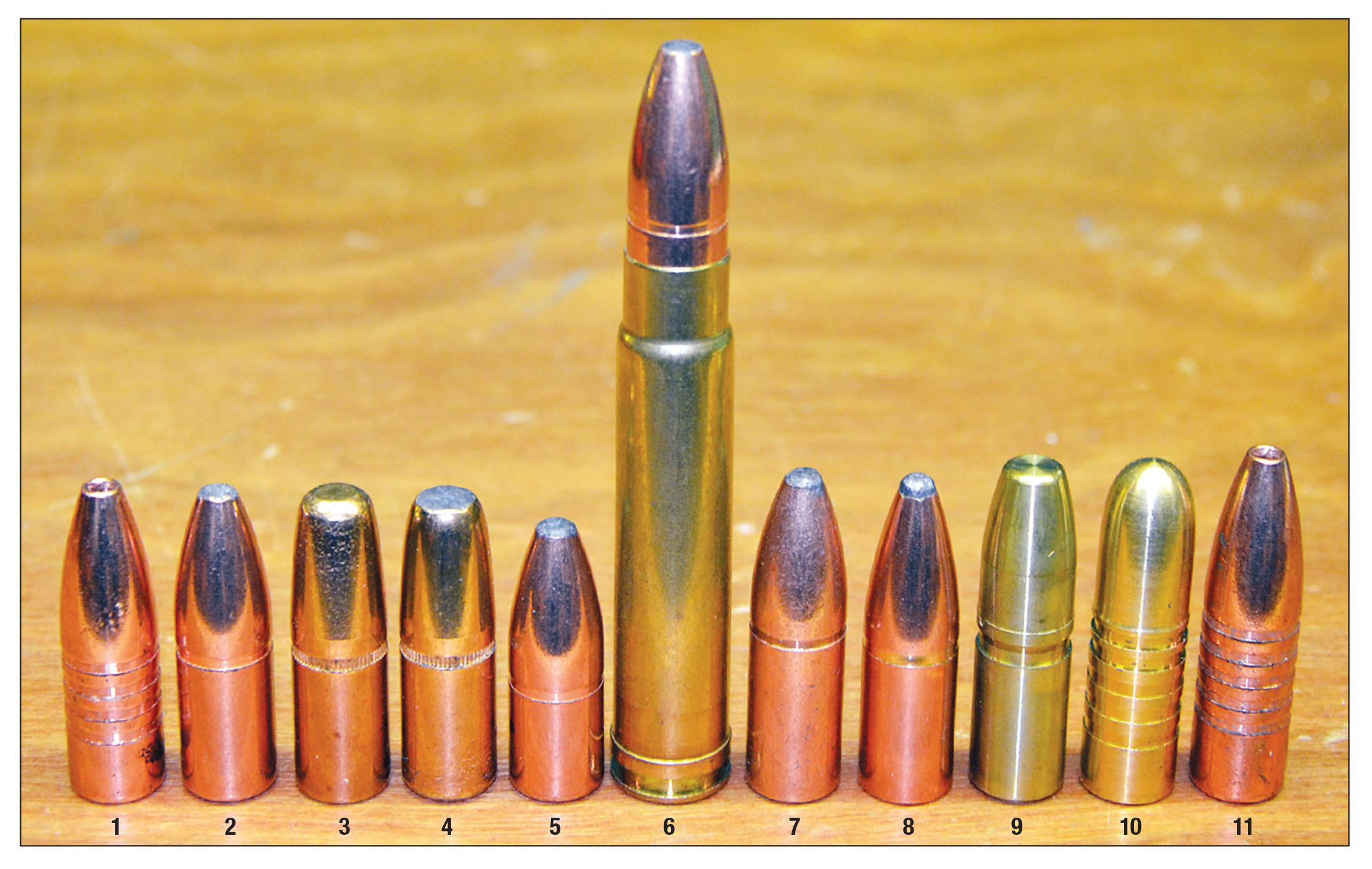 Jack O'Connor had bagged his first Cape buffalo in 1953 with a custom rifle in .450 Watts. It was formed by necking up .375 H&H Magnum brass for .458-inch bullets made in England for the .450 Nitro Express 3¼ inch, and fireforming to a straight body taper with no shoulder. The .450 Watts was introduced by James Watts in 1948, and with the exception of a .050-inch longer case, it is the same as the .458 Lott, which came along about 23 years later. O'Connor had long been friends with Chatfield-Taylor and suggested that a case for his proposed .416-caliber cartridge could be formed in the same manner as the .450 Watts. He also pointed out that since the Winchester Model 70 was available in .375 H&H Magnum, it could rather easily be rebarreled for such a cartridge. Bill Ruger mentioned necking down the shorter .458 Winchester Magnum case, most likely because it could be squeezed into the .30-06-length action of his Model 77 rifle. Ruger's idea held, and so was born the .416 Taylor.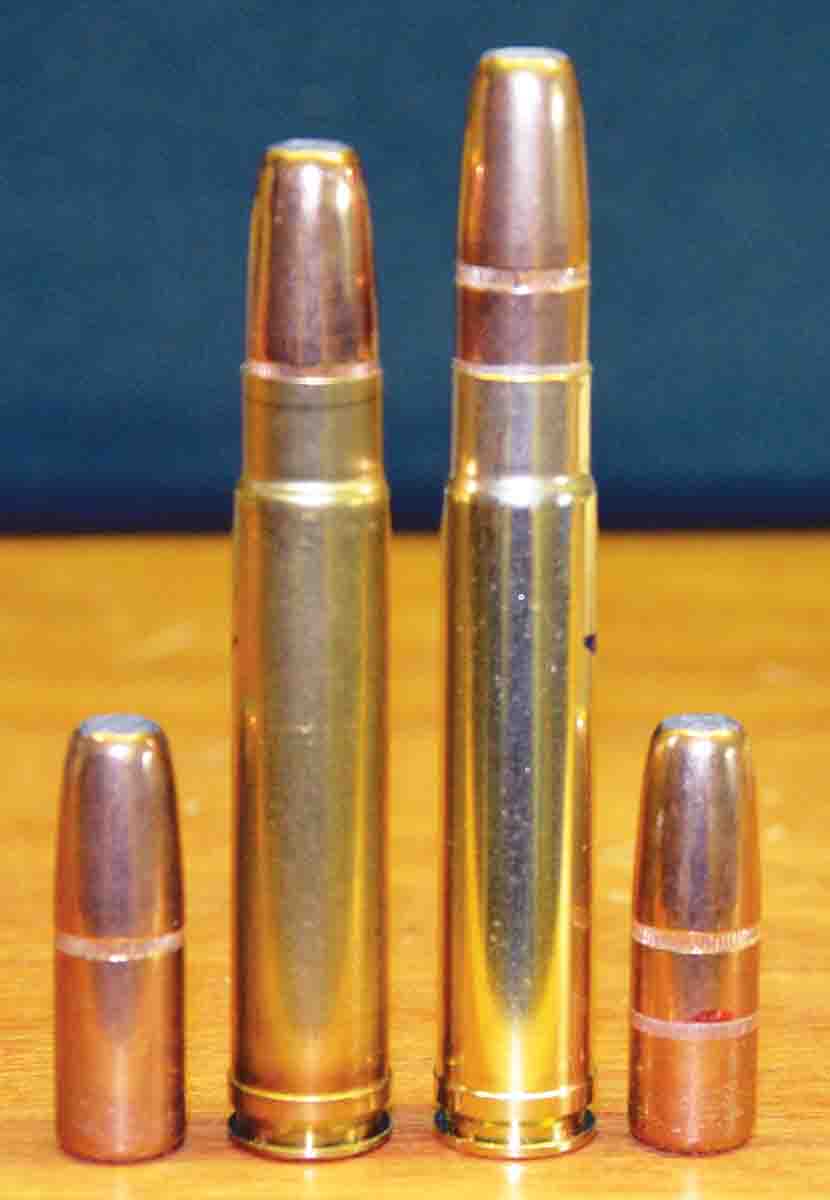 Chatfield-Taylor had friends in high places at Winchester, and since the company did not make .416 barrels, the barrel of a Model 70 in .458 Magnum was replaced by a Douglas barrel chambered for his cartridge. When notified of its completion, he went to the factory to pick up the rifle and to develop a load for it. A Winchester technician was on hand to check velocity with the company's chronograph. Using a custom die set reamed by Fred Huntington at RCBS, Chatfield-Taylor necked down .458 Magnum cases for 400-grain softnose bullets made by Colorado Custom and solids made by the British firm, Kynoch. The recipe he settled on for Africa, 64.0 grains of IMR-3031, generated a muzzle velocity of 2,250 feet per second (fps).
In 1970, Chatfield-Taylor booked with Safari South Ltd., and hunted in Botswana with John Kingsley- Heath. It was the maiden voyage for the Model 70 in .416 Taylor. They roamed Matsibe, a large concession area on the eastern side of the Okavango Swamps. The first buffalo taken was standing in a slight quartering-to position at 25 yards when Chatfield-Taylor placed a 400-grain solid into the front of its chest. As any good solid will sometimes do, it traveled the full length of the animal and was recovered from the offside rear leg. In the words of Kingsley-Heath, "the bullet passed through the heart, lungs, grass-filled stomach and lower thigh bone with no distortion whatsoever." Upon taking the bullet, the bull turned, took a few steps forward and collapsed. Several days later, Chatfield-Taylor shot another buffalo with equally impressive results. He then handed his rifle to Kingsley-Heath, who used it to take a third buffalo on his own license.
Winchester built several experimental rifles in .416 Taylor, but never got around to adding it to the option list for the Model 70, or loading the ammunition. Ruger chambered a couple of Model 77s and the same number of No. 1 rifles for it. One of the single shots went to John Kingsley-Heath. To this day there is a surprising amount of interest in the .416 Taylor among hunters and shooters, many of whom may never see Africa, but often dream of grand safaris filled with long, grueling stalks and thrilling shots at dangerous game. But some rifles do get used. A few years back, my guide on a brown bear hunt in Alaska carried a rifle on a 1903 Springfield action in .416 Taylor. He called it his "bear hammer" and by its appearance, the rifle had obviously lived a very hard but useful life. His handload pushed the Swift 350-grain A-Frame to 2,500 fps.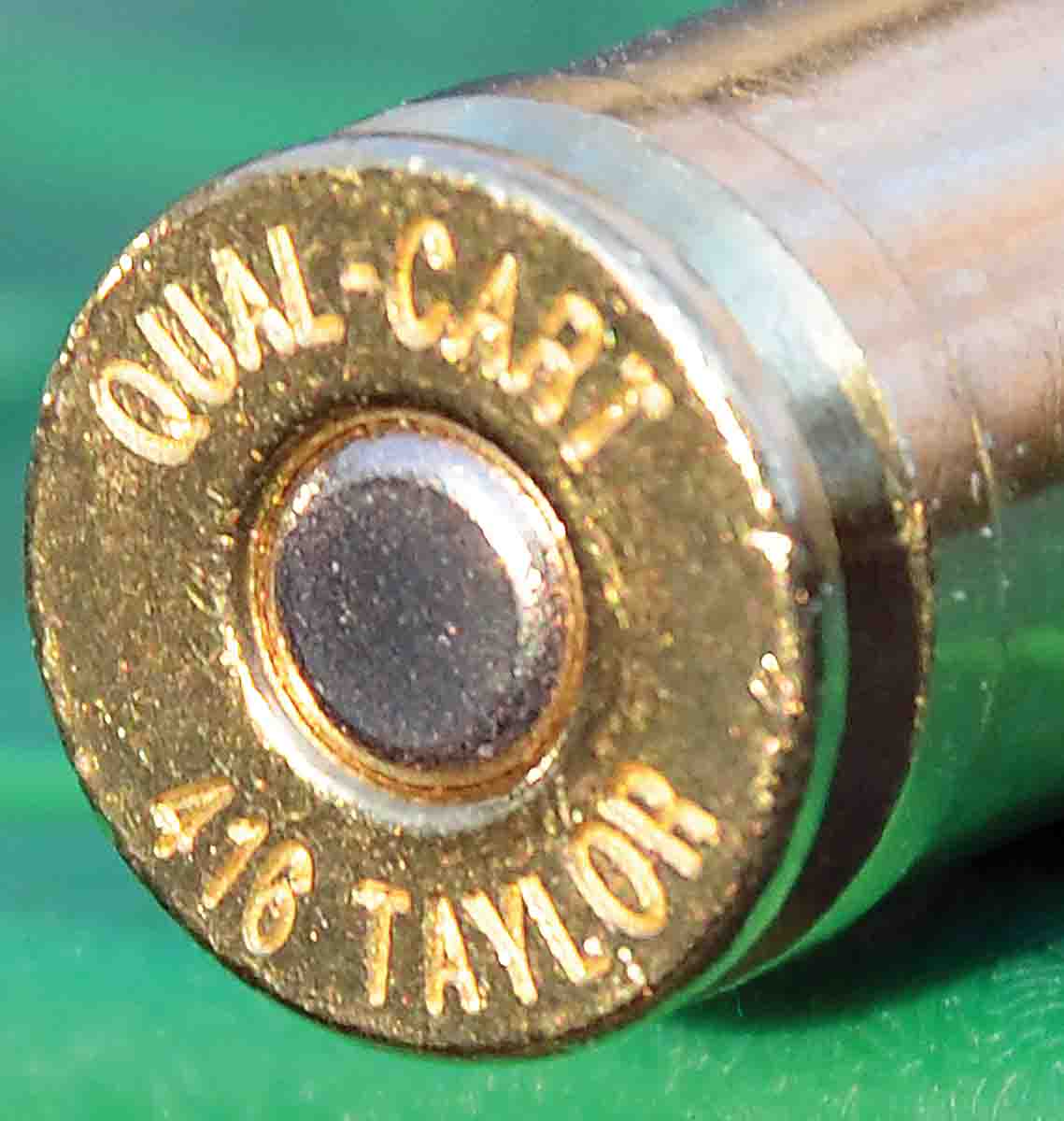 The case is easily formed by running .458 Winchester Magnum brass through a .416 Taylor full-length resizing die. Quality Cartridge offers .416 Taylor cases with the proper headstamp and having shot them in my rifle, I can vouch for their, well, quality.
The relatively small capacity of the .416 Taylor case requires the use of small-granule powders. Data for H-4895, Varget, Reloder 15 and Vihtavuori N140 came to me from Geoff McDonald, owner of Woodleigh Bullets. Starting and maximum charge weights were for his 340- and 400-grain Weldcore bullets, and since the lighter of the two were not on my shelf, I used the Swift 350-grain A-Frame and the Barnes TSX FB of the same weight. In the absence of the Woodleigh 400-grain bullet, I used Swift and Hornady bullets of that weight. Using a 7-inch drop tube, powder charge weights filling the case to its shoulder/neck junction are 76.5 grains (Varget), 75.0 grains (RL-15 and H-4895) and 73.0 grains for VV-N140. Those are not recommended charges, and are included only to illustrate differences in densities of the four powders and how much of each the case will hold.
Interior lengths for the magazines of standard-length Model 98 Mauser actions are usually 3.2, 3.3 or 3.4 inches. My rifle on an Interarms Whitworth Model 98 action has the 3.4-inch magazine and maximum cartridge length for it is 3.375 inches. The chamber throat of its barrel was reamed long enough to allow seating various bullets to that length. Doing so puts the base of the Swift 350-grain bullet adjacent to the shoulder/neck junction of the case. When loading the .416 Taylor as well as other cartridges to be used on dangerous game, I consider a fairly heavy roll crimp important, because like good insurance – it's better to have it and not need it than to need it and not have it. In order to use the crimp groove of the Swift bullet, cartridge length has to be reduced to 3.190 inches, placing its base .185 inch into the powder cavity of the case. Seating the Barnes 350-grain TSX FB to 3.350 inches aligns the second groove back from its nose with the mouth of the case, with its base resting .215 inch into the case. Both bullets compress the powder enough for consistent ignition, and to discourage bullets in cartridges in the magazine from being pushed deeper into the case due to recoil.
For hunting brown bear around and in Alaskan alder thickets, the Swift and Barnes 350-grain bullets would be logical choices. Either should also perform nicely on most species of African antelope. The Swift bullet would be my pick for lion because, in addition to being capable of penetrating the incredibly dense and thick muscle structure of its chest and reaching the vitals on a frontal shot, it expands more quickly and to a larger diameter, making it a better choice for a side-on shot through the lungs.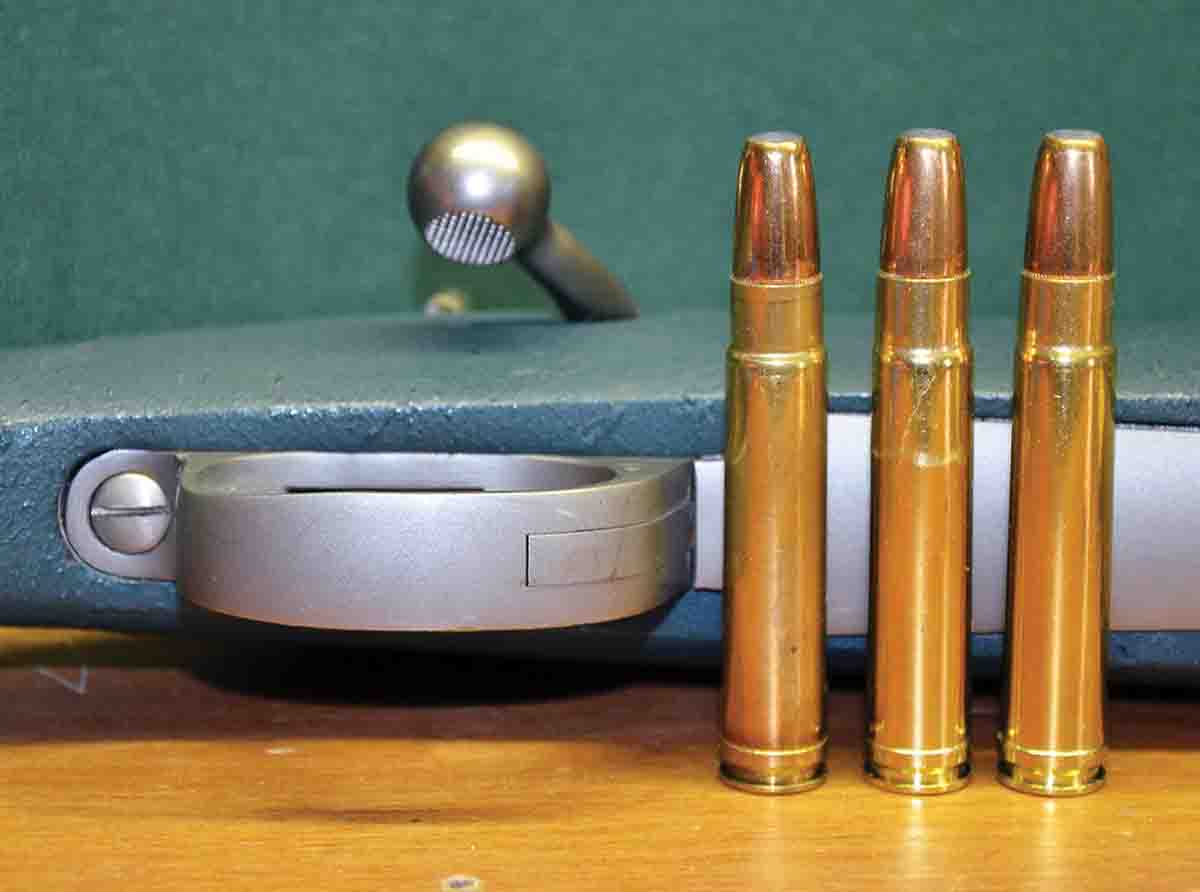 Bullets weighing 400 grains are needed for elephant, buffalo and hippo, with the latter caught grazing on dry land. Among those I have measured, the Hornady DGXB and DGS, and the Swift A-frame are the shortest. When seated to the 3.375-inch maximum, intrusion into the powder space is .140, .157 and .161 inch, respectively. Again, powder charge compression is about right. Seating them more deeply to align their cannelures with the mouth of the case for crimping, puts their bases .400 inch beyond the shoulder/neck junction of the case. Cartridge length with the Hornady 400-grain DGXB is 3.156 inches. In addition to crushing the powder charge into a semi-solid lump, bullets of that weight occupy about 17 percent of the internal space of the case. Seating them farther out of the .416 Taylor case solves the excessively compressed powder charge issue. It also reduces chamber pressure, and that can be very important when the temperature beneath an African sun is on the far side of 100 degrees Fahrenheit. The even greater lengths of 400-grain monolithic solids make them poor choices for the .416 Taylor.
Adding a cannelure further back toward the base allows the Hornady and Swift bullets to be seated to the 3.375-inch cartridge length for my rifle and crimped in place. The Corbin HCT-1 tool is used, and while it works fine on bullets with thin jackets, it does not go as deeply into the extremely thick jackets of .416 caliber bullets as factory-applied cannelures. Measuring a mere .300-inch long, the neck of the .416 Taylor case does not apply an abundance of surface area tension to a seated bullet. Combining the shallow cannelure with increased case neck tension is a good plan. The expander button in full-length resizing dies for various .416 cartridges measures .411 inch and reducing it to .409 inch is an easy solution.
To reminisce a bit prior to closing, due to their unique construction, the Speer African Grand Slam softs and solids are the shortest 400-grain bullets I have used, and that made them great choices for the .416 Taylor. Sad to say, they were extremely costly to make and were eventually discontinued. I still have a box of .375s, but the .416s and .458s are long gone.
The .416 Taylor is an interesting cartridge, one I have hunted with just enough to become quite fond of a trim, little 9.5-pound Mauser chambered for it. Unfortunately, its creator did not live long enough to see how popular his cartridge would become. But as time moves forward, good ideas are sometimes replaced by better ideas, and if Chatfield-Taylor was still with us, he would surely agree when I say the only logical reason for chambering a rifle for his cartridge today is because its action is too short for the .416 Remington Magnum.