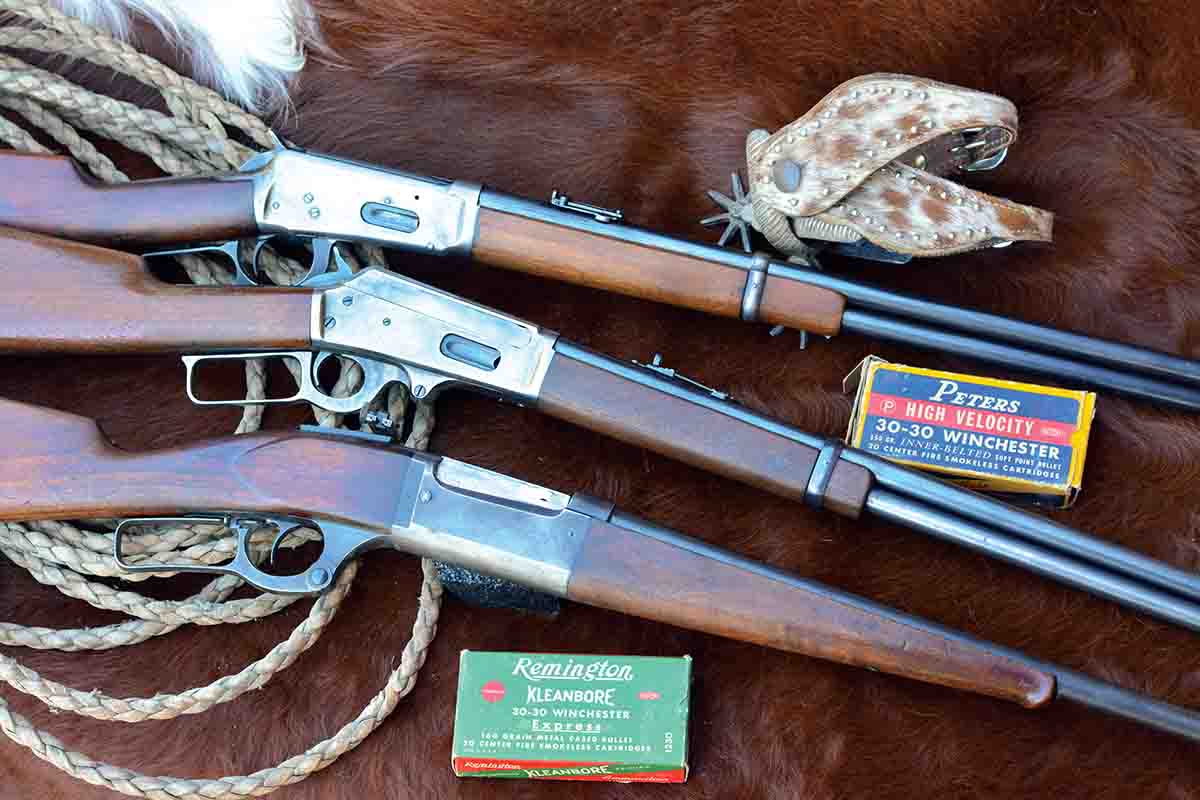 The 30 Winchester Center Fire, 30 W.C.F., more commonly known as 30-30 Winchester, is uniquely the first smokeless, small-bore sporting rifle cartridge in the U.S. Perhaps it is better known for earning the unofficial title of being the most popular centerfire sporting rifle cartridge ever developed. The sheer number of rifles and carbines produced since its introduction in 1895, is staggering. It played a significant role on the western frontier as it served cowboys, sheepherders, meat hunters, trappers, lawmen, prison guards or anyone that needed a handy, fast-handling lever-action rifle that offered a unique blend of power, effectiveness and moderate recoil. In the eastern U.S., it quickly became the standard for deer hunters.
During World War I, the U.S. Military purchased 1,800 Winchester Model 94s to arm the U.S. Army Signal Corps stationed in the Pacific Northwest. This was done to prevent interruption of spruce timber harvesting that was being used for aircraft production and was vital to the war effort. In Mexico, the 30-30 served in many roles including multiple branches of the government, but found great favor with bandits and lawmen and remains widely popular with civilians.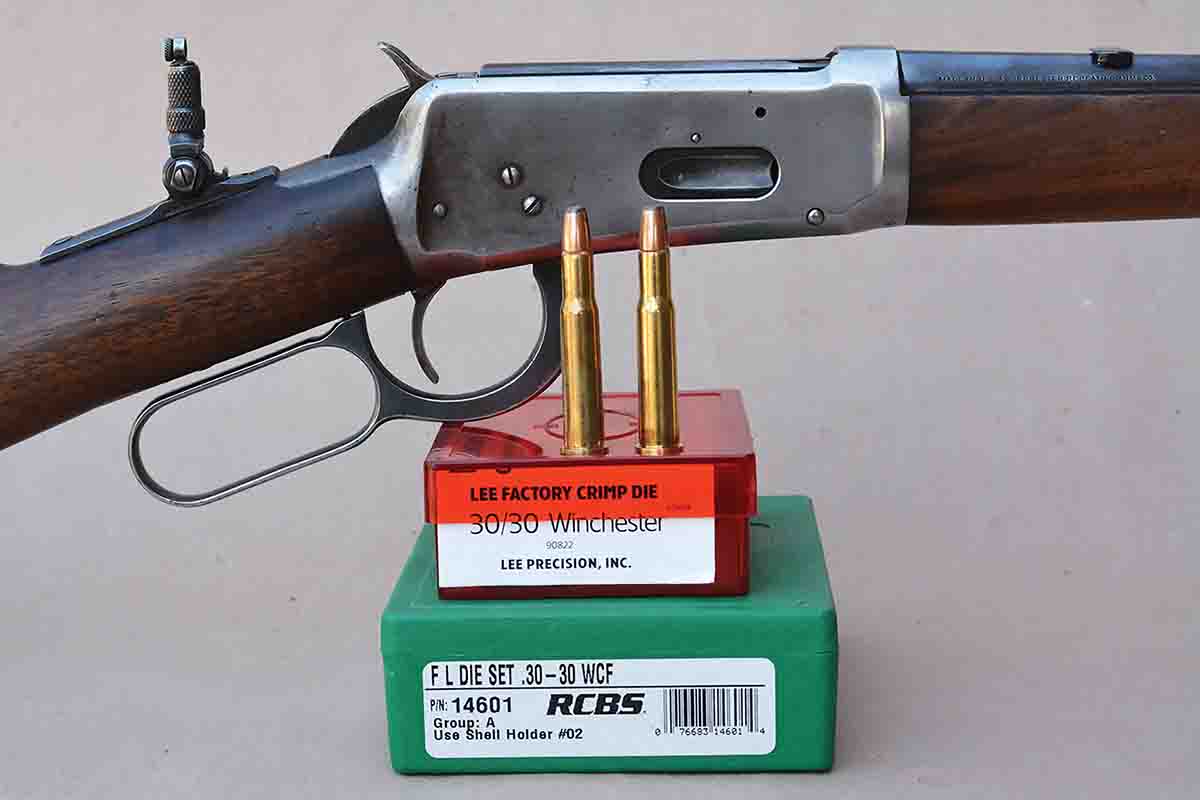 Today, the 30-30 is most commonly used as a short-range (typically within 200 yards) cartridge for hunting deer and black bears. However, it still enjoys extensive popularity in remote wilderness areas of Canada and Alaska, wherein it is regularly used to take caribou, moose and even grizzlies in the hands of skilled hunters. But when hunting the latter two species, a cartridge with more power is certainly recommended by this hunter. I know many advanced riflemen that use much more modern rifles and cartridges for hunting and other purposes; but still have at least one lever-action rifle chambered in 30-30 on their gun rack and it is not for sale, including the late Jeff Cooper, who recognized the value of the Model 1894 Winchester carbine and the 30-30.
The Winchester Model 1894 was initially chambered in 32-40 and 38-55, but the 30 W.C.F. first appeared in August 1895, along with nickel-steel barrels. The John Browning-designed rifle had already been well received and was working flawlessly, but both the 32-40 and 38-55 were older black-powder cartridges with comparatively low velocities that hovered around 1,300 to 1,400 feet per second (fps). When the 30-30 arrived, it was sensational! First, it contained 30 grains of the relatively new and desirable smokeless powder, was 30 caliber (thus the 30-30 name) and offered notably higher velocities that helped shooters make hits at longer distances.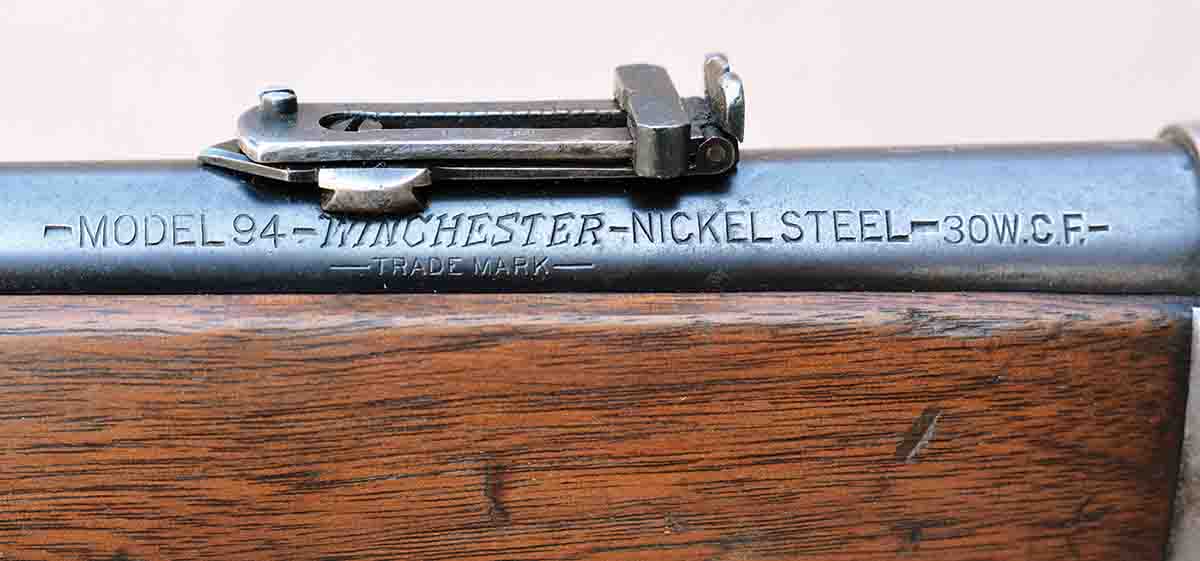 Initial ballistics listed a 160-grain, metal-patch bullet at around 1,970 fps (sources vary) from a rifle length barrel, but soon, additional loads appeared including 150- and 170-grain expanding bullet loads that are widely standardized today and velocities were eventually increased as additional powders were developed. Recoil was notably less than the old big-bore, lever-action cartridges such as the 40-82 and 45-70 and trajectory was noticeably flatter. The weight of ammunition was much less, which during the horse and buggy era was another huge advantage, but the cost was also noticeably less when compared with the larger-caliber cartridges. Nonetheless, when used on deer-sized game within respected distances, along with proper bullet placement; the 30-30 was a reliable game cartridge.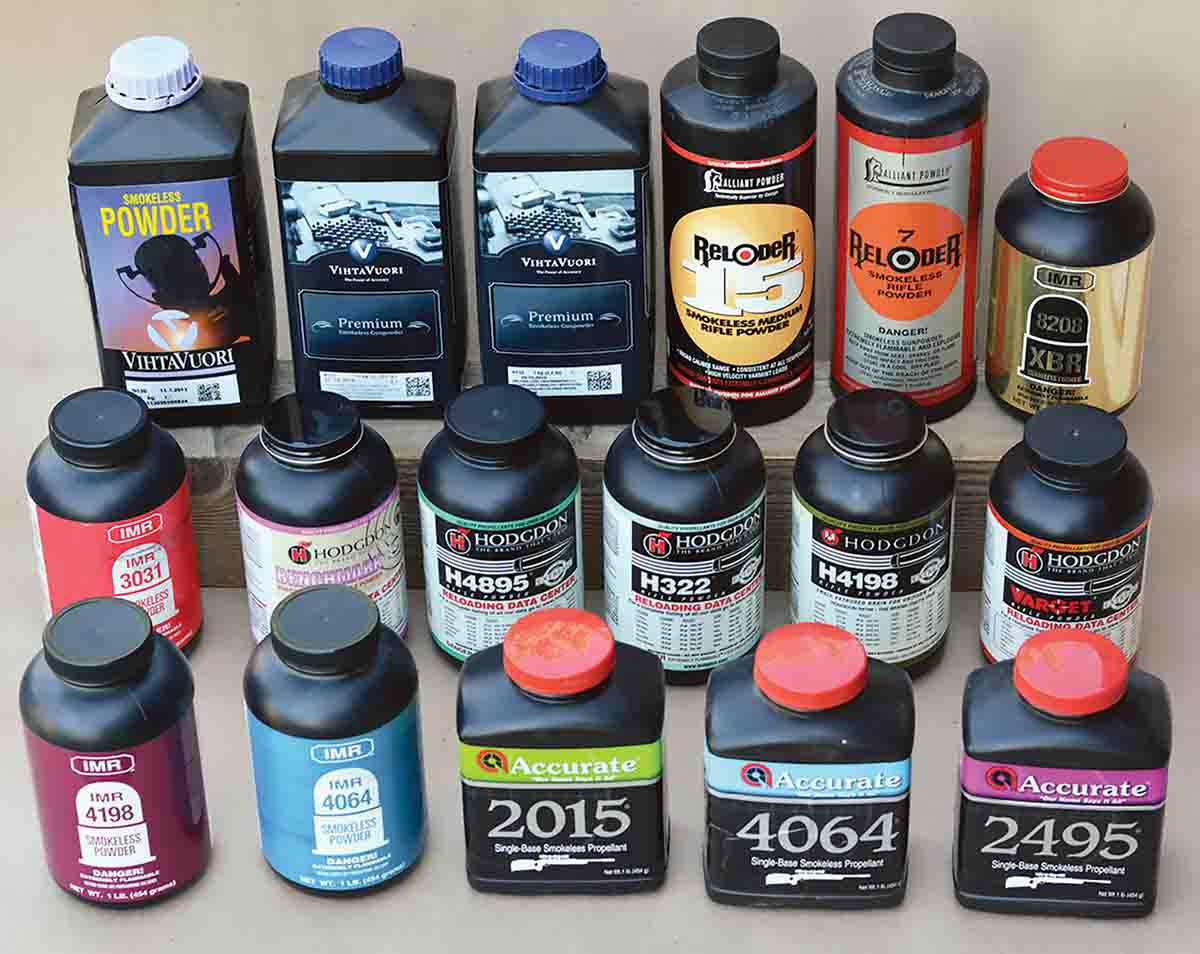 But the Model 1894 rifle, and especially the popular carbine version, played an important role in propelling the success of the cartridge, as they were much lighter and trimmer when compared with the larger and heavier Winchester Model 1886 and Marlin Model 1895, but were not much heavier than the Model 1892 Winchester and Marlin Model 1894, which were each chambered for less potent black-powder cartridges such as the 32-20, 38-40 and 44-40. Marlin soon chambered its excellent Model 1893 (later evolving into the Models 93, 36 and 336) for the new .30-caliber Winchester cartridge, but the barrel was marked "30-30" as they did not want to put the name of its largest competitor name on its rifle! Savage followed with its Model 1899 and later Model 99. Space will not allow a list of the many guns that have been chambered in 30-30, but it has included the bolt actions, falling block and break-open, single-shot rifles and handguns, drillings, double rifles and even revolvers.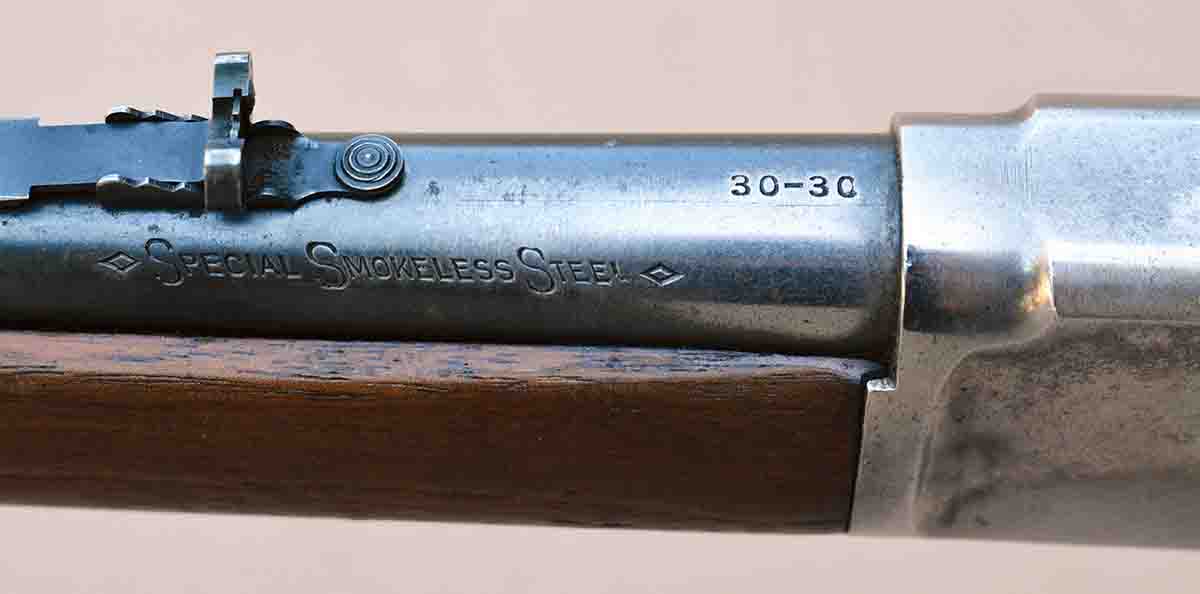 Nonetheless, by far, the most popular guns are the Winchester Model 1894 Carbine and Marlin Model 336 and variants, with each boasting of many millions sold. They are trim, handy, short, compact and lightweight and contributed to the 30-30's notable success. Regarding accuracy; I have heard so many times that the above guns won't shoot well because they are lever actions, however, if they have a good bore, headspaced properly (a common problem with many old, heavily used guns), are fitted with proper sights and fed good ammunition, they will generally group inside 2 inches at 100 yards. If care is taken to develop handloads, many guns will stay inside 1½-inches and I own several that will stay inside 1 inch. Considering the effective range of the 30-30 for hunting big game, they are plenty accurate for any practical application.

Since the most common barrel length for the 30-30 is 20 inches, two carbines were selected to develop data and test loads. A Marlin Model 336C with Micro-Groove rifling and topped with Skinner Express rear sight was used to check velocities and selectively check accuracy; while a Winchester Model 1894 Saddle Ring Carbine fitted with a tang-mounted aperture sight was used for accuracy testing at 75 yards. This latter gun has been in my personal collection for many years, has been used to take deer and black bear, has an exceptional trigger pull and is accurate.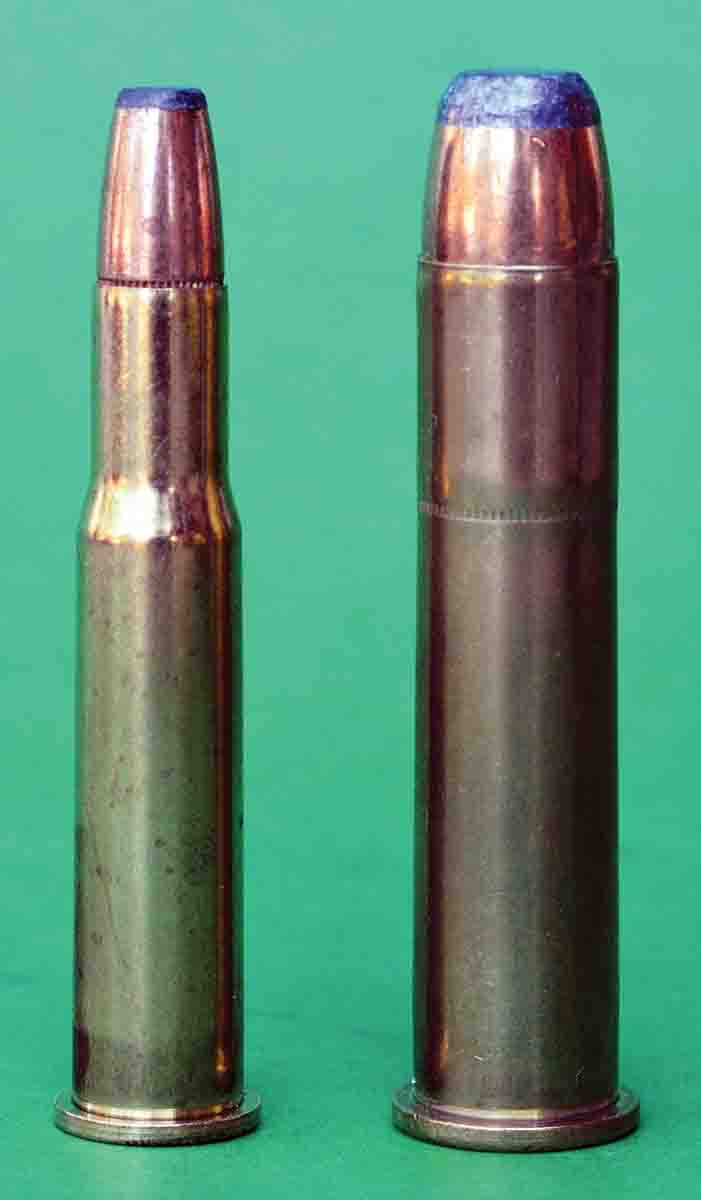 Space will not allow sharing my personal experience with the 30-30, so suffice it to say that I have owned, fired, hunted with and handloaded more than two dozen rifles in virtually all configurations that it has been offered. I first fired my Dad's old Model 94 when I was around eight years old and I was soon "assigned" the hard task of keeping the huge flocks of migratory birds out of our newly-seeded grain fields. I have taken a fair number of deer and black bear with the old cartridge and have guided several hunters that used it. I have spent time in sheep camps where the herders often use them to keep the wolves, coyotes and bears out of the herd. I have hunted with many houndsmen who still use it and would be hard pressed to use anything else. I have tried virtually every factory load produced since World War II and developed many different handloads. The point is, some of my comments may sound casual, but are based on experience.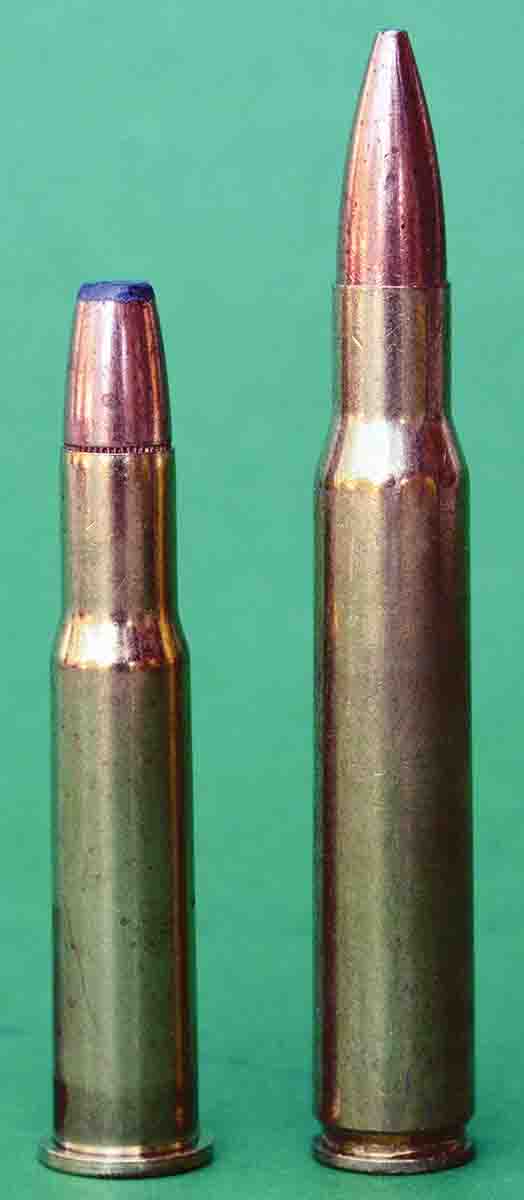 Today's factory 30-30 loads from Federal, Remington and Winchester generally list a 150-grain cup and core-style bullet at around 2,390 fps or a 170-grain bullet at around 2,200 fps from 24-inch test barrels. However, in my testing from a Winchester Model 94 Carbine with a 20-inch barrel, the average velocity of six factory loads was 2,194 fps for the 150-grain bullet, while seven factory loads containing the 170-grain version averaged 2,006 fps (see accompanying table). The same loads fired in a Marlin Model 336A with a 24-inch Micro-Groove barrel still fell notably short of their listed velocities at 2,272 fps and 2,085 fps respectively. Rather than using listed factory load velocities to compare handload data, the above actual velocities were used as targeted velocities of handload data with the same weight bullets.
It should be noted that Hornady has thoughtfully developed new loads (and bullets) that have improved the overall performance of this classic cartridge. For example, the 160-grain Flex Tip features a memory elastomer tip in spitzer profile, but it also features a boat-tail to increase the ballistic coefficient (BC) to .33. It is important to note that the soft tip spitzer tip is important to prevent cartridges from detonating in the magazine tube. Hornady co-developed propellants with Hodgdon powder that push this bullet to around 2,350 fps from a 20-inch barrel (listed at 2,400 fps from a 24-inch barrel), while staying within industry maximum pressure limits. Based on my tests, the Flex Tip bullet boasts of reliable expansion at velocities as low as 1,450 fps in ballistic gel, but actually might be much lower than that figure. The Flex Tip bullet's sleek design, combined with its higher velocities, is a huge advantage over most traditional cup and core bullets when taking game at distances of around 200 yards or beyond.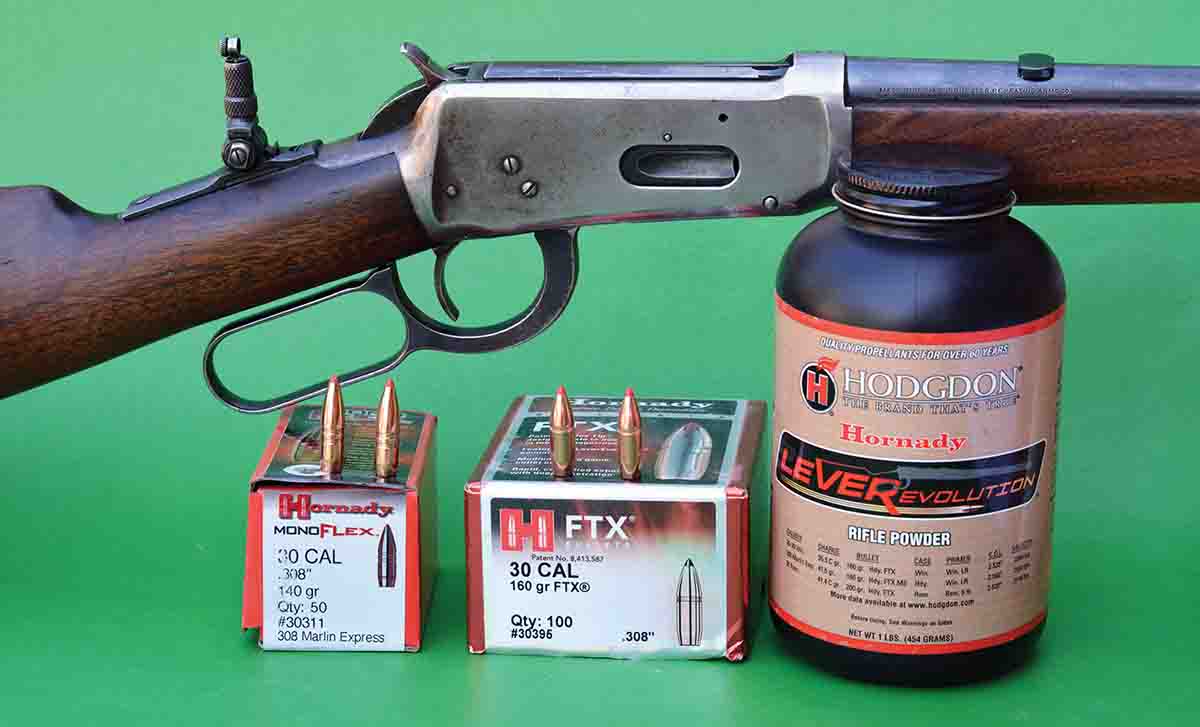 To elaborate briefly, let's consider the most traditional 170-grain cup and core flatnose bullets at around 2,000 fps muzzle velocity from a carbine with 20-inch barrel and have a BC of around .20. Generally speaking, these bullets need at least 1,700 fps to achieve reliable expansion. In short, expansion usually stops at around 100 yards or less! This may not be a concern for hound hunters that take bears at modest distances, or the whitetail deer hunter that is taking deer within that distance from a blind or a tree stand. But if shots exceed that figure, I have observed bullets failing to expand on deer-sized game many times, which results in hours of tracking and has not helped the reputation of this cartridge. Changing to 150-grain bullets with a .185 BC and pushed to 2,200 fps definitely helps with terminal performance, as they have a higher muzzle velocity and will expand at greater distances, but much beyond 150 yards velocity drops below 1,600-1,700 fps and most manufacturers bullets only offer marginal expansion at best.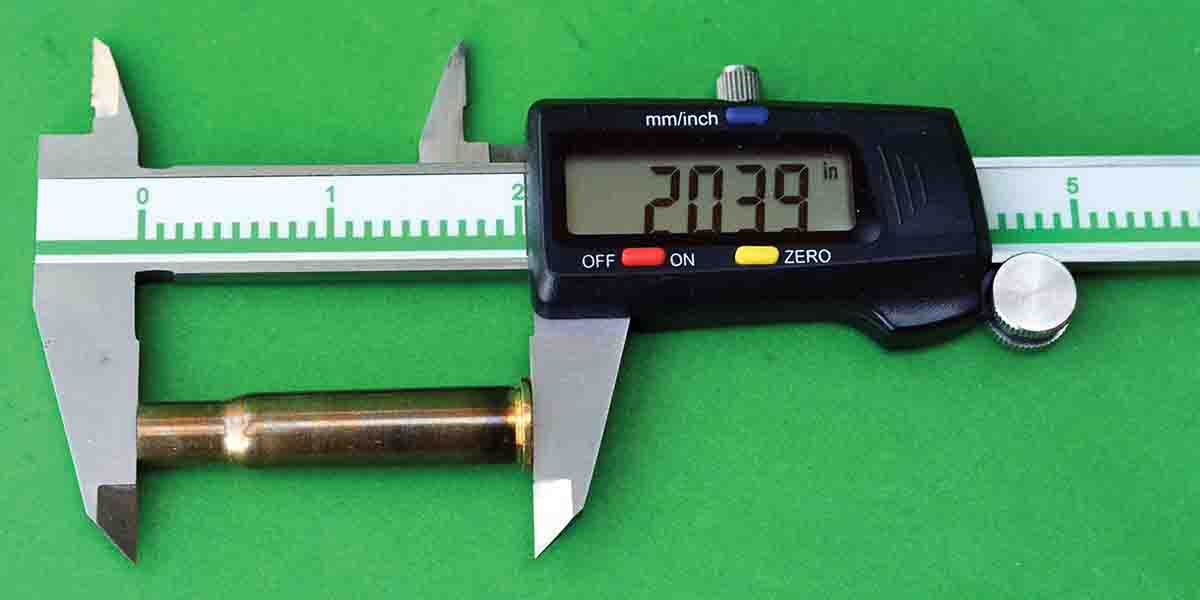 Again, with a muzzle velocity of 2,350 fps (20-inch barrel) and a .33 BC, at 200 yards the Hornady 160- grain Flex Tip is still traveling more than 1,850 fps and offers reliable expansion and excellent terminal performance, while at 300 yards it is still traveling more than 1,650 fps and will expand reliably. (Note: Hornady has stated that reliable expansion will occur at 1,600 fps.) Select loads in the accompanying data will nearly duplicate the Hornady Flex Tip factory load. (Note: Be certain to use the 30-caliber 160-grain Flex Tip bullet that is designed specifically for the 30-30, rather than the 160-grain version designed for the 308 Marlin Express.)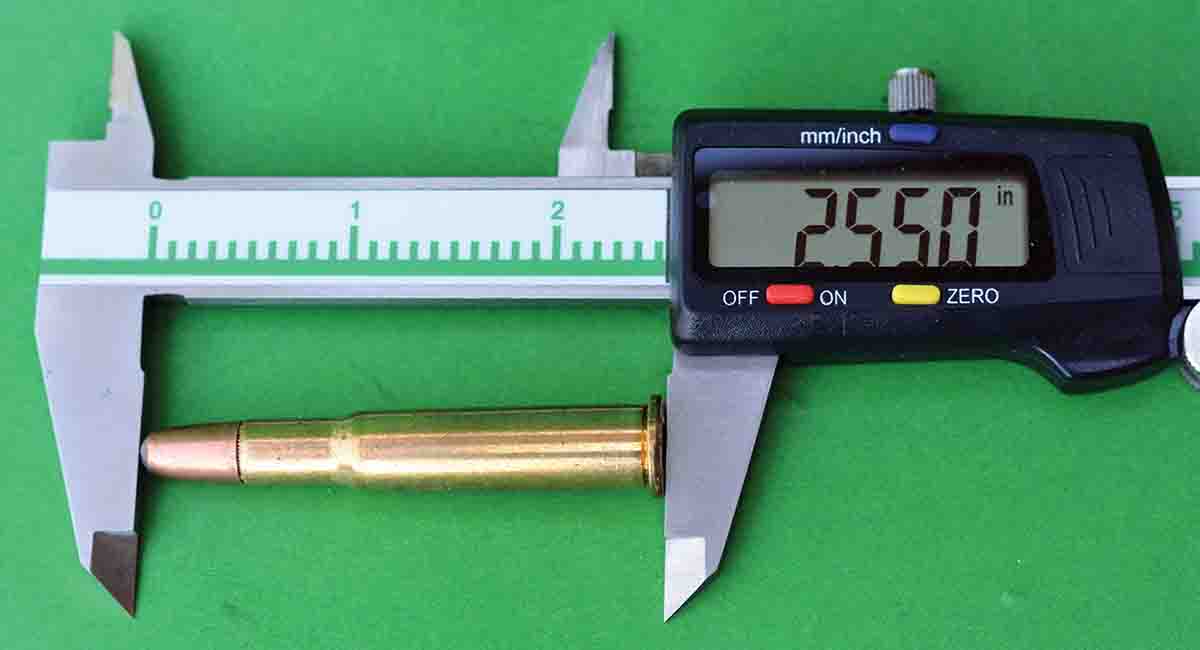 Another notable Hornady load included the 140-grain MonoFlex bullet (similar to the monolithic GMX bullet) with a listed muzzle velocity of 2,465 fps. This bullet is more or less solid copper with pre-cut fluting to control expansion, while the spitzer profile elastomer Flex Tip serves to facilitate expansion, but also serves to increase BC to a respectable .277. Expansion is reliable as low as 1,500 fps, but the expanding monolithic bullet offers unusually deep penetration on game and offers high weight retention. The trajectory of this load more or less duplicates the 160-grain Flex Tip load. For example, with a 200-yard zero, it drops around 12.8 inches at 300 yards and is traveling at 1,635 fps. This is an outstanding load for hunting big game and brings the old 30-30 to new levels of performance.
With all of that said, traditional cup and core 150- and 170-grain flatnose bullets still work well, but should be kept within their respected limits. In practical terms, I have found very little terminal performance differences between Hornady, Sierra and Speer flatnose bullets designed specifically for the 30-30. As to accuracy, the Hornady and Sierra usually take top honors, but not always.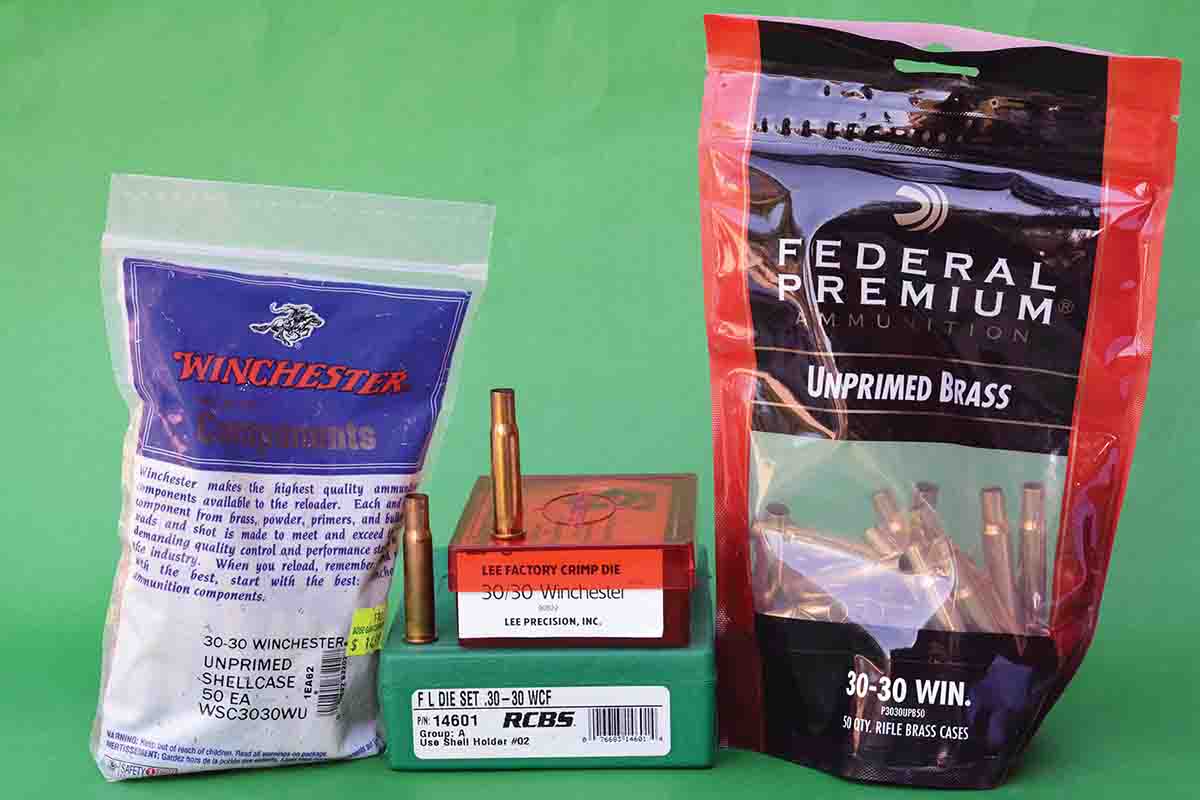 For those that prefer the hard-hitting 170-grain bullets at closer ranges, the Nosler Partition is an excellent choice, as it expands rapidly, but offers reliably deep penetration. The Speer DeepCurl is a more conventional cup and core design, but tests in ballistic gel prove that it expands reliably and retains respectable weight for good penetration qualities.
Various 100- to 110-grain bullets designed for the 30 Carbine have been used in the 30-30, but some of the full metal jacket roundnose profiles are worrisome in that they might result in cartridges setting off in the magazine tube. However, the Speer 110-grain 30 Varminter hollowpoint features a lead tip with a flatnose and a crimp cannelure, making it a much better choice for use in the 30-30. Other lightweight bullet options that are designed specifically for the 30-30 include the Sierra 125-grain HP-FN and the Speer 130-grain Hot-Cor 30 SPFN. Using select data, velocities reached a respectable 2,600 fps, while accuracy and function was good in both rifles.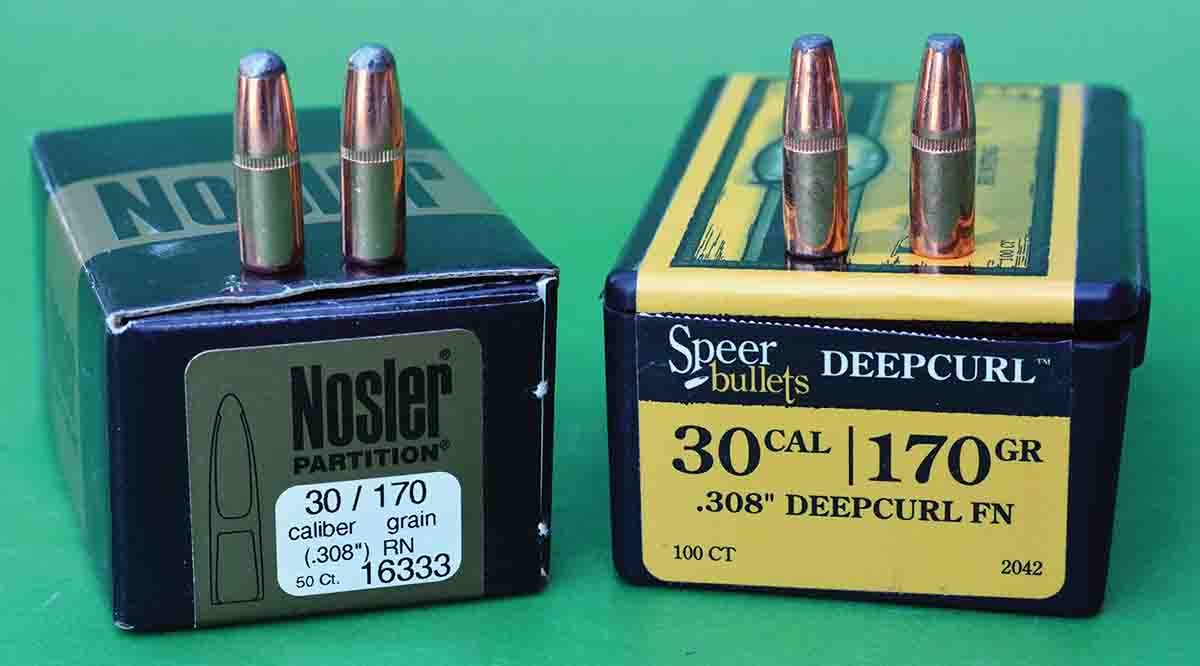 There are several reasons to consider using cast bullets. For example, vintage guns offer considerably less barrel wear, generally cost less, can be used safely at lower velocities for hunting small, edible game and they can be very accurate. The Missouri Bullets 165-grain RNFP is an excellent choice for cowboy shooters or general plinking, while the Lyman mould No. 311041 drops bullets around 173 grains and can be pushed to full velocities, is capable of near-MOA accuracy and has taken several deer for this hunter. When loading cast bullets, the case mouth will need to be expanded prior to seating bullets, with the Lee Universal Case Expanding Die being a great tool for this purpose. When loading 30-30 cartridges on progressive presses, case mouths will likewise need expanding to hold the bullet in place prior to being seated (even with jacketed bullets).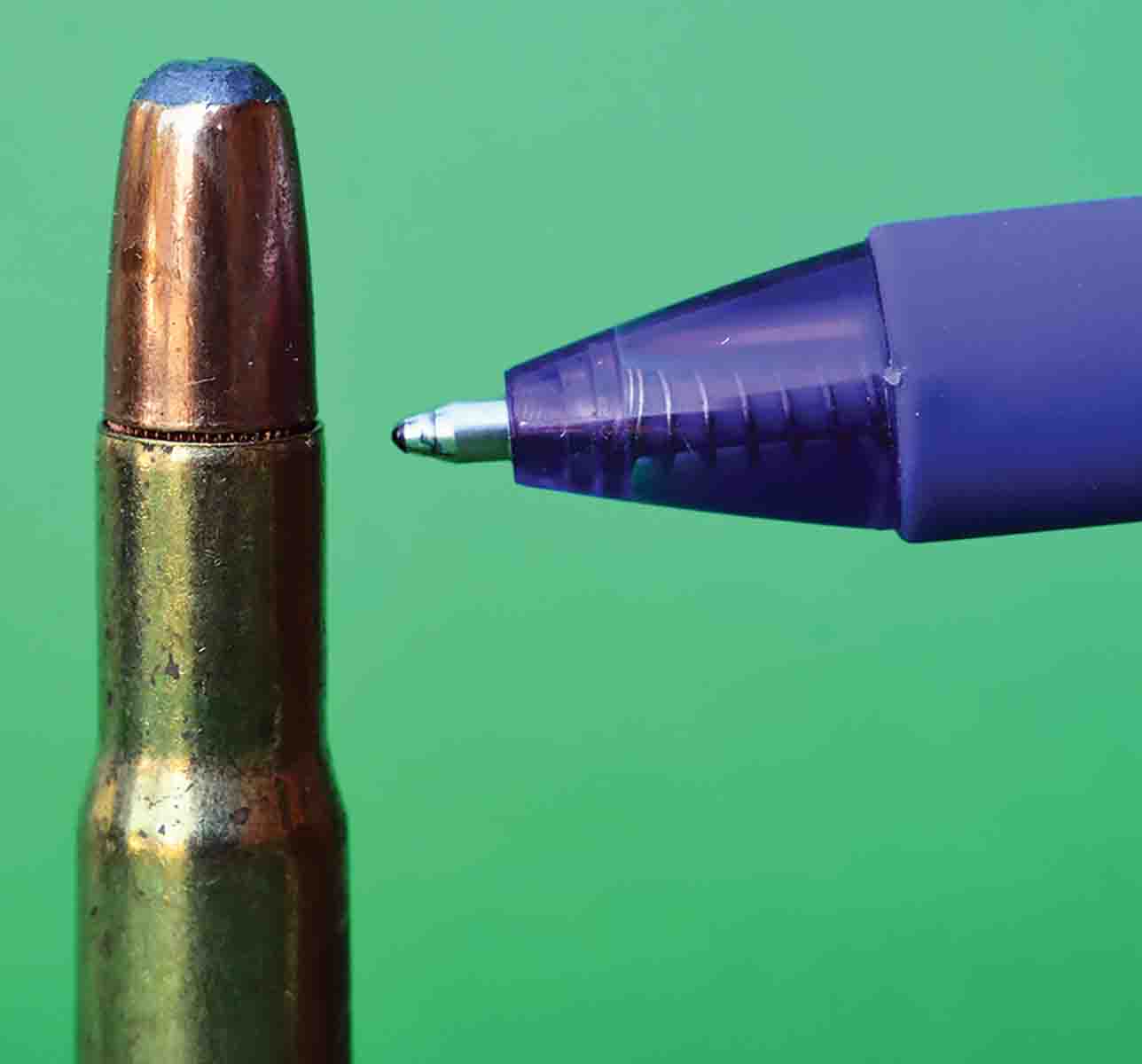 RCBS dies were used herein. New Federal Cartridge cases were used to develop loads, however, for the Hornady 140-grain MonoFlex and 160-grain Flex Tip bullets, Winchester cases were used, which offer greater capacity than the former. All cases (new or used) should be full-length sized and trimmed as needed. If cases are not uniform in length, applying a proper roll crimp will be difficult, as shorter cases will fail to be crimped properly and longer cases might buckle when the crimp is applied. In these instances, the Lee Factory Crimp Die will prove to be a very valuable tool, as it will crimp cases of different lengths with outstanding uniformity. When developing the "Pet Loads" data, CCI BR-2 primers were seated .003 to .005 inch below flush to assure reliable ignition.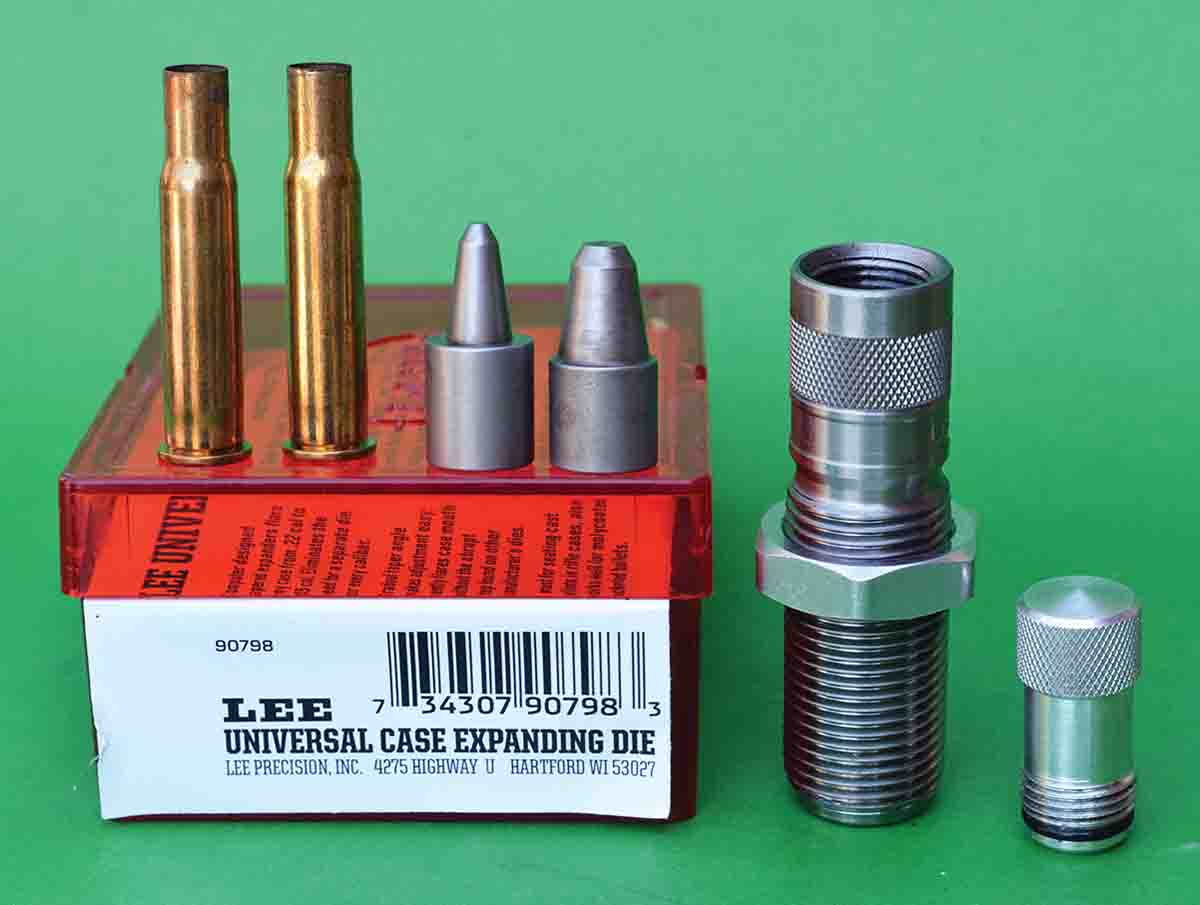 The 30-30s thrive on the very same powders that are ideal in the 223 Remington and 5.56 NATO cartridges. As a result, there are many excellent extruded and spherical (aka Ball) powders to choose from. In reviewing my notes on velocities, pressure and accuracy of the powders selected, the differences were often very hard to differentiate. Regarding the accompanying data, I could select virtually any maximum load and be happy taking that load in the field (naturally with the correct bullet for a job at hand). With that said, I do like the velocity advantages of Hodgdon LEVERevolution, CFE 223, Alliant Power Pro 2000-MR, Accurate 2520 and IMR-8208 XBR. Top accuracy, but only by a very small edge, came from Hodgdon Varget, H-4895, Benchmark, Alliant Reloder 15, Power Pro 2000-MR, Accurate 2015, Vihtavuori N-135 and IMR-8208 XBR. It might be noteworthy that I pulled bullets on several dozen factory loads from all major manufacturers, some of which dated back to the 1950s. While the older ammunition was primarily loaded with extruded powders, modern loads were virtually all loaded with spherical powders.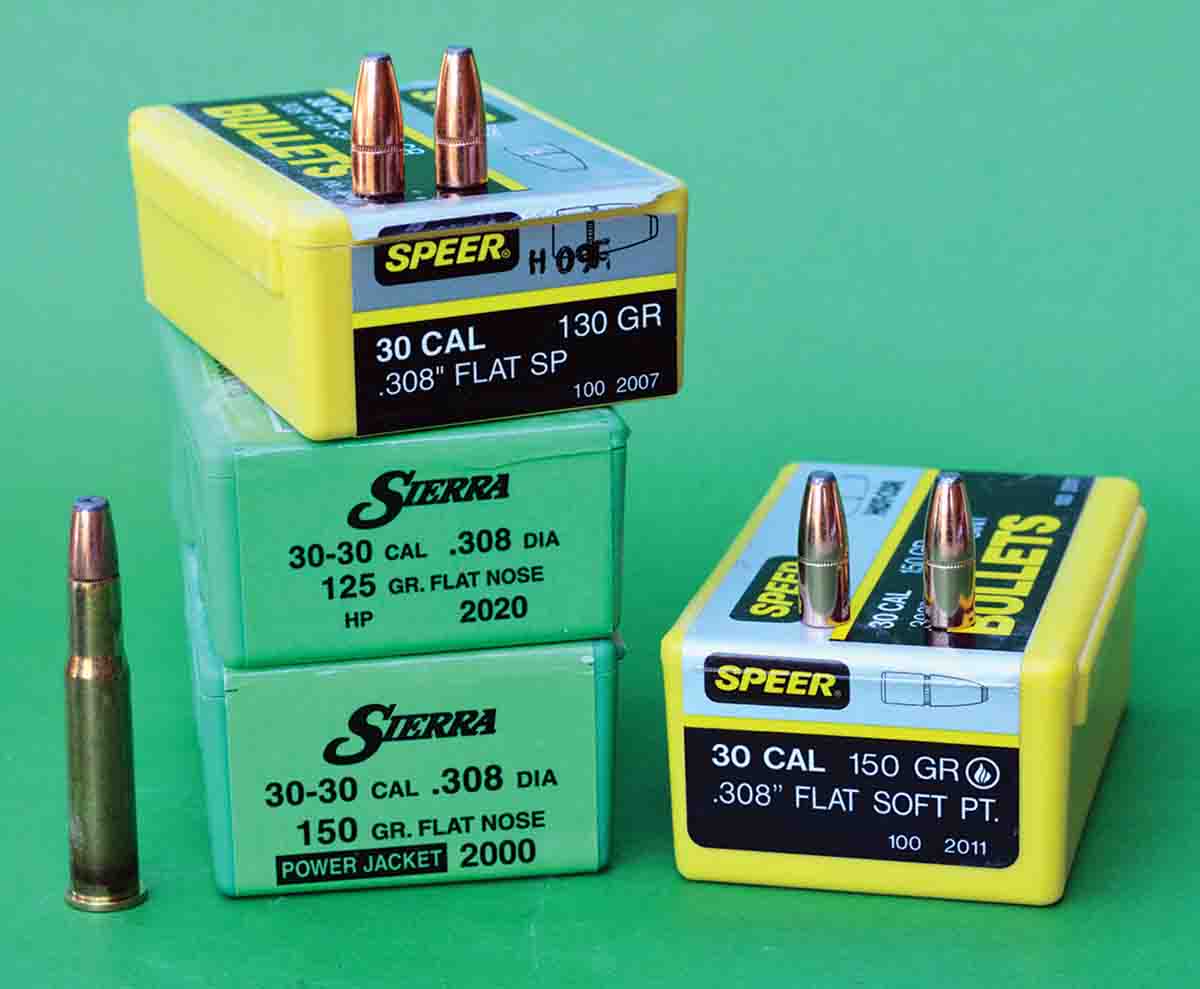 The Sporting Arms and Ammunition Manfacturers' Institute currently lists maximum average pressure for the 30-30 at 42,000 psi, but was formerly 38,000 CUP. All the accompanying data is within that limit.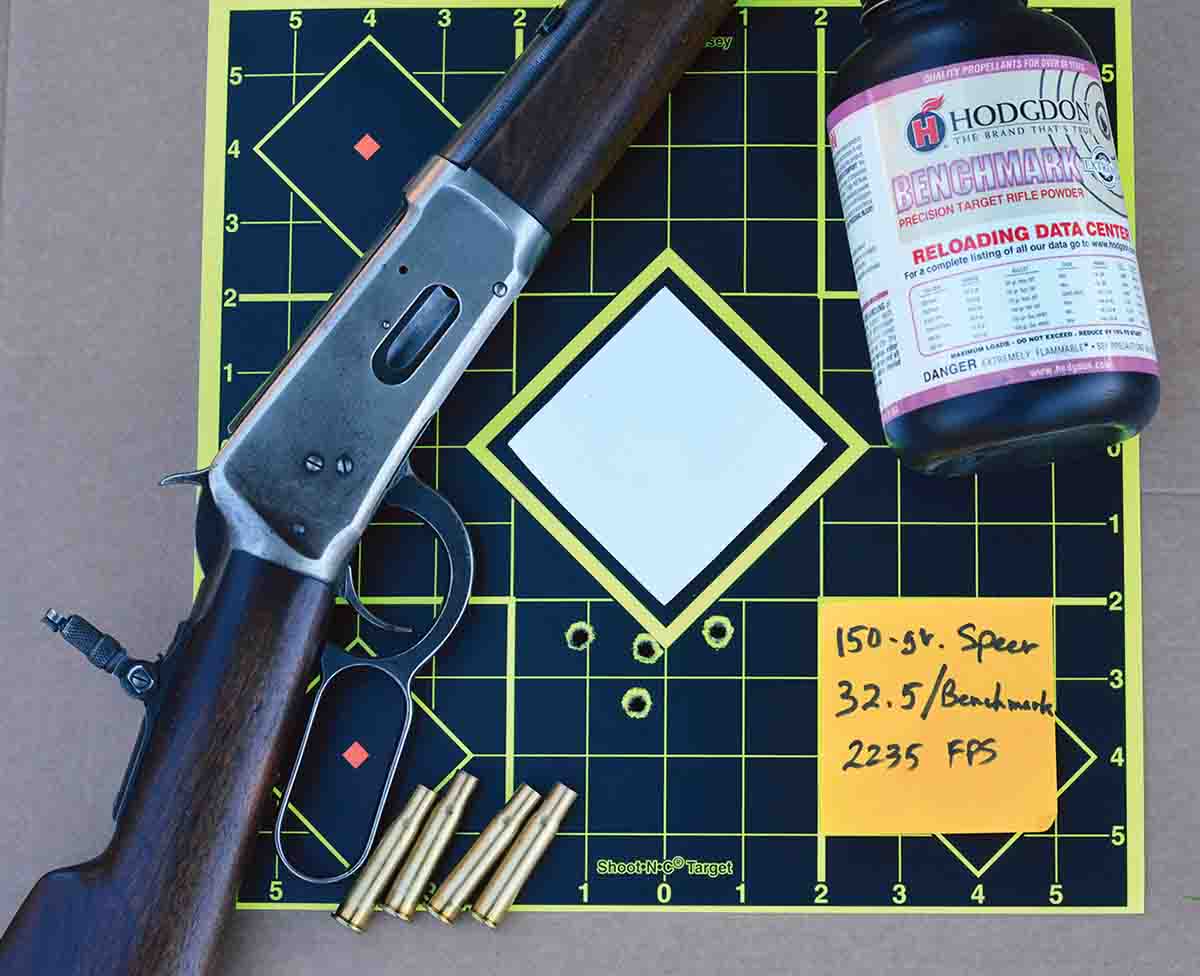 Several other modern levergun cartridges have been developed that offer better ballistics or greater power than the 30-30, but their sales have been minuscule by comparison. Few cartridges can match the colorful history and popularity that this comparatively humble cartridge offers.