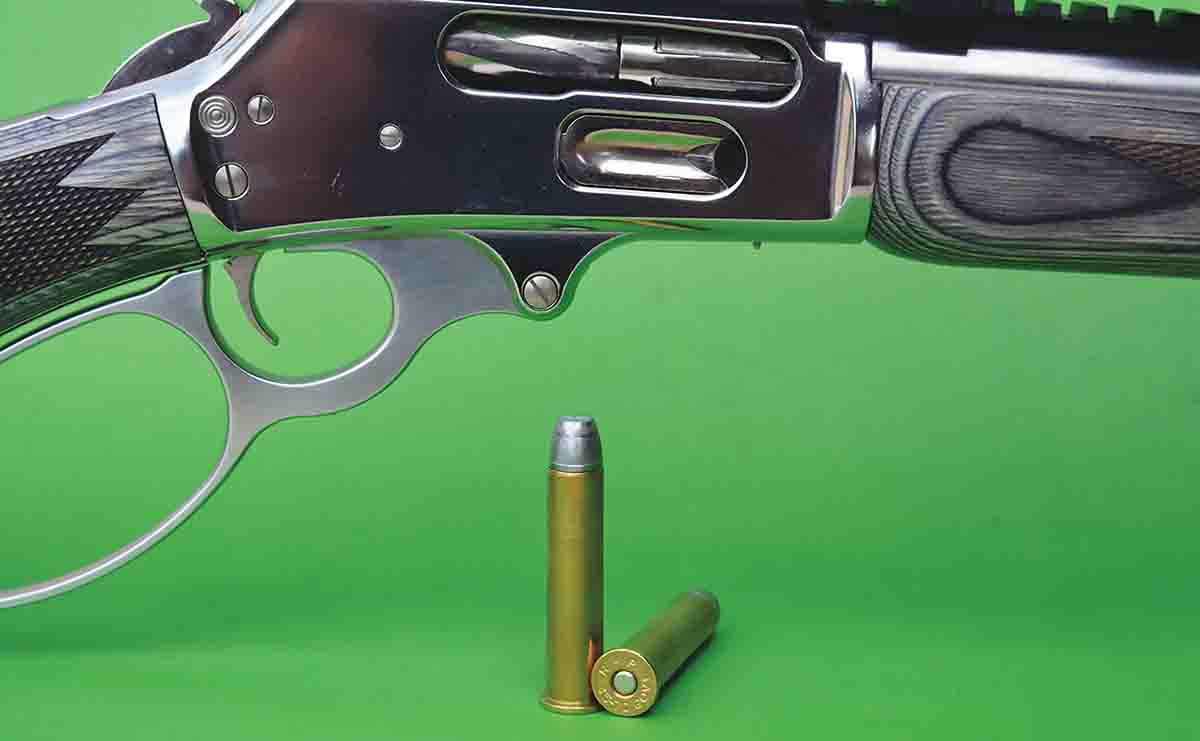 Q:
I completely enjoy
Handloader
magazine and learn something from each issue. With your obvious love of sixguns, I recently added two 357 Magnums and a 44 Magnum to my collection and am in the process of developing handloads and have questions, but will save those for another day. Most of my handloading has been for rifle cartridges such as the 6.5 Creedmoor, 30-06 and 223 Remington. But I recently added a new Ruger-manufactured Marlin Model 1895SBL to my collection. I obtained a quantity of 420-grain cast bullets from a local dealer and used 38 grains of IMR-4198 powder in Starline cases that were primed with CCI No. 200 primers. I crimp the bullets for an overall cartridge length of 2.535 inches.
From the bench, the rifle is accurate, with 100-yard groups usually measuring 1½ to 2 inches (naturally, I am using a scope to get this kind of accuracy). I was only loading one cartridge at a time and there were no issues with the rifle or ammunition. However, after sighting the rifle in and fully loading the magazine tube, problems began. After firing two or three rounds, the remaining cartridges were hanging up slightly when working the action. In looking at those cartridges more closely, the bullets are being pushed inside the case while they are in the magazine tube. I am using a heavy crimp. Any suggestions would be greatly appreciated.
S.T., via Facebook
A: Cartridges with a straight wall (more or less) such as the 45-70 and loaded in tubular magazines are a different animal than the bottleneck rifle cartridges that you have been handloading for. Your photos are a bit blurry and it is hard to tell for certain which bullet that you are using, but it appears to be from the black-powder era and is intended to be crimped over the front driving band and on the ogive in order to achieve the proper overall length to function correctly in lever-action rifles. However, it is important to understand that this bullet needs a case full of powder to support the base of the bullet, which was normal when loading black powder in this cartridge. This serves to prevent the bullet from deep seating when placed in a tubular magazine (with spring pressure) and the effects of pounding recoil. Your powder charge of 38 grains of IMR-4198 powder leaves space in the case and does not support the base of the bullet. Therefore, bullets are likely to deep seat as you are experiencing.
There are a couple of easy solutions. First, you can select a smokeless powder that bulks up enough to support the bullet's base and there are many excellent options including Hodgdon H-322 and Accurate 2015. Each performed very well in the 45-70. Your powder charge should be determined by how deeply your bullets seat, or in other words, where the base of the bullet is positioned. The powder should be slightly compressed when the bullet is seated and your loads will work perfectly in your new Marlin and will not deep seat. Or you can switch to bullets with a deep, beveled crimp groove and feature a front driving band or are full-caliber forward of the crimp. Once the case is crimped into the groove, the front driving band will prevent bullets from deep seating. Most commercial cast bullet companies such as Rim Rock Bullets, Oregon Trail Bullets, Missouri Bullet Company and others, will offer bullets designed specifically for smokeless powder loads.
I hope that helps and I'm certain that you will very much enjoy your new big-bore Marlin Model 1895 with correct ammunition.
Standard Roll Crimp?
Q: I have seen you reference a "neckdown" crimp a couple of times, but I'm unclear what it is, or how to apply one. Does it offer any advantage over a standard roll crimp? I mostly handload for 41 and 44 Magnums and 44 Special. Depending on the load, I mostly use Keith-style cast bullets in all my revolvers, but I do occasionally use the 210-grain Speer Deep Curl in my 41 Magnums and the 240-grain Deep Curl bullets in the 44 Magnum. Any thoughts will be appreciated. I very much enjoy Handloader and even enjoy reading articles on cartridges and guns that I don't even own.
G.S., Cedar City, UT
A: The first widespread use of the neckdown crimp began in the early- to mid-1980s when Freedom Arms began producing the Model 83 revolver chambered in 454 Casull. They were having a difficult time keeping bullets in place when subjected to the quick and hard recoil associated with that cartridge. They were using RCBS dies to load factory ammunition at that time, but Special Order 454 reloading dies from RCBS also featured a roll crimp die that likewise permitted a neckdown crimp. But most big-bore magnum revolver dies from RCBS today are capable of producing the neckdown-style crimp, but to achieve it also requires using the correct bullet with the proper cannelure.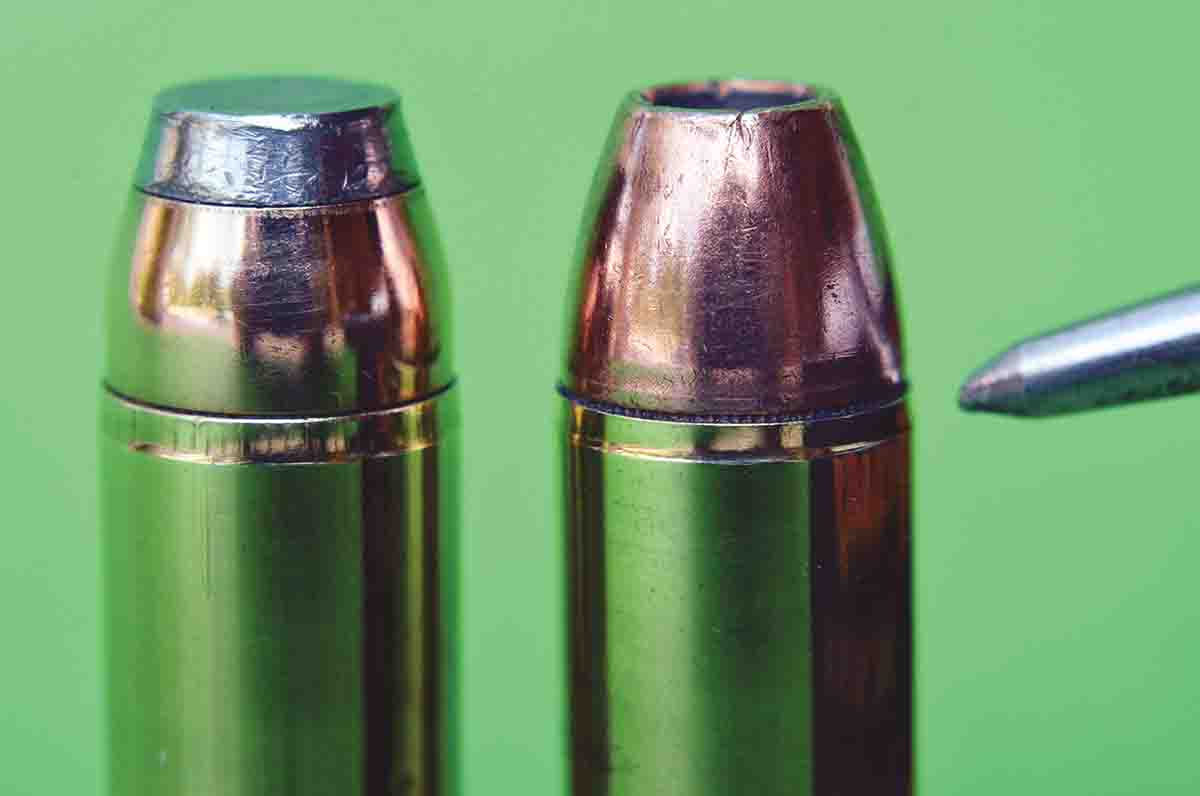 In short, the case mouth is crimped into a shallow, but long "L" shape into the bullets cannelure. For this to occur, the bullet must feature a fairly wide cannelure groove that is usually at least .060-to-.070 inch wide or wider and the cannelure must be deep and square bottomed. Many commercial jacketed bullets will not allow the neckdown crimp. Bullets must be fully seated as a separate step prior to applying the crimp and should be positioned so that the case mouth is even with the very top of the bullet's cannelure. The crimp is heavy and is really intended for cartridges that have a strong, heavy case that will not buckle when the crimp is applied. A photo is worth a thousand words and the accompanying photo will illustrate what the neckdown crimp should look like.
The neckdown crimp is primarily for very hard and heavy recoiling sixgun cartridges and is really not necessary for the cartridges that you are handloading for; however, the Deep Curl bullets that you are using are designed to accommodate this crimp should you choose to experiment. For what it is worth, in my painstaking experiments with the 44 Magnum, I could not find any advantages with the neckdown crimp versus a more traditional heavy roll crimp. In fact, the heavy roll crimp gave more uniform velocities and better accuracy and cases tend to last longer when the standard roll crimp is applied.
Ruger New Model Blackhawk Bisley
Q: I am handloading for a Ruger New Model Blackhawk Bisley chambered in 45 Colt with 7½-inch barrel. I have written to several other gun writers and even contacted Barnes Bullets, but none have been able to give me an answer to the problem that I am experiencing. One of the gun writers suggested that I contact you and seemed certain that you would have the answer to my problem.
I am using a +P load that consists of the Barnes 225-grain XPB bullet with 17.5 grains of Accurate No. 9 powder. My loads are assembled in Remington cases and I am using both Wolf Large Pistol primers and Winchester Large Pistol primers. I am applying a roll crimp and the overall cartridge length is 1.590 inches. I don't remember what manual I obtained this data from, but I know that it was a credible source.
Most of the time cartridges fire normally, but other times they make a very funny sound and bullets barely make it down range. The last time that I was at the range, I thought that I had a misfire. But when I ejected the cartridge from the chamber, the bullet was gone from the case and there was unburned powder everywhere. Then I noticed that the bullet was stuck in the bore. I have not fired any of those loads since. Any help that you can offer will be appreciated!
Until I was referred to you, I had never seen a copy of Handloader magazine, but I found a copy at a bookstore and am very impressed by the remarkable amount of information that it contains.
J.T., Stillwater, OK
A: The Western Powders Handloading Guide lists 18 grains of Accurate No. 9 powder with the Barnes 225-grain XPB bullet and ignited with the Remington 2½ Large Pistol primer as a suggested starting load. (Note: Since that manual was published, Western Powders was purchased by Hodgdon Powder and the same data can be found in the current Hodgdon Annual Manual.) They show that load reached 1,226 fps from a 7.26-inch test barrel. Their test barrel is not "vented," which is supposed to simulate a revolver barrel cylinder gap. I am estimating your load to be just under 24,000 psi.
I believe that your load is too light, as well as the starting load listed in the Western Powders manual – at least for revolvers. Slow-burning ball, or spherical powders, intended for magnum revolvers need a certain amount of pressure to ignite reliably. If pressures are too low, then performance (pressures and velocities) can become erratic and there is a chance of sticking a bullet in the bore as you have experienced. In a revolver, as soon as that bullet passes through the barrel cylinder gap, pressures drop off very sharply. This explains why the starting load in the Western Powders manual worked fine in the "closed" test barrel, as pressures remained high enough, long enough to achieve reliable powder burn.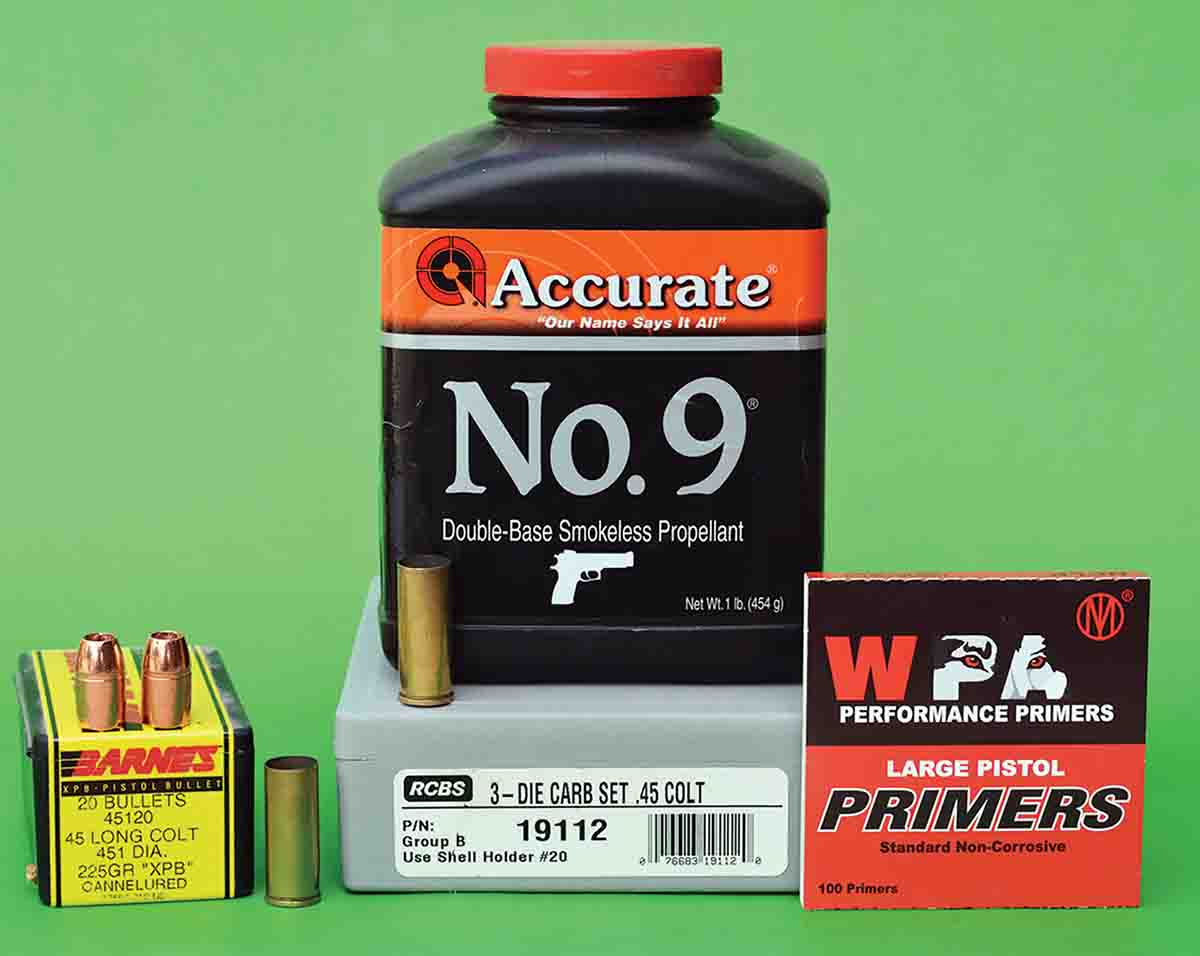 In regard to your load, you have a couple of additional factors that are making your loads squib. The Winchester and Wolf "standard" primers that you are using produce considerably less ignition energy than the Remington 2½ that Western Powders used, which is a magnum primer. Plus, the Wolf primer is especially known for producing greater extreme spreads. In other words, a primer with low energy was probably a major contributor to sticking the bullet in the bore. Regardless, you are on the edge so to speak of having a too light of load.
Now in regard to the Barnes XPB bullet, it is nearly pure copper, which combined with its large hollowpoint, it is long and has considerable bearing surface for a bullet of this weight. As such, it takes considerable energy and pressure to reliably push it down a barrel.
For the above reasons, I would suggest increasing your powder charge to at least 22 grains as your starting load. You can increase that powder charge to 23 or even 24 grains and stay within recommended pressure limits for your Ruger New Model Blackhawk revolver. I would also change primers for a bit greater ignition energy, such as the CCI No. 300 or Federal No. 150, but a large pistol magnum primer such as the CCI No. 350 or Federal No. 155 is an even better choice in this particular application and be certain to use a heavy roll crimp. This should completely solve your problem.