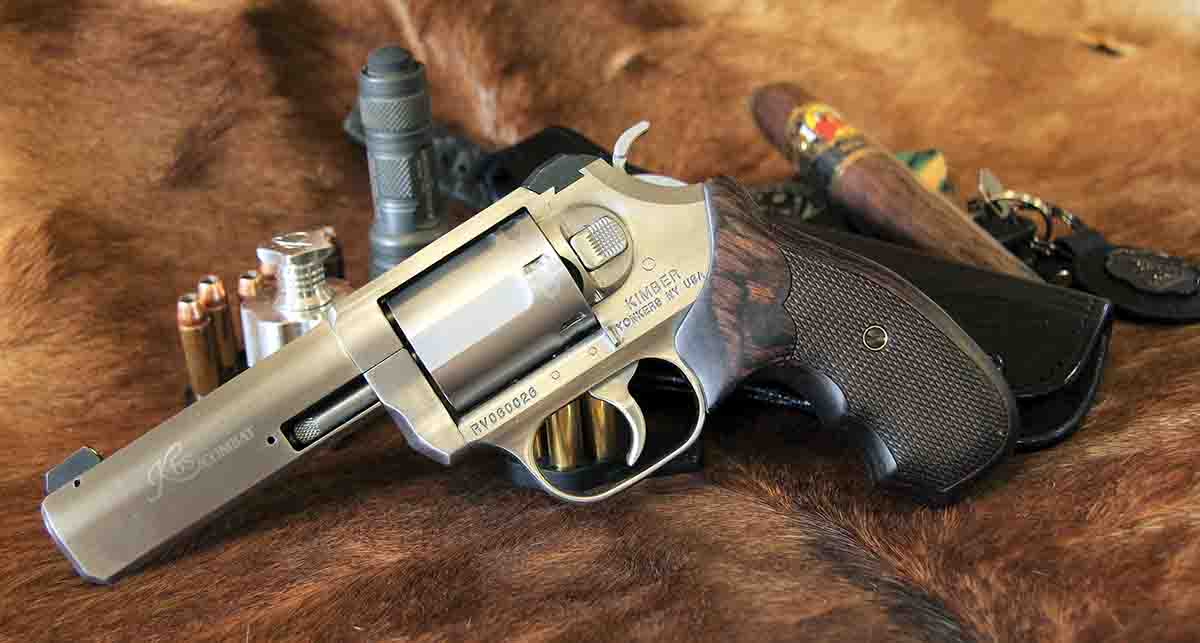 The outwardly modern 357 Magnum was introduced in 1935, in the Smith & Wesson (S&W) Model 27. The round was created by Elmer Keith, Phillip B. Sharpe and Douglas B. Wesson, with Smith & Wesson and Winchester coordinating the project. The case of the 38 Special is 1.155 inches long and holds 24 grains of water, while the 357 Magnum is 1.29 inches long and holds 26.2 grains of water.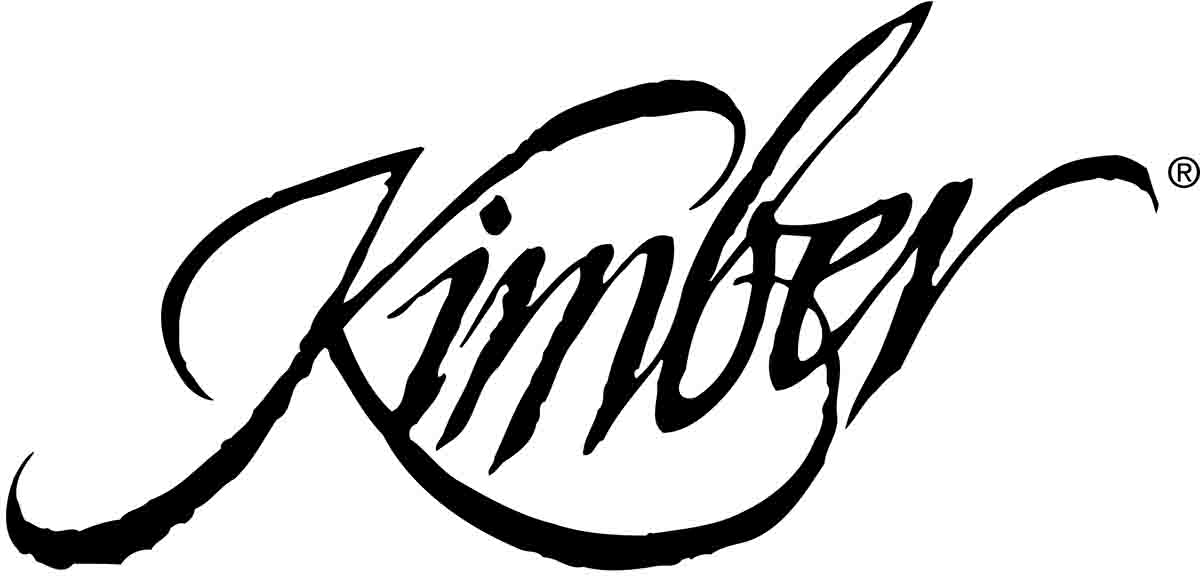 As most know, 38 Special rounds can be fired in 357 Magnum revolvers (both firing 357-caliber bullets, the 38 referring to early heeled bullets the same diameter as the case). This interchangeability allows firing milder 38 Special rounds during practice, or loading something, a smaller or less experienced shooter can better control during self-defense scenarios. By contrast, 357 Magnum rounds will not chamber in a 38 Special cylinder, which is all well and good. The 357 Magnum runs at much higher chamber pressures (Sporting Arms and Ammunition Manufacturers' Institute 35,000 psi Maximum Average Pressure (MAP) than the 38 Special (SAMMI 17,000 psi MAP).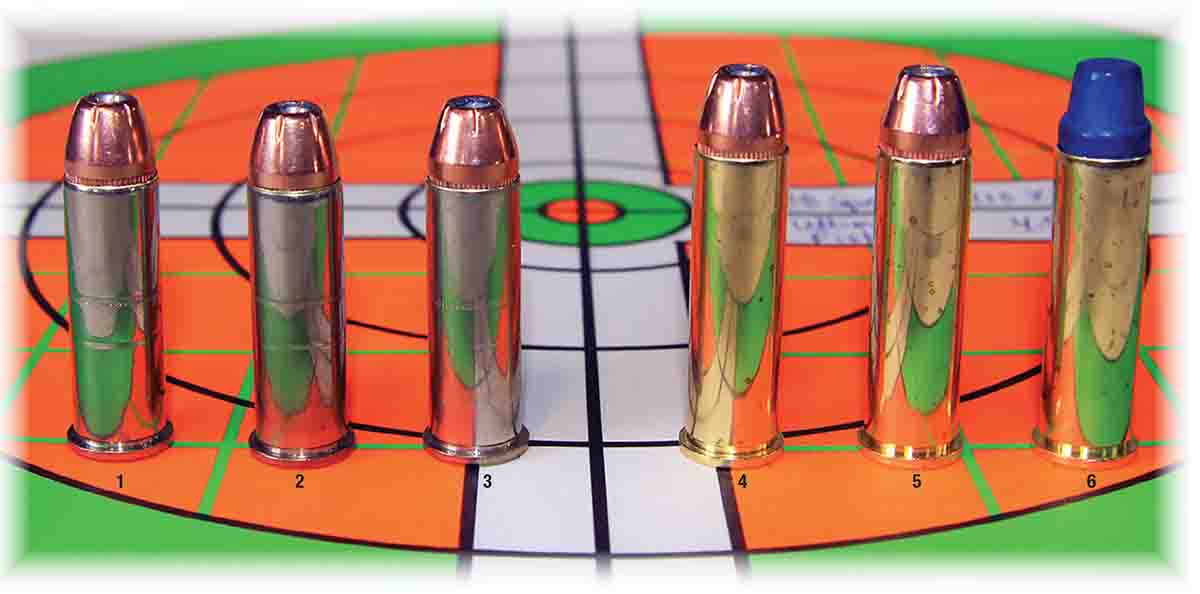 The 357 S&W Magnum ushered in the age of the magnum handguns, created in response to Colt's 38 Super, which could defeat car doors and vests that prohibition-era gangsters used for cover during gunfights with law enforcement. The 357 Magnum is considered Elmer Keith's baby, based on his experimentation with maximized 38 Special loads shot from heavy target revolvers such as Smith & Wesson's Heavy Duty or Outdoorsmen. These were 38 Special revolvers built on 44-caliber frames/cylinders to withstand higher pressures. It is possible to load 38 Special loads to 357 Magnum pressures, but the latter's case was extended 1⁄8 inch to prevent chambering in and damage to older, light-framed 38 Special revolvers.

The 38 Special was introduced in 1898 – designed to feed on black powder, which requires two to five times more volume to produce velocities equal to those generated by smokeless powders. This gave the 38 Special a decent initial case capacity combined with low maximum pressures. In modern revolvers, +P loads pushed to 20,000 psi MAP have become the new norm, especially in self-defense ammunition. This allows it to better compete with the 9mm Luger, which when loaded to 34,100 psi via smokeless powders, surpassed early 38 Special loads while using half the powder. Of course, +P loads should only be fired from modern revolvers – or 357 pistols – made to withstand increased pressures.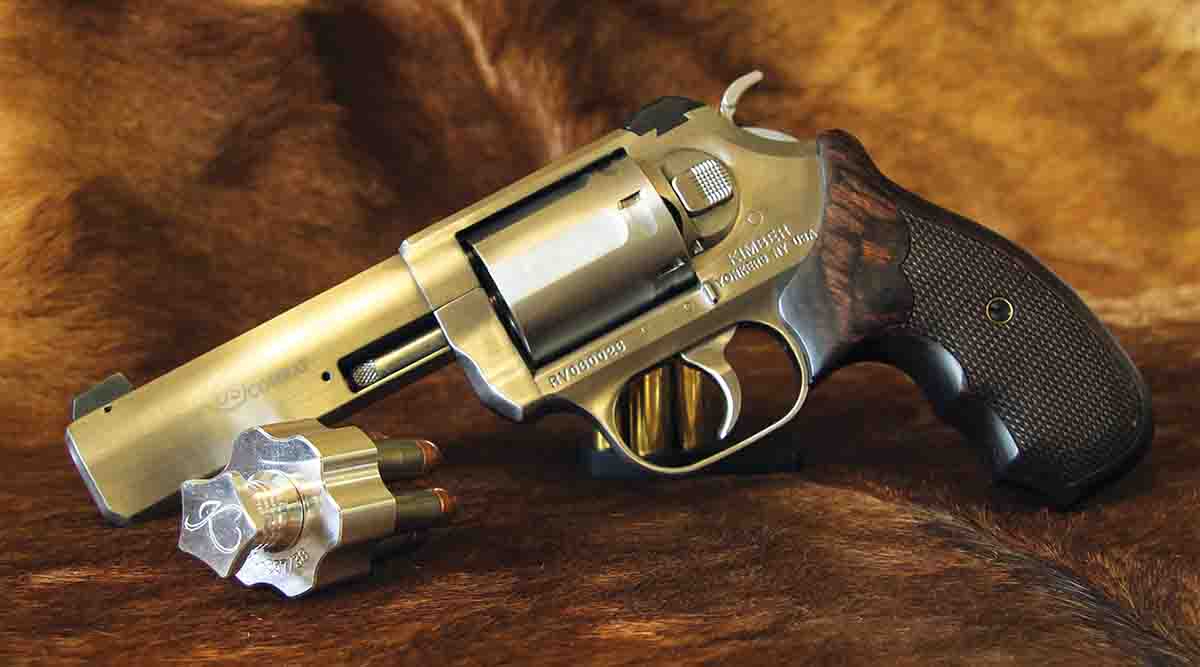 The 357 Magnum's small diameter bullet and high velocity are renowned for deep penetration that has made the round popular with some hunters for big game up to black bears and deer, though more powerful magnum cartridges are now considered more appropriate for such work. Yet, as a self-defense or law enforcement round, the 357 Magnum hits a sweet spot, offering serious knock-down energy in a package most adult males can easily handle. The ability to fire 38 Special rounds through a 357 Magnum revolver, as hinted, opens the same revolver to shooters who might find the recoil/muzzle blast of the 357 Magnum intimidating, especially in a compact concealed-carry model.
This is exactly what we are dealing with here: Kimber's K6s DASA (Double Action/Single Action) 4-inch Combat revolver. The K6s brings exceptional ergonomics and pure shootability to a compact conceal carry/backup revolver. Kimber calls the K6s DASA its next-generation K6 revolver design, outfitted with double- and single-action trigger mechanisms (the original K6s was a hammerless, double-action-only revolver). The K6s' double-action trigger pull is factory set to function without stacking at 9.5 to 11.5 pounds, the single-action trigger breaking at 3.25 to 4.25 pounds out of the box. The streamlined cylinder is as compact as to accommodate six 38 Special/357 Magnum rounds, all parts milled from the finest stainless steel to create reliability and durability, plus corrosion resistance. The 4-inch Combat model holds an extended, three-finger grooved target grip with serrated backstrap and walnut side plates for positive control and white three-dot sights with a 6.2-inch sight radius. Empty, the revolver weighs 29 ounces (1.75 pounds), measures 1.39-inches wide, 5-inches deep and 8.62-inches long.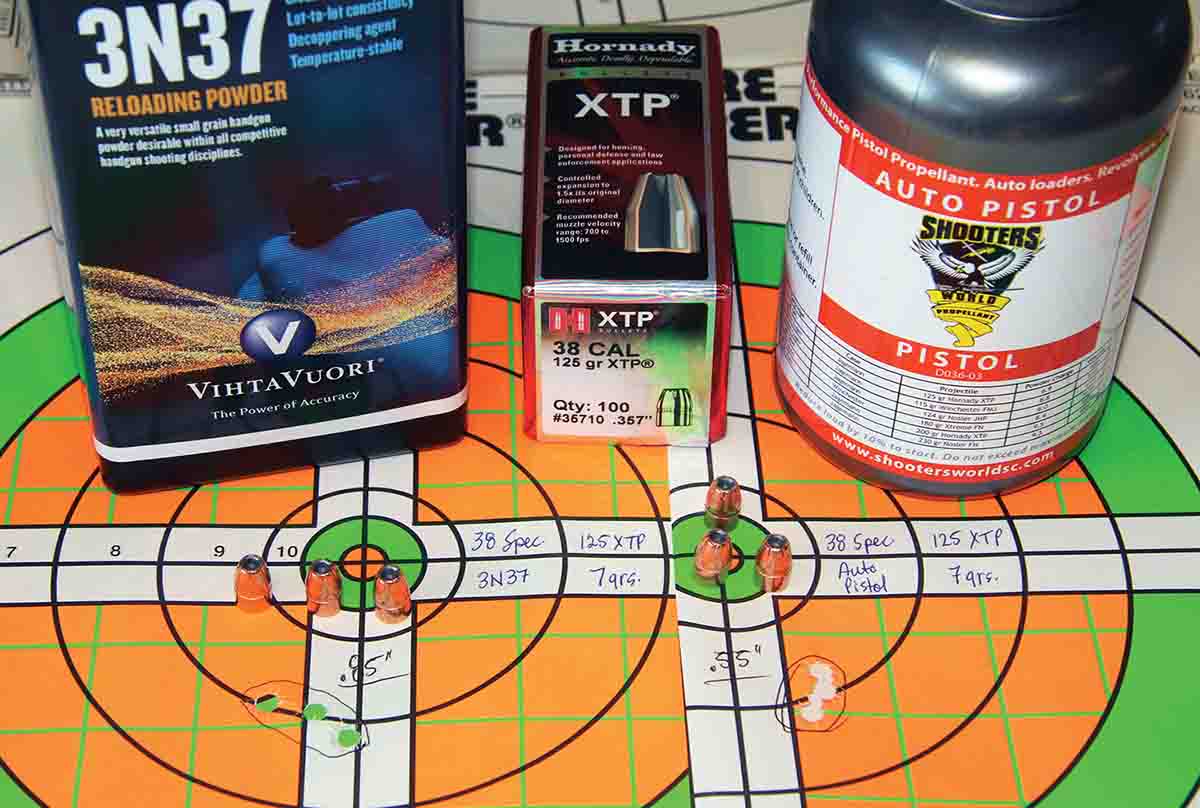 I found the sights – sunken white dots that stood out well against any target – especially appealing. The front blade is pinned in place, the streamlined rear is a one-piece design dovetailed into the rear of the top strap. The trigger is buttery smooth, even in double action. Single-action firing is a delight with the hammer snicking into place crisply during cocking, the test pistol breaking at a touch less than 4 pounds. A left-side, knurled rocker button releases the swing-out cylinder, spent rounds are ejected with a push-rod system nestled into a slot in the bottom of the teardrop-cross section barrel when the cylinder is clicked into place. The handgun cycles precisely and proved quite comfortable to shoot, even with maximum loads. The provided Kimber-branded Galco leather holster fit like a glove and was comfortable on the hip. Kimber also supplied two machined-aluminum speedloaders, which also functioned flawlessly.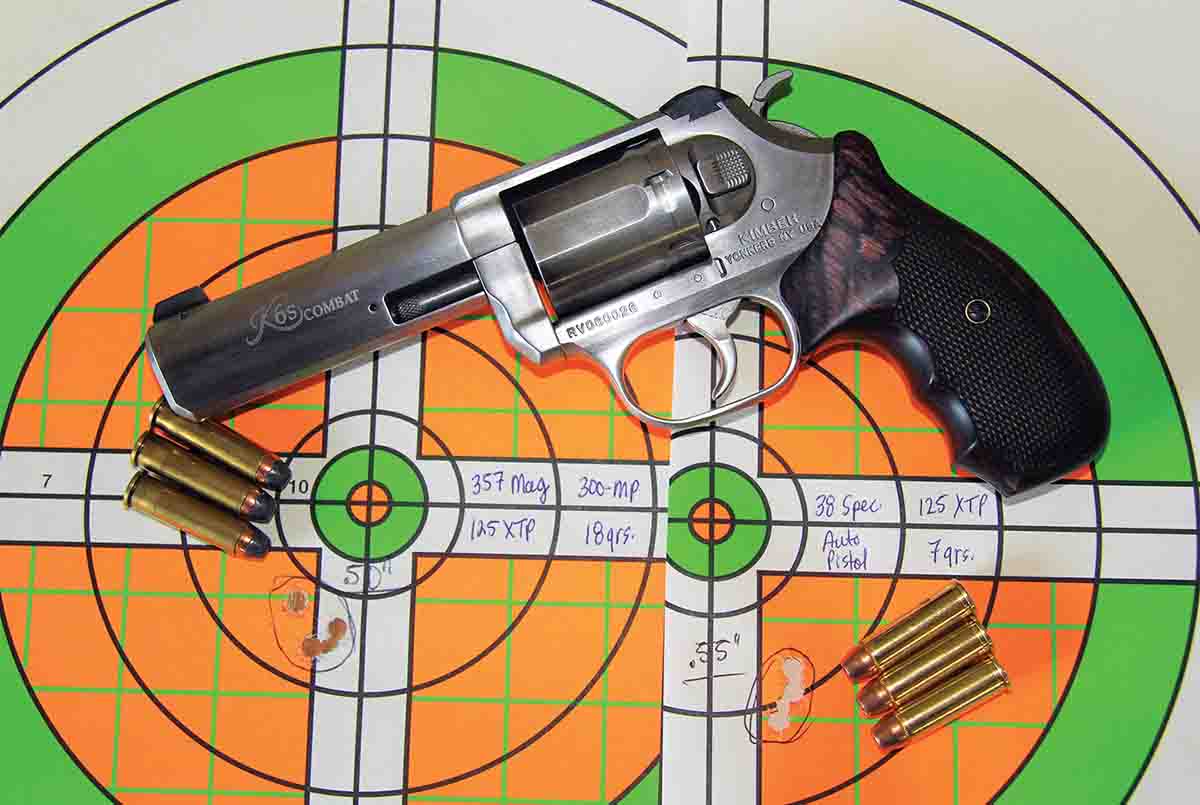 This is definitely not a hunting revolver, so both 38 Special and 357 Magnum loads were assembled with self-preservation in mind. Loads for the 38 Special were assembled with Hornady's 110-, 125- and 140-grain XTP hollowpoints, fine self-defense bullets and were all I could get my hands on before testing began. The listed 357 Magnum loads used Hornady's 125- and 140-grain XTPs, and Blue Bullet's 158-grain SWC. Powders consisted not necessarily of what promised top performance with any given bullet weight, but what I had on hand in these strange times. This consisted of some modern formulas, but also, older standbys. Powders serving the magnum round are some of the same used in small varmint cartridges like the 22 Hornet and 218 Bee. Hornady Custom Grade Dies were used throughout, a three-piece set including titanium nitride sizing, belling and bullet seating dies.
All shooting was conducted from a solid bench using the rear section of an MTM Case-Gard Predator Shooting Rest. Three-shot groups were fired from 25 yards. Twenty-five yards was likely a touch long for a self-defense handgun meant for target engagement inside 10 yards, but I wanted to truly separate the grain from the chaff. More than half the loads clustered two shots tightly, a flyer opening the group, but all were recorded as shot.
38 Special +P Loads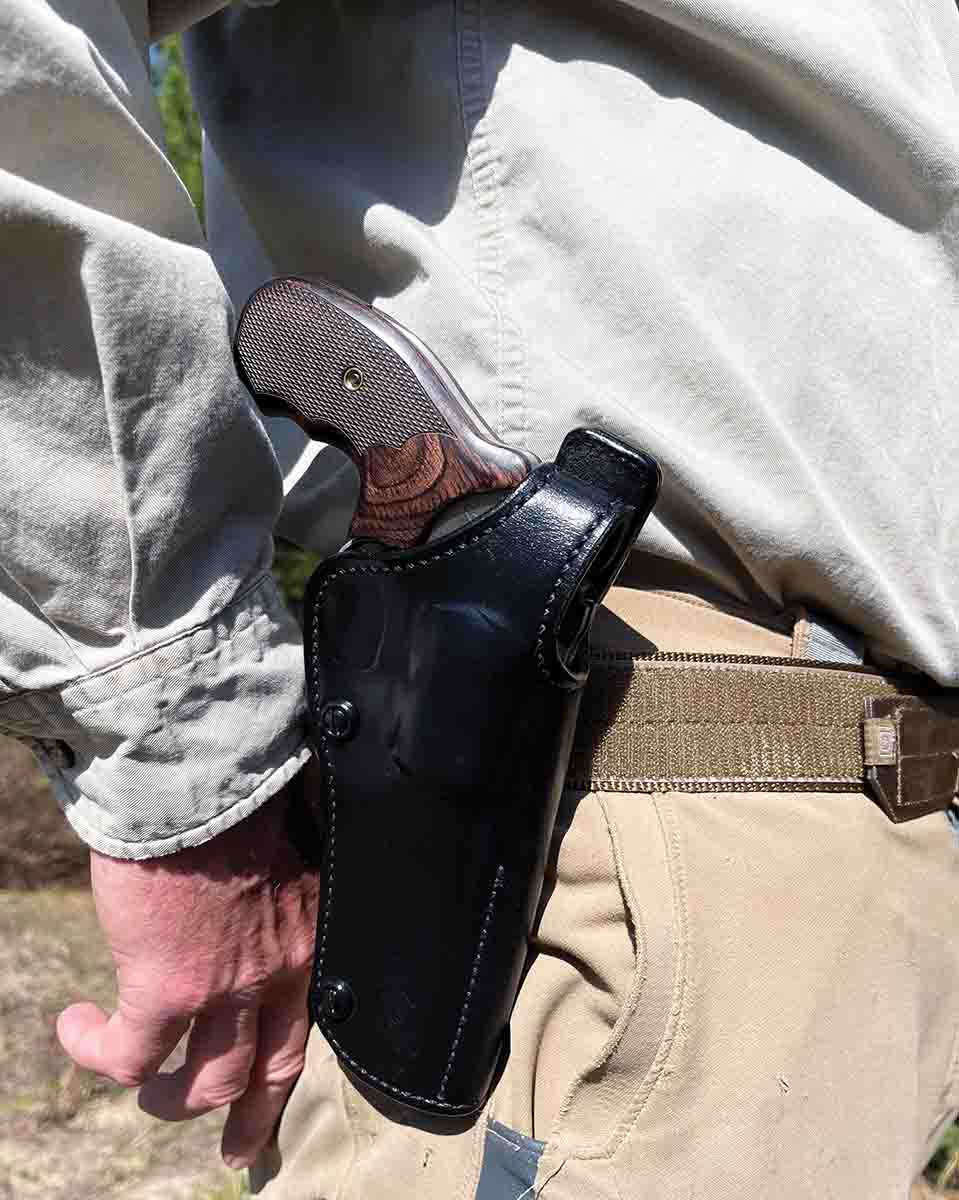 I must note here that some of the listed 38 Special loads included very low volume, making it easy to double charge a case without noticing and creating a very dangerous situation. Proceed with all due diligence! The start loads likely don't qualify as +P, though the maximum loads certainly do, given the pressures involved if not the velocities in some instances.
Hornady's XTP pistol-bullet lineup was designed for hunting, self-defense, and law enforcement, while also relinquishing target-grade accuracy. XTP stands for eXtreme Terminal Performance, expanding reliably at various velocities, the tapered gilding metal jacket protecting the nose and hollowpoint cavity and ensuring deep penetration through controlled expansion of the swagged core. Cannelures allow consistent placement of the taper crimp used on all loads. Cases used for 38 Special loads were marked WESTERN, nickel-plated brass primed with Federal Ammunition No. 100 Small Pistol primers.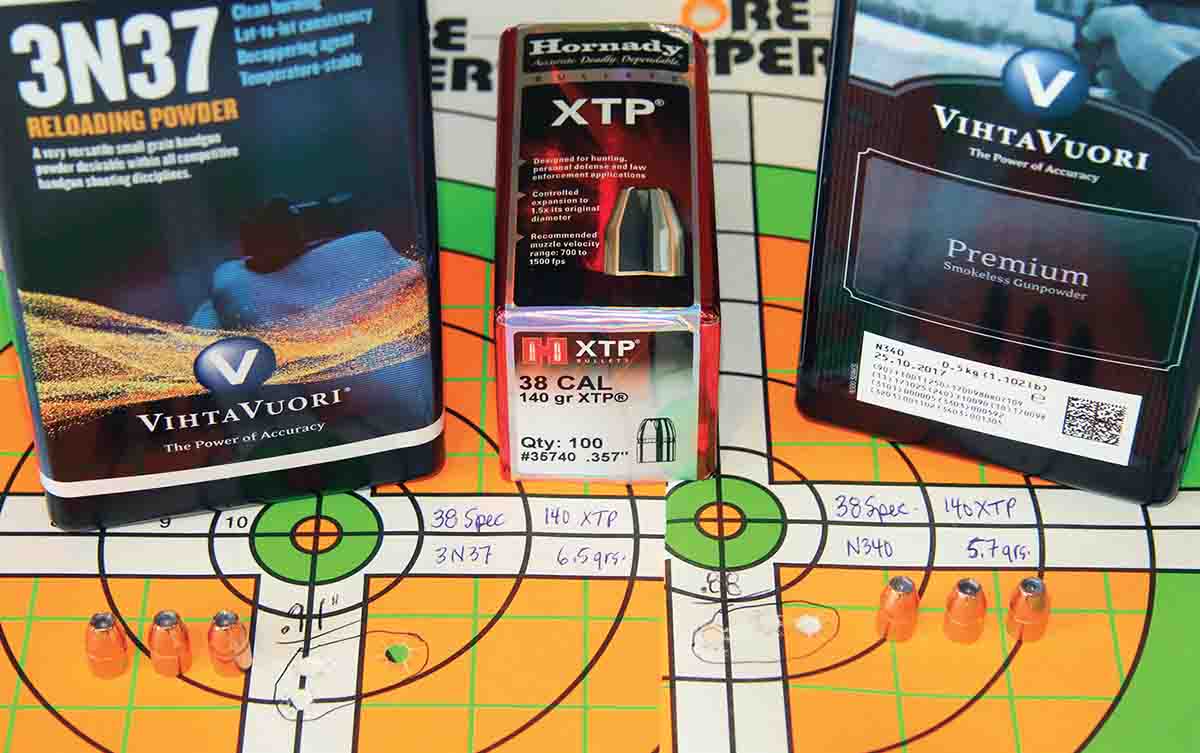 The 110-grain XTP included a sectional density of .123 and produced some serious velocity thought by many to be ideal in self-defense situations – expanding aggressively for maximum energy delivery but minimizing pass-through penetration in crowded areas. The 110 was paired with Ramshot Silhouette, Hodgdon Titegroup, and Shooters World Ultimate Pistol. Ramshot Silhouette produced the highest velocity – up to 1,323 feet per second (fps), which translates into superior energy delivery. Though, Silhouette loads did not group as tightly as the other powders (not an issue at self-defense ranges). Hodgdon's Titegroup provided respectable velocity, the best group resulting from the lightest listed load. The best overall group with this bullet – less than an inch – came with Shooters World Ultimate Pistol, but at a velocity of just 1,162 fps.
The 125-grain XTP sports a .140 sectional density and is another light bullet promising excellent velocity and less worry of pass-through penetration. This bullet was matched with Vihtavuori 3N37, Accurate No. 9, and Shooters World Auto Pistol. The highest velocities with this bullet were provided by Accurate No. 9, as well as a respectable 1.01-inch group using 11 grains of powder at 1,023 fps. Vihtavuori 3N37 produced one sub-1-inch group, but at fairly pokey velocities. Shooter's World Auto Pistol produced the best group with this bullet – .55 inch – but, again, at a relatively slow 1,027 fps.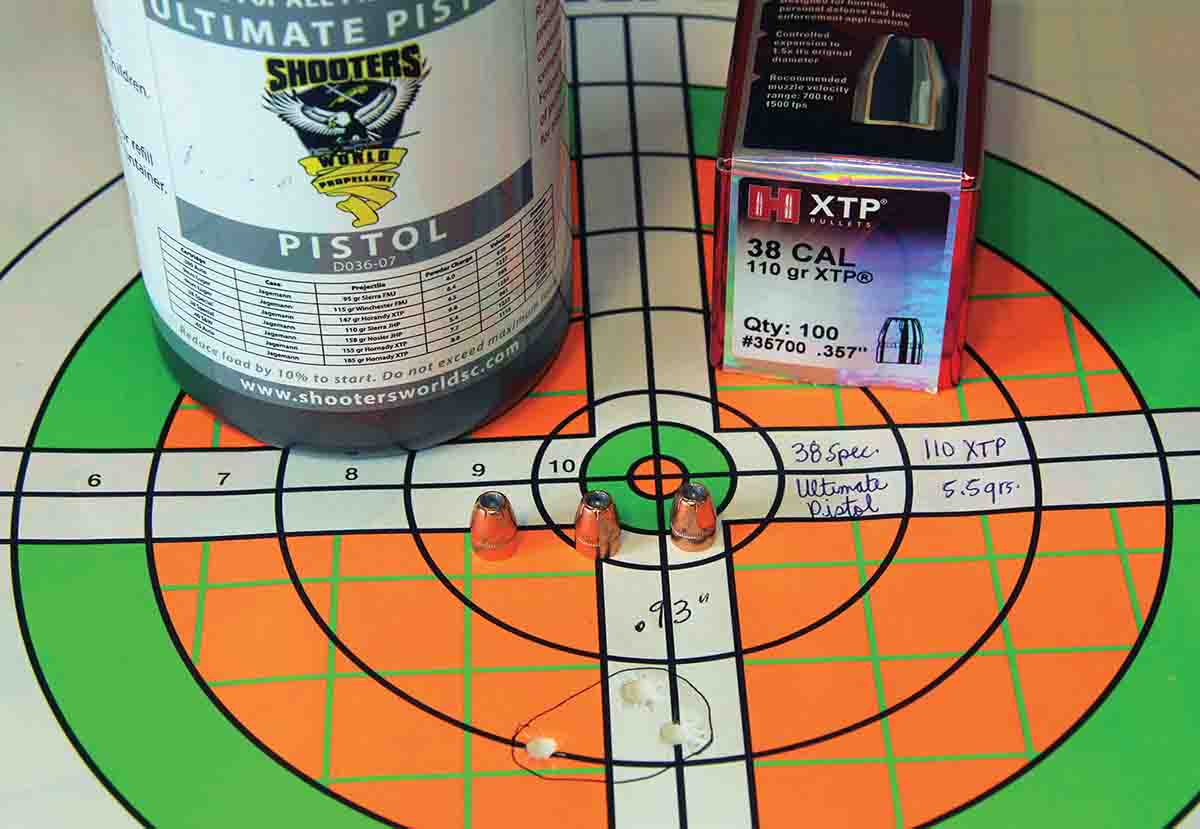 The heaviest bullet shot from the 38 Special was 140 grains. The cartridge can certainly handle heavier slugs, but I again opted for velocity, the 140 hitting a balance of speed and penetration through heavier clothing or larger targets. The 140-grain XTP included a .157 sectional density. Venerable Alliant Bullseye, Vihtavuori 3N37 and N340 were used for this round of testing. Overall, the 140-grain bullet also produced the best accuracy in the 38 Special loads. Velocity was fairly even with all powders tested, all coming up just short of 1,000 fps. Bullseye's best showing was 1.07 inches, Vihtavuori 3N37 produced two sub-1-inch groups, and N340 one.
357 Magnum Loads
The 357 Magnum was loaded in new Starline brass using CCI 500 Small Pistol primers. I started things off with the Hornady 125-grain XTP, looking for maximum velocities. Alliant Power Pro 300-MP, Vihtavuori N110, and Shooters World Major Pistol stepped into this role. The 125-grain bullet produced some exceptional velocity, even from the relatively short barrel, all powders chosen performed fairly evenly by breaking 1,400 fps. So that leaves accuracy. Vihtavuori N110 produced the worst group average (though one load did shoot inside an inch), Shooters World Major Pistol provided the next best accuracy and a .63-inch group best. The clear winner accuracy-wise was Alliant Power Pro 300-MP. Eighteen grains of powder produced a .50-inch group at 1,150 fps, a maximum load of 20 grains a .69-inch group at 1,467 fps.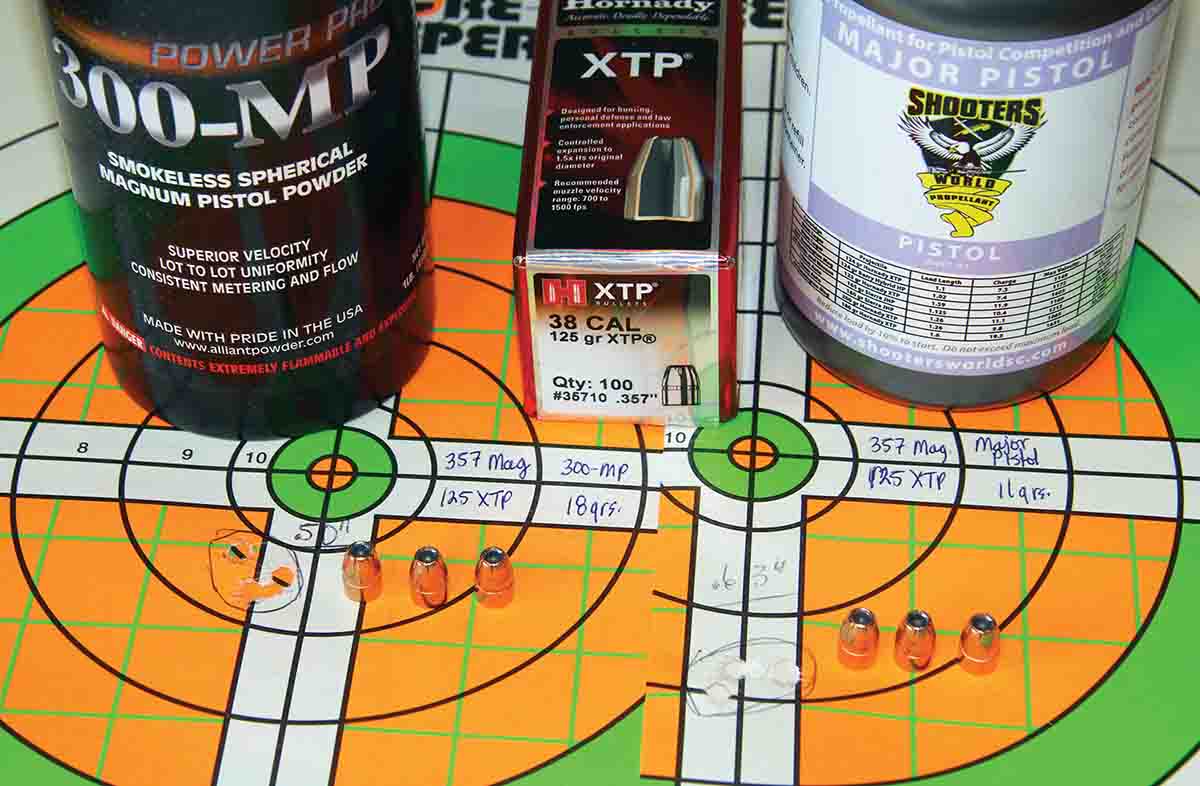 The Hornady 140-grain XTP, already described, showed again here as a deadly magnum slug sent at higher velocities. Powder choices for this bullet included Accurate No. 9, tried and true Hodgdon H-110 and newer Accurate TCM. As well as this bullet shot from 38 Special loads, it was somewhat disappointing from the 357 Magnum. Top velocities remained fairly even with maximum loads topping out at 1,212 fps (TCM) to 1,291 fps (H-100). Accurate No. 9 shot relatively poorly with this bullet; a 2.05-inch group was its best showing. TCM, a relative wildcard in this test, did better, with a 1.12-inch best group, while H-110 proved consistent, with groups from 1.21 to 1.35 inches.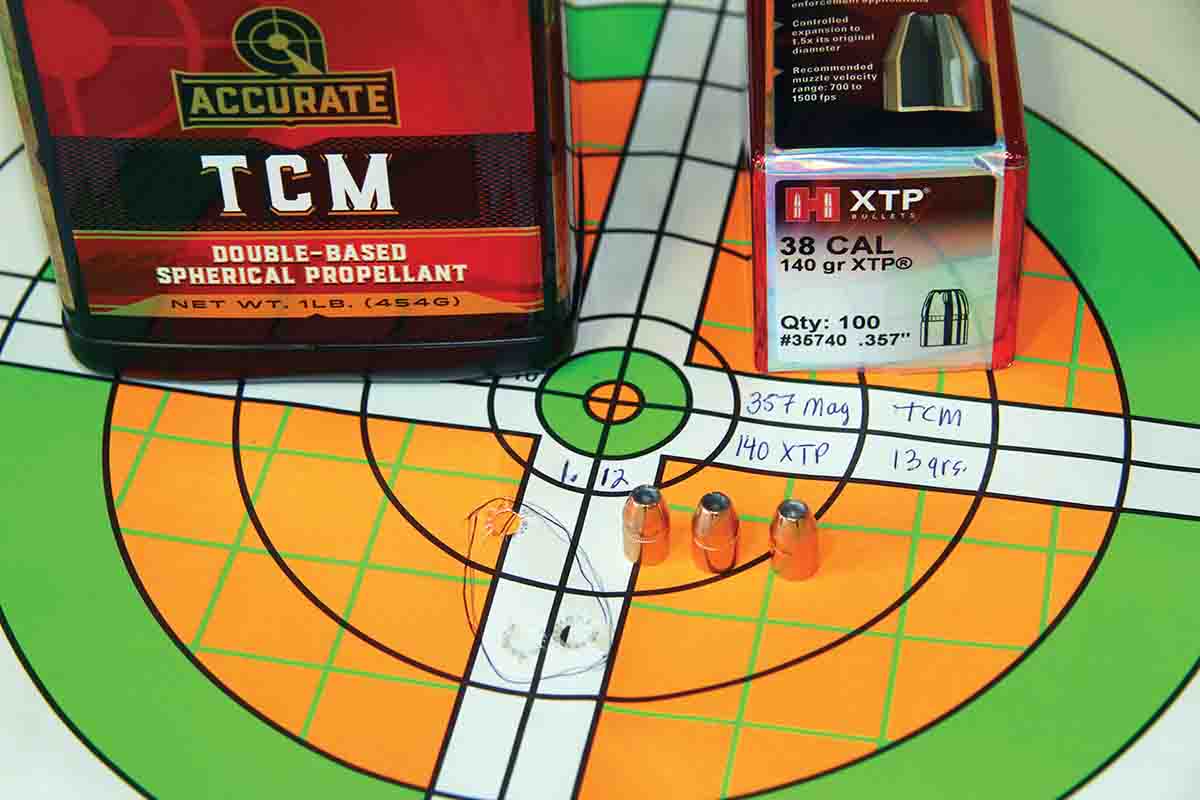 Blue Bullets offers cast-lead projectiles coated in a proprietary liquid blue polymer to eradicate leading and smoke, and at prices competitive with non-coated lead bullets. Bullets are sized after the coating cures to provide consistency, emerging at .358 inch. The 158-grain flatnosed semiwadcutter (SWC) was used in this case, a bullet similar to the original design used in early 357 Magnum loads to provide impressive penetration through a sectional density of around .176. This would make the best choice for four-legged threats such as black bears. Seated and crimped to the provided crimp groove, the overall length came out at 1.62 inches, .003 more than the recommended 1.59 inches, but leaving plenty of clearance inside the front of the cylinder. The Blue Bullet was paired with Shooters World Heavy Pistol, Hodgdon Lil'Gun, and Ramshot Enforcer. Lil'Gun proved the velocity king in this bullet weight, clocking a bit more than 1,400 fps from the muzzle – that group printed into 1.87 inches. That velocity produced fearsome muzzle blast/flame. Shooters World Heavy Pistol wasn't too far behind, at 1,373 fps and grouping into just 1.09 inches (the best group with this bullet). Ramshot Enforcer topped out at 1,254 fps while producing a 1.86-inch group.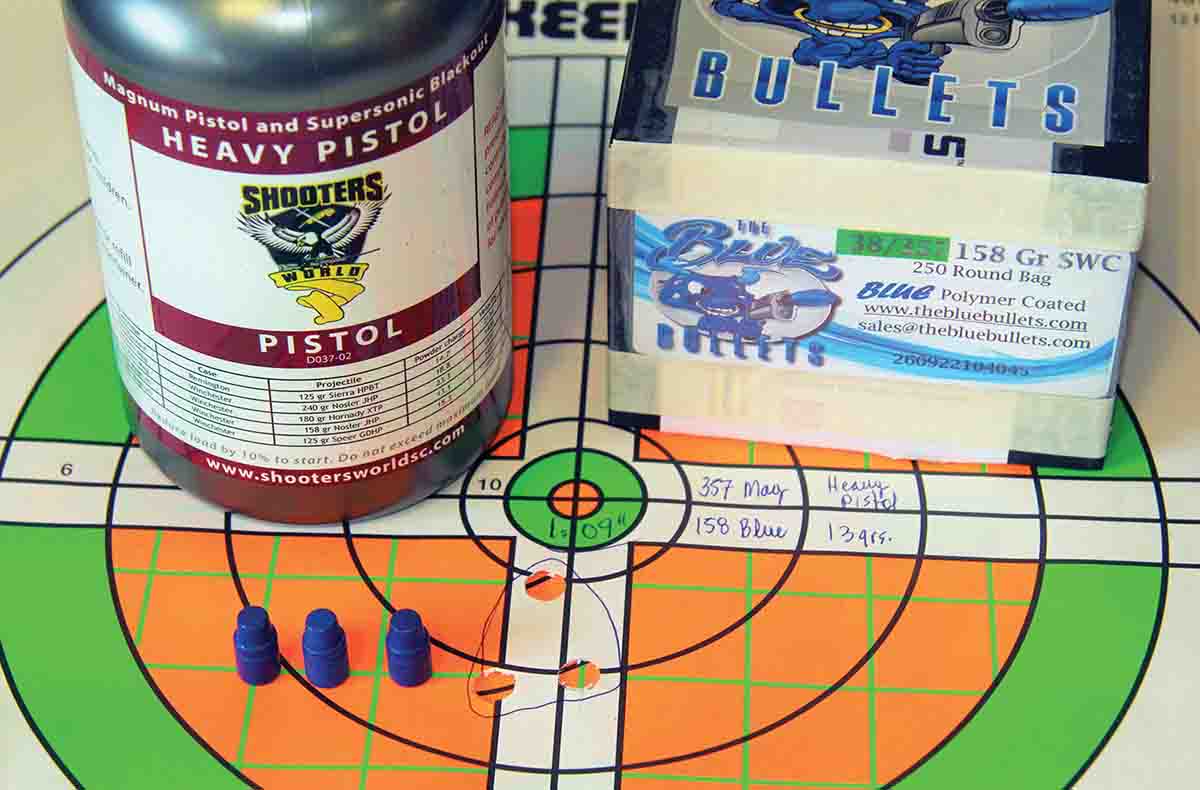 The little Kimber revolver surprised me with both its accuracy potential, and how comfortable it was to shoot. Some of the heaviest 357 Magnum loads certainly became a touch bitey, but nothing an experienced shooter would be bothered by. Overall, the K6s DASA is a pleasure to pack, offering magnum backup.