There's a saying that goes, "Two things can be the same but different." I apply this to two semiauto pistol cartridges. One is a vintage military classic. The other was introduced in 1929, but is still a popular competition and self-defense cartridge. Those two rounds are the 9mm Largo and 38 Super+P. No doubt they are different regarding to factory ammunition, but for practical shooting purposes and using only a modicum of caution, handloaders can make them the same.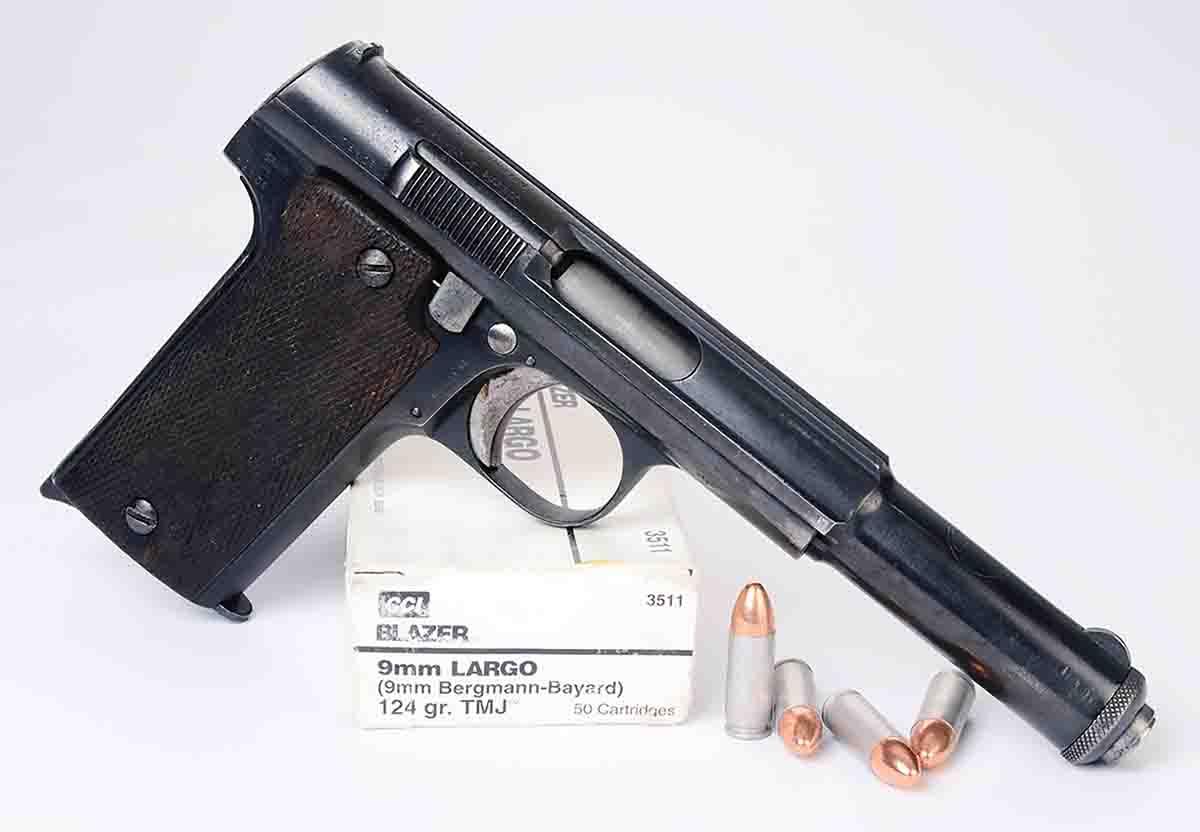 Let's look at the latter one first. Colt first introduced a 38 Auto in 1900. It used a .900-inch case length with a semi-rim. Bullets were .356-inch, 130-grain full metal jackets (FMJ) traveling at only 1,050 feet per second (fps) because their Model 1900 and Model 1902 Colt pistols were fairly weak in design. Then, in 1929, with no changes in dimensions, the 38 Auto was upgraded to 38 Super and later to 38 Super+P. However, the new round came in a new pistol – the Colt Government Model (aka Model 1911). Besides working at much higher pressures and their cartridge headstamps, the two rounds were physically identical and therefore interchangeable, which defies common sense. Pressures for 38 Super are too high for the older model 38 Auto pistols.
The 38 Super did not take off like a rocket in regard to popularity in the U.S. Mostly in those days we were still a nation predominantly of revolver shooters. However, there are some nations on this planet that forbid civilians from having handguns in the same chambering used by their military forces. Several of those countries were south of our border and there, 38 Super pistols became fairly popular. This was the reason my current 38 Super semiauto was developed, which I'll return to shortly.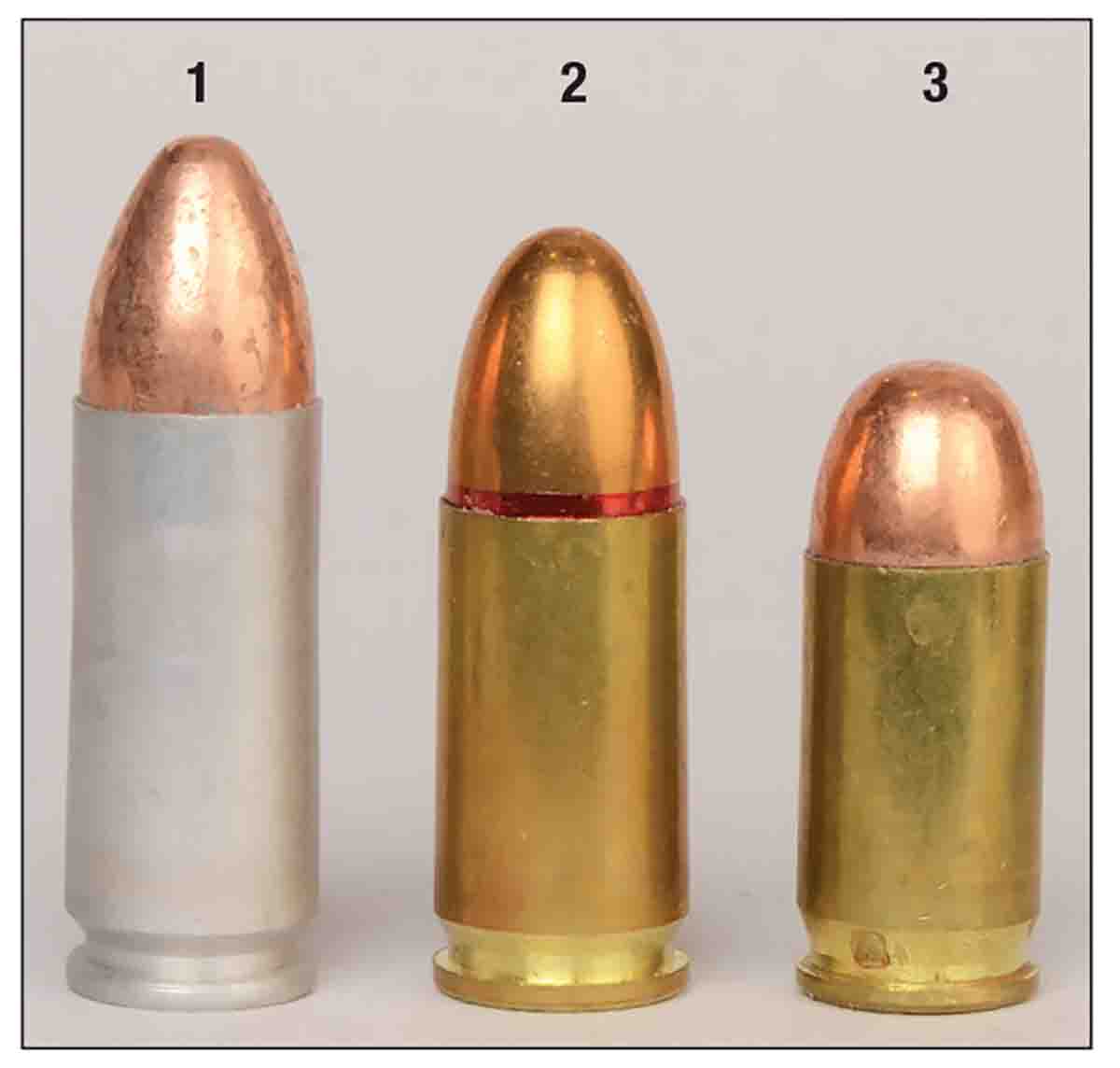 In the 1950s, with the advent of commercially-made 9mm semiautos in this country, namely by Colt and Smith & Wesson, the 38 Super was in danger of becoming forgotten. However, things changed. The IPSC/IDPA action shooting competitors discovered that if the 38 Super was "souped" up a mite it could get them into the "major power" level but still result in less recoil and more magazine capacity than the 45 Auto. This was never going to happen with a 9mm Luger. However, it was soon discovered that standard off-the-shelf pistols could be damaged by extra powerful 38 Super handloads, so gunsmiths set to work reworking them especially for such competitions.
Then something else happened to spur a renewal of interest for 38 Super. Despite the good quality of Colt 1911 38 Super pistols and some of the 1911 knockoffs from Spain, they never developed a reputation for fine accuracy. Personally, I experienced this myself back in the 1970s upon trading for a Star 1911 type 38 Super. It just never grouped as expected either with factory ammunition or my handloads. I remember long ago reading an article in these pages about the poor 38 Super accuracy reputation. The Speer Reloading Manual #14 related that the article was written by Bill Corson in Handloader No. 71 (January - February 1978). Essentially, the finding was the poor accuracy was caused by the semi-rim design of 38 Super cartridge cases. Rimless cases headspacing on case mouths cured the problem and the Missouri cartridge case manufacturer Starline began making rimless 38 Super brass with COMP (competition) as part of its headstamp.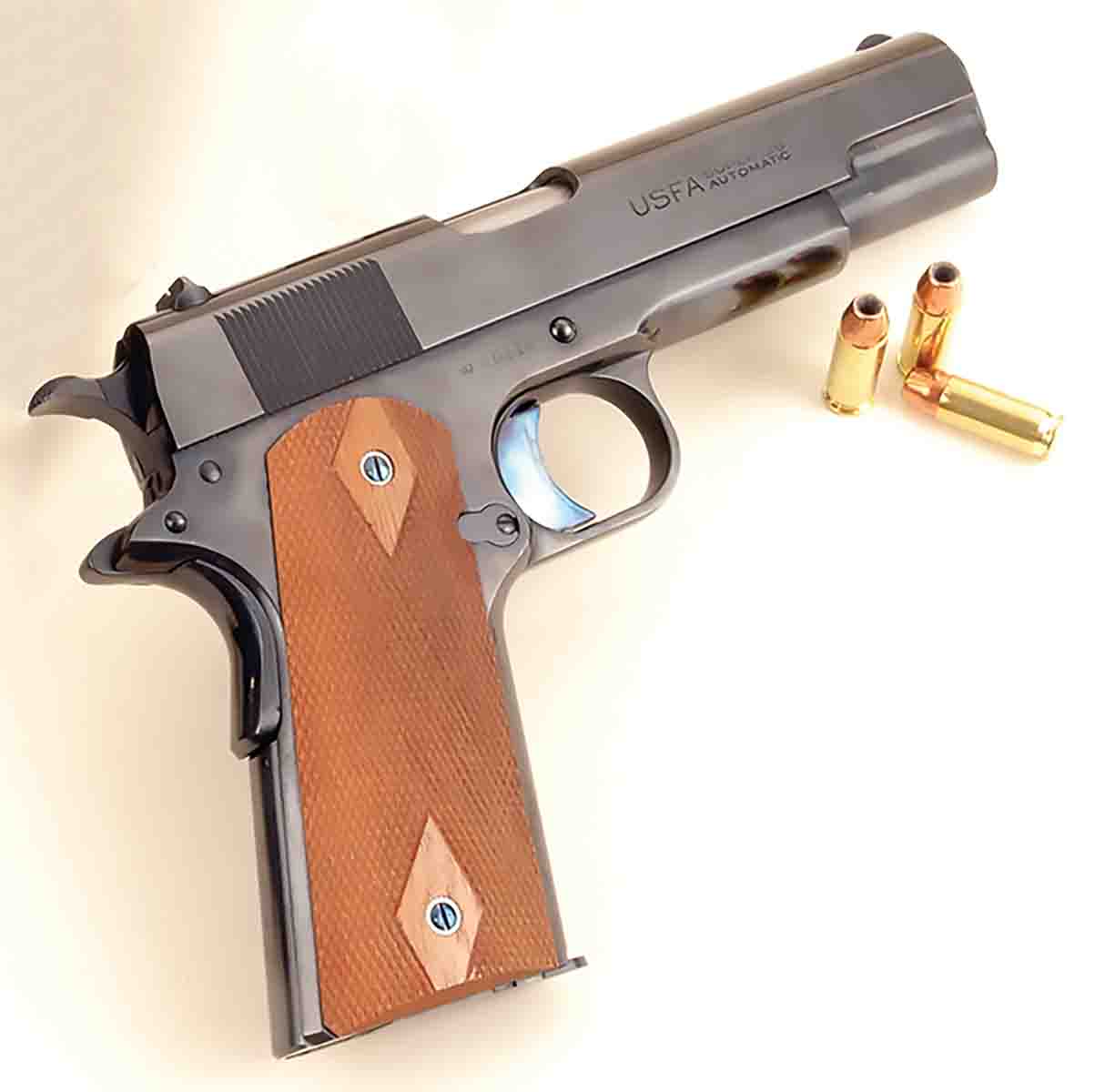 Now let's back up and cover some 9mm Largo history. This cartridge was first named 9mm Bergmann-Baynard. It was developed for a Model 1910 Bergmann-Baynard semiauto used by the Danish army. The Spanish took note of this round and for it, their army adopted a unique appearing pistol made in the Astra factory as Model 1921. (It was their second 9mm Largo service pistol. The first was an even odder-looking one named Campo-Giro.) They also changed the cartridge name to 9mm Largo (Long). In civilian terms, the Astra became the Model 400. The case length was .905 inch, but rimless. A difference in nominal lengths of .900 inch and .905 inch is meaningless is the practical world. New, unfired cases vary that much.
The bullet diameter was .355 inch with a 135-grain FMJ at 1,100 fps for their military ballistics according to Military Small Arms of the 20th Century by Hoggs and Weeks. My copy of Cartridges of the World 9th Edition lists factory loads as having 125-grain FMJ bullets at 1,120 fps.
The reputation of the Astra Model 1921 has several facets. Some are true and others are not. True; the recoil spring is immensely stiff because the pistol is of simple blowback design. Even at my age, I'm not considered a weakling, but retracting the Astra's slide is just plain difficult. What may be true in some instances is that Astra 400s can use 38 Colt Auto rounds. I've read that and my Astra's slide even has the stamp "9mm (.38)." However, it will not function with 38 Colt Auto cartridges. I tried it with an old 38 Auto factory load. It chambered and fired but would not extract. It required punching out with a cleaning rod. Another facet that is true, but likely should be ignored is that the Model 1921 will safely digest all sorts of 9mm cartridges such as 9mm Luger and even 380 Auto. I tried a few rounds of 9mm Luger and they did function but the case is not headspacing on case mouth as normal but is held by the pistol's extractor. A steady diet of such monkeyshines could damage said extractor – again something read in my research.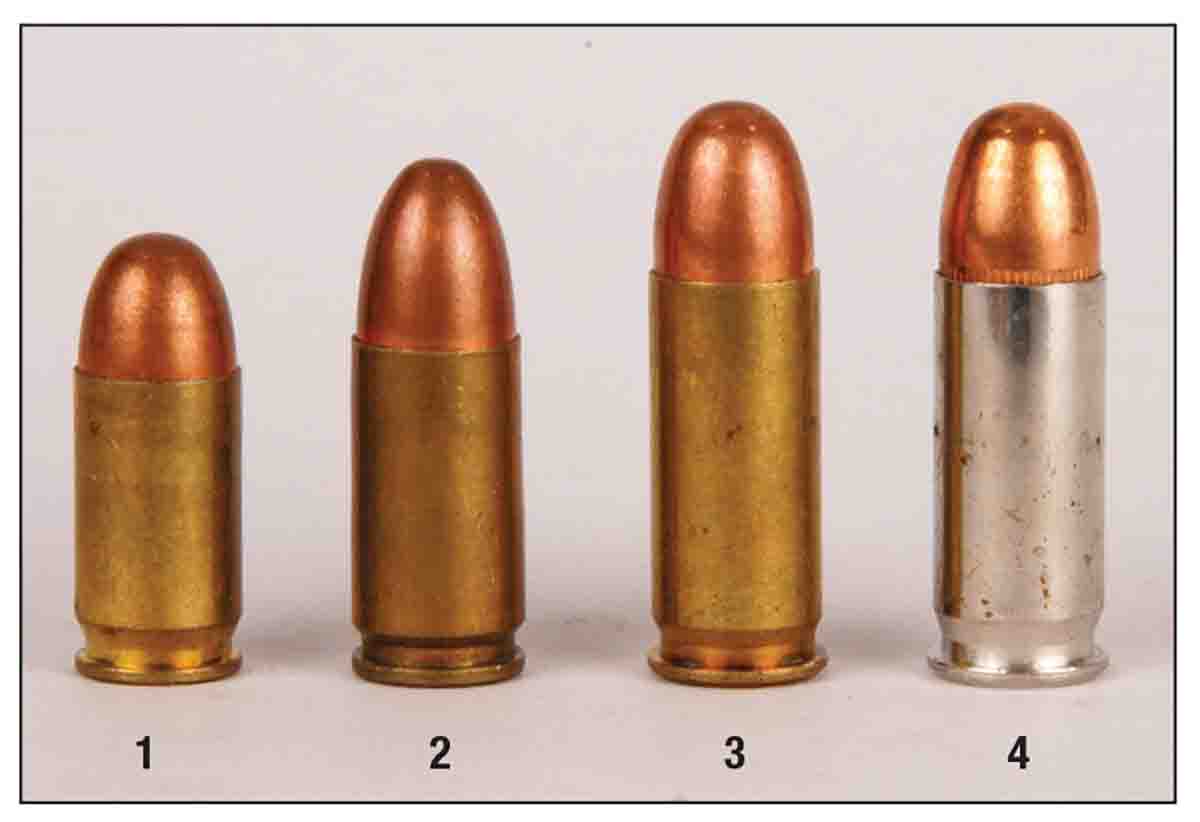 My experience with 38 Super had been cursory through most of my shooting career since that early Star. Earlier in this century, the now-defunct U.S. Fire Arms Manufacturing Company sent me one of its 1911s so chambered. Like their single-action revolvers, it was a handgun of exquisite quality. I shot it with handloads in Starline 38 Super COMP brass and it functioned perfectly and shot accurately. Then, I foolishly let it get away. Back in 2014, during one of my many road trips around the west to attend competitions, my traveling companion, Ted Tomkins, and I stopped in a gun store in Prescott, Arizona. For some time I'd been hankering for a nickel-plated Colt Government Model 45 ACP.
In the store's used handgun case set what appeared to be what I desired. It was not. Instead of nickel-plated, it was high-polished stainless steel and instead of chambering 45 ACP, it was a 38 Super. I bought it anyway. (I was an FFL holder in those days so I could buy when out of state.) Its serial number had the odd prefix of ELCEN which I discovered meant it was part of a special run by Colt for a distributor with the aim of selling them south of the border. There were other versions such as ELCORONEL AND ELGENERAL with varying degrees of decoration. The ELCENs were the plainest. This Colt pistol is stamped COLT CUSTOM on the slide's left side, has a straight mainspring housing as with early 1911s and has much better sights than off-the-shelf Colt Government Models in that they set high and have white dots front and rear. Grips are checkered rosewood.
My acquaintance with an Astra Model 1921 was a total accident. Of course I knew what an Astra semiauto looked like as they were offered at a pittance in the old advertisements in
The American Rifleman
pre-1968. However, I'd never fired one. At a Montana gun show, while perusing the aisles, I spotted my currently owned one. An idea of my ignorance was that I thought these odd-looking Astra pistols were all 9mm Luger. However, this one set with a white box of CCI-Blazer factory ammunition labeled both "9mm Bergmann-Baynard and 9mm Largo." I bought it figuring once the factory loads were shot up, I could sell the Astra and likely recoup my entire expenditure. Things didn't go in that direction once I discovered it could be handloaded for with 38 Super tooling, bullets and brass already on my reloading bench.
In searching for handloading data, I found only one source in modern manuals. According to Speer's Reloading Manual #14 in the 9mm Largo's data section maximum pressures for their loads are 30,000 psi. A few pages further gives data for 38 Super+P. Maximum pressures there are 33,000 psi. My logical estimation was that if I held 38 Super handloads to Speer's starting load powder charges and using Starline COMP cases, the loads would be suitable to both semiautos.
A fact not commonly known is that the original FMJ bullet diameter for 38 Super at its inception in 1929 was .356 inch. Try finding such jacketed bullets today. Regardless, it's no big loss as only .355-inch jacketed bullets are all that are listed in today's manuals. The Lyman 51st Edition Reloading Handbook also supplies some cast bullet data. For my work with dual-purpose 9mm Largo/38 Super handloads, my bullet choices were as follows: 124-grain, .355-inch FMJs by Zero Bullet Company and Oregon Trail Bullet Company's 124-grain cast roundnose at .356 inch. Also used were Missouri Bullet Company's coated cast bullets weighing 147 grains. These were truncated cone-shaped and sized at .356 inch. The only bullet cast by myself for this project was RCBS No. 38-140CM, nominally meant for cowboy action competition, i.e. light loads in revolvers. These RN/FPs were cast of Linotype alloy, sized to .356 inch and lubed with SPG. The harder alloy reduced bullet weight to 135 grains.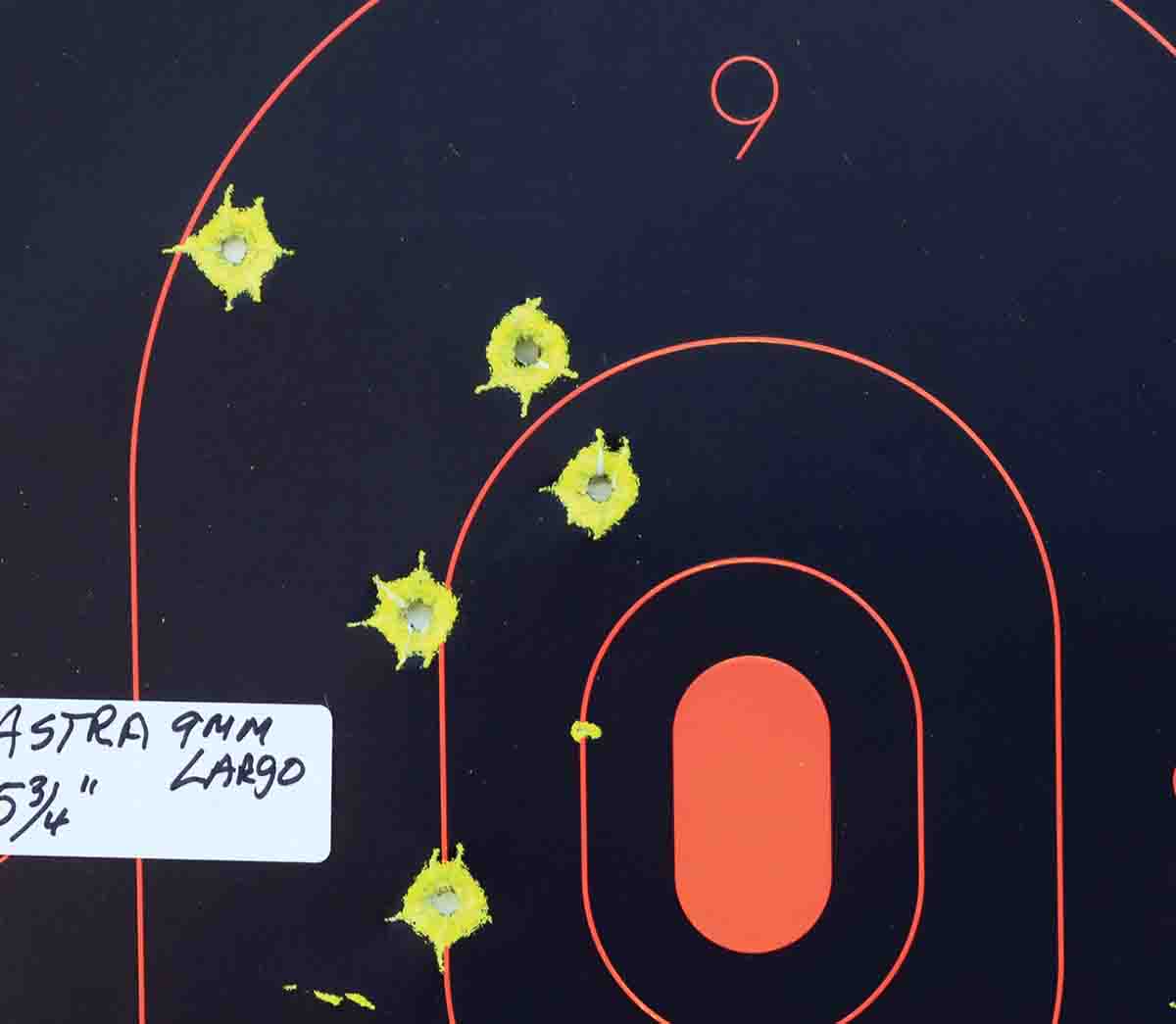 Powders used were W-231, Unique and 3N37 (Vihtavuori). All primers were Winchester Small Pistol and Lyman dies were used along with a taper crimp 9mm die by RCBS. To my satisfaction, all loads functioned perfectly in both autoloaders. The first load chronographed was the white box CCI-9mm Largo and their velocities were surprising. From the Colt's 5-inch barrel, the 124-grain bullets averaged 1,197 fps and just a mite faster from the Astra's 5.5-inch barrel at 1,217 fps average. As can be noted in the accompanying table, most of my dual-purpose handloads stayed under those velocities from both pistols.
Now a word on accuracy; the Astra was one of the most difficult handguns to shoot with any degree of precision in all of my lifelong experience. My Lyman Trigger Pull Gauge maxes out at 12 pounds. The Astra's pull was enormous; the Lyman gauge would not measure it. Also, its sights are less than rudimentary. My eyes are in their mid-70s now and the Astra's front sight is a barely visible nub with the rear being likewise a tiny notch. There is no way to adjust them. Trying to shoot groups from sandbag rest with the Astra was just shy of an exercise in futility. The best groups I was able to print were all nearly 6 inches. However, I could place hits on my large steel plates at 25 yards easier by just pointing the Astra and jerking the trigger.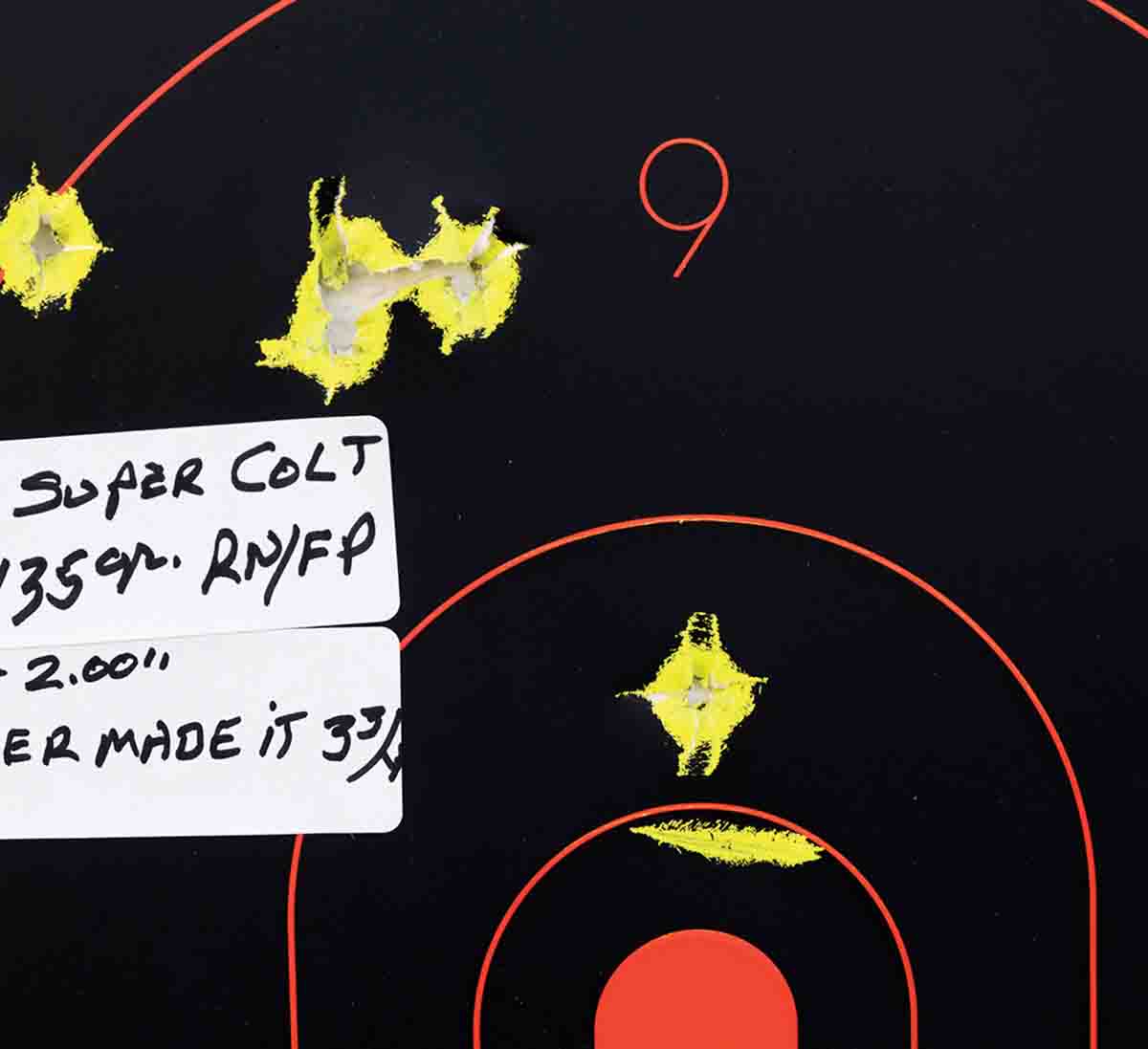 Shooting the Colt ELCEN is a different matter entirely. Its trigger is not extra light; breaking cleanly at 5 pounds. Most loads printed about 2 to 3 inches above the point of aim but a bit left. Its rear sight can be drifted in its dovetail to compensate. My best group with it put four shots in a nice 2-inch cluster with three touching. Then, I pulled number five shot low and right. I think the ELCEN could have done better from my Ransom Pistol Machine Rest except that apparatus is down temporarily at this writing.
To finish this, I'd say this project was a "Beauty and the Beast" sort of thing. The Colt is what Americans have come to expect from well-made semiautos of any chambering while the Astra is a good example of a product from a nation with lesser firearms manufacturing experience in 1921. It is crude and rough around the edges, but it did fire every time the trigger was pulled. Conversely, at the end of this project, I fired-off my remaining handloads with the Colt ELCEN and hit my steel targets' 3.38-inch paddles more than they were missed.