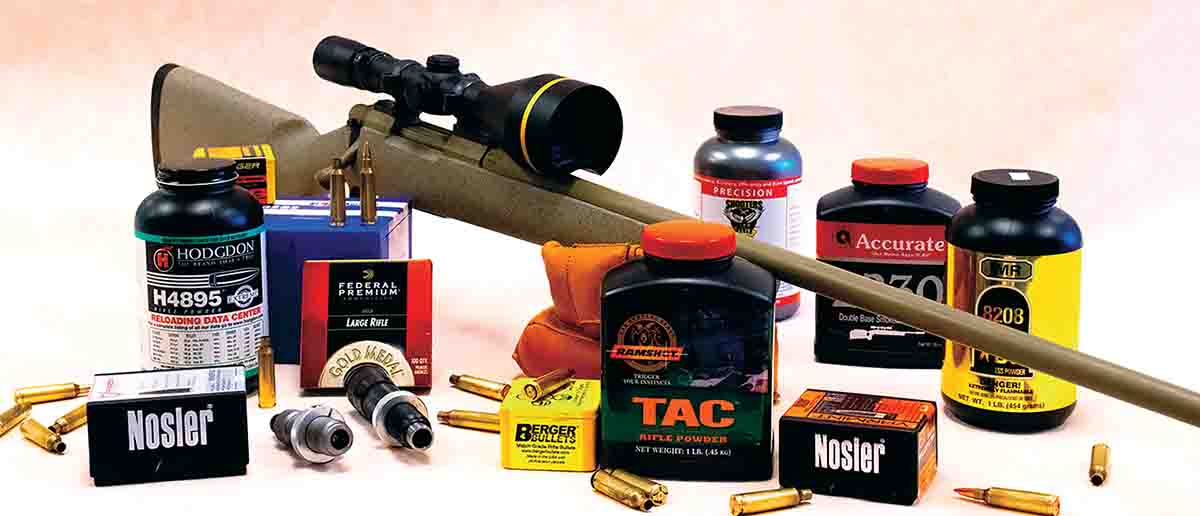 When it comes to cartridges for varmint hunting, there are many great cartridges out there. However, it seems that inevitably, the 22-250 Remington will come up in conversations among varmint and predator hunters. This is for good reason as many big names in the firearms industry tinkered with this cartridge while it was cutting its teeth as a wildcat. Interestingly enough, the 22-250 was offered by Browning Arms Company in a factory rifle prior to it getting its official Sporting Arms and Ammunition Manufacturers' Institute (SAAMI) approval. It wasn't until 1963, when Remington made the jump and got the cartridge SAAMI approved, thus adding its name behind the 22-250. The history of this cartridge is quite storied, from how it earned its reputation for accuracy in competitive environments to the success of hunters in the field with the cartridge.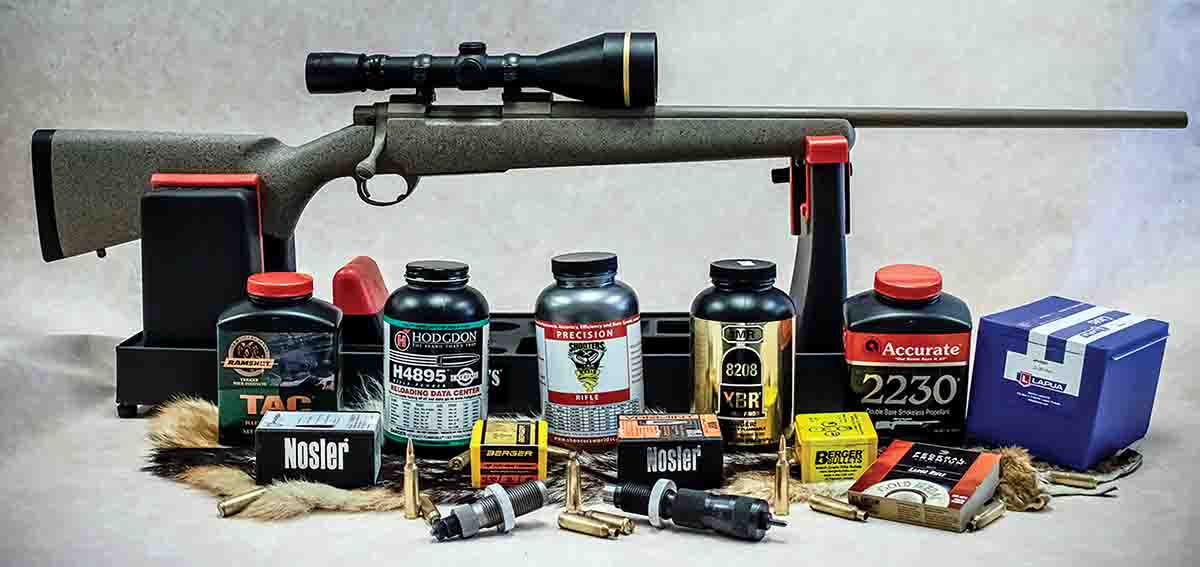 There is no doubt that the 22-250 Remington remains popular today, and thanks to the wide bullet selection, there is good reason for this. The cartridge is versatile, largely in part due to the impressive velocities it is capable of achieving. Thanks to modern bullet design and gunsmithing, it is easy enough to find bullets that are heavier with higher ballistic coefficients (BC) and barrels with twist rates that can accommodate such projectiles. This subject has been covered in length in previous issues and even other reloading manuals such as the
Nosler Reloading Guide # 9
. In this article, I would rather take the reader on a journey and share personal experiences with the 22-250 Remington.
The story starts with a young boy at the age of 10, familiar with firearms and a passion for history. One rifle in his father's safe always seemed to be of keen interest to him, it was a Nosler M48 chambered in none other than 22-250 Remington. It featured a Manners stock tan in color, blending nicely with the CERAKOTE on the action and barrel. Mounted in Leupold dovetail mounts and rings was a Leupold VX-3L 4.5-14x 56mm scope, ideal for varmints, the primary purpose of this rifle. In the mind of a child, this rifle was close enough in looks to the U.S. military's M24 sniper rifle to stir up interest. Over many years, that rifle became a favorite of the growing boy. It was used to take his first coyote at a distance of 150 yards. A single Hornady 55-grain V-MAX proved devastatingly fatal; this experience was the cornerstone on which many more memories would be made.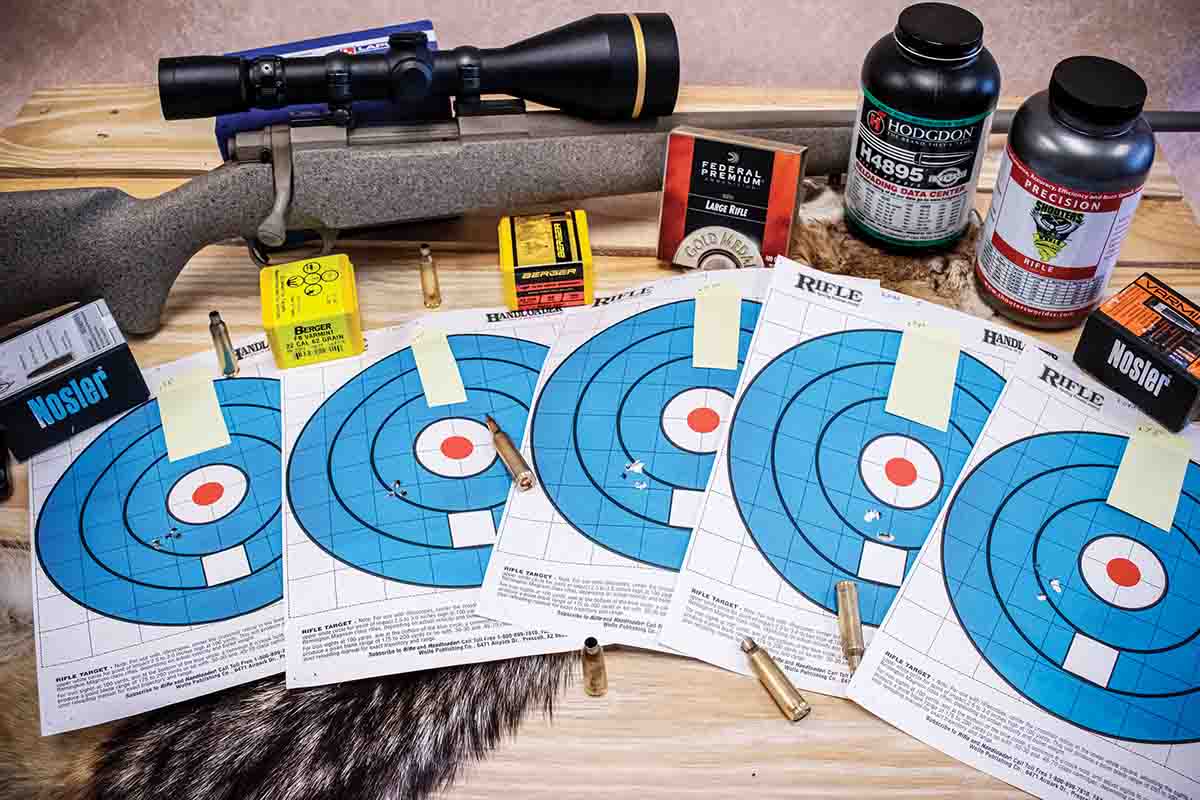 The rifle proved itself to be accurate, quite capable and was a constant companion to the boy. Hardly a weekend went by where it was not alongside him and a howling Foxpro predator call. For the next 12 years, this rifle would be snatched up by the growing boy as often as possible for predator hunting from coyotes, foxes and bobcats all the way up to mountain lion hunting with family and friends. Prior to Arizona banning coyote calling competitions, it was a go-to rifle for those fun competitions. By the time the boy was around 18, he was introduced to the wonderful world of hunting prairie dogs. The Nosler M48 in 22-250 Remington seemed an ideal choice for the long shots in shifty Arizona winds. This passion and pursuit is still going strong to this day.
Most recently, it was taken on loan from Dad, for a varmint shoot at the Spur Ranch in Encampment, Wyoming. This is the second year the opportunity to hunt this ranch arose and it certainly did not disappoint. The beautiful country and fully-furnished Hanging Bull Lodge makes you feel like you are in paradise. The trip was one that will not be soon forgotten and the privilege to return is eagerly awaited. While in the fields that were filled with sage rats and prairie dogs, the Nosler rifle accounted for many hits at distance and sometimes in strong winds. When the close-range towns dried-up or went dormant, the 22-250 Remington was pulled from its case and went to work at longer ranges.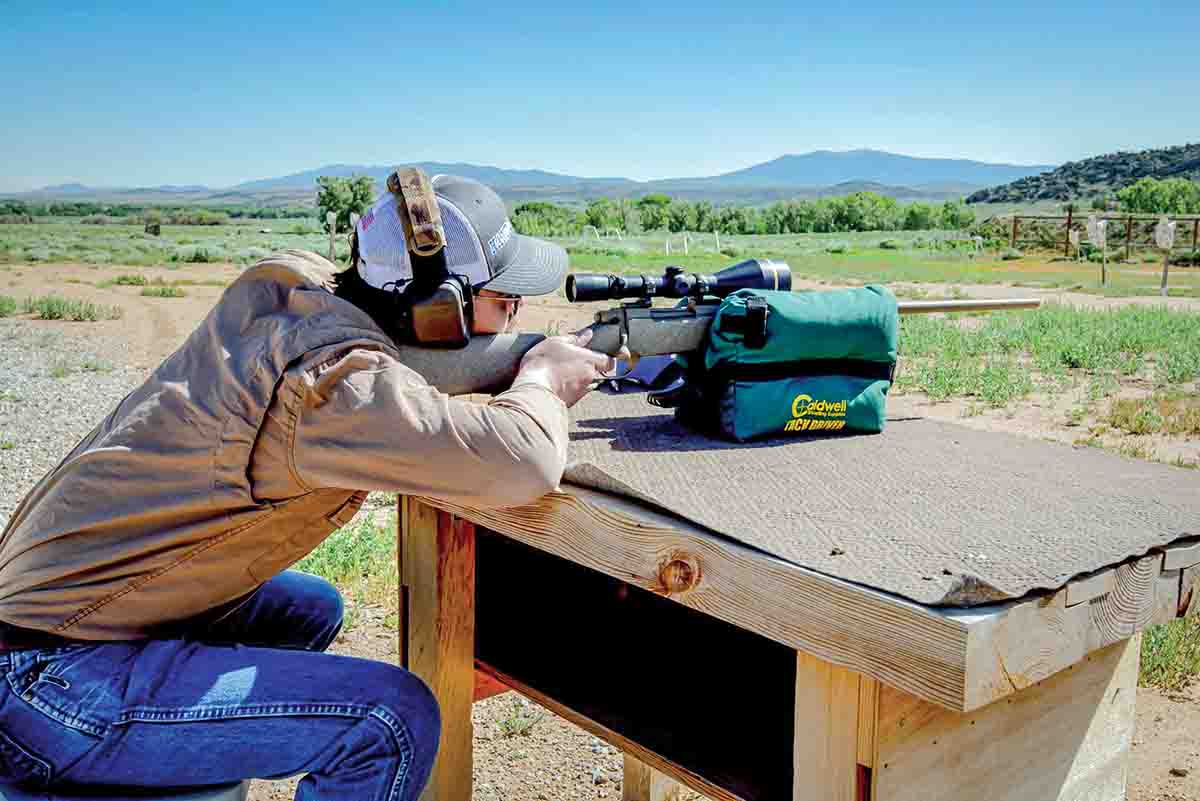 The load used most on this trip contained the Berger 62-grain Flat Base Varmint bullet. This bullet expands well on varmints and hits were often followed by exclamations from shooter and/or spotter. The load contained 33.7 grains of Hodgdon H-4895 powder, which is a very temperature-stable propellant. This is helpful for those working up loads that will be suitable for all seasons and whatever country you may find yourself in. This load was taken directly out of the 2014 issue of
Varmint Rifles & Cartridges
magazine. Starting at a charge weight of 31.5 grains and working up to 33.7 grains of H-4895, proved to be an exceptional load in this rifle. Surprisingly, this rifle has a 1:14 twist rate, despite this, the Berger 62-grain bullet was stable. Berger states right on the box that a 1:12 twist rate is recommended. However, at the velocities listed in the accompanying table, this bullet was quite stable. In fact, it accounted for many hits on small burrowing targets at distances of 350 yards and beyond.
Prior to the trip to the Spur Ranch, much testing was conducted in order to get such accurate and reliable loads. To start, 400 cases from Lapua were ordered. They make exceptionally uniform cases and this helps save time sorting brass and uniforming flash holes and things of that nature. They were all run through a Sinclair expanding mandrel to uniform out any dents and set uniform neck tension. The next step was to apply a slight chamfer and deburr, using a Frankford Arsenal case prep center. It greatly aided in reducing hand cramps and speeding up the process. Federal 210M primers were then seated using a Frankford Arsenal hand primer. From there, it was just a matter of filling the hopper on the RCBS MatchMaster powder dispenser and punching in the proper charge weight. Finally, bullets were seated using a Forster Benchrest Seater Die, which does an exceptional job of reducing bullet runout. The press used was a Lyman All-American 8 Reloading Press. Its eight die stations mean less die swapping and extra turret heads are available as well further reducing or even potentially eliminating the need for swapping dies for your favorite cartridges.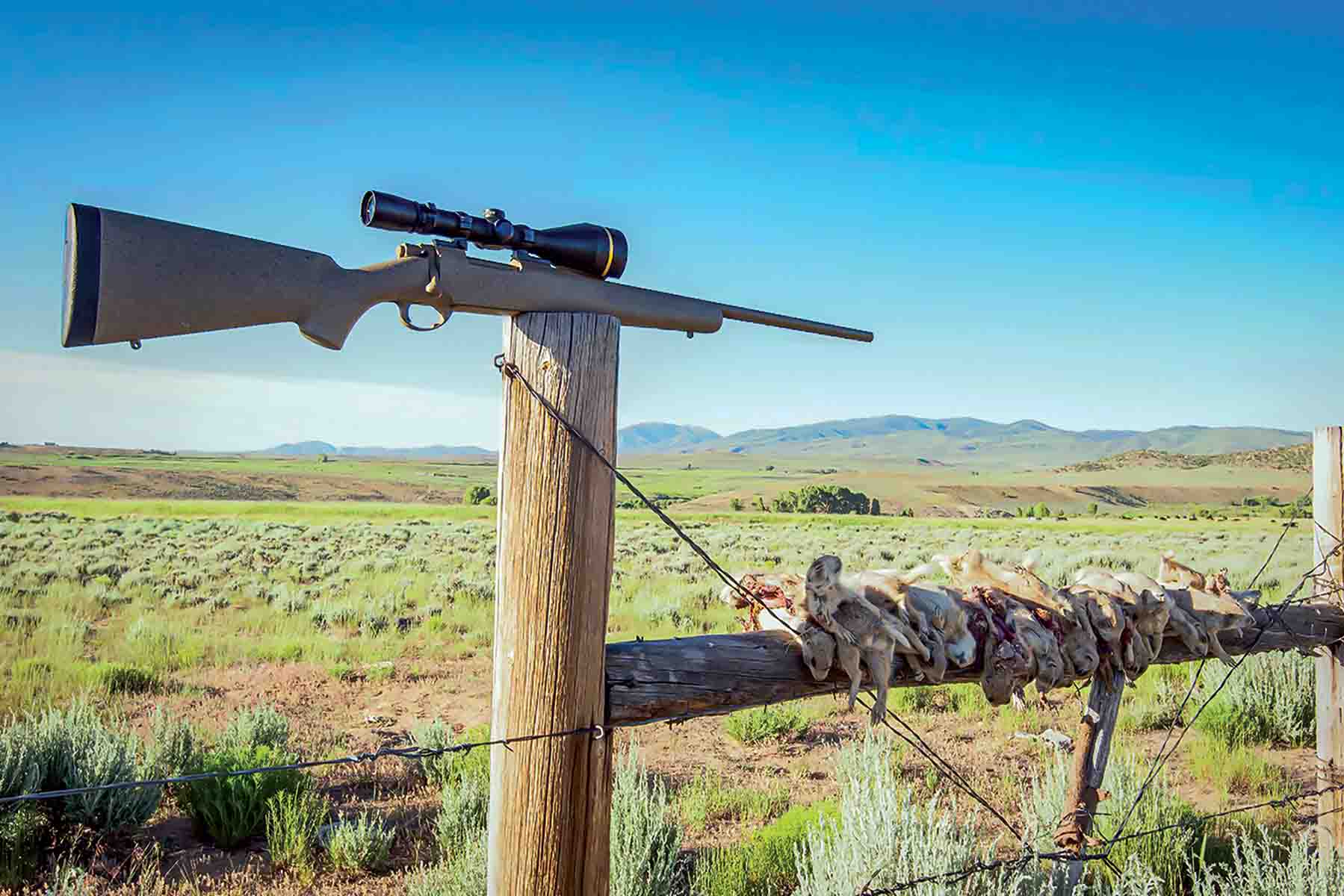 The loads were thoroughly tested, using five-shot groups to eliminate loads that were not up to the desired accuracy or velocity standards. The best loads were then retested by shooting four more groups of five shots per load. This meant that by the end of testing, each load had a total of five groups of five shots for a total of 25 rounds to validate the accuracy of each load. This also meant that the results here would be considered statistically significant if we were talking in mathematical terms. Every rifle is different and your mileage may vary, but this Nosler M48 has proven to be exceptionally accurate in the field and in testing.
The 22-250 Remington is no doubt an outstanding cartridge and is capable of impressive accuracy in a well-built rifle. Using modern powders and propellants makes it even more impressive. Being able to work up a load in the Arizona heat and take it to the cool country of Wyoming and experience minimal velocity shifts is impressive. The rifle was zeroed in Arizona for the load using the Berger 62-grain bullet and 33.7 grains of H-4895 powder. Once in Wyoming, the zero of the rifle was checked on paper and no adjustments were needed despite a temperature difference of more than 45 degrees Fahrenheit. The overall performance was impressive and every component from the rifle to the handloads seemed to fit together perfectly and performed well. With such a performance as this, it is no wonder the 22-250 Remington is such a popular cartridge to this day despite being more than 60 years old.
For more information on this cartridge, or the rifle, check out the video on our YouTube channel, Handloader TV.