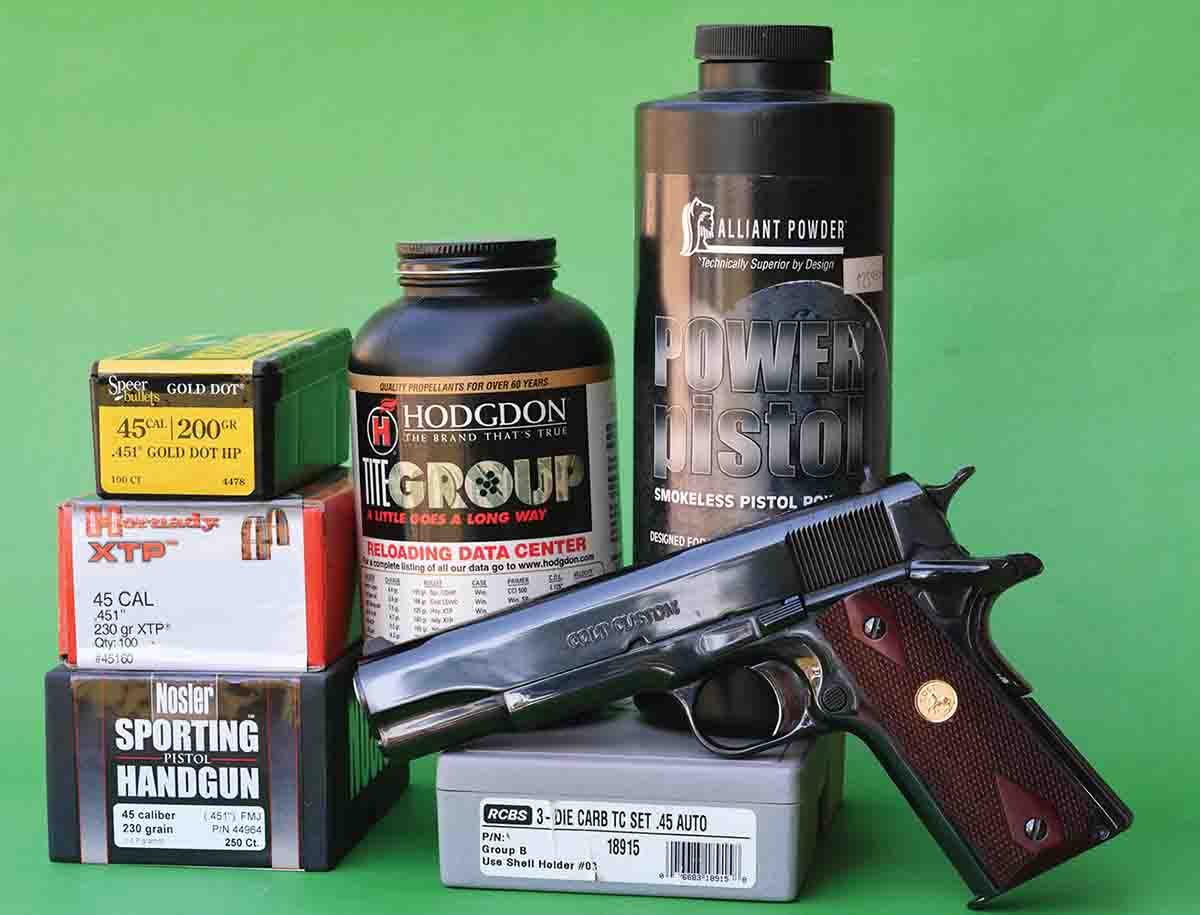 The history of the Colt Model 1911 is fascinating and can be insightful to shooters interested in obtaining a practical and versatile big-bore, auto-loading pistol. To be brief, after many wars and skirmishes, the U.S. military wanted nothing less than a 45-caliber pistol loaded with a 230-grain bullet. This had proven many times in battle to be a highly effective load in the famed Colt Single Action Army revolver in spite of having reduced ballistics. When compared to the full-power civilian 45 Colt loads that contained a 250- to 255-grain bullet pushed to around 1,000 feet per second (fps). In an effort to somewhat modernize, in 1892, the U.S. military adopted the Colt M1892 double-action sixgun chambered in 38 Long Colt, which proved to be inadequate in battle.
The military recognized the possible advantages of auto-loading pistol designs including the Mauser C96 "Broomhandle," Mannlicher M1894, Colt M1900 and others, which were all evaluated or tested in one way or another, but failed. Noted designer John Browning set out to improve his M1900 pistol design that ultimately lead to the development of the Colt Model 1905 that was 45 caliber (based on a cut-down 30-06 case), but loaded with 200-grain bullets. The military liked this version, but still wanted further improvements. Over the next few years, Browning continually worked to evolve the design with many improvements and patents that lead to the Model 1909, while ammunition was changed to contain 230-grain bullets.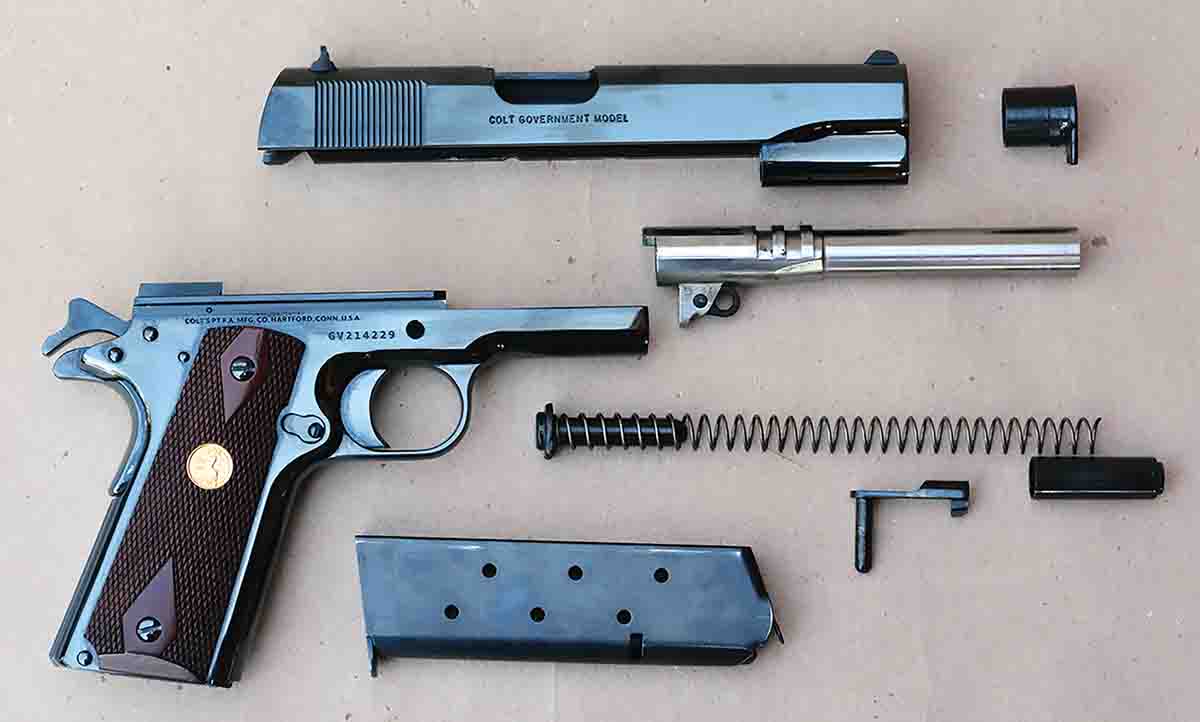 However, further improvement was still necessary and Browning seemed to work endlessly until what would become the Colt Model 1911 was fully developed in 1910. It was a masterpiece in every sense of the word. It had many notable features including a grip and thumb safety, a tilting barrel with one link, 7+1 round capacity, a very short trigger reset that is still an important feature for modern shooters, a 5-inch barrel, was constructed of high tensile steel and weighed around 39 ounces. Interestingly, the grip angle was 74 degrees, which was perfectly natural for point shooting and handling recoil. For comparison, the Luger grip angle was 55 degrees, while the Colt M1909 was a bit awkward at 85 degrees.
Military brass was excited to begin testing and evaluating the new Browning designed, Colt-manufactured pistol that began in 1910. Most of the pistols that were competing for the military contract had already been eliminated, but pistols from Savage and three specially constructed 45-caliber Luger pistols (that were ultimately withdrawn from the tests at the request of Georg Luger due to the cost of production being excessive) were submitted.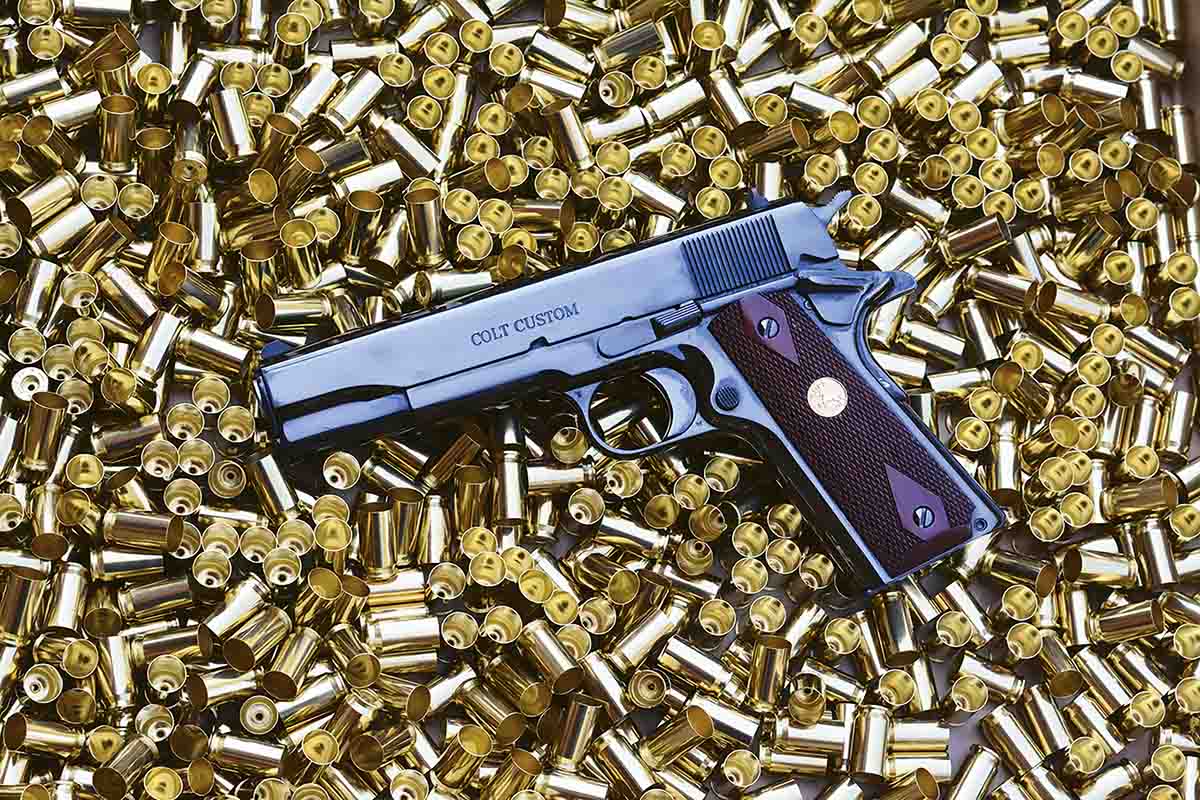 On March 3, 1911, the third round of testing, the U.S. military torture tests began that would consist of firing 6,000 rounds. In short, the pistol would be fired 100 rounds and allowed to cool. It would only be cleaned and oiled once every 1,000 rounds. Out-of-specification cartridges would be fired that had the bullets seated too deeply, other cartridges had bullets that were not seated deeply enough and still other cartridges were intentionally deformed and then fired. The pistol was submersed in water, mud and even acid. The Savage pistol failed many times due to poor design and broken parts. However, the Colt passed every test with flying colors and fired the 6,000 rounds without any misfires, stoppages or failures of any sort! Colt immediately began manufacturing it and introduced it as the Model 1911 and the military officially adopted it on March 29, 1911, at the cost of $14.25 each.
Many consider the first combat use of the Model 1911 to have taken place during World War I (1917), but the first combat probably took place in the British Empire. U.S. troops first used them in combat in 1913 in the Philippines, followed by the Veracruz landing in 1914. Another interesting fact is that beginning in 1914, approximately 5,000 Model 1911s were more or less smuggled across the border into Canada for military use. It seems that the neutrality act at the time prevented U.S. manufacturers from selling the U.S. military kit to other countries. So procurement officers purchased these guns personally and then arranged for them to be moved across the border. They were then used by the Canadian Expeditionary Force in Europe (on the Western Front) in January 1915, and in severe combat in March 1915, in the Battle of Neuve Chapelle, followed by the 2nd Battle of Ypres in April of that same year. Clearly, many other world militaries recognized the virtues of this remarkable 45-caliber auto-loading pistol that immediately proved its effectiveness in battle.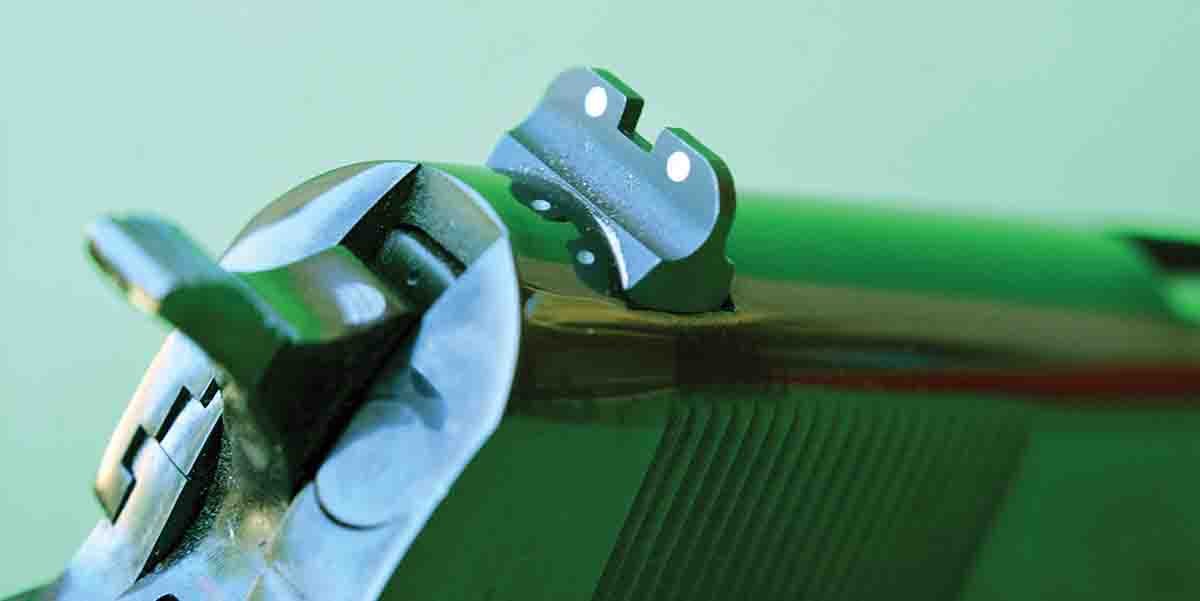 In the past 113 years, the big Colt pistol has become a legend and has served in many wars including two world wars and countless skirmishes. While it was officially replaced in 1985 with the Beretta M9 pistol for the U.S. to become NATO standard with a 9mm sidearm, the 1911 is still in widespread use, as it is the pistol of choice among many elite soldiers and specialized combat units. Very few products developed in the early 1900s are still in use, but even fewer are considered state-of-the-art, which clearly establishes the timeless design of the Model 1911 and the 45 ACP cartridge. In the hands of civilians, the Model 1911 has proven to be an outstanding defensive pistol, but is also a practical field gun and is fun to shoot. Its record in action pistol competitions is impressive, while custom-built versions for slow-fire target (or bullseye) work can deliver remarkable accuracy.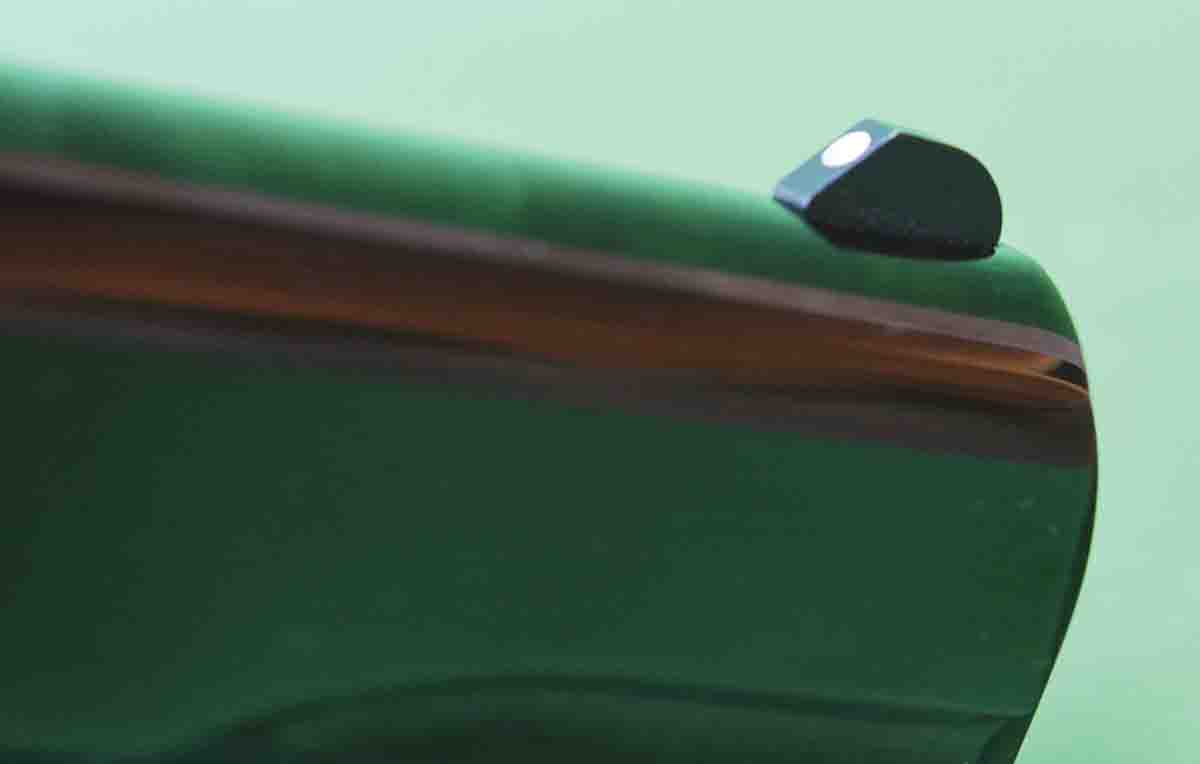 It is noteworthy that many Model 1911s have far surpassed the half-million round mark, documented by the U.S. military and are still in operation. Naturally, barrels and other parts have been replaced due to normal wear, but the forged frames and forged slides are still going strong! To quote Chief Warrant Officer, Ken Davis, in regard to Model 1911s that have surpassed 500,000 rounds "the only pistol that can stand up to this use."
While the basic 1911 has remained unchanged, in recent decades it has become widely popular with special features that include a high-hand, position-grip safety, commander-style hammer or slotted high-speed hammer, ambidextrous safety, extended safety, lowered and angled ejection port, front and rear sights dovetailed mounted into the slide and that are of various designs and sight pictures, Picatinny rail, lightweight extended trigger, match-grade barrels, beveled magazine well, custom fit barrel bushing, guide rod, etc. These features (and many others) first began appearing on custom-built pistols, but have now become standard on many production pistols from Colt and nearly countless manufacturers that also produce 1911 pistols to compete with the original.
However, many shooters and traditionalists prefer the standard Government Model 1911 configuration that is still offered by Colt. Generally, this version is priced as a base model or entry level if you will. However, in considering a pistol to be reviewed herein, a Colt Custom Shop Government Model caught my eye. This upgraded version is a real beauty, as it features a high-polish "Colt Royal Blued Steel" that is reminiscent of period commercial pistols produced from 1911 through the 1930s. For clarification, period guns were finished with carbona blue that illuminates a comparatively light color and is especially pleasing to the eye. This finish was achieved by preparing the steel using a combination of walrus hide and whale oil in the polishing process, then placing it in a fired oven containing charcoal and whale oil, which was baked for several hours with periodic scrubbing with oakum and ash. This process was repeated up to six times, or until the craftsman was satisfied. Today, Colt uses commercial polishing compounds to prepare the steel, with parts being hot tank blued, also known as black oxide, which is practical and allows the gun to be produced at a reasonable price. Regardless, this Custom Shop Government Model is striking, shows good attention to detail and is well executed as the corners and edges are void of being "pulled" or rounded during polish.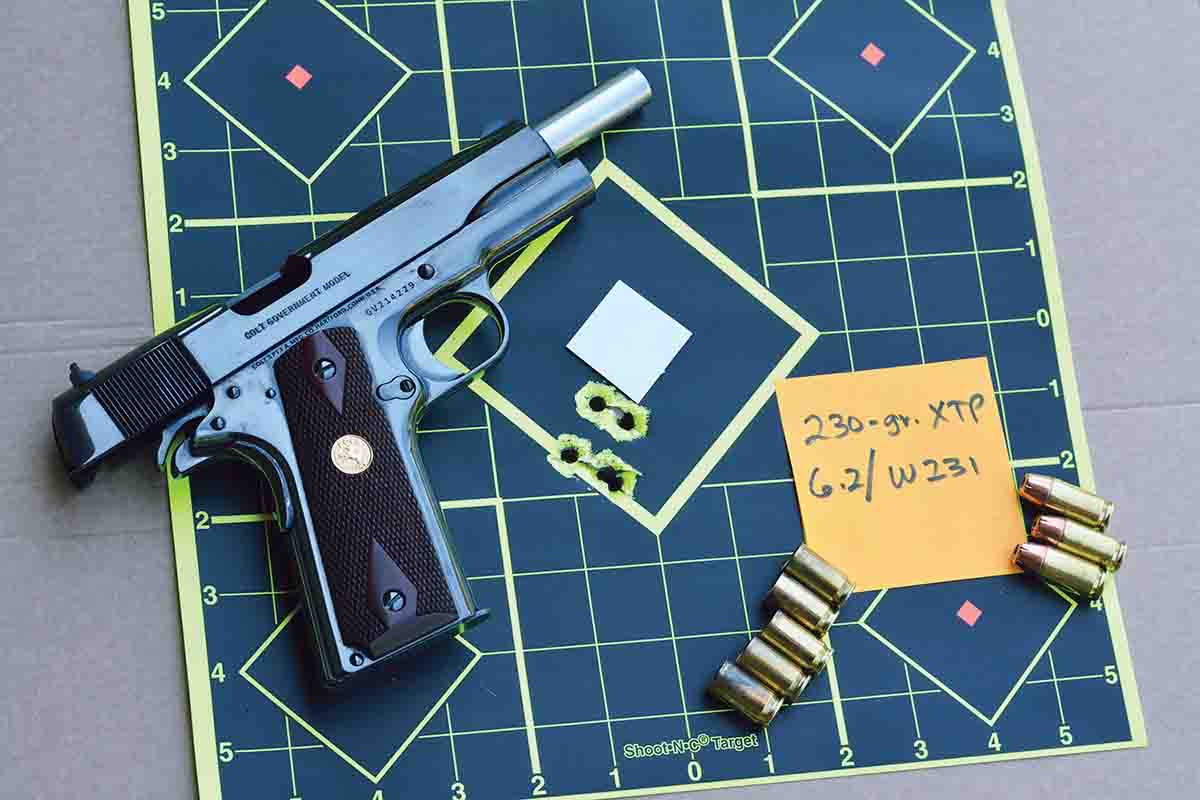 While this Custom Shop Model 1911 features a more traditional overall profile, there are several notable departures from vintage guns. First, original guns featured very small sights, but this version has a much larger front sight that measured .130-inch wide and .175-inch tall. The rear sight is naturally taller than the originals, while the notch width corresponds with the larger front sight. The front sight features a single white dot, while the rear sight has two dots. The slide does not contain an internal safety as found on Series 80 pistols; rather, it is a Series 70-style slide. The ejection port is lowered to increase reliability and allow fired cases to clear the port more easily, but the port is not angled. The solid trigger is extended and the grip safety is slightly extended to help prevent pinching the web of the hand when used by shooters with larger or fleshy hands. Throughout shooting sessions, the grip safety combined with the traditional hammer spur did not cut the web of my hand. The steel mainspring housing is flat, which is preferred by most shooters and is the profile found on original pistols. Another noteworthy feature is the National Match barrel that produces top-drawer accuracy. The trigger pull broke reasonably clean at 4.625 pounds. Again, the overall fit and finish are excellent, resulting in a very attractive pistol.
Two hundred rounds of handloads were fired prior to accuracy testing, which allowed the pistol to settle in. As can be seen in the accompanying table, most factory loads from Black Hills, Buffalo Bore, Federal and Hornady grouped into 1.80 to 2.20 inches at 20 yards. Based on my experience with many Model 1911 pistols, it is expected that groups will continue to shrink as the pistol has time to further settle in.
Moving on to handloads, accuracy was virtually identical to factory loads. All loads were assembled in new Starline cases, which were first full-length sized and neck expanded using RCBS dies and then primed with CCI No. 300 primers. After charging cases with powder and seating bullets, a taper crimp was applied that measured .470 inch. A couple of notable loads included the Hornady 185-grain XTP bullet pushed with 6.2 grains of Hodgdon Titegroup powder for a velocity of 999 fps. The average of three, five-shot groups at 20 yards was 1.85 inches. The tightest average groups consisted of the 230-grain Nosler Sporting Handgun FMJ bullet pushed to 901 fps using 5 grains of Accurate Nitro 100NF powder that averaged 1.80 inches.
To date, more than 600 rounds have been fired through the Colt Custom Shop Government Model, which has functioned flawlessly and has proven accurate. It is high quality, reliable and attractive. Prices are running around $1,499.99, which is more than 100 times what the U.S. Government paid for the first contract guns in 1911. It seems that quality guns are not only useful for many purposes including personal protection, but are also good investments that protect against inflation.