During World War II, Roy Weatherby (1910-1988) began experimenting with several wildcat cartridges in an effort to achieve notably greater velocities than standard cartridges of the same caliber. Most of his developments were based on the .375/.300 H&H belted case, but naturally blown out to hold significantly more powder than other cartridges of the same caliber. For example, the .300 Weatherby Magnum held around 14 to 15 grains (depending on case make, etc.) more water than its parent cartridge, the .300 H&H Magnum, which gave it approximately 200 to 250 feet per second (fps) greater velocity with most bullet weights. The .270 Weatherby Magnum (probably his first cartridge) likewise held greater powder and produced substantially greater velocities than the hustling .270 Winchester.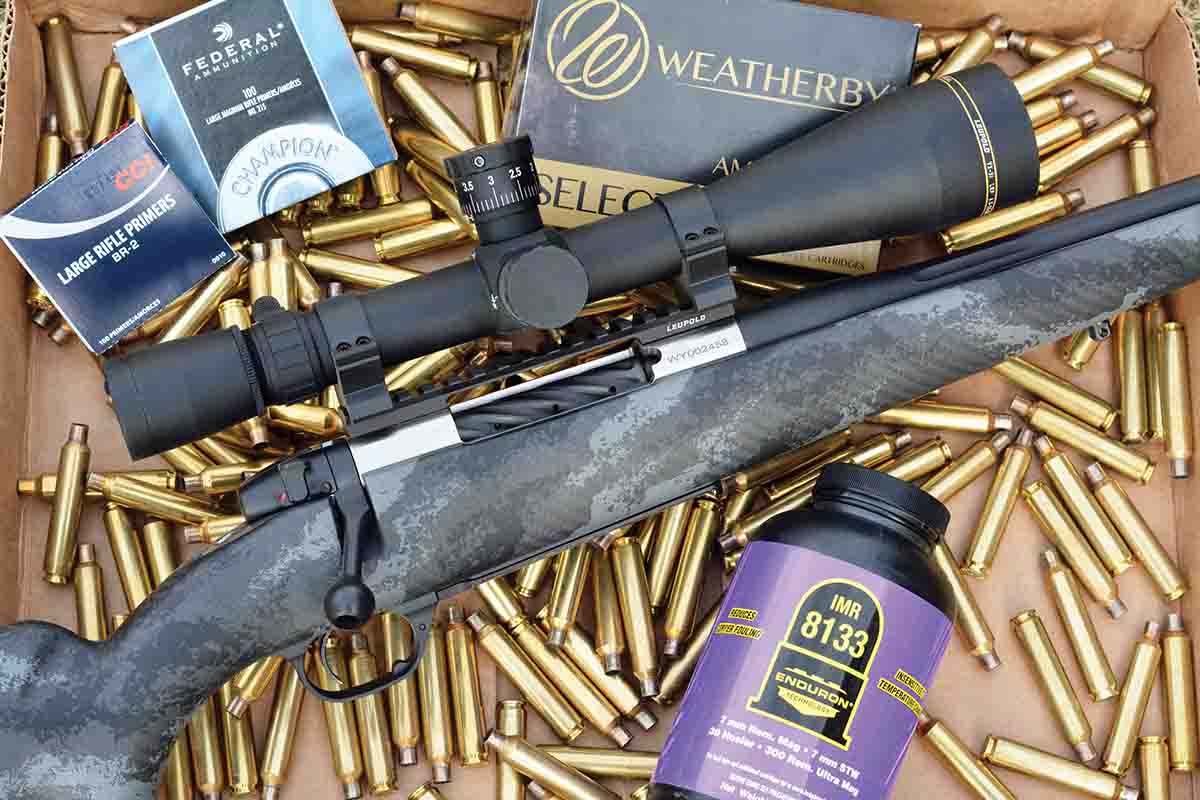 During this era, it was pretty standard for U.S. shooters, wildcatters and even manufacturers to use the belted magnum case for new, high-performance magnum-type cartridge developments, as it was the only real (or practical) option available. Weatherby soon offered a very impressive line of commercial rifle cartridges that ranged from .22 through .45 caliber and became synonymous with powerful, high velocity and hunting. Most Weatherby cartridges have enjoyed notable popularity for more than three-quarters of a century and have a near cult-like following.
Technology and shooting trends change, with modern shooters desiring more than ultra-high velocity rifle cartridges. A perfect example includes the 6.5 Weatherby Rebated Precision Magnum (RPM) cartridge that was first offered in 2019 and has been well received. Unlike many of Weatherby's original cartridge designs, the 6.5 RPM was not designed to be the fastest for its caliber. (Keep in mind that Weatherby still offers the 6.5-300 Magnum, which has an incredibly high velocity and is probably the fastest regularly available commercial 6.5 cartridge.) Rather, the 6.5 RPM offers more middle-of-the-road performance that will push high ballistic coefficient (BC), low drag, heavy-for-caliber bullets to the targeted velocity of around 2,900 to 3000 fps. (Please note that many high BC, heavy-for-caliber, long-range hunting and target bullets do not stabilize properly when pushed above 3,100 fps and is why the "targeted" velocity is usually around 2,900 to 3,000 fps.) Incidentally, to properly stabilize heavyweight and long bullets, the barrel twist is specified with a fast 1:8-inch twist. Factory loads available at press time included the Barnes 127-grain LRX bullet listed at 3,225 fps and a Nosler 140-grain AccuBond listed at 3,075 fps.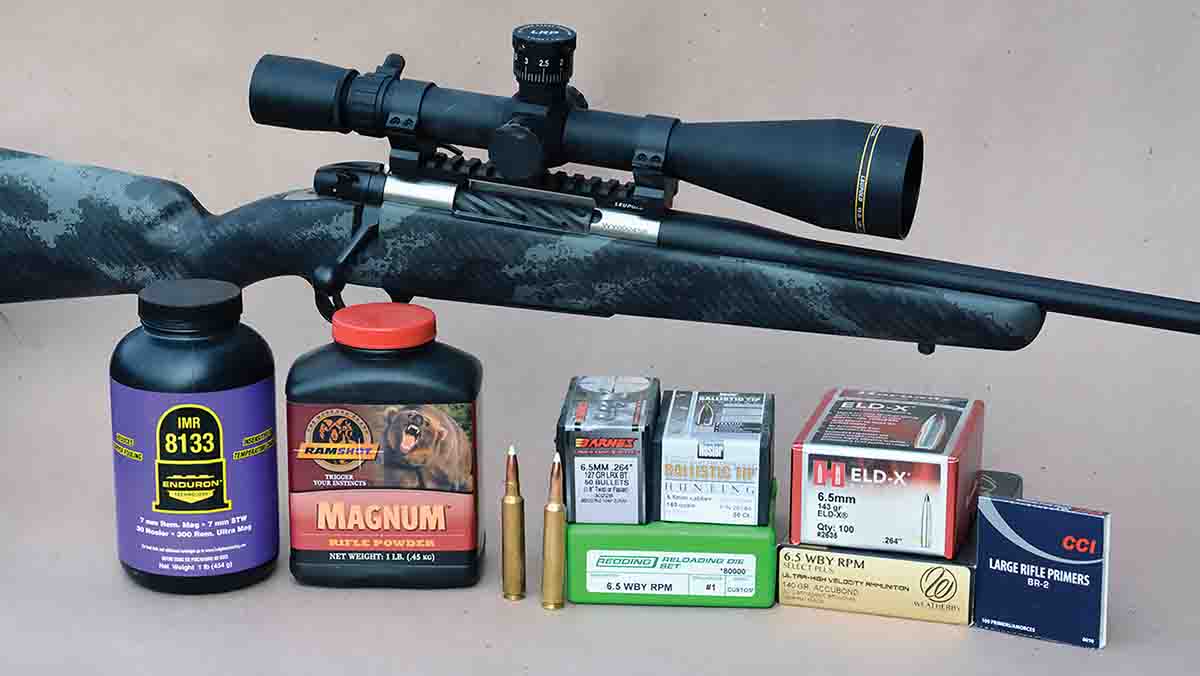 Furthermore, the 6.5 RPM is modern in many other aspects. For example, it is based on the beltless .284 Winchester case (or 6.5-284 Norma), but is stretched to a maximum length of 2.570 inches, while overall cartridge length is 3.340 inches, allowing it to work in .30-06 length actions. But to be clear, the 6.5 RPM case cannot be created from any other case. For handloaders that may not be familiar with the .284 case, its roots date back to 1963 and was designed specifically for the Winchester Model 88 lever action and Model 100 auto-loading rifles. It was way ahead of its time, as it was a fat, short-action (.308 Winchester length) cartridge. The head measured .500 inch while the rim was rebated to .473 inch. Maximum case length is 2.170 inches (or .400 inch shorter than the 6.5 RPM). Due to its powder capacity, short powder column, etc., it gave similar performance to the .270 Winchester and .280 Remington. While the Winchester Models 88 and 100 rifles had limited success, savvy wildcatters quickly recognized the virtues of the .284 case and began developing several wildcats, with two basic versions (short and long action) of the 6.5-284 Winchester becoming popular. (Norma eventually standardized the long version with bullet seated out, but I digress.)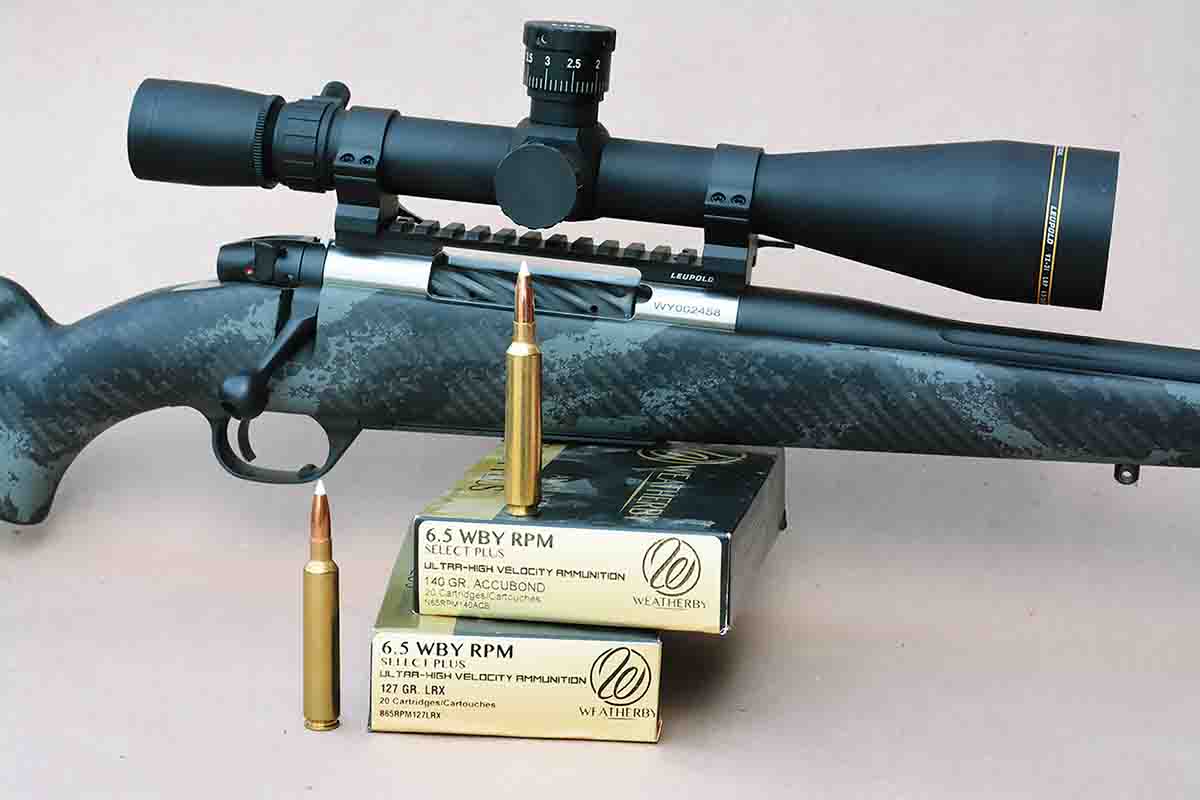 The 6.5 RPM is the first Weatherby cartridge that is beltless. Neither does it feature the double radius shoulder; rather the shoulder is 35.25 degrees that serves to offer positive headspace control and helps to increase burn efficiency and lowers shot-to-shot extreme spreads. It is noteworthy that Weatherby has traditionally chambered its rifles with a comparatively generous freebore, however, the 6.5 RPM features a more traditional leade that places bullets closer to the rifling for greater accuracy.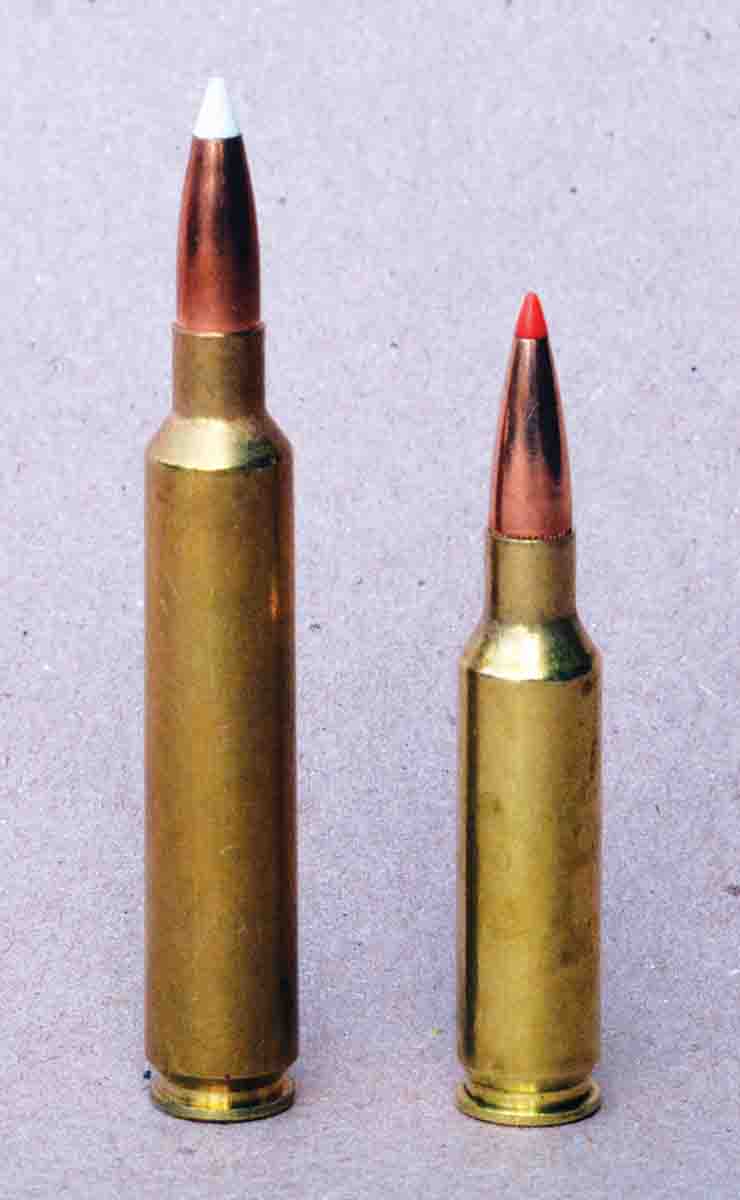 To develop 6.5 RPM handloads, a Weatherby Mark V Backcountry Ti rifle was selected. In addition to the receiver being constructed of titanium and milled to accommodate cartridges that are .30-06 length and with similar rim diameters, it features six forward locking lugs rather than the Mark V's usual 9 lugs along with a smaller diameter bolt body that is spiral fluted. It features a special ultra-lightweight, carbon fiber stock built by AG Composites in a classic design with a slightly negative comb. The bottom metal is alloy, the bolt knob is drilled and the lightweight barrel is fluted and measures .546 inch at the muzzle. There are many other design features that result in this lightweight hunting rifle weighing just 4.9 pounds! Incidentally, the barrel is 24 inches long and will produce lower velocities when compared to a rifle fitted with a 26-inch barrel, which is the length from which factory load velocities are derived.
A Leupold VX-3i Long Range Precision 6.5-20x 50mm scope was installed on the Mark V Backcounty Ti rifle and offers a 30mm maintube, a front focal plane and a TMR reticle, which are desirable features for long-range work. Furthermore, it offers argon/krypton waterproofing, is shockproof and fog proof, has blackened lens edges, DiamondCoat 2 exterior lens coatings, click adjustments, side focus, a tactical power selector, a twin bias spring erector system, a zero lock dial, 4.4- to 3.6-inch eye relief and many other features. The Twilight Max Light Management System adds to its outstanding resolution and definition. Even with the Leupold QRW steel rings used to mount the scope, along with the generous size of the 6.5-20x 50mm variable scope, the total weight was still less than 7 pounds.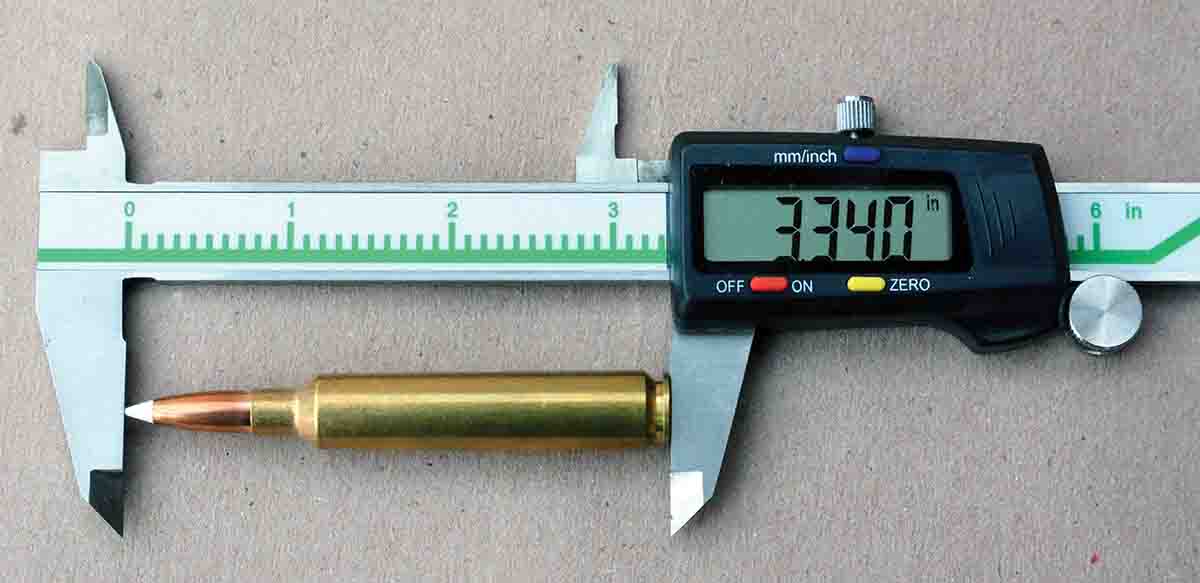 Two factory loads were checked for velocity and included the previously mentioned Barnes 127-grain LRX bullet and the Nosler 140-grain AccuBond.
As indicated, their listed velocities are 3,225 and 3,075 fps, respectively. From the 24-inch barrel of the Mark V Backcountry Ti rifle, the 127-grain load reached 3,130 fps, while the 140-grain version reached 2,969 fps. These are important figures to reference when developing handloads. It is certainly possible to exceed factory load performance with select powders, which I managed to do. However, when velocities begin to approach factory load figures, or exceed them, special care should be taken to watch for signs of excess pressure. Industry maximum average pressure for the 6.5 RPM is 64,000 psi.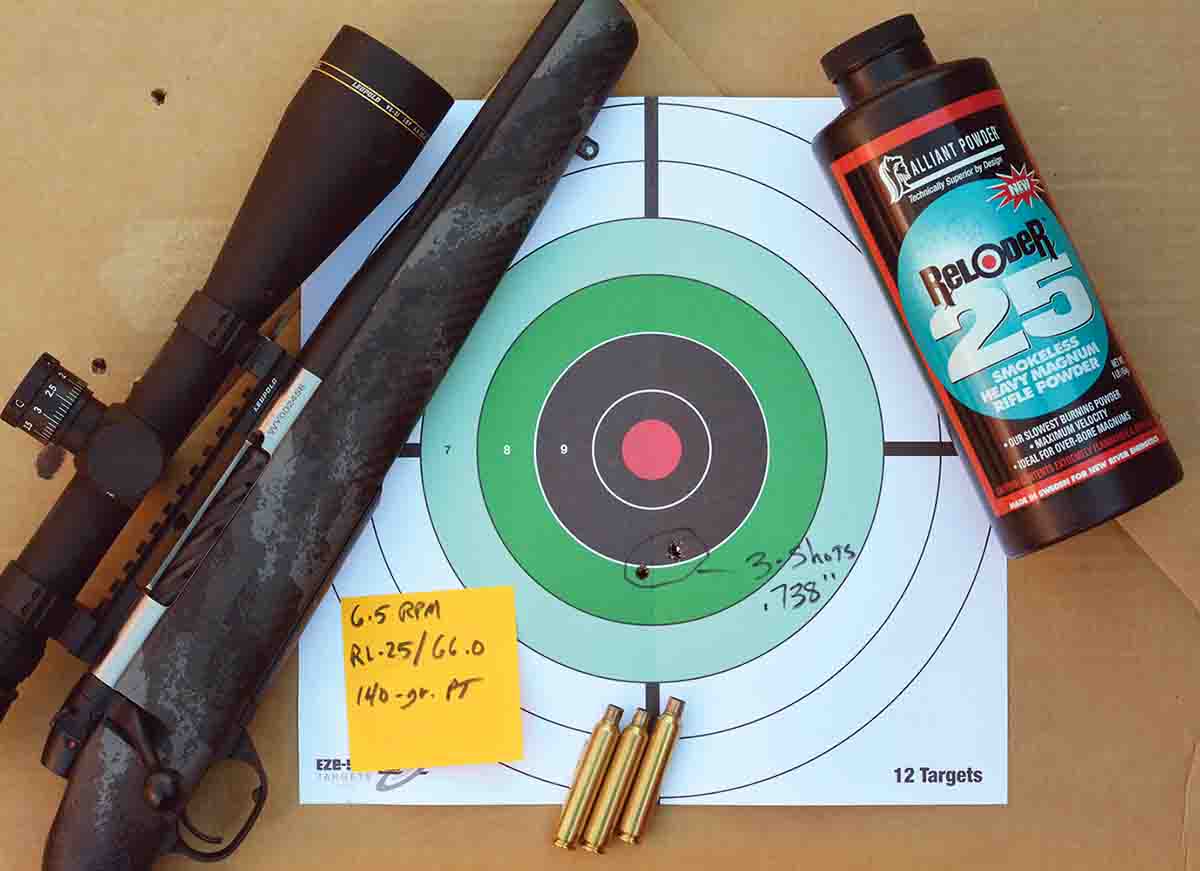 To develop handload data, a set of Redding Custom Series dies were used and all data was developed in cases that were full-length sized. Being a hunter, I generally prefer to full-length size cases to allow reliable chambering of all cartridges in the field. However, neck sizing tends to work the brass less, resulting in longer case life and often produces better accuracy. If neck sizing is selected, it is a good idea to make certain that each cartridge will readily chamber prior to going afield. Neck sizing is best if cases were fired in the same rifle that reloaded cartridges will be fired in.
To allow bullets to seat properly, cases should be chamfered as part of the case preparation. Primer pockets were uniformed and cases were weight sorted to help improve potential accuracy. Bullets were seated with no crimp applied.
The powder charge weights associated with the 6.5 RPM, often around 60 to 70 grains, are on the border, so-to-speak if a standard or magnum primer is used. Either can be used, however, some loads will show better accuracy with standard primers, while others will be more reliable if ignited with magnum primers. To develop the accompanying data, CCI BR-2 Large Rifle standard and Federal 215 Large Rifle Magnum primers were used. When using the accompanying data that was developed with BR-2 primers, if the primer is substituted with a magnum version, then the maximum loads will need to be reduced by 1 to 1.5 grains to keep pressures within check. Incidentally, the Federal 215 primer was used primarily in conjunction with powders that need maximum heat to obtain reliable ignition. If hunting or shooting in extreme cold temperatures, magnum primers are recommended with all loads.
Extruded powders generally provided top-notch accuracy and velocities. However, when using powders with long and large granules, care should be taken to be certain that there is no bridging when throwing charges. Rather, powder charges should be weighed and poured into cases to assure that charges are correct. For handloaders that prefer to throw charges, spherical powders can offer excellent performance while offering near perfect metering. Two examples include Hodgdon US-869 and Ramshot Magnum. Start loads with spherical powders should not be reduced, or erratic ignition, hangfires and other issues can occur.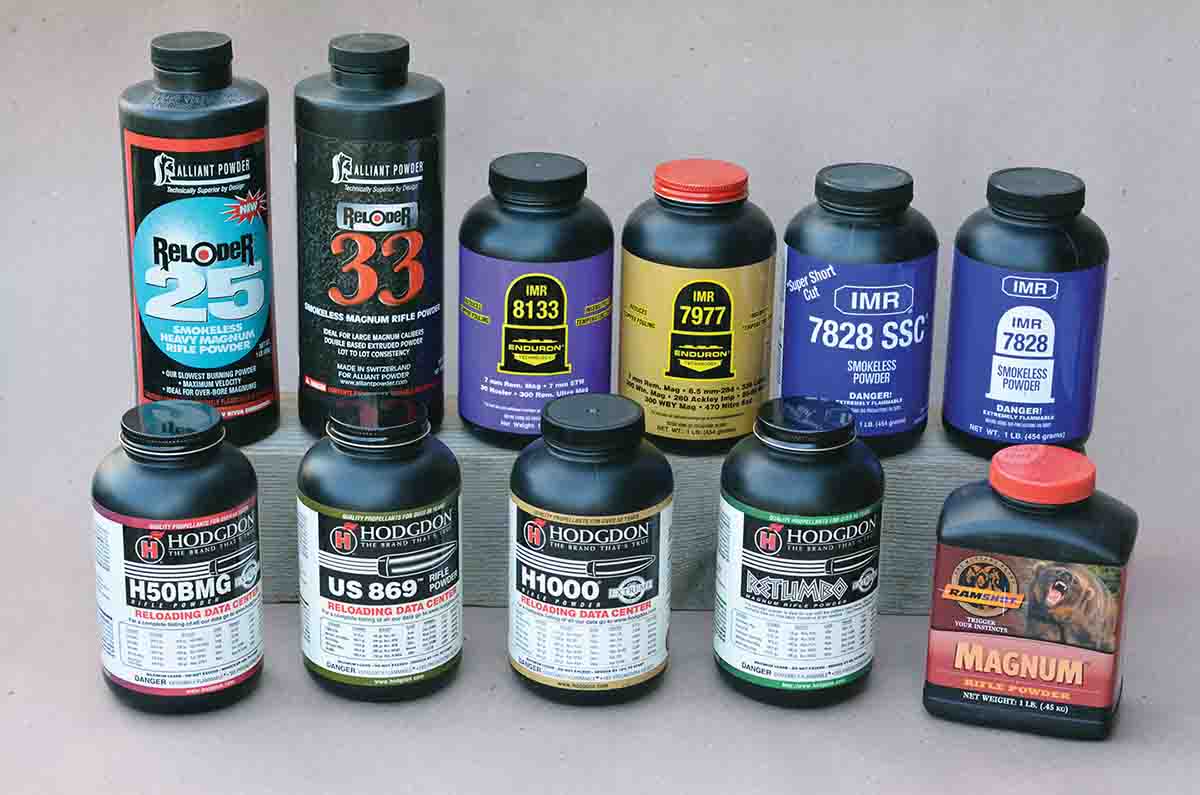 A few extruded powders that produced similar velocities as factory loads, along with notable accuracy, included Hodgdon Retumbo, H-1000, IMR-7828ssc, IMR-7977, IMR-8133, Alliant Reloder 25 and Reloder 33. A few examples include the Barnes 127-grain LRX bullet pushed to 3,161 fps using 69 grains of IMR-8133 powder that produced around MOA accuracy. However, dropping the powder charge to 68 grains yielded 3,111 fps and groups shrunk to just under .75 inch. Switching to the Nosler 140-grain Partition, 66 grains of Reloder 25 yielded 3,074 fps and average groups measured .811 inch. Another great hunting bullet includes the Hornady 143-grain ELD-X, which reached 3,047 fps using 64 grains of H-1000 powder and groups were easily MOA. But reducing the powder charge to 63 grains for 2,980 fps, some of the best accuracy was obtained with groups that clustered just over a half-inch. The Hornady 147-grain ELD Match bullet is widely popular with long-range target shooters. Using 64 grains of Reloder 25 powder provided 2,942 fps and groups produced an average of .813 inch.
With the above said, I was not completely satisfied with my accuracy testing in a sporting rifle that features a trim, lightweight, fluted barrel that measures just .546-inch diameter at the muzzle. In other words, to fully evaluate and accurately compare the accuracy potential of handloads, a test barrel or a custom-built test rifle with a very heavy barrel would be much preferred, as these serve to reduce or mostly eliminate the effect of barrel vibrations and heat that can cause a light, small-diameter barrel on a hunting rifle to throw fliers. In some instances, Idaho spring winds made testing difficult, and in spite of having a fan to cool the barrel during testing, there were some variables, as the barrel was rather warm after just three shots.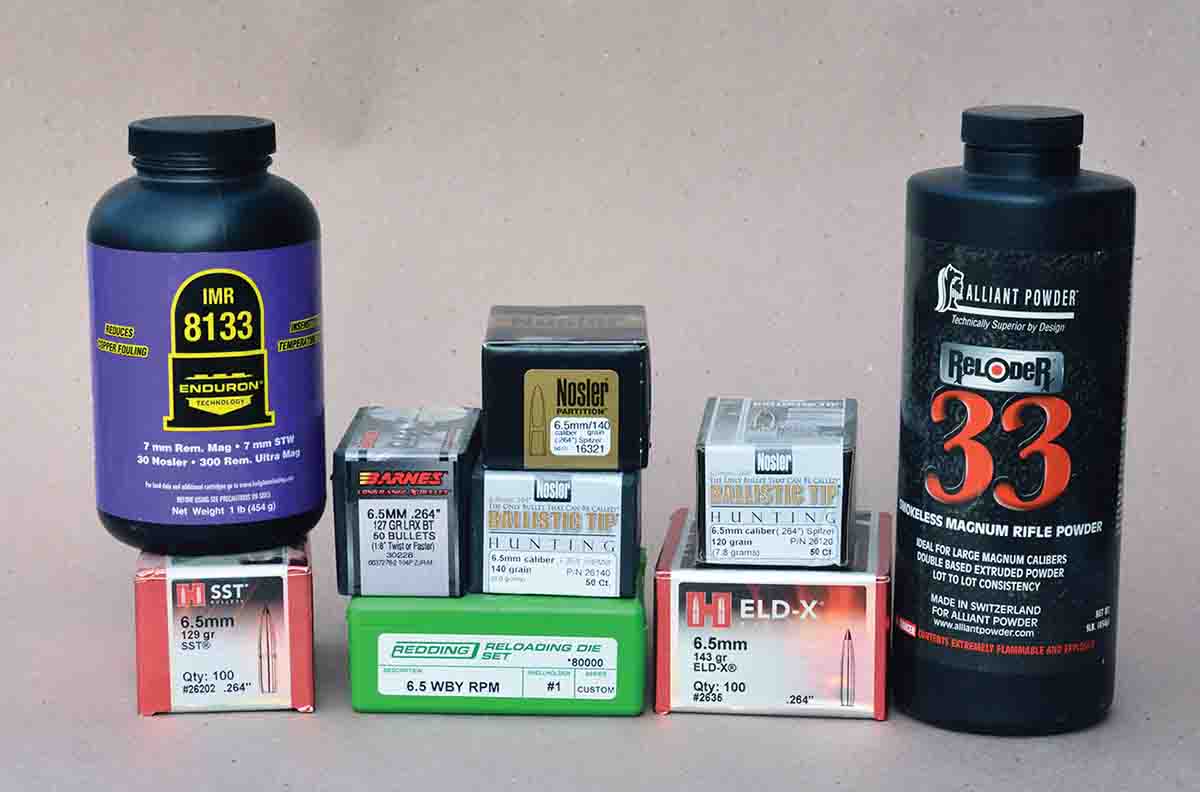 Nonetheless, the 6.5 RPM is an accurate cartridge that is modern in every respect. It was relatively easy to develop handloads that duplicated and even exceeded factory load velocities and accuracy and the lightweight Mark V Backcountry Ti is a worthy hunting rifle.