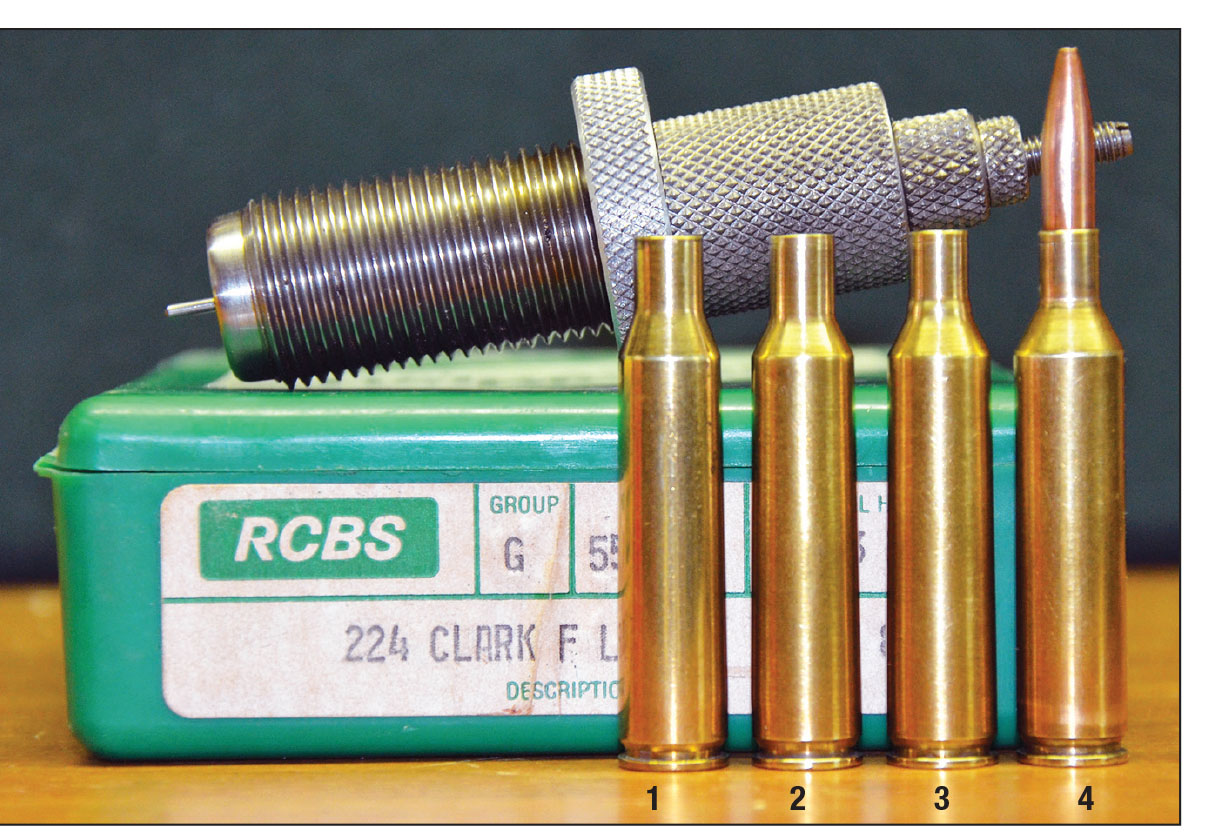 Kenneth E. Clark was an accomplished gunsmith who grew up on a cattle ranch near Madera, California. The open country was rich with an assortment of varmints, ranging in size from coyotes to ground squirrels and shots were often taken at extreme distances. Windy days increased the challenge of connecting. After trying rifles chambered for various cartridges, he decided to come up with something better suited for the task at hand.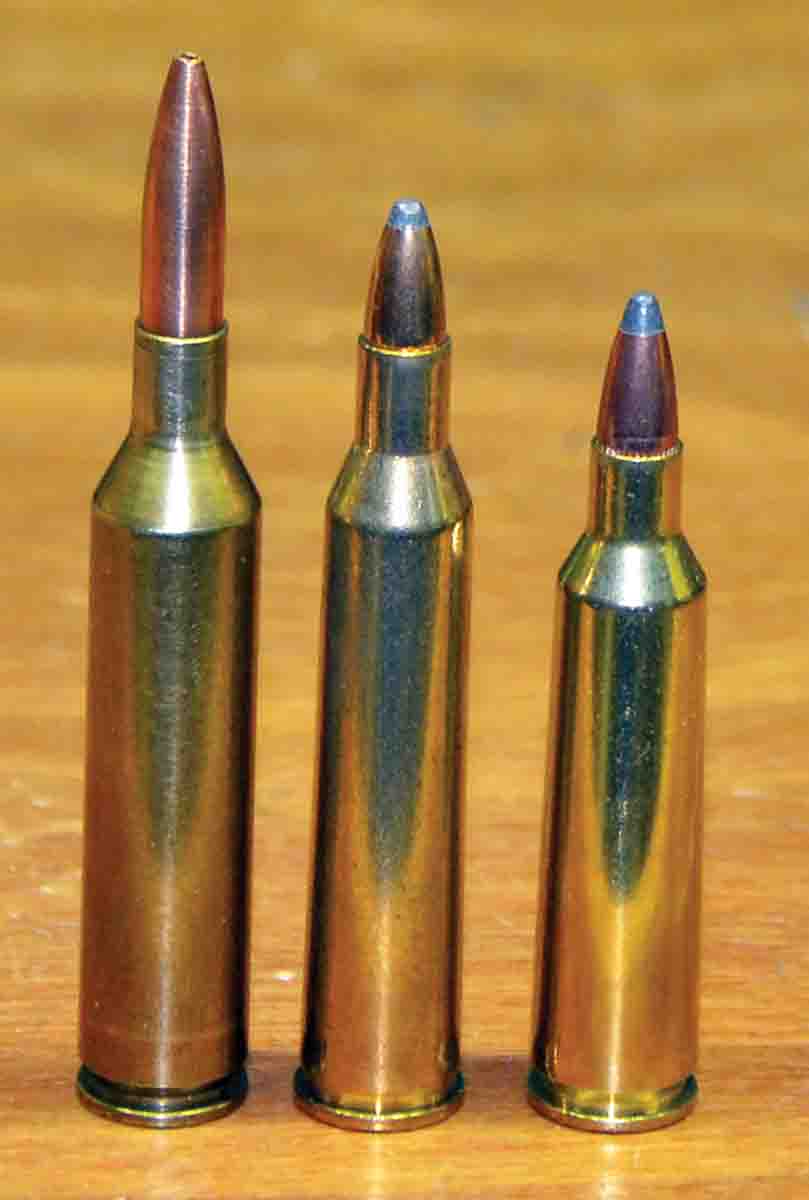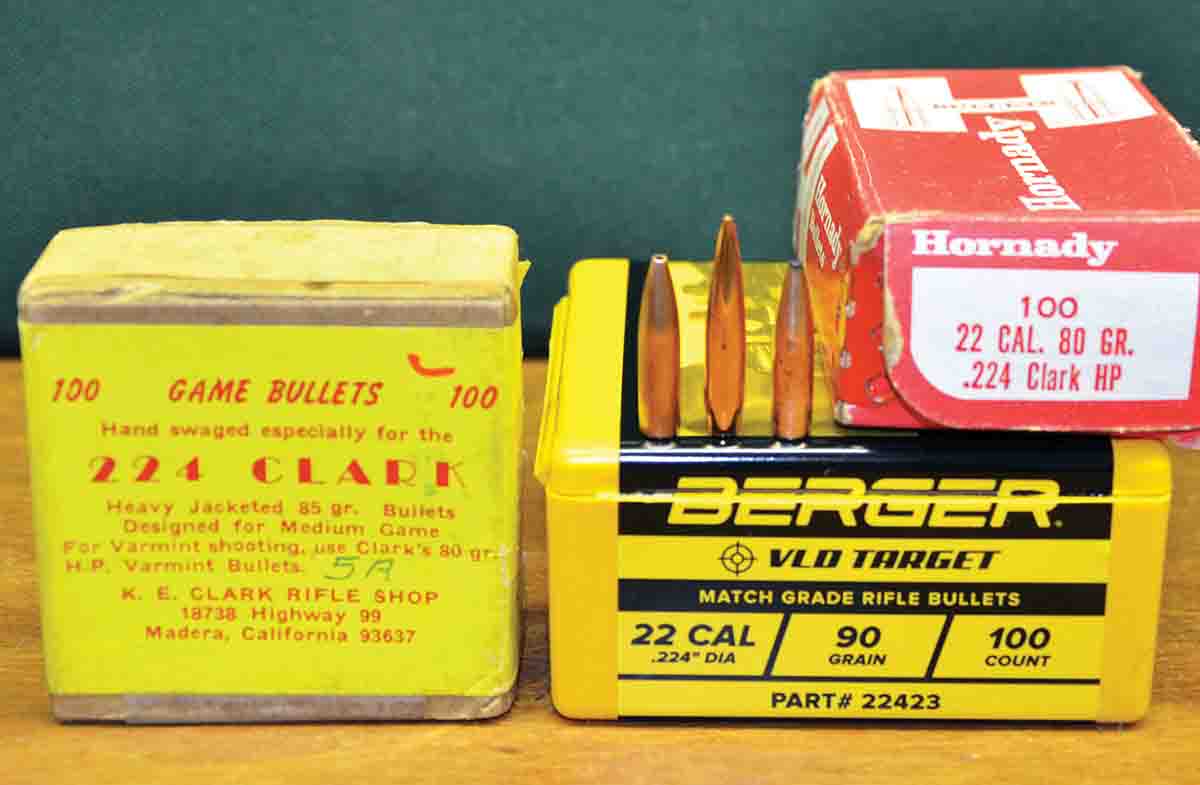 Clark settled on a necked-down, blown-out, sharp-shouldered .257 Roberts case loaded with handmade, .224-inch bullets that were uncommonly long at the time. He called the cartridge the .224 Clark and his varmint bullet weighed 80 grains. Realizing that various .224-caliber centerfire cartridges were quite popular among Texas deer hunters, his 85-grain game bullet was initially of double-jacket construction for expansion control. Later changing it to single-jacket construction improved accuracy with no sacrifice in performance on deer. It is quite unusual for a wildcat cartridge to become popular enough to prompt a major bullet maker to begin producing a bullet specifically for it, but it did happen. Sometime after Clark introduced his cartridge in 1962, Joyce Hornady began offering 80-grain hollowpoints in boxes labeled ".224 Clark HP."
I was totally unaware of the .224 Clark before Phyllis and I relocated to Kentucky, where we lived for several years. It was not long before coyotes arrived to decimate the groundhog population and great numbers of the roly-poly critters were busy munching their way through hundreds of acres of young and tender soybean plants. Farmers welcomed us and our rifles with open arms. Among the many new friends we made were Darcy and Barbara Rideout, who grew up near a wide place on a long country road called "Little Dixie." In addition to knowing the location of about every groundhog den in several counties, many of their friends were farmers who had given them permission to hunt their properties. Darcy used a Ruger Model 77 .243 Winchester and handloads with 75-grain bullets.
Another friend had a custom rifle on a Remington 700 action with a heavy, 26-inch barrel in .224 Clark. His wallet contained several tiny groups fired with it. At the time, I was shooting a Remington 40XB-BR with a 26-inch barrel and a Remington 20X-BR scope (I still have the scope). Originally in .222 Remington and with only a couple hundred bullets through its barrel, I had gunsmith Harry Creighton of Nashville, Tennessee, open up its bolt face and rechamber the rifle to .220 Swift. It shot flat and consistently placed five bullets inside .300 inch at 100 yards. Friends and I often shot together at extreme distances, sometimes in stiff breezes. While I honestly could not see a big edge the rifle in .224 Clark had over my Swift, I became intrigued by the big cartridge.

In 1978, I sent a Pre-'64 Winchester Model 70 with a shot-out barrel to Ken Clark and asked him to rebarrel it for his cartridge. The rifle would be used mostly for reaching across vast cultivated fields in the southeast and bumping off feral hogs; and since that often requires a bit of walking, I requested a magnum sporter contour rather than his usual heavy varmint contour. The chrome-moly barrel was made by Shilen and had a 1:9 twist. Its chamber throat was long enough to allow seating the 80- and 85-grain bullets out of the powder cavity of the case. Included with the completed rifle were enough bullets to keep me shooting for quite a long time. A note from Clark recommending Hodgdon H-870, H-570, H-4831 and W-785 powders. His favorite varmint load with 80-grain bullets was 50 grains of Hodgdon H-4831 for a velocity of 3,500 feet per second (fps). As it turned out, my rifle digested 51.5 grains with no complaint and case life was very good. Clark was high on magnum primers so I used the CCI 250s with complete satisfaction.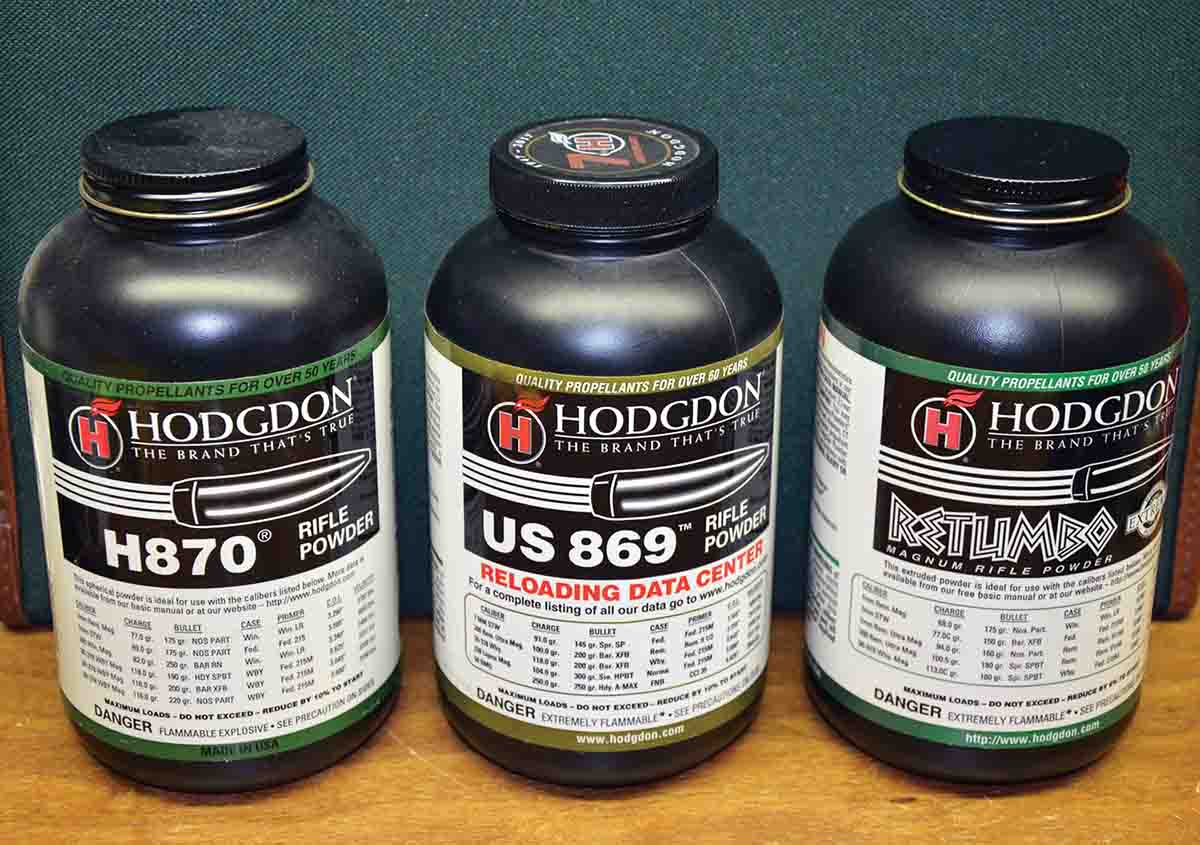 The 6mm Remington case could have been used to form his case, but Clark preferred Winchester .257 Roberts brass because, in his opinion, the greater hardness withstood higher pressures. For fireforming, he recommended 19 grains of 2400 with a wad of tissue paper in the mouth of the case. A squeeze of the trigger resulted in a case with only .016 inch of body taper and a 30-degree shoulder. Due to the semi-tight neck of the chamber Clark cut in his barrels, case neck wall thickness had to be reduced for an outside neck diameter of .2525 inch with a .224-inch bullet seated. He recommended reaming, but an outside-turning attachment for my Forster case trimmer did a better job. Cases were trimmed to a length of 2.230 inches. When filled to the bases of their necks with Hodgdon H-870 spherical powder, the .220 Clark case held 60.5 grains and Winchester .220 Swift cases held 46 grains.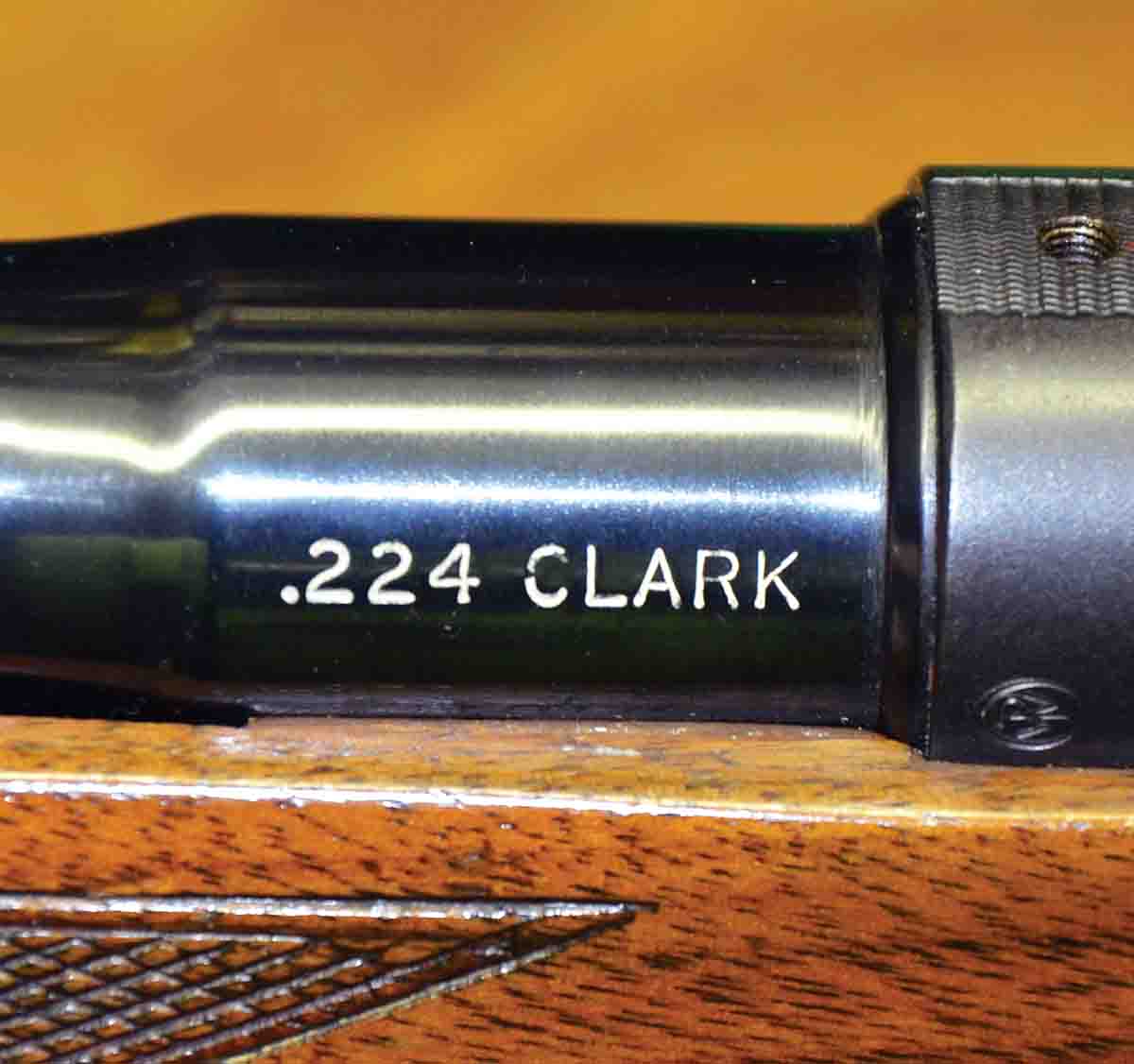 At 1,200 rounds or so, I could detect no throat erosion in the barrel, but that was about a half century before I became the proud owner of a Lyman Digital Borecam. Accuracy was still quite good. I tried to avoid overheating the barrel and vowed to clean its bore every 10 rounds, but the temptation to keep on shooting was often too great and I failed to do so. When a sounder of feral pigs made the mistake of appearing in open country, I could often take several by rapid-firing six rounds. If some of them paused at the edge of thick cover, I occasionally had time to reload and drop another pound or two of bacon. The barrel eventually indicated the end of its life, not only by a sudden drastic drop-off in accuracy, but by pressure signs with loads that had previously been okay. At that point, the throat had become so rough, a cotton patch pushed through on a cleaning rod would snag. I retired the rifle and years later, a Lyman Digital Borecam revealed just what I had suspected – severe throat erosion.
I wanted to feature the .224 Clark in this column, but since only one of the powders used to develop loads back in the 1970s is still available, along with the fact that my rifle is no longer accurate, I looked around to see if someone had more recently worked with the cartridge. Luck was with me, as Lee Martin of Arlington, Virginia, had posted .224 Clark loads with Hodgdon US-869 and Retumbo on his SingleActions .com website. The test rifle, built in his shop, began by fine-tuning a 1931 Czech 24 Mauser 98 action and converting it to single-shot feed. Fitting a 28.5-inch Shilen Premium Select grade, stainless steel barrel with a No. 5 Light Varmint contour and 1:7 rifling twist rounded out the barreled action. A Timney trigger breaking at 1.5 pounds and a Richards Microfit laminated wood stock completed the project. The chamber throat of his barrel allows the Berger 90-grain VLD Match bullet to be seated out of the powder cavity of the case. His rifle obviously likes that bullet.
During an age when a new factory cartridge seems to come along about every month of the year, nothing else of its caliber outruns a 60-year-old trailblazer called the .224 Clark.