Rifles were made to be shot. Every single one, no matter how ornate: If it's a real rifle, it can be stuffed with powder and ball and made to go "bang," whether the target is man, beast, paper target or tin can.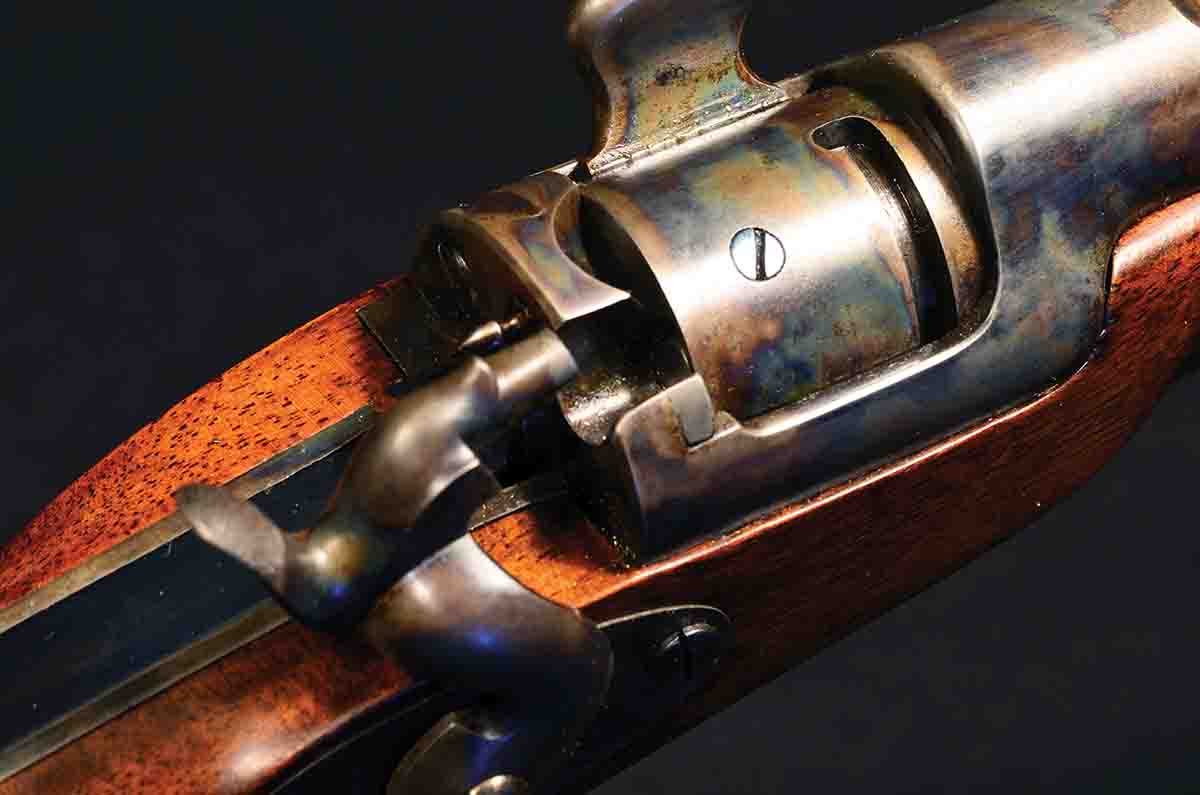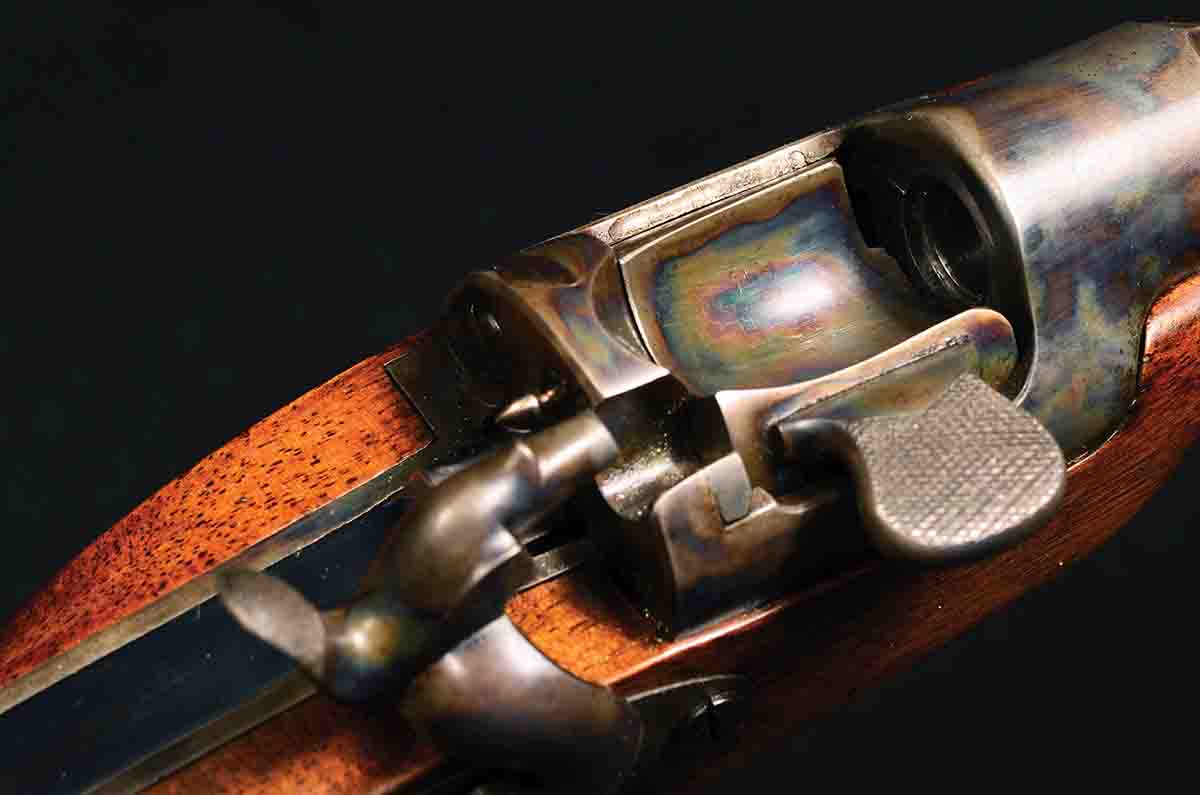 To have a rifle and not shoot it is like owning a thoroughbred and not letting it run. This is not just my opinion: W. Keith Neal, biographer of the Manton brothers and one of the notable gun collectors of all-time, insisted on shooting every firearm that came into his possession if it could possibly (and safely) be done.
Granted, it can be a challenge. Sometimes, a rifle has no markings to show even what caliber it is, never mind what cartridge it's chambered for, and determining cartridge, bullet, powder and powder charge is a puzzling – and occasionally hair-raising – process.
Last December, I came across a rifle in an auction catalog that was identified only as a sporting rifle built on a Werndl action, with the name "Jos. Heinige" engraved on the barrel. It was obviously Austrian, but most likely Heinige was the retailer in Vienna, not the maker. The rifle was of such obviously superb quality that I couldn't resist and managed to snag it for a reasonable amount.
At that point, I began a three-pronged investigation: Who made it, and for what purpose? What cartridge is it chambered for? How can I make some ammunition and get it shooting?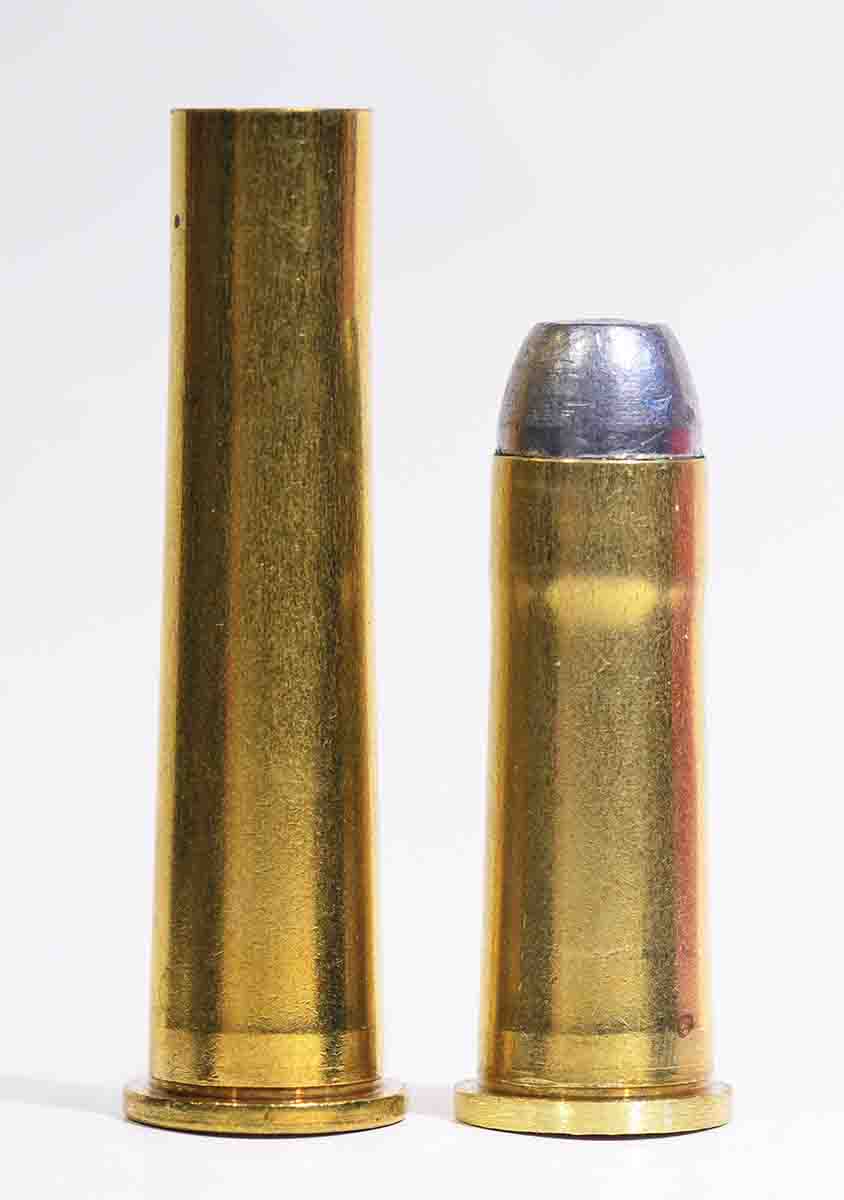 As it turned out, finding the answer to the first question was difficult enough – too long to recount in detail – while the chambering remained a puzzle almost to the end. As for making ammunition, it proved much easier than expected, although the name of the cartridge remains obscure.
The key to everything lay in the name "Werndl."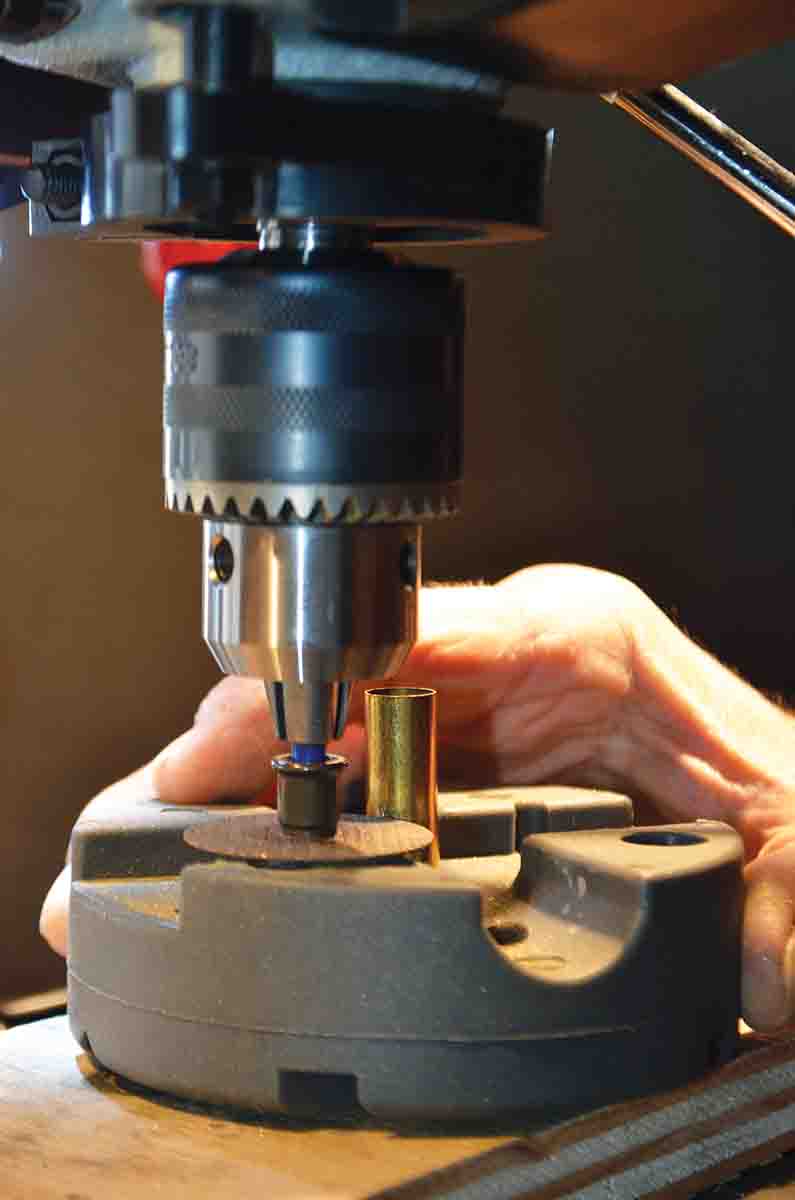 Josef Werndl was an Austrian gunmaker and inventor who was born in 1831, apprenticed in Vienna, then traveled to the U.S., where he worked at both Colt and Remington, learning machine production. He then returned home.
In 1866, Austria-Hungary was defeated by Prussia at the Battle of Königgrätz. Part of the reason was the superiority of the Prussian Dreyse needle gun over the (excellent) Austrian Lorenz muzzleloader. Austria began looking for a breechloader to replace the Lorenz and had all but settled on the Remington rolling block when Josef Werndl offered a rifle of his own design with an ingen-ious rotating breechblock. This was chosen instead, and Werndl set up a company to produce it, which eventually evolved into Steyr-Mannlicher as we know it today.
The Werndl was one of the earliest breechloading military cartridge rifles, contemporary with and comparable to the British Snider-Enfield and, like the Snider, it was produced in different configurations for use by conventional infantry, cavalry and special troops. The Werndl action was manufactured in several sizes and chambered for at least four different cartridges. This was the earliest stage of the centerfire cartridge era and riflemakers everywhere were feeling their way along.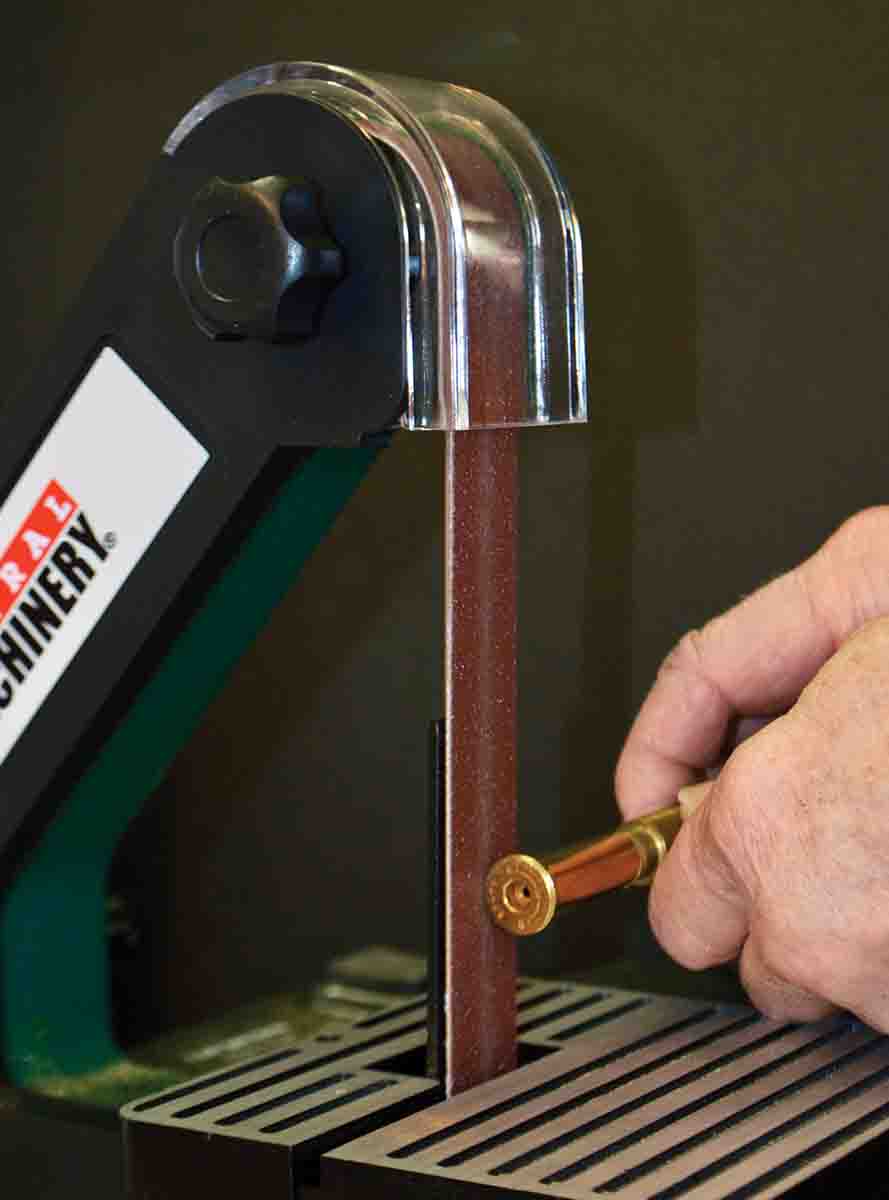 My sporting rifle is what the Germans call a
stutzen
– a short rifle or carbine, commonly found in Alpine regions. The later Mannlicher-Schönauer Model 1903 is the most famous of the type. Mine was built on one of the shorter Werndl actions, made for either the carbine or single-shot pistol. There are no markings – no proof marks, no caliber, no maker's mark. The lack of a proof mark, however, indicates it was made before 1892, when proofing became mandatory in Austria.
To begin, I asked Lee Shaver to strip the rifle and check it over, as well as slug the bore and make a chamber cast. His overall assessment was that it's "as nice inside as it is on the outside," and is in such fine condition that it might never have been fired. The bore is pristine – highly unusual in any black-powder gun.
The bore is .424-440 (bore and groove diameters), which suggests a bullet comparable to the .44 Special or, in European parlance, an 11mm. More or less. As for the chamber cast, it indicated a rimmed cartridge with a straight, tapered case, approximately 1.4 inches long. These dimensions corresponded to no cartridge we could find in our libraries of cartridge lore.
That didn't mean it could not be made, only that it could not be made easily. Or so we thought.
The normal procedure in such a situation is to cobble together a usable case from an existing cartridge, fireform at least three and send them off to have custom dies made. Where you go from there depends on whether you can use an existing case to make brass; this may involve swaging, trimming, shortening, necking down, blowing out or a combination of them all. We were at an immediate disadvantage because Redding, my usual source of custom dies, temporarily suspended custom production because of huge order backlogs. However, in the past, I've found that with a sufficient collection of dies of different calibers, something can usually be made to work.
As close as we could tell, the cartridge would resemble a .45 Colt, but longer and with a wider base and rim. Lee made a prototype by cutting a .45-70 case to length, reducing the rim diameter and slimming the base. That procedure could be reduced by one step, however, by starting with .40-65 brass, eliminating the need to size down the case.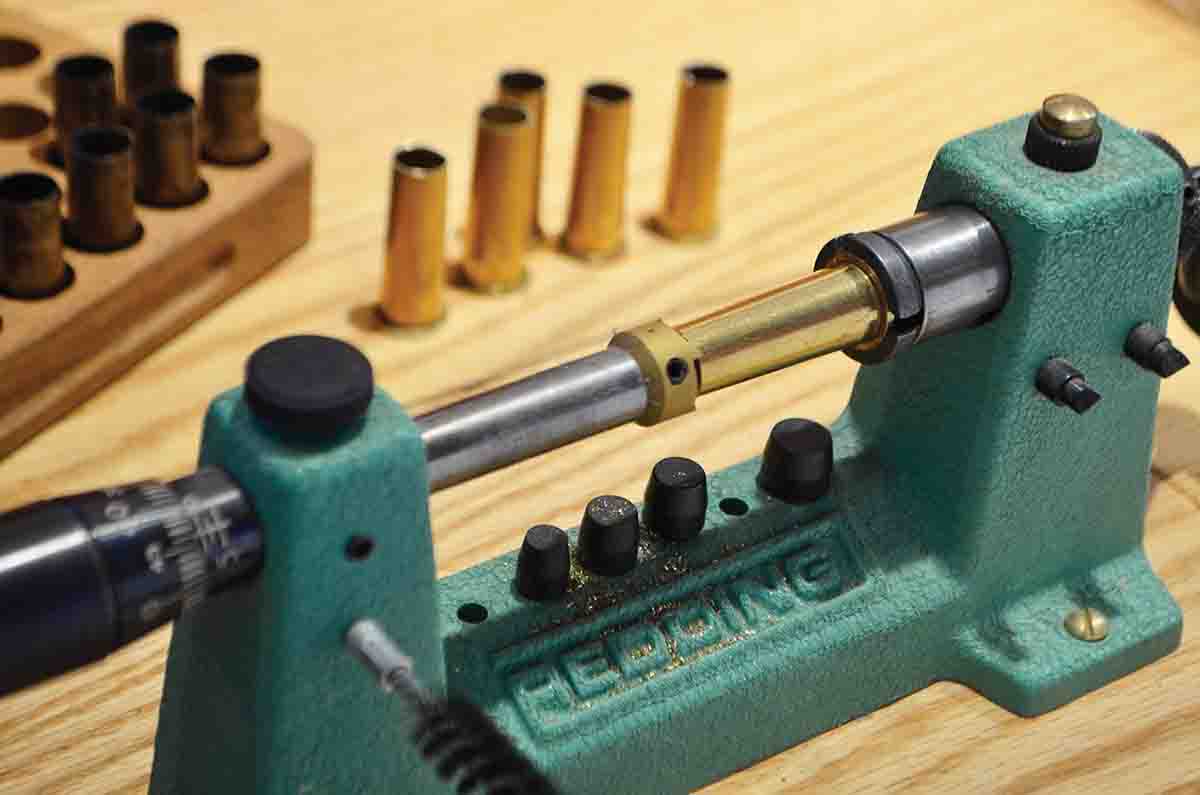 By some freak of good fortune, I had a supply of new, unused Starline .40-65 brass, along with all the relevant dies. Not much equipment is required to alter the cases, depending on how patient you are and how fast you hope to work. I invested in two long-overdue machines: A benchtop drill press, for lopping off the excess length with a cutting wheel, and a belt sander, for trimming the rims. I've done both by other methods in the past, and the time saved – to say nothing of the consistency in quality and dimensions – made the investment worthwhile.
This left one problem: Bullets. Having no idea what diameter or bullet weight the rifle was intended to shoot, I just wanted to get it shooting once again, using anything I could lay my hands on that fit. We would worry about accuracy and ballistic performance later.
Given the bore diameter of .424, and groove diameter of .440, a bullet intended for the various American .44s would work. How well? That was another matter.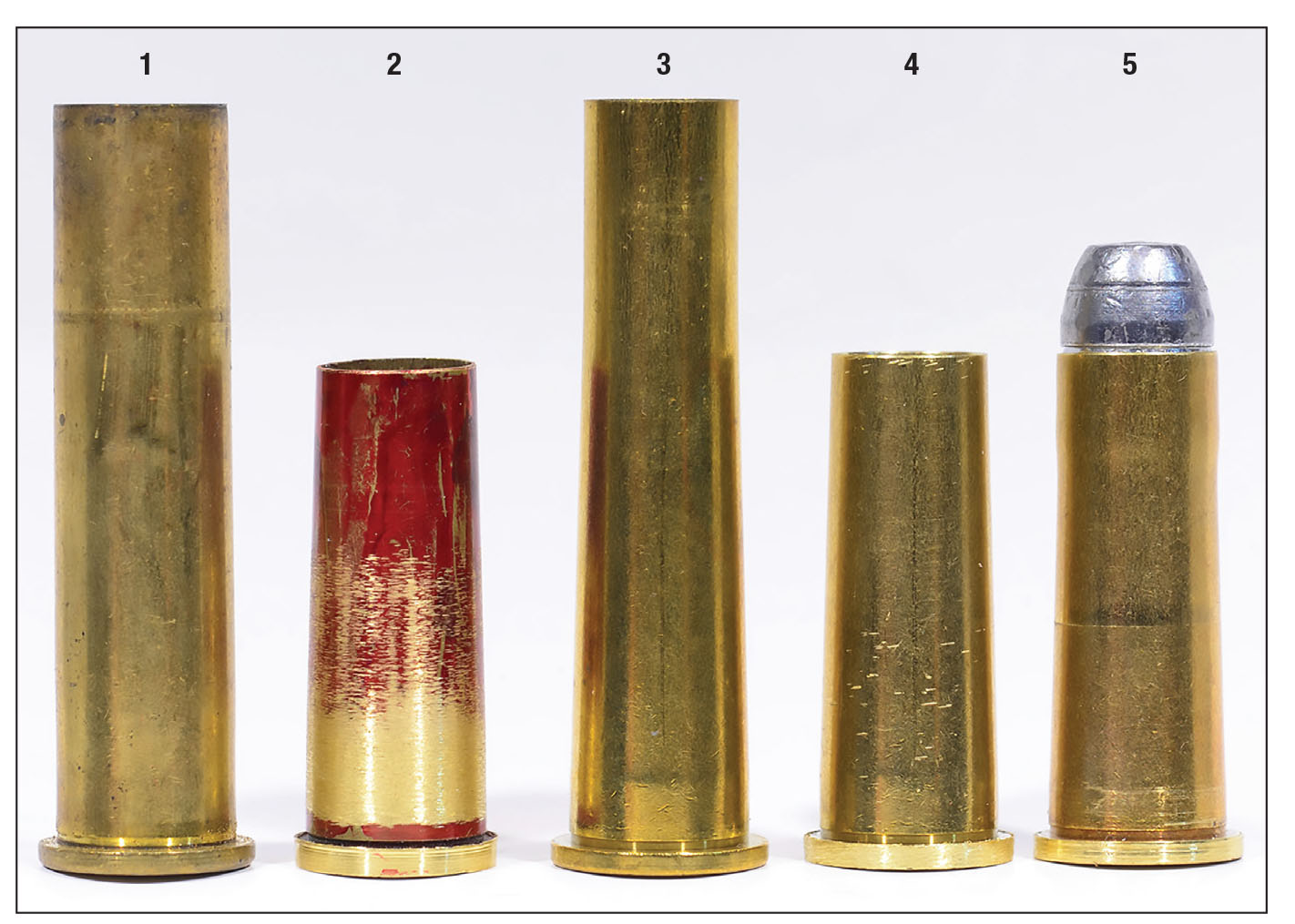 I had a supply of 200-grain .44s with a diameter of .429, which (I figured) should be snug enough to grip the rifling, even if they would not provide a gas seal. This, however, was unquestionably a black-powder rifle and black powder has the admirable trait of "bumping up" a bullet. That is, the explosion presses against the base of the bullet and expands it to fit the bore, whereas progressive-burning smokeless powder does not. So a smaller bullet should work, provided it was close enough to pure lead to be malleable. (Harder alloys, like lino-type, do not "bump up" very well, if at all.)
At this point, I was afraid I was going to run into a situation I'd encountered in the past with a Winchester '86 in .40-65. Its chamber would only accept a bullet that was considerably smaller than the bore and relied on bumping up to expand it to grip the rifling. This meant black powder was the only choice. Fortunately, that turned out not to be the case here; the chamber readily accepts a larger bullet. The trick would now be finding some, since the presumed maximum diameter somewhere between .440 and .460 is not a standard caliber. But that's a problem for later, possibly involving designing a bullet and getting a custom mould.
My supply of 200-grain bullets, sized to .429, were cast from something resembling Lyman No. 2 alloy, with a SAECO hardness of 9 (roughly, Brinell 18). A little hard for my purpose, but it was all I had and so I began loading with those (see load table). They worked surprisingly well, as far as chambering, firing and delivering useful velocity.
While roaming about looking for a mould that might work, I came across a company in Washington that casts bullets of almost pure lead for Cowboy Action – including the same 200-grain bullet I was already using. They were not only softer (SAECO 5 - Brinell 8), they were sized to .430 inch, which brought me slightly closer to the ideal.
Case capacity to the base of the seated bullet was 30 grains of Olde Eynsford FFg, which was my starting load. I also tried a duplex load, which delivered less velocity and its only virtue seemed to be slightly cleaner burning. A load of 10 grains of Trail Boss gave still cleaner burning, but even less velocity. Switching to 30 grains of Swiss FFFg pushed the velocity up with no adverse signs.
Finally, my softer bullets arrived and I loaded some ahead of 30 grains of FFFg. They obviously provided a better gas seal because the velocity jumped again. I then reassessed the case capacity and decided I could try 35 grains of Swiss FFFg without unduly compressing the powder. The result was a highly gratifying 1,322 feet per second (fps). With a 200-grain bullet from a 21.5-inch barrel, that is no slouch.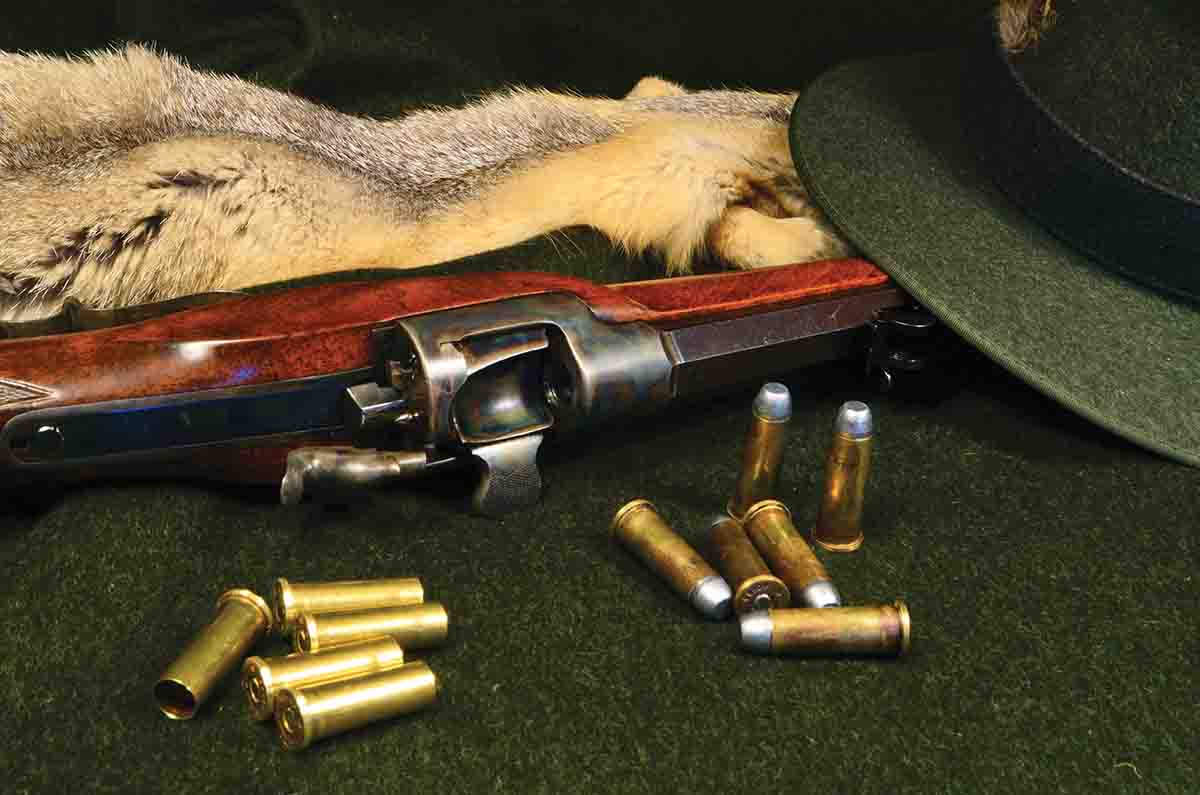 Lacking a set of dedicated dies, I improvised. My .40-65 Winchester dies looked after resizing and decapping; a .44 Special die handled neck sizing and belling and a .45 Colt die seated the bullets. In the absence of a crimping die, I used the .40-65 die with the decapping rod removed simply to iron out the belling.
Reducing the rim diameter from .600 to .585 could have caused a problem with shellholders, but the reduction was so slight, and the .40-65 rim so stout, a standard .45-70 holder continued to work well, although it's a tad loose.
At this point, I was all set to name my new creation the 10.75x36R when chance led me down a completely new path that ended with the discovery of what the cartridge was called originally – or rather, the many names by which it was originally known.
The Austrian military briefly adopted the Werndl pistol, and when it was replaced by an early Gasser revolver design, retained the cartridge, which then became known as the "11.2x36 Osterr.-Ung. Kavallerie-Revolver M. 1870." This, in turn, became popular in the rather bizarre handguns known as the "Montenegrin revolvers." (The King of Montenegro decreed that every male citizen had to carry a revolver of an approved type, available only from the King himself – a profitable way to do business.)
Under the name "11.3 Montenegrin," the erstwhile Werndl cartridge went on to fame, if not fortune, produced by every European ammunition company – as well as by Winchester in the U.S. – under more than two dozen different names. For the record, its published ballistics from the Gasser revolver were a 280- to 313-grain bullet at 689 fps.
My Werndl stutzen has excellent sights – an adjustable mid-barrel open sight, and a fine bead on the muzzle, with a detachable coarser bead for hunting. With no adjustment whatsoever, I can consistently slap an 18x20-inch steel plate at 35 yards. Considering my expectations when I acquired the rifle, that's gilt-edged performance.