It has been more or less 50 years since A. Uberti began building replicas of the legendary Colt Single Action Army revolver. While early examples lacked in overall quality, today's guns are hugely improved, well-made, accurate, attractive and offered at reasonable prices.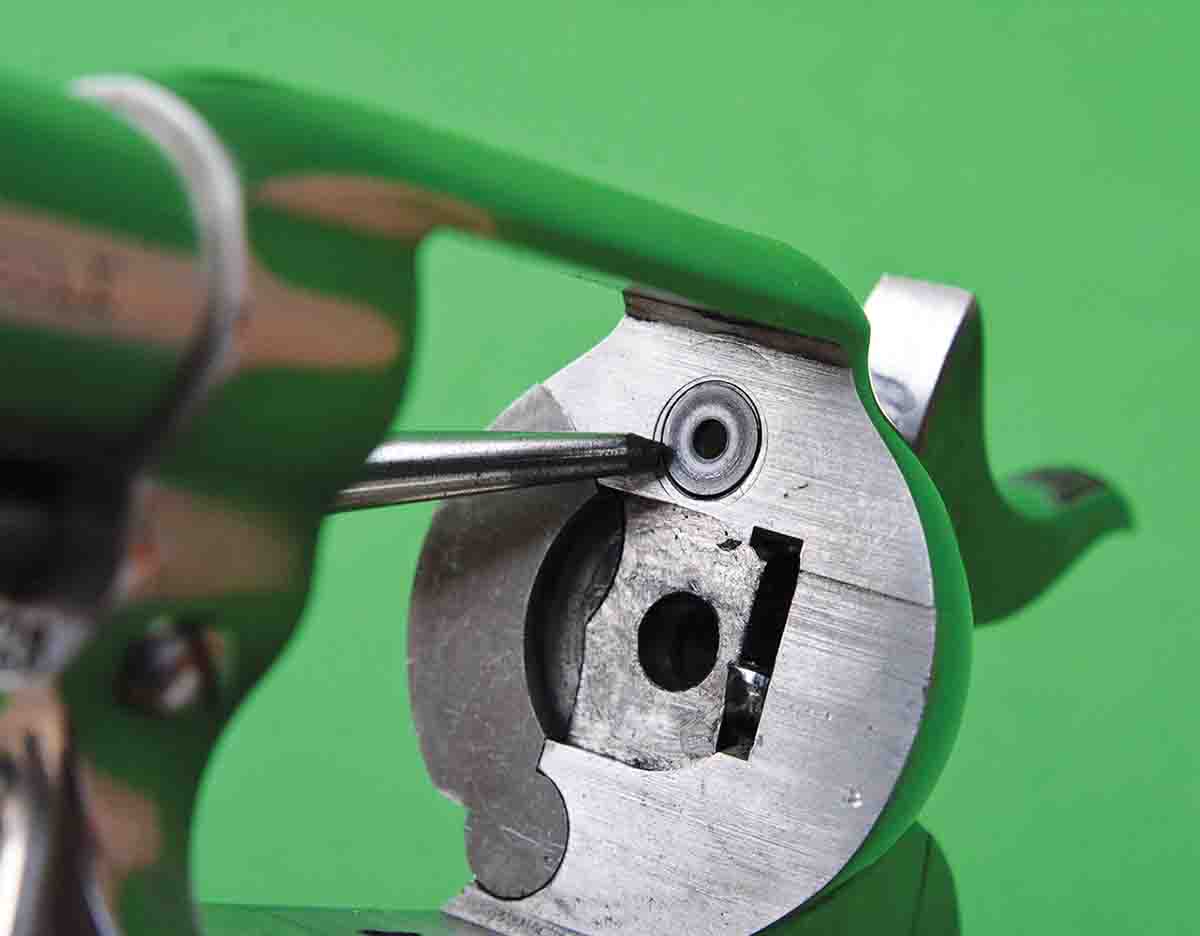 The Colt Single Action Army played an important role in U.S. history, particularly in settling the western frontier, where it found favor with soldiers, lawmen, cowboys, outlaws or anyone that needed a powerful and reliable sixgun. Collectors eagerly snap up vintage guns while paying astonishing prices. This is not only due to its historical connection, but rather the quality associated with period Colt sixguns. While the SAA may enjoy large collector appeal, it is also a grand and timeless design for shooters and is useful for anyone that needs a rugged and reliable big bore sixgun. I have seen them take severe neglect and use, and keep working without a hitch. Cimarron's Stainless Frontier is a SAA reproduction, but it boasts of modern steels and small internal changes that make it ultra-reliable and a worthy companion at a competitive price.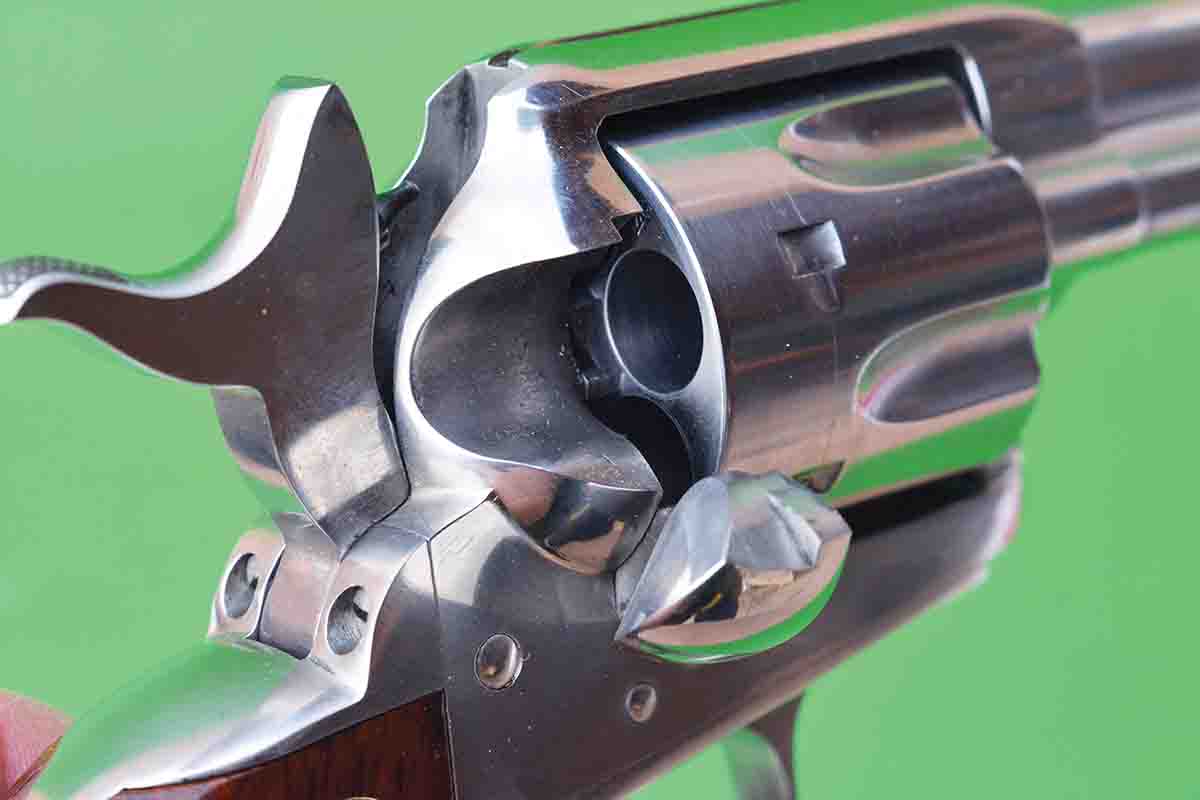 My first impression of the new Stainless Frontier is very positive. Its action works smoothly and is positive, the timing is correct with the locking bolt dropping correctly in the bolt notch approaches, while the trigger engages perfectly just as the hammer reaches the fully-cocked position. The cylinder locks tightly and end-shake is minimal. The chambers are cut correctly, while the throats measure ideally at .4525 inch, which is a good combination for accuracy. The barrel-cylinder gap measures .004 inch and the forcing cone is cut smoothly and at around 11 degrees. The trigger pull breaks cleanly at just under 3 pounds. The fit and finish are good, with the trigger guard and backstrap being fitted and polished as a single unit with the frame.
The Stainless Frontier has a few notable design features that are important to mention. For example, this is the first Uberti SAA pattern sixgun that I have observed with a hardened recoil plate (which was present on all Colt SAA revolvers), but has not been present on previous Uberti guns. This serves to prevent the frame from being damaged around the firing pin hole. Internally, the hand spring (that has traditionally been a leaf spring design) is a piano wire coil design that is secured via a small screw at the rear of the frame to help prevent against loss when the gun is disassembled. The trigger and bolt spring are likewise piano wire (rather than leaf) and are not prone to breakage. This results in an extremely reliable sixgun.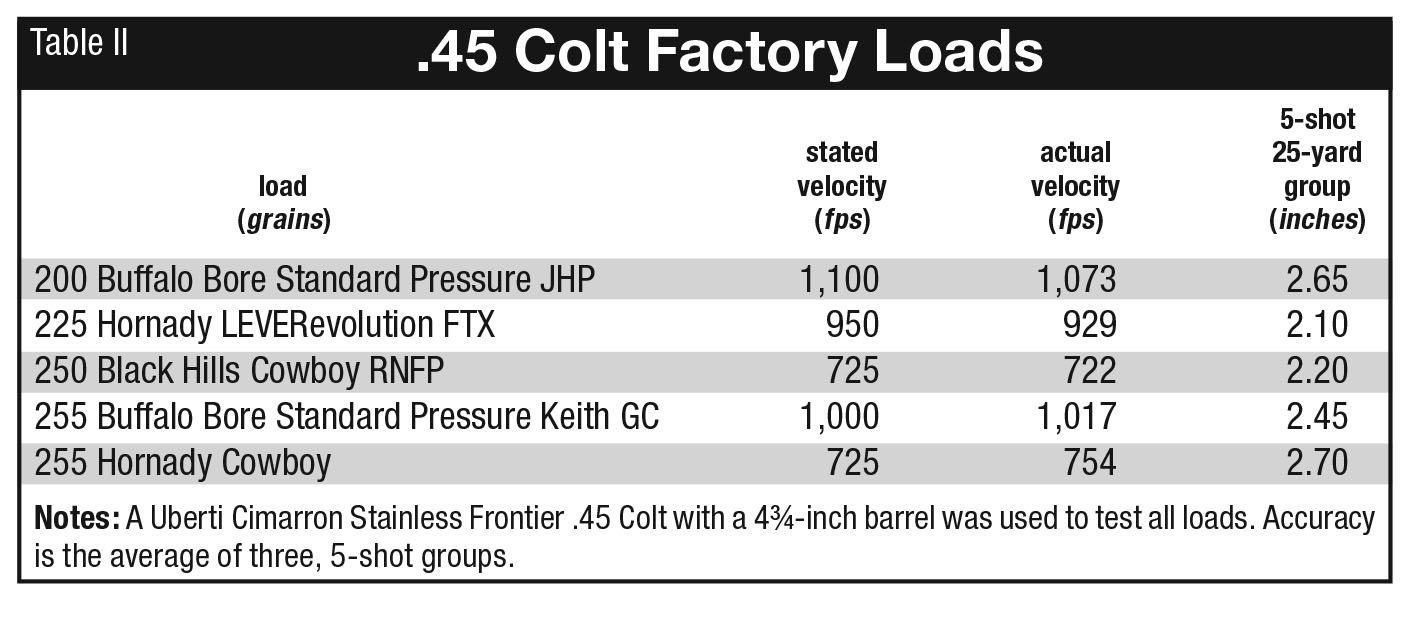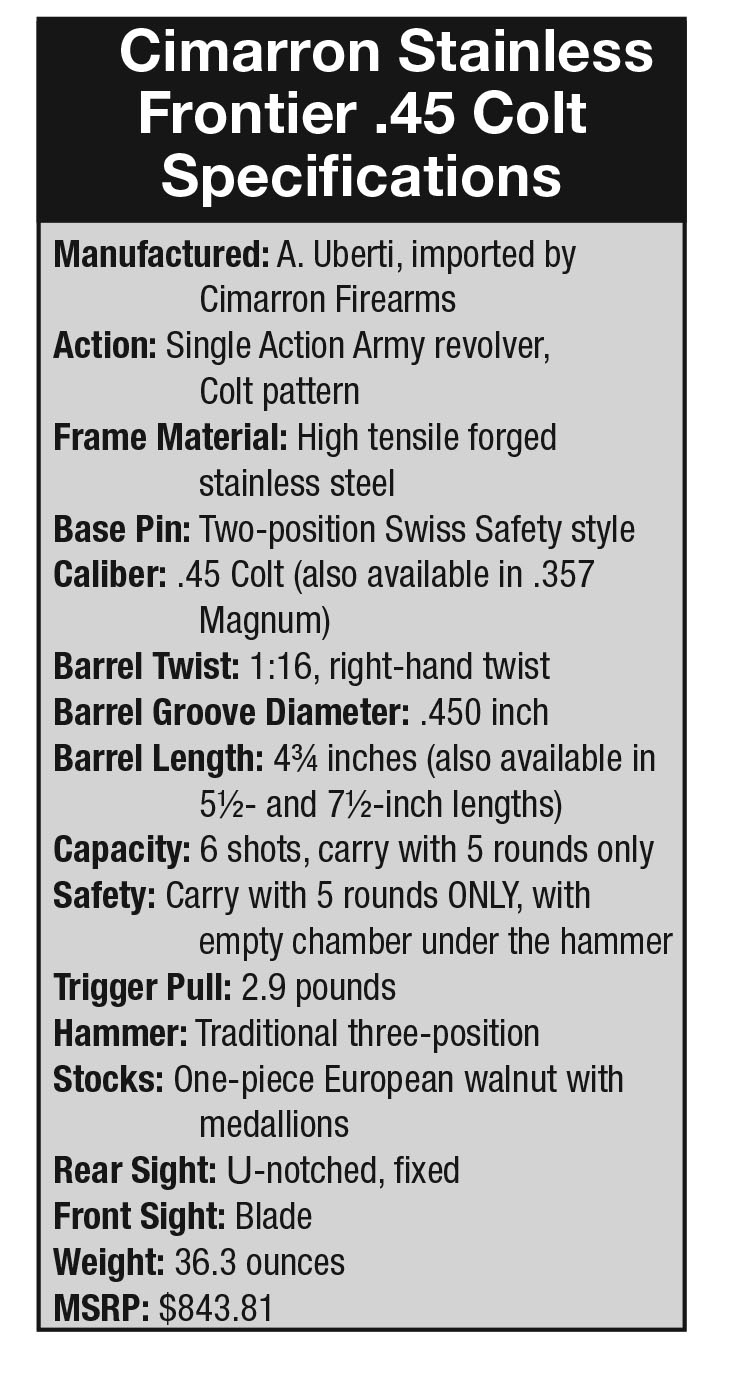 My only technical criticism is that there is no cylinder bushing, which can be found on original Colt pattern SAA's, which is removable and easily replaced to correct end-shake as wear occurs. While Ruger has successfully used this same system on its single actions since 1953, it would be nice to have the Colt pattern system to keep guns tuned up without the aid of a gunsmith.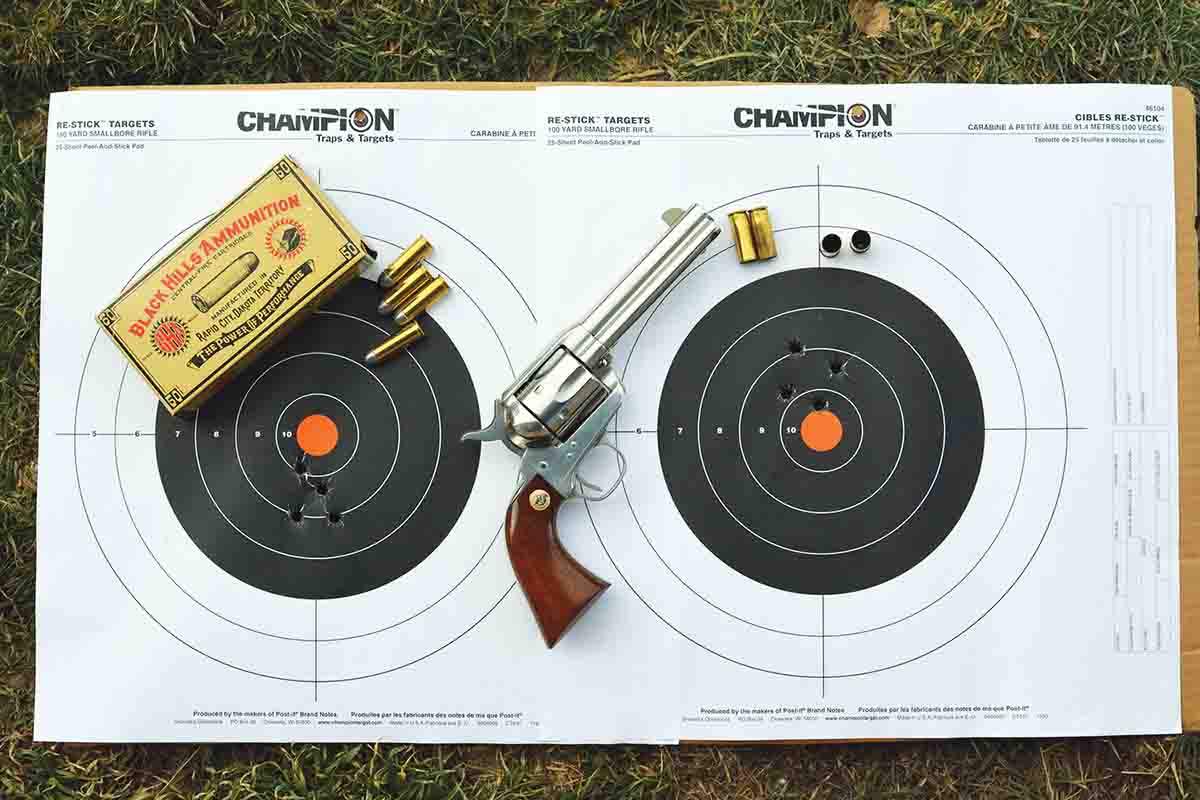 I would like to see Cimarron bring out a fully adjustable sight version Stainless Frontier, perhaps with the rear sight being patterned after the Smith & Wesson J-frame rear sight, which is positive and tidy in size. In this format, it would be a top-notch hunting handgun and would compete favorably with the widely popular Ruger Blackhawk.
While the Stainless Frontier is patterned after the Colt Single Action Army, like other Uberti clones, it features a slightly larger cylinder that measures 1.670 inches as opposed to the 1.650 inches found on Colt revolvers. Since the distance from the center of the base pin to the axis of the bore is the same, this results in notably greater strength on the outside of the cylinder walls. In short, the Stainless Frontier is suitable for handloads that generate up to 23,000 psi, which is the same pressure as .45 ACP +P. When loaded to this pressure level, .45 Colt performance is substantially improved.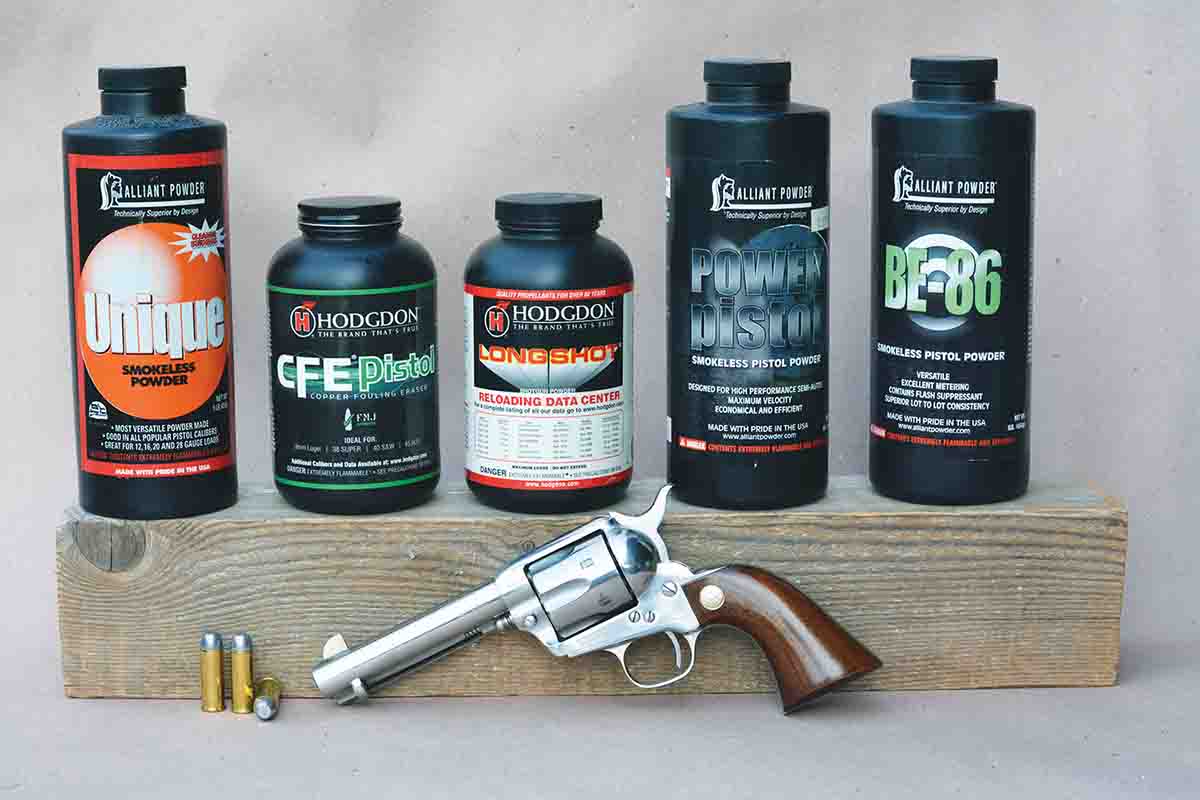 Factory loads from Black Hills Ammunition, Buffalo Bore and Hornady were used to evaluate the accuracy of the new Stainless Frontier. However, before attempting to shoot groups for accuracy, around 300 rounds (handloads) were fired first. The first 50 rounds consisted of jacketed bullets with cleaning after each shot, and the bore was wiped with a light film of oil for the first 15 shots, which serves to help smooth the barrel during the break-in period. The next 250 rounds consisted of cast bullet loads that exhibited very little to no barrel leading.
Both the front and rear sights were sprayed flat black to obtain a clear sight picture during accuracy testing, while I sat in the shade (at 7 degrees temperature) to further reduce possible glare from the sun. Most factory loads proved capable of just over 2-inch groups at 25 yards (average of three groups). For example, Hornady LEVERevolution 225-grain FTX produced three groups that averaged 2.10 inches, while Black Hills' 250-grain Cowboy load averaged 2.20 inches.
Moving on to standard pressure handloads (14,000 psi or less), using Starline cases capped with CCI 300 primers, the Hornady 250-grain XTP was pushed to 911 feet per second (fps) using 9.2 grains of Alliant Power Pistol powder, with groups averaging 2.15 inches. Using the Missouri Bullet's 250-grain RNFP bullet, 8.3 grains of Alliant BE-86 powder reached 910 fps and average groups were 1.90 inches. The most accurate load tried consisted of 264-grain cast bullets from RCBS mould 45-250-FN pushed to 872 fps using 9 grains of Hodgdon CFE Pistol powder that gave an average group size of 1.75 inches.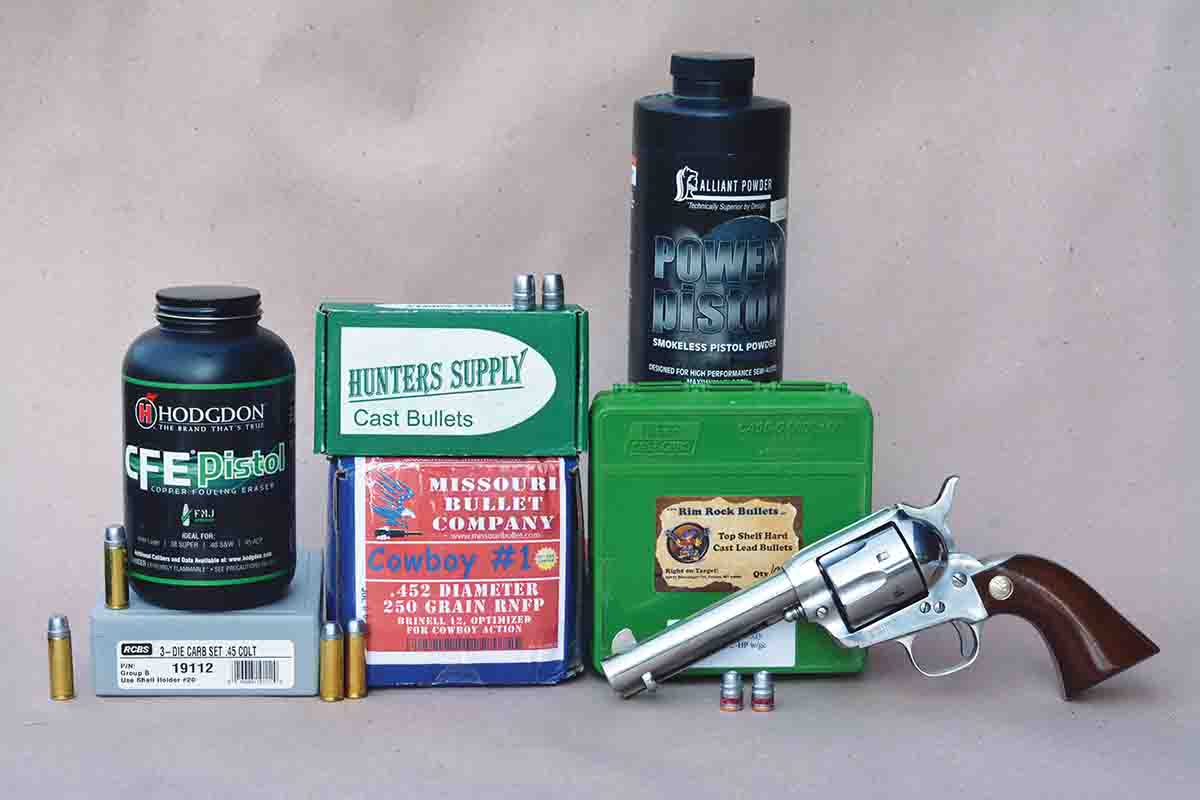 Moving on to +P handloads, the Hunters Supply 275-grain flatnose bullet was pushed to 1,054 fps using 11 grains of Alliant Power Pistol powder. Groups averaged 2 inches, which is plenty of accuracy to take big game at any normal distance that an iron-sighted sixgun will be used. Another notable +P load tried included the 285-grain, Keith-pattern bullet from RCBS mould 45-270-SAA pushed to 1,023 fps using 11 grains of Hodgdon Longshot powder. This load exhibited a less than 10-fps extreme spread and produced an average group size of 1.80 inches. (Note: The above handloads should only be used in modern guns designed to take .45 Colt +P pressures.)
The Cimarron Stainless Frontier is an outstanding sixgun that I can recommend without reservation. It retains the graceful lines of the historic Colt Single Action Army revolver but is blended with modern springs and stainless steel. It is a quality gun that is accurate, very reliable and modestly priced.