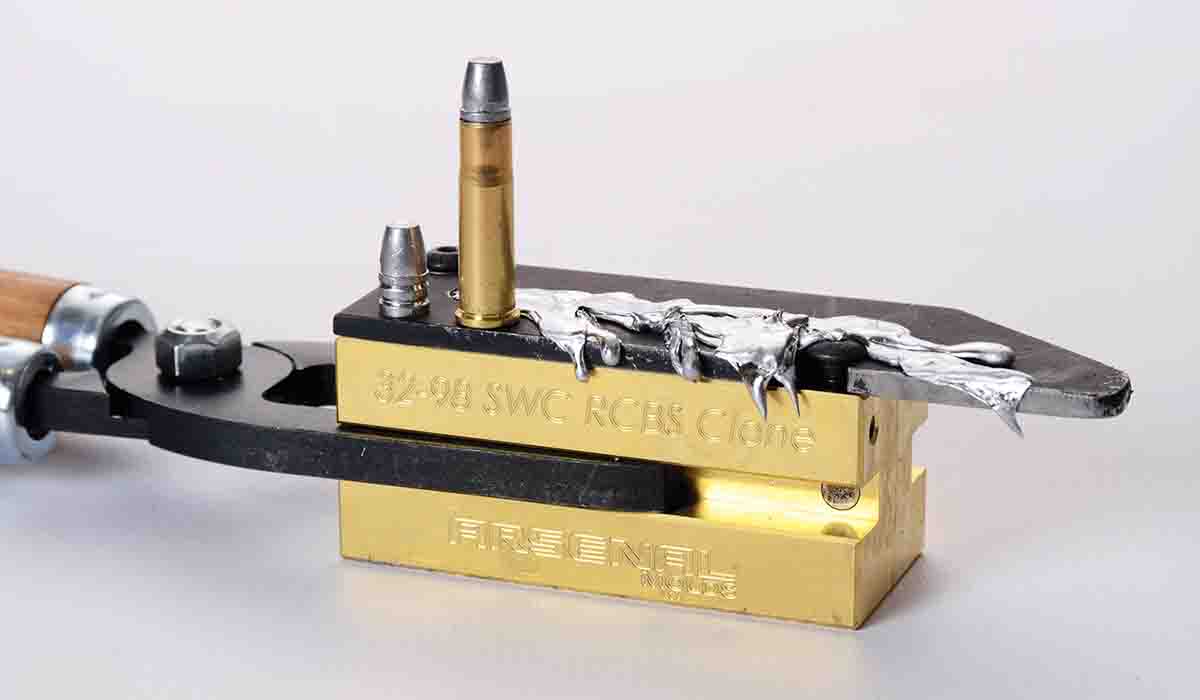 There is a genre of bullet mould makers that fill the gap between large, standardized manufacturers with their carved-in-stone menus, and true custom makers, who cut mould blocks one on one as specified by a customer. In between are businesses that I call "semi-custom bullet mould makers." They seldom keep inventory but make a mould when a customer picks from a large number of choices. Their designs are kept in CNC machinery memory banks. Any design stored therein can be called up simply by punching numbers into a keyboard. Usually, semi-custom mould makers have options as to mould block material and number of cavities.
In the last couple of years, I've ordered several semi-custom moulds that have made shooting possible with obsolete guns or cartridges for which off-the-shelf bullet moulds are no longer available. There are many of these "semi-custom" mould makers, several of which I am aware of, but have never used their products – yet. That being said, three semi-custom mould makers have come to my rescue and I found their creations to be without flaws.
A few issues back, an article of mine concerned handloading for a Colt SAA .32-20 of recent manufacture. I thought an RCBS mould 32-98SWC was still on my storage shelves. It had proven to be an excellent performer in a formerly owned S&W K32 Masterpiece. Yet, when I searched my storage shelves, it was gone. Whether loaned or sold, I cannot remember. I thought, "No problem, I'll just buy another." Yes, it was a problem. It seemed RCBS's current owners had deemed some bullet designs unproductive and discontinued them. Lengthy searches on websites revealed no used RCBS 32-98SWC moulds for sale.
Finally, I discovered Arsenal Molds in Utah. Among its selection of cast bullet shapes and sizes was one labeled "RCBS 32-98SWC Clone." In its website is information that the mould block material could be aluminum or brass, and numbers of cavities could range from two to five; with of course, bullet diameters being factors. Offerings ranged from .22- to .512-inch diameters. I ordered the 32-98SWC clone in brass with four cavities. From my standard 1:20 tin-to-lead alloy, its bullets weigh 100 grains and shoot very accurately from my .32-20 SAA. Arsenal Molds does not offer hollowpoint or hollowbase moulds.
In 2020, I discovered MP Molds located in Slovenia and purchased one of its .41 Colt hollowbase designs. I couldn't be happier with it. For this same .32-20 project, I also purchased a four-cavity, brass mould from MP Molds. Select versions of its moulds have a rather ingenuous method of permitting casting solid or hollowpoint (or hollowbase) bullets. An arrangement of sliding pins makes this possible. I ordered a four-cavity, brass convertible for bullet 314-640-115. With 1:20 alloy, it drops solids at 120 grains and hollowpoints at 115 grains.
Enamored with .32-20 after finishing with the Colt SAA, I purchased a Uberti/Cimarron Arms replica .32-20 Model 1873 saddle ring carbine. I was certain that on hand now were three good cast designs for the little carbine. Again, I was wrong. Original Winchester and replica lever guns limit maximum overall cartridge length to 1.592 inches. All three of the bullets used satisfactorily in the Colt SAA were too long to function through the '73 if crimped properly. If not crimped properly, bullets were pushed back on top of powder charges by magazine spring pressure, so, back to MP Molds. This time a brass, four-cavity convertible mould 314-640-100 was purchased. It dropped 105-grain solids and 100-grain hollowpoints. When crimped properly, the overall cartridge length is 1.57 inches.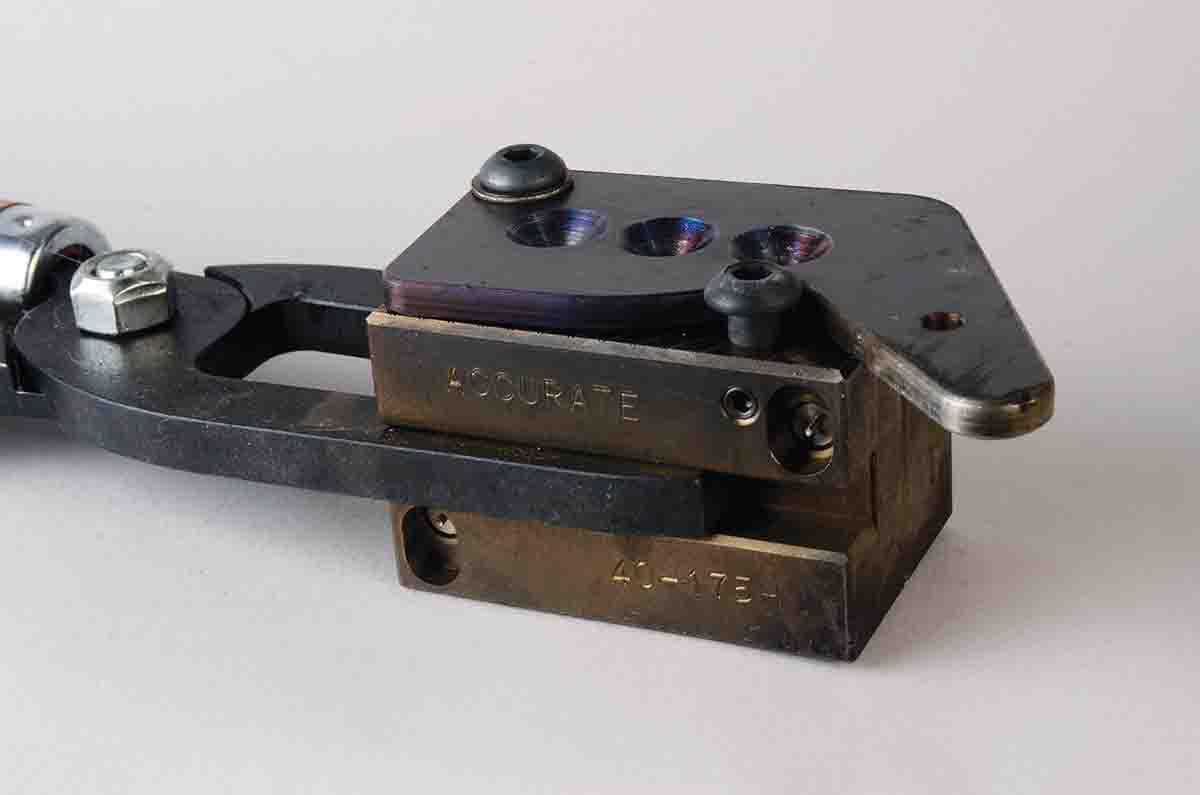 MP moulds are available as convertible only with brass blocks, but many other bullet designs are available with aluminum blocks. With the latter material, moulds with as many as six cavities can be ordered; again, so long as bullet diameters are small enough. MP Molds make blocks for .22 airgun pellets up to huge .50s. Wait time from both Arsenal Molds and MP Molds was incredibly fast. Mine arrived within a week or 10 days maximum.
After satisfying myself with .32-20 in both revolvers and lever guns, I moved up to .38-40. On hand was an RCBS 40-180CM mould, which I already knew was a fine .38-40 bullet. However, on my shelves was also one of Magma's .38-40/180RNFP moulds set up for its Magma casting machines. However, for this project I wanted to hand cast with it.
In the past, Accurate Molds of Salt Lake City made moulds for me for .351 and .401 Winchester Self Loading rifles. Along with more than 700 choices of bullet designs ranging from .28 to .94 inch diameters, Accurate Molds offers an inexpensive kit to convert Magma's moulds for hand casting. It consists of a new sprue plate and necessary screws.
While on the Accurate Molds' website, I browsed its .38-40 offerings, finally settling on the 175H mould. This bullet design is for a 175-grain RN/FP. From my mentioned alloy, they weigh 180 grains. I asked for iron mould blocks with three cavities. Also, I asked for bullet diameter to be minimum .402 inch. That's what I got.
Accurate Molds will cut blocks for more than one bullet design and also offers a few hollowbase designs, but does not provide the necessary plugs. Those must be supplied by the buyer. Hollowpoints are not offered either.
Interestingly, all Arsenal Molds, MP Molds and Accurate Molds blocks are made for Lee Engineering's large handles. However, for hand casting with Magma moulds using Accurate Molds' sprue cutter kits a set of RCBS handles had to be altered.
I should mention that all three of the mould makers covered here are not 100 percent locked into their own ideas as to what makes a good cast bullet. The advent of CNC machinery has made it possible to modify and adapt established bullet designs to fit special requests, or an entirely new design of cast bullet might be made, if practical.
With my fixation on shooting historical guns and cartridges, several of my firearms would merely be gathering dust without the aid of bullet moulds from semi-custom makers.